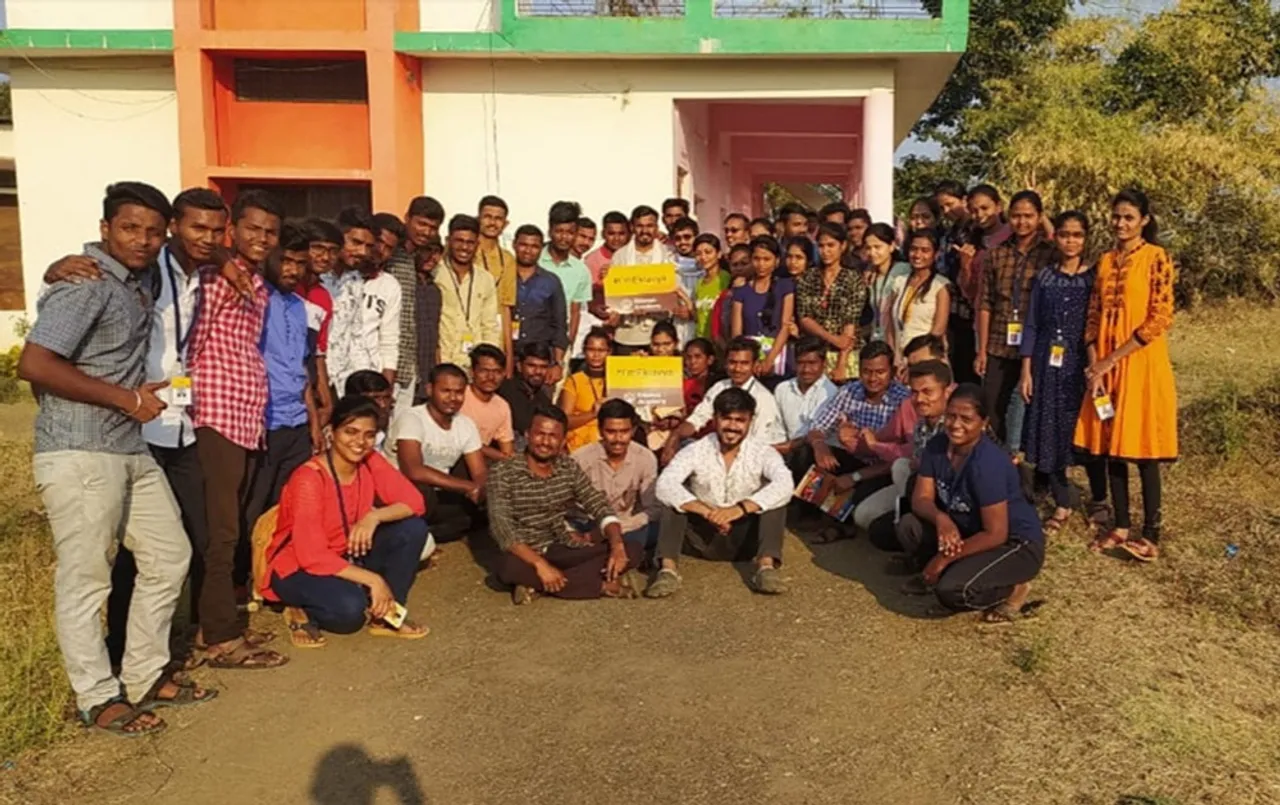 wp:html /
Shruti Bhimrao Botare is the first tribal girl from her village Parsodi in the Yavatmal district of Maharashtra to pursue graduation. She is doing her B.A. from Pune's Fergusson College, which is among the top arts and science colleges in India. 
Shruti studied up to class 12 in her village school and would have got married like most other girls but for Eklavya, an NGO that bridges the gap between youth from marginalised communities and premier educational institutions to create first-generation learners and leaders.
"The school was in the village, which is why I could study until the 12th. If I had to travel to some other village for studies, I would have ended up getting married like my mother and other girls here," says Shruti. Her mother studied till class 8 while her father is illiterate.
With no land of their own, her family, comprising parents and two sisters, work as farm labour and earn only Rs5000 per month collectively. "We have no other source of income. It is tough."
When Shruti was in class 12, she came across Eklavya and her fortunes changed for the better.
Also Read: Listening, teaching & inspiring: How Chennai's TQI is mentoring students in 30 districts
Shestays in a hostel for students from the tribal community and also receives Rs13,000 every three months from the hostel to meet her expenses.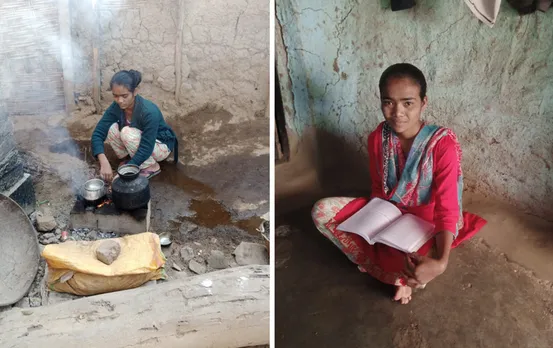 Shruti now aspires to become an IAS officer so she can work to improve the condition of the Adivasi or tribal people and other neglected communities.
Eklavya – targeting higher education for youth of marginalised communities
Shruti is among the 350 youth from marginalised communities whose lives have changed due to Eklavya, set up by Raju Kendre in Yavatmal in 2017.
Also Read: Sakhi for Girls' Education: 100% pass, zero dropouts among girls in Mumbai slums
They have also secured Goonj Fellowship, Gandhi Fellowship and SBI Youth For India Fellowship which offer Rs15,000 to Rs25,000 per month towards education expenses.
For his work, Raju received the Chevening Scholarship in 2021 under the Global Leadership Program and is currently pursuing Development Studies (MSc) at SOAS University of London. He has also made it to the Forbes 30 Under 30 list this year.
Raju, 29, is from the tribal community and is well aware of the challenges faced by the youngsters. His mother is a housewife and his father is a farmer in Pimpri village of Buldhana district, Maharashtra.
Also Read: How i-Saksham's young education leaders are driving change in Bihar's most backward districts
"I have seen the struggle of tribals. My father sleeps on the farm to ensure irrigation on time because electricity is mostly available at night. My weekends were always spent on the farm helping my father," says Raju, who studied in the government school in his village.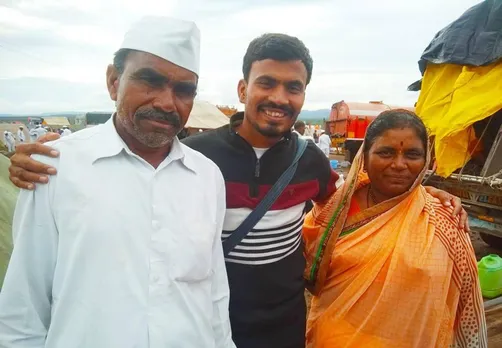 After schooling, he went to Pune for higher education and preparation for the UPSC exam but did not know how to go about it all. "I could not enrol in a good college as finance and guidance were a struggle for me. So I pursued graduation through distance education from Yashwantrao Chavan Maharashtra Open University," he says.
But this incident gave him a purpose in life. "There are many students like me who, because of lack of guidance and awareness, are not able to study after class 10 and 12 and end up ruining their lives. So, I thought of bridging the gap between these youth and the higher education institutes," says Raju.  
Also Read: Gyanada: where children from Mumbai's slums code, compute and create apps
According to the National Sample Survey (NSS), 2014, while the percentage of school enrolment SCs and Scheduled Tribes STs is 90.9 percent and 88.4 percent respectively in the 6 to 14 years age group, the figure drops to 20.8 percent for SCs and 15.7 percent for STs at the tertiary education level (18 to 21 years).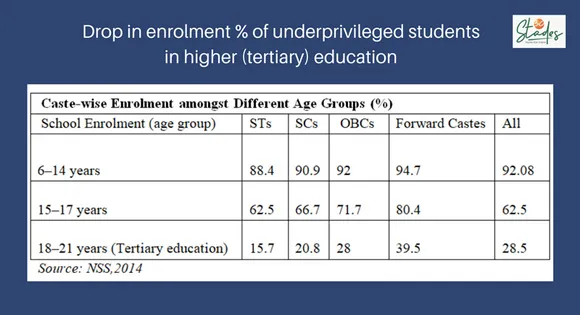 With the truth embedded in these numbers and Raju's own experience, he began conducting weekly sessions where he would motivate tribal youth in villages for further education. "I realized that they are not motivated due to lack of awareness and because they don't have access to infrastructure," he says.
Also Read: Fagun: India's only Santhali newspaper giving a fresh lease of life to tribal language & culture
Raju won the Chief Minister's fellowship of the Maharashtra government from April 2017 to September 2018 for his work in the field of education. He has also worked with Pratham, an NGO that works in the education sector, and has also taught in the Savitri Jotirao College of Social Work, Yavatmal.
"I contested the panchayat election in 2015. Although I did not win, my motivation and purpose never changed," says Raju.
How Eklavya grooms GenNext
About 60 students are selected for a four-month residential programme in Eklavya where they are provided food and accommodation.
Also Read: Abha Kunj: Zero-cost education gives a better future to Indore's underprivileged kids
The 60 students are selected after screening the applications based on their aspirations, needs and commitment to higher education.
"All the students are connected to Eklavya through WhatsApp and calls. They can call us anytime and seek guidance about education and career. Our mentors are always happy to help them," says Raju.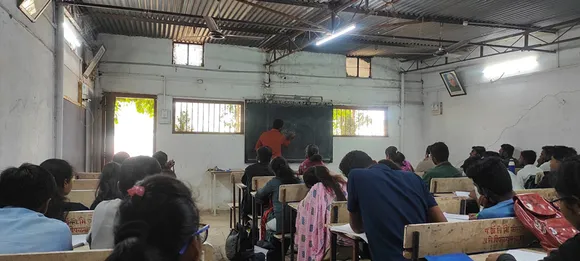 "The idea is to develop leadership among youth so that they think of not only earning money but also positively impacting the society," he adds.
Smita Tatewar, 23, is a student of the first batch of Eklavya. Her father is a farmer and owns 5 acres of land in Loni village in the Yavatmal district. But most of it is arid and he has little income.
Smita completed her schooling in the village and then did her graduation in social work from a government college in Yavatmal. She has also done a PG diploma in Sustainable Rural Reconstruction from Gandhi Research foundation, Jalgaon.
Also Read: How Bihar's Lahanti Club is preserving Santhali culture
She earns Rs16,000 a month as stipend and travelling expenses from the fellowship. She was also a deputy head of her village for a year in 2021.
"While pursuing my BSW, I did an in-depth survey for a college project where I found that about 30 people who are eligible for the Pradhan Mantri Awas Yojana are not able to avail of it. Then Raju Sir encouraged me to contest local elections and I got elected as deputy village head," she says.
Also Read: How a Santhali folk singer & orphans turned barren land into forest at Bengal's Ajodhya Hills
Smita says without Eklavya none of this would have been possible and she would end up getting married at a very early age. Smita also teaches in Eklavya and wants to work on gender equality. "I want to give back what I have received. That is why I teach at Eklavya to help it grow and help other students," she says.
Another student, Prathamesh Ganeshraw Manekar also belongs to a poor farmer family. After Eklavya's intervention, his life changed.
He did his graduation in Social Work from Yavatmal and, with help of Eklavya, got Gandhi Fellowship.
The challenges
Eklavya carries its programmes to the village and school levels to create awareness among students.
He has been funding operations so far through teaching and taking up other work. "However, we need funds to be able to work at a large scale," he adds.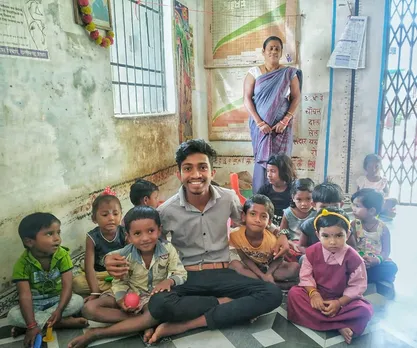 The NGO is operating from a school building but Raju plans to have their own infrastructure once they have enough finances. The non-profit has three co-founders, five core team members looking after various responsibilities and about 200 volunteers who contribute their time as and when required. 
The NGO is now running programmes online to reach more students.
Also Read: Seral Murmu: The Santhali filmmaker highlighting tribal issues and culture through cinema
He says his parents were sceptical when he began his work but are very happy now. "I give interviews. Many renowned personalities and politicians visit my village because of my work. My parents see that what I am doing is worthy and impactful," adds Raju. 
He now has bigger dreams. "I want to work at the national level and create leaders across the nation. I am working towards that," he says.
He hopes to collaborate with the government so that he can reach students of marginalised communities across India. "We can only change the future of youth through quality education," Raju adds.
(Bilal Khan is a Mumbai-based independent journalist. He covers grassroot issues, LGBTQ community and loves to write positive and inspiring stories.)
Also Read: How Barmer's NGO Fifty Villagers is helping underprivileged students become doctors