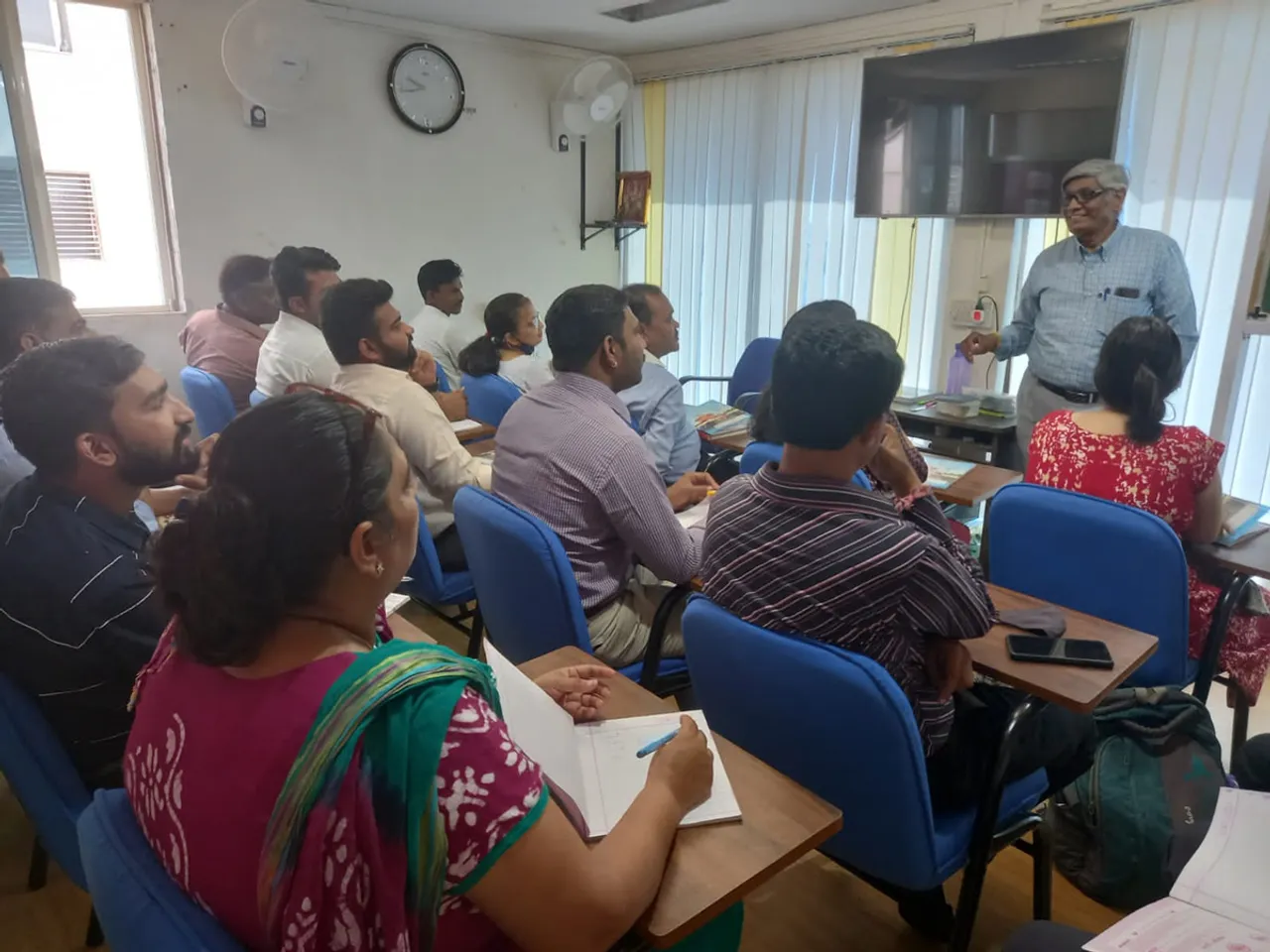 Bharat Nath was studying in class 7 in a government school in Ahmedabad when he lost his father. Being the oldest of four children, it fell on young Bharat's shoulders to provide for his mother and siblings. Not knowing what to do, Bharat began to beg.
"We did not know what to do. I could see a few people begging in my area which seemed hope for me. So, I started begging to provide for my siblings and mother. I left my studies," says Bharat, now 19.
 One day in 2018, Bharat's life took an unexpected turn. A man called Mahesh Desai came to him and asked him if he was interested in studies. Bharat could scarcely believe his luck. "I wanted to study so when Desai Sir promised to teach me for free I could not resist," says Bharat. Desai started teaching Bharat and helped him to prepare for class 10 exams. Bharat cleared the exam through distance learning.
Apart from academics, Bharat also learnt English and pursued computer and hardware courses. 
Also Read: Learning by doing: Project DEFY's 'nooks' skill learners from marginalized communities
Today, Bharat works as a software engineer in a company based in Ahmedabad. "I have been working in the company for 10 months now and earning Rs 10,000 per month. I did not know that one day I would work in a company and speak English. It has been possible because of Desai Sir," says Bharat. 
Like Bharat, the lives of around 500 youths across Ahmedabad have turned around, thanks to Mahesh Desai, founder of the NGO, Helpline Trust.
From slums to schools
Three decades back, Desai moved to Ahmedabad from Talegaon Dabhade village (now town) on the outskirts of Pune in Maharashtra when he was 27 years old. He was interested in the textiles business and started a small readymade jeans manufacturing unit. But the universe had a bigger mission for him.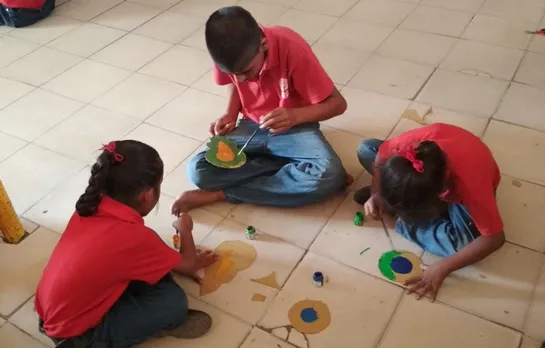 "I would notice slum children not going to school, falling prey to negative elements or being forced to beg. They had no future. I would feel a strong urge to do something for them," says 60-year-old Desai.
But Desai was clueless about what to do for them. He began a survey on a personal level. For a year, between 5 and 8 pm, Desai would visit one slum and analyze how the slum dwellers earn and spend money, spend time, and their thought processes and expectations from life.
Desai did surveys in seven slums of Ahmedabad in seven years alongside his business. 
"In those seven years, I met people from about 500 NGOs. No doubt, they do good work for the slum dwellers. However, I found that they were making the slum dwellers dependent," says Desai.
Also Read: How i-Saksham's young education leaders are driving change in Bihar's most backward districts
Elaborating, Desai says some NGOs give slum dwellers medical help, and some provide food or clothes. But he wanted to do something that would make them capable of living comfortably on their own. "I felt this was only possible by educating them, especially the children."
During the surveys, Desai found that more than 40 percent of children from slums were not attending school. "Children are means of income for the parents. The kids work in tea stalls or other units, some earn through begging, and some tag along with their elders for labour. Parents think sending children to school is a waste of time," says Desai.
Study circles
Desai managed to convince a few children from a slum to study. He would visit the slum between 5 and 8 pm, carrying with him study resources such as books and stationery to teach them. Gradually, as the slum dwellers became aware of Desai's work, they began sending their kids to study.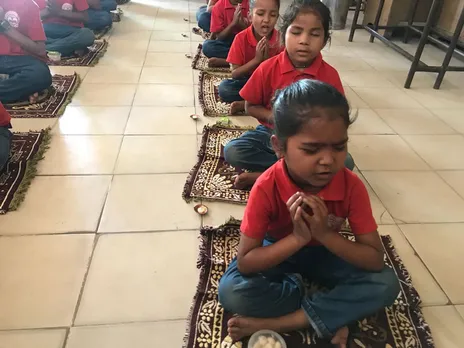 As the numbers increased, Desai started his NGO, Helpline Trust in 1990. Under this, he opened four study circles called Helpline Education Home in four slums in Ahmedabad.
To focus on his social work, Desai shut his business in 2000. He hired 15 teachers who would teach the slum children for free. 
Around 350 students were studying across the four study circles. They ran well for two decades until COVID struck in 2020. During the lockdown, many students went to their villages. After the lockdown, Desai found the children were not keen to study. "Their thinking was negative. They complained that I did not give them food, clothes and money. I did not see hope to restart the study circles again," says Desai.
Also Read: Gyanada: where children from Mumbai's slums code, compute and create apps
Reinventing lives
Despite the setback, Desai did not lose hope. He decided to provide skills to youth who were unable to find employment.
In 2020, Desai took a place on rent in Naranpura and started the Helpline Academy of Technology to provide courses in spoken English, Tally, computer hardware and software, nursing, plumbing, and electrician.
The Helpline Academy of Technology offers 12 courses and 12 faculties that train students for free. The courses are 3 to 6 months in duration.
The criteria for selecting students are that they should have cleared class 9 and should belong to lower middle-class families. The students have to clear an exam at the end of the course and are given a certificate.
Desai says while the institute does not do placements, they do inform students about vacancies in various companies. 
"We have trained about 500 students in the last two years. Of these, 300 have got placements. They are earning between Rs 7000 to Rs 35000 per month," says Desai. 
A former student, Ashish Salonke, shared his experience. Ashish is a B.Com graduate who worked in a delivery company and was earning Rs 6000 per month. "I was living in a shared room in Ahmedabad. My father worked in a factory and earned Rs15000 per month. This was not enough to manage expenses for five members of the family," says Ashish. To make matters worse, his father lost his job during the lockdown.
Also Read: Katalyst India: Empowering underprivileged women in science & technology to take up leadership roles in corporate India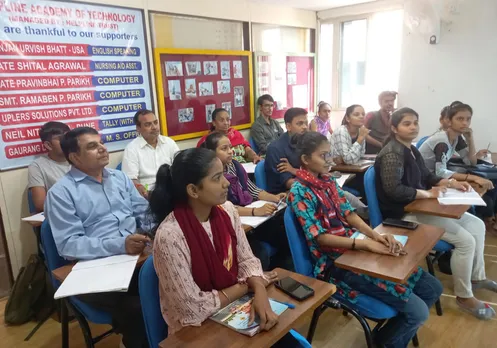 Ashish got to know about the Helpline Academy through social media and enrolled for a Tally course in 2021. He now works in a local hospital where he manages the salary data of the employees.
"I earn Rs18000 per month. I stay with my family in Ahmedabad. I am confident that I can earn more in future as I have a skill and I am gaining professional experience," says Ashish.
Rekha Salonke, another student, recounted her struggle. Her father was a rickshaw driver and her mother was a housemaid. Rekha wanted to study but her parents were not keen.
"It was not that easy. I paid for my own education fees by working as a housemaid. I completed my M.Com. But my father did not allow me to work," says Rekha.
Also Read: From Kashmir to Kerala, how IDIA is helping underprivileged students become lawyers
She got married in 2006. Her husband, a tailor, earned Rs10,000-15,000 per month. Rekha did some sales and marketing work from home but the earnings were very low. In 2021, she joined the Helpline Academy of Technology and pursued a Tally course. She got a job in a shopping mall and earns Rs15,000 per month.
Asked how he manages expenses for his social cause, Desai says, "I work as an agent. I take orders for readymade jeans and outsource the work. I cut my commission for the work." Desai earns about Rs40,000 per month and gives a part of the earnings to the NGO. He also gets donations and contributions from people.
His dream is to make youth self-reliant so they are not dependent on anyone. He plans to set up institutes across India. "I want to make India poverty free by uplifting the youth," says Desai. 
Bilal Khan is a Mumbai-based independent journalist. He covers grassroot issues, LGBTQ community and loves to write positive and inspiring stories.)
Also Read: Gyan Shala: Schools in slums that have provided quality education to 3 lakh children