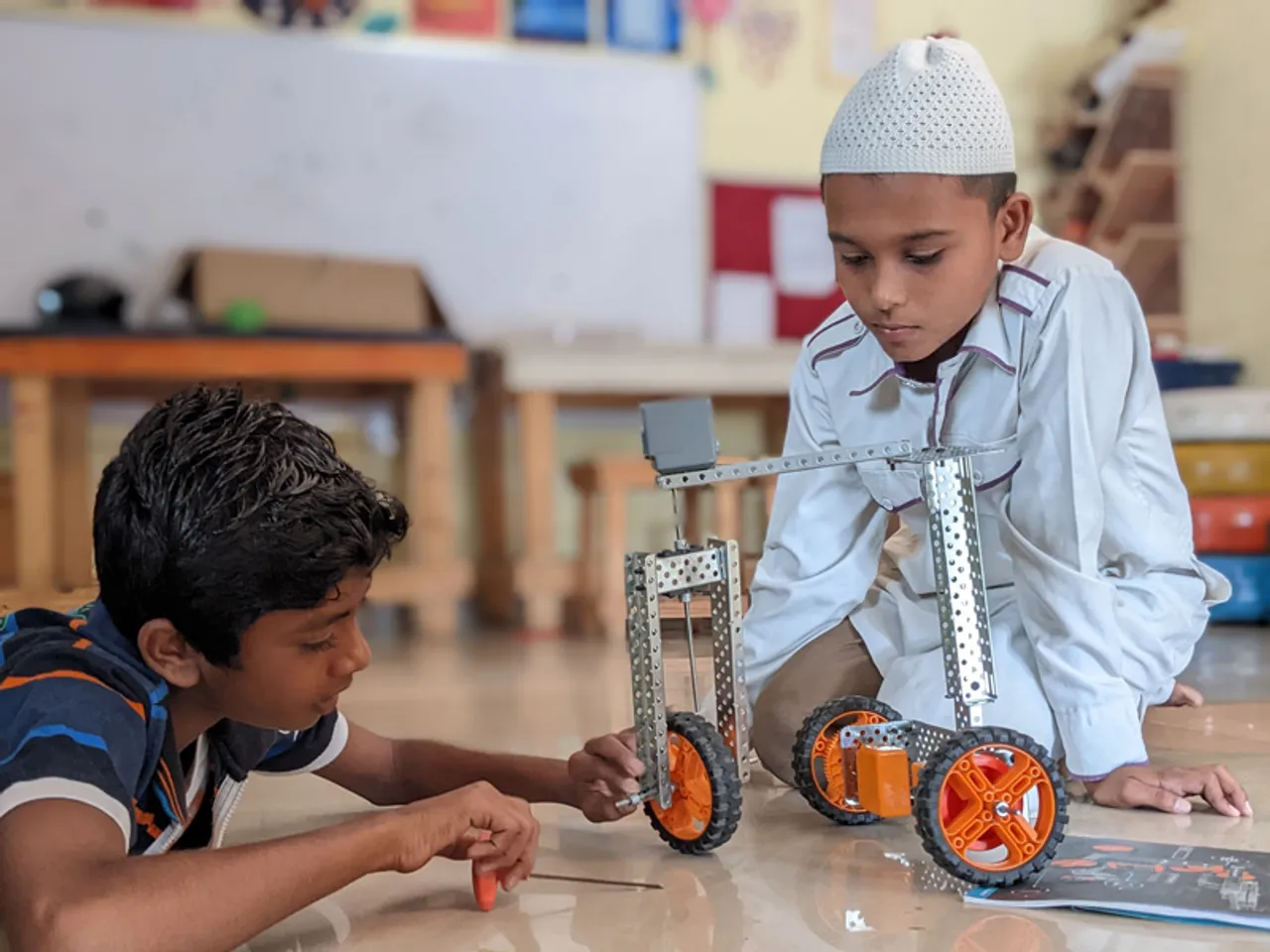 There is an air of palpable excitement in the room. Nine 'learners' are seated in a circle on wooden boxes ready for the 'opening circle' meeting. At the meeting, even the shyest learner opens up and expresses what she wants to learn and what she will do on that particular day. 
"I have learnt art and craft, pizza making, tailoring and dance here. Once I am here, I don't feel like going home," says Tabassum (17). Irfan, 14, proudly shows you the moon lamp he has made in seven days while Ismail, also 14, explains how he is learning the guitar by watching YouTube videos and some mentoring from an expert. 
Also Read: Gyanada: where children from Mumbai's slums code, compute and create apps
Where is all this learning happening? It's at the JP Nagar 'nook' in Bengaluru set up by Project DEFY (Design Education For Yourself). Project DEFY is a non-profit founded by Abhijit Sinha and formally registered in 2016. The project was selected as one of the most impactful and scalable innovations in the world by the global education non-profit 'HundrED' in 2022. 
The aim of the non-profit is to create alternatives to mainstream learning where the learners can think for themselves, their families, and their communities, and discover the education they need and want for themselves.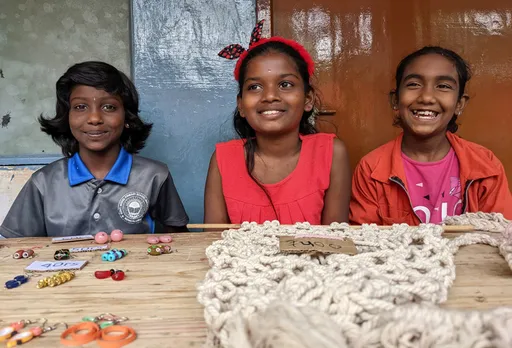 A group of 13-year-olds, Navya, Muskan and Chaitra, are all smiles as they have complete a project on Macramé home décor. Pic: Project DEFY 
The vision is for self-designed education that is accessible, equitable and localised. Sinha is a vocal critic of the traditional system of education and this non-profit is an attempt to make learning more creative, enjoyable and relevant. 
What's a nook?
The organization helps communities create their own schools called 'nooks', which are without teachers, classrooms or curricula. Interestingly, the name 'nook' is derived from the Hindi word 'nukkad', which means a street corner where people gather. Anyone is welcome at a nook and there is no fee. 
Nooks are located amid communities where there is poverty and the people are marginalized.
"This is a conscious choice. We had the option of setting up nooks in expensive schools but felt that they already have many options for learning. For the segment we focus on, quality learning does not come easily," says Sinha.
Also Read: How i-Saksham's young education leaders are driving change in Bihar's most backward districts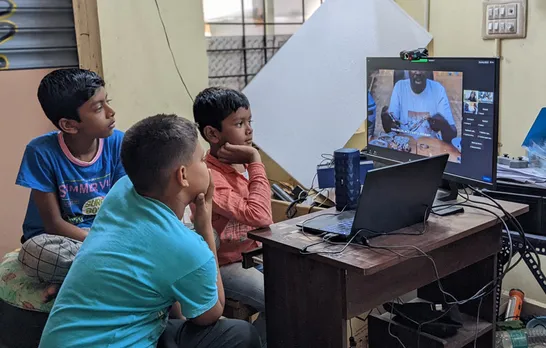 Learners of JP Nagar nook interacting with the global community of learners. Pic: Project DEFY
 
Today, there are 31 active nooks. There are three in Karnataka and 20 new ones in Meghalaya in collaboration with the state government. There are three in Africa and one in Bangladesh. "I would say there have been 3000 regular learners who have spent a considerable amount of time at a nook. This is not counting the learners in the first 10 nooks and the six spaces in universities that we created but do not manage now. They are independent," Sinha says.
"We also set up a large nook at a refugee camp in Uganda which is now independent."

-- Abhijit Sinha, Founder, Project DEFY
How it all began 
Sinha is a computer engineer who quit his job at a software company in Bengaluru. "I did not find any real human value in my work. I left the city to live in Banjarapallya, a village on the outskirts of Bengaluru," he says.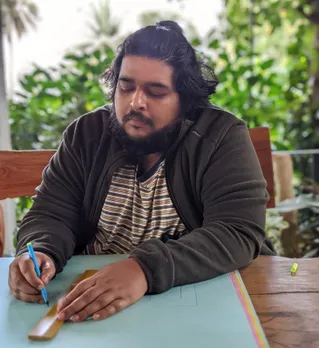 Abhijit Sinha, Founder and CEO, Project DEFY 
That was where the first nook was created, quite by accident. "A bunch of children gathered around me fascinated by my phone. After some experimentation, they learnt how to play a game on it. I was wonderstruck by their eagerness and capacity to learn. Gradually, a space was created where people of all ages came to learn something or the other," he relates.    
"Once an eight-year-old child walked into the Banjarapallya nook with a remote-controlled toy car, which wasn't working. I left him to experiment by himself. He went around talking to the other learners all through the day and by evening he had taken apart the car. He made his own car with plastic bottles and fixed the remote-control mechanism in it. It worked!" 
Also Read: Sanskriti Samvardhan Mandal: This Maharashtra school provides underprivileged kids with sports route to a better future
Sinha realised that he had started something, but didn't know what exactly it was. "To understand better, I decided to move away after a year at Banjarapallya. I was fortunate to get two fellowships. One was from Plustrust, a non-profit based in Bengaluru that encourages micro-entrepreneurs. The second was a Kanthari fellowship for social changemakers where I was based in Kerala. During this period, I thought and read a lot about education," says Sinha. 
After much deliberation, he decided to set up an organization. He received a lot of criticism for naming the non-profit 'DEFY'. "But I stuck to the name as I believe that asking questions and challenging the status quo is a positive thing," he says with a smile. 
Profile of learners
Every nook in India has around 20-25 learners. The profile of learners is very diverse. In Meghalaya, most of the people are from an agricultural background. In contrast, in JP Nagar nook, the community is engaged in small trading, working as domestic help or driving auto rickshaws. As there is no government high school around that nook, many of the female learners have dropped out of school after class 8.  
Also Read: From 'rat eaters' to lawyers & engineers, how Bihar's SSK School is helping Musahar community rise above poverty & stigma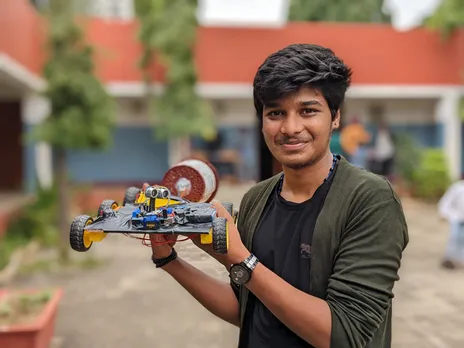 Prem Sagar, 17, holding the robotic vacuum cleaner he has made. Pic: Project DEFY 
Overall, the largest participation is from children, young adults and middle-aged women. The lowest number of learners is from the working men segment. A few elderly people come to the nooks. In fact, the Whitefield nook in Bengaluru has a learner who is a grandmother aged 65.
She learnt English, how to use a computer and even a little robotics at the nook! 
Breaking stereotypes  
The learners are helped by facilitators called nook 'fellows'. The project has 45-50 fellows currently. "There are no gurus here, nor shishyas. We are like friends. Everyone is equal. The learners call us by name. There are no gender stereotypes. The girls and women wield carpentry tools and the boys enjoy cooking," says Divya Dixith, a fellow. 
Nishant Kumar, an engineer with Project DEFY, says: "I see how people get transformed after coming here. We have a DIY culture, an attitude of problem-solving, which empowers people."
Also Read: Raju Kendre: Farmer's son connecting youth from tribal & marginalised communities with India's top educational institutions
The main activity at any nook is learning -- be it creating beautiful 'mehndi' designs, music, dancing, tailoring, writing, cooking, shoe making, metal work, urban gardening, or carpentry. 
Groups of learners are guided to set goals and are given three months to complete a project. One group at the JP Nagar nook is designing a magazine all about 'biryani'. This way, the group is picking up English, editing, design skills, and computer basics, says Kumar.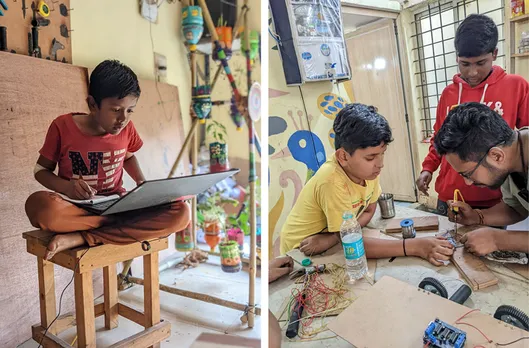 Left: A learner is engrossed in researching and taking notes from the Internet. Right: Children working with a nook 'fellow' on a remote-controlled mini bus project. Pic: Project DEFY 
Each session ends with a 'closing circle' where the day's happenings are discussed along with tricky topics such as handling fear and child marriage. 
How nooks work
The project has partners (CISCO, TESCO, NASSCOM Foundation, BitGiving, and Global Humanitarian Lab, among others) who support the nook's activities financially through CSR funds, donations or grants. "The support we have received from the Meghalaya government is quite incredible. This is the first time a state government has invested in alternate education at this scale. We are exploring tie-ups with other state governments. In the next five years, the plan is to set up 100-150 nooks," says Sinha.
In India, it costs Rs 22-23 lakh to start a nook in an urban area and run it for the first year.
"Our operating costs include upkeep, electricity and water, rent, materials, and salaries of nook fellows," says Sinha. 
All the nooks have around 10 laptops, WIFI, TV, projector, printer, basic tools and some furniture. Waste is collected and made into something beautiful or useful. In addition, the community can buy the materials it needs from the funds allotted. "We are taking it slow as we are learning from every experience of setting up a nook. It is not like making a product and then marketing it," he says. 
Also Read: How Toybank's learning-through-play is helping at-risk children grow into responsible adults
Overall Impact   
The tangible impact of the nooks is that the learners pick up different kinds of skills that they can turn into occupations and trades.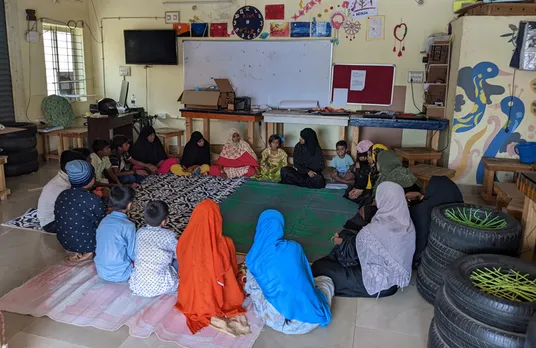 A 'closing circle' held at a nook at the end of a session where all kinds of topics are discussed. Pic: Project DEFY 
"Of course, some learners get government jobs. In our nook in Rwanda, a group enjoyed welding and started making gates. They were so beautiful that people wanted to buy them. In Cherrapunji, another group has started making handmade jewellery and plans to sell it online," he says. 
Also Read: Listening, teaching & inspiring: How Chennai's TQI is mentoring students in 30 districts
"We are not teaching them entrepreneurship. They are picking it up themselves." 
Sinha now plans to set up a Community Transformation Fund (CTF) for each nook to fund such ventures. This will also help a nook become self-sustaining," he says.
But he believes the real impact of a nook goes beyond skilling. "The impact is the shift in mindset that occurs in learners. Many have to struggle to come to a nook. They have to defy their families. One school principal was very angry that children were spending time at a nook instead of completing homework. Also, learners start making their own choices aided by questions asked by the nook fellow. Significantly, at a nook, people learn how to learn. They get to know how to look for resources on the internet or resource persons around." 
Finally, nooks impact not just individuals but the community as well. As an example, infighting and violence were reduced in a Punjab village due to the interaction and communication that took place in a nook there. Also, during COVID, while the nooks were shut, the learners played an active role to help their communities with food, medicine, masks and sanitisers. 
(Aruna Raghuram is a freelance journalist based in Ahmedabad. She writes on parenting, personalities, women's issues, environment, and other social causes.)
Also Read: Reap Benefit: Mobilising youth power to bring about civic change