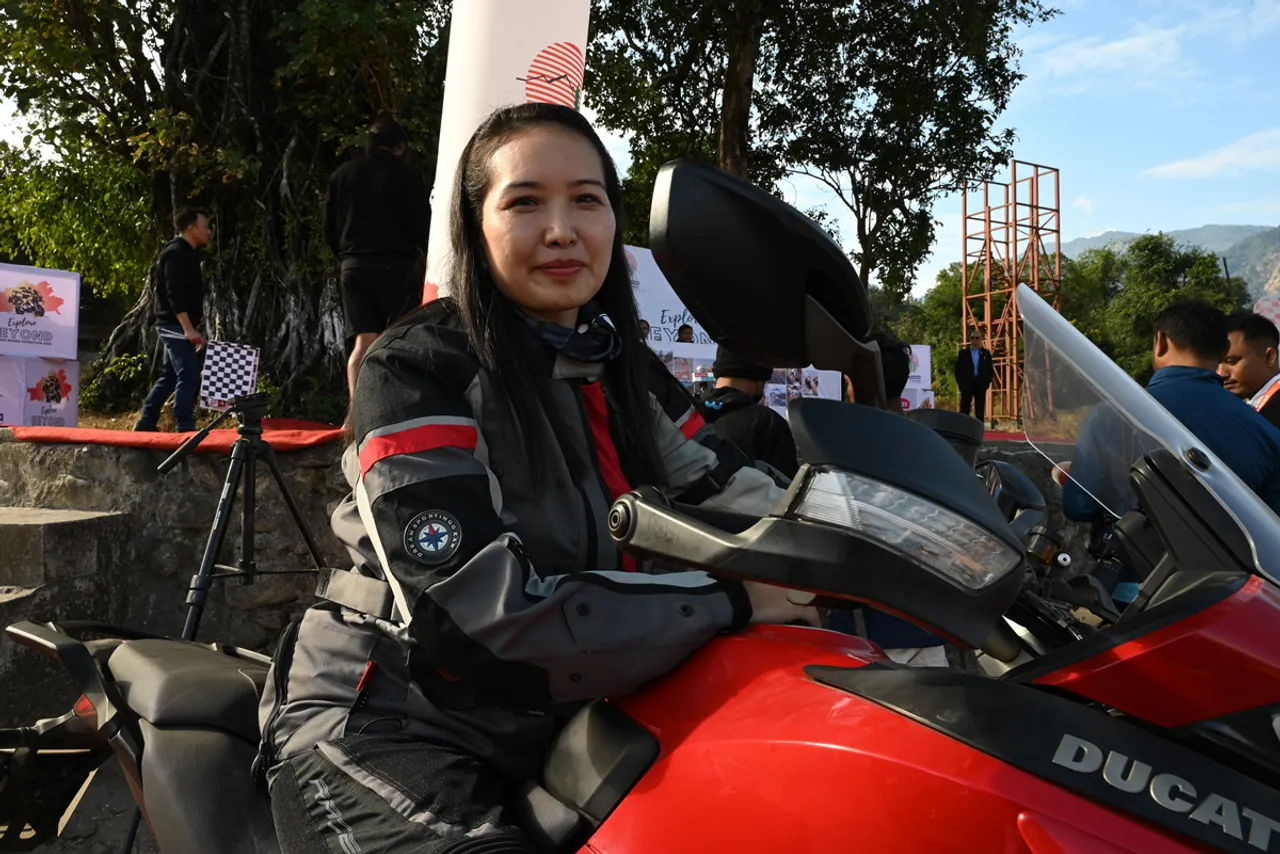 Tenzin Metoh is an entrepreneur from Arunachal Pradesh who is reviving and promoting the traditional attire of the Monpa tribe. But what sets Tenzin apart from other entrepreneurs is that she has the distinction of being the first woman Bullet biker from the hill state and is the brand ambassador for women's empowerment and tourism.
Tenzin launched her clothing brand, Oro Bruk, which means 'Mountain Dragon' in the Monpa dialect, in 2017. The inspiration came from the fact that traditional attire was almost disappearing.
The Monpa, one of the main tribes of Arunachal Pradesh, dress in distinctive clothing for both men and women.
"Monpas have traditionally worn a maroon outfit. Maroon was not, in fact, our first colour. The colour has always been bluish-green. I did a lot of research and gathered old photographs of men from our tribe wearing these colours. I'm attempting to revive the classic styles," says Tenzin.
Tenzin has made traditional designs more contemporary to cater to modern tastes.
Reviving Monpa clothing
Tenzin, who is in her late 30s, did her graduation and post-graduation from Delhi. She prepared for UPSC and other state level examinations in Delhi for some time before moving back to Itanagar in 2013 as she got a job with the Arunachal Pradesh Department of Public Health, Engineering, and Water Supply as a state consultant.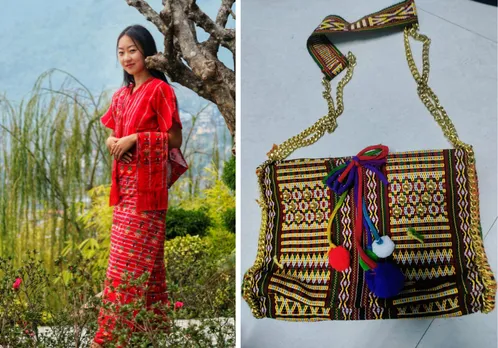 Alongside, she began working on developing her clothing line and eventually launched her brand Oro Bruk in December 2017 with a working capital of Rs15 lakh.
Also Read: Namza: The sustainable fashion brand taking Ladakh's traditional clothing to the world
Weaving is traditionally done in all Monpa homes by women who create distinctive patterns. Tenzin approached Monpa women residing near Itanagar and explained contemporary designs and patterns to them.
"In actuality, the tribal style and patterns already exist. But the designs were too large, the craftsmanship was poor and the colour palette seemed out of place. I changed it to make it appear chic and colourful," she says.
Tenzin taught the women more contemporary patterns and designs more suited to an urban clientele. She sources her fabric from tribal women.
Tenzin makes various traditional dresses for women such as Shingka, a sleeveless gown in pale red colour with white stripes made of coarse Endi silk. Teng-ngakyima is a red or black coloured yak wool cloth that is tied at the rear of the waist. Toh-dung, an open-fronted silk shirt, is worn over the Shingka. Chupa is a loose gown worn by women. 
Tenzin uses stretchy crepe or satin fabric to make the Chupas since it is wrinkle-free and easy to use. She also makes accessories like earrings, belts, headbands and masks using traditional Monpa patterns.
Also Read: How Nomadic Woollen Mills is taking 'Made in Ladakh' Pashmina to the world
For men, she offers Toh-dung, the traditional shirt and Khanjar, a black coat made of yak wool and worn over the shirt. She also offers substitutes in Matka Katla silk and other silks to make it more trendy. Tenzin says she prefers fabric that is thin, stretchy, sweat-absorbing, washable, and colourfast. Chupa or a thick maroon woollen coat is worn in the winter.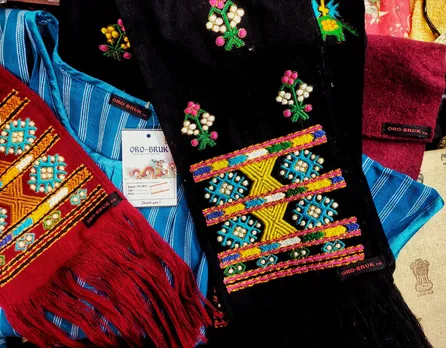 Tenzin offers 20 different types of Monpa garments and accessories with prices ranging from Rs500 to Rs10,000.
Her other fast-selling item is the Monpa bag which is well-known for its design and colour. "Several days are required to make the bags," she says. 
The bags are hand-woven by the women who sit with their backs strapped with a belt while weaving. The designs are small and intricate.
The price of the bag ranges between Rs 2,500 and Rs 10,000. The bags are costly since they require a lot of labour and some high-end bags are made of yak wool. The bags are very sturdy and will last 15–20 years
Tenzin buys yak wool for the garments from Brokpa, a community of nomads. 
The Yak wool is derived from the Yak which sheds the wool in small quantities once or twice a year high in the mountains which makes it expensive.
The products she makes are purchased by people from across the northeastern states. The items are also popular with people from other hill states such as Himachal Pradesh, Uttarakhand, Sikkim, Assam besides Mumbai..
Also Read: The Ethicus Story: How a Pollachi-based couple made sustainable farm-to-fashion viable
"I do most business online through Instagram and Facebook. Additionally, I put some of the goods on display in my mother's clothing store in Itanagar," says Tenzin who bagged the Miss Arunachal title in 2003.
Although there is a high demand for traditional products, production is low as they are handmade and not mass-produced. The women have to sit for long hours, which leads to backaches and poor eyesight, a major reason why the women have drastically reduced making these items.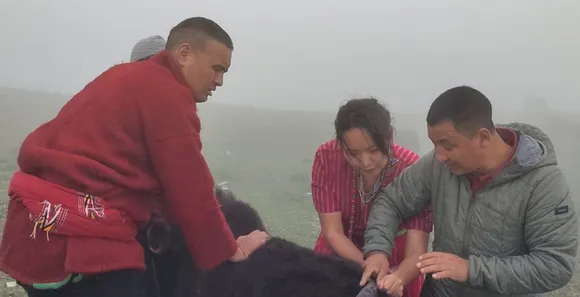 Tenzin also makes Jandhong, a traditional butter-tea churner. It is 15 inches in height and 5 inches in width. "It's an attempt to revive the lost custom of preparing butter tea at home using a Jandhong. Butter tea is a favourite beverage among the Monpas, Membas, Sikkimese, Tibetans, Bhutanese and Southwest Chinese people.
Empowering Women
Through her start-up, Tenzin is also empowering local women. 
The women who work with her are typically between the ages of 17 and 50. She has several college-going girl students who make these bags during their breaks. Their earnings assist them in covering college or tuition fees.
"I buy the bags from the women for Rs2300 per piece. I sell them in the market for Rs2500. They put a lot of effort into making it. Therefore, neither they nor I ask that the price be reduced. I work to maintain a minimal profit margin. It's my method of boosting their morale. For both of us, it's a win-win situation," says Tenzin.
Last year, Tenzin expanded her business to Tawang, where she sells her products at a store run by a local woman. She also sells at another store in Ladakh.
Tenzin is also finalizing a deal with the state's Rural Development Department to collaborate with Monpa women in the hamlet of Amchi village in Kra Daddi district how to weave bags and other handicrafts to make them relevant with contemporary demands. They will be procured by Tenzin and the state government.
Also Read: Bhujodi: Gujarat village that turned a nomadic tribe's shawl into a global fashion statement
Tenzin is working on a small scale and has a team of about 20 people. Of these, about 10 women make the garments while seven are involved in crafting the bags. There are a couple of tailors and embroiderers as well.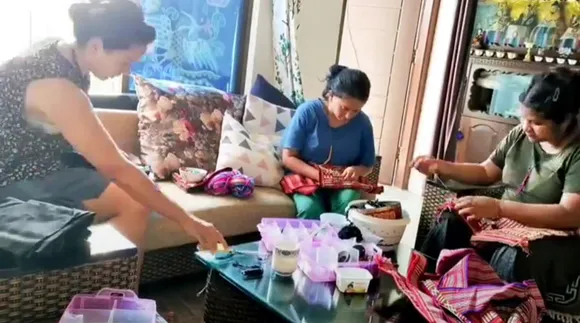 Tenzin struggled for the first two years after her start-up was launched. But it started to pick up as sales grew from the third year, and Tenzin was able to break even. Her company generated Rs 35 lakh in revenue in the last financial year.
The woman biker
Tenzin's first love has been biking since she was a young girl. She learnt to ride a bike while playing with her six brothers who were regular bikers. When she was 12 years, she first rode a Yamaha 1000 CC.
Currently, she is the only female rider in Arunachal who races a 955CC Ducati Sports Bike at 150 km/h. Tenzin has regularly participated in races in Arunachal along with male bikers. She was thrilled when in 2022, she received a call from the state tourism department for a biking expedition 'Explore Beyond', a campaign to attract tourists to Arunachal.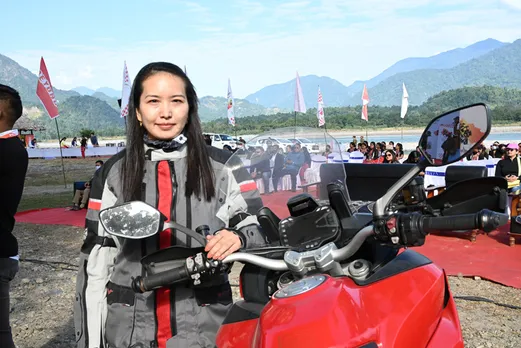 "The officials told me I would have to ride a Ducati. I didn't have any experience riding a Ducati since I rode a Bullet. But I did not want to reject the invitation. Many professional bikers from across the country participated in the event," she says.
"Riding alongside well-known professional bikers was an amazing experience. For me, everything was brand-new, even the clothing and the journey. The exposure was great," Tenzin admits. 
"The sight of a woman riding a bike is a fresh concept that encourages and inspires other females who want to ride bikes," she adds.
"We wanted to show that women can ride sports bikes since we were advocating for women's empowerment. We travelled to Namsai, Jairampur, Namdapha, Mayodia and Dambuk in Bomjir to encourage young people to take up riding as a sport and to boost tourism in the state," says Tenzin. 
(Partho Burman is a Kolkata-based award-winning journalist. He writes inspiring human interest and motivational stories.)
Also Read: Janessaline Pyngrope: The woman who took Meghalaya's Ryndia-Eri silk to the global stage