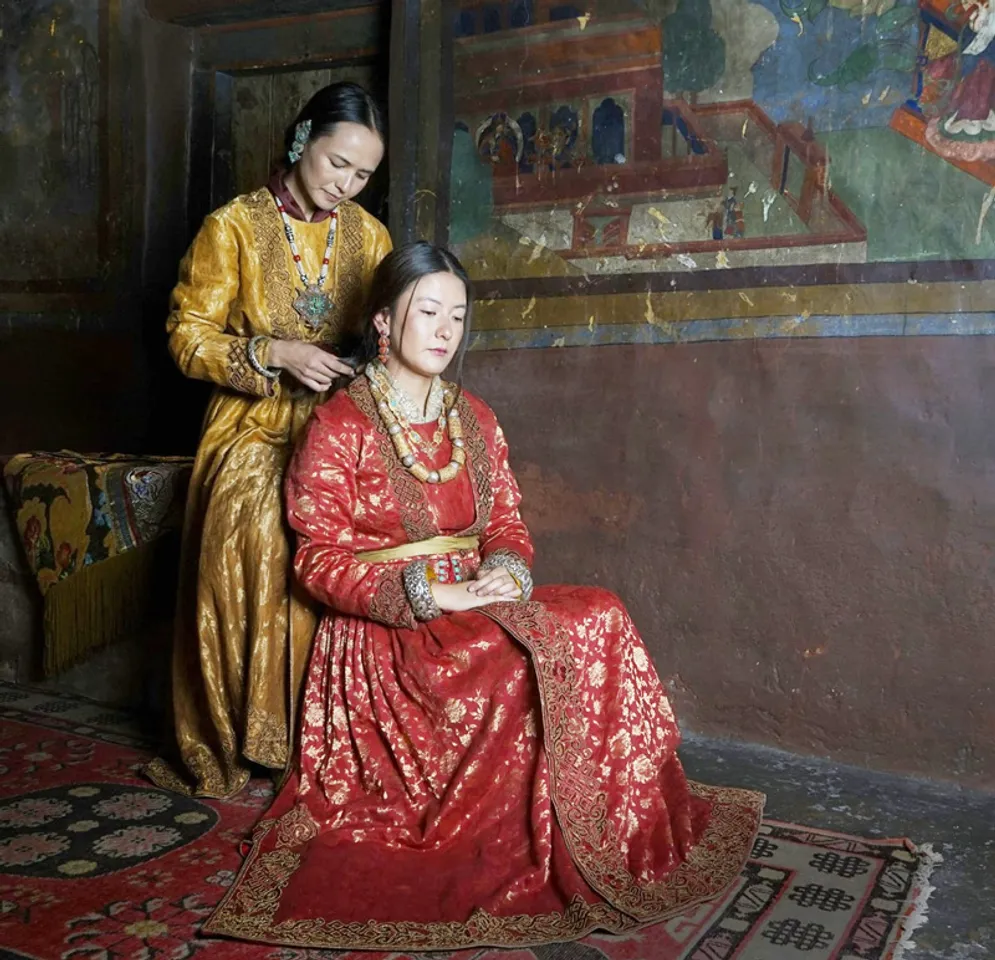 For many years, the only dream of Padma Yangchan was to return home from Delhi to set up her own design house that would promote the indigenous and sustainable hand weaving of Ladakh, the union territory famous for its natural beauty and snow-capped Himalayan ranges. 
But like most dreams, it wasn't an easy one to realise. Putting together a team of local artisans to create traditional Ladakhi couture with a contemporary feel required funds. And Padma struggled to procure money for investment in her venture.
However, when she received the Nari Shakti Puruskar for 2020 from President Ram Nath Kovind for her endeavour to revive and promote the traditional hand-weaving techniques and lost cuisine of Ladakh internationally, the years of toil and uncertainty seemed worth it.
Padma, 31, along with her business partner Jigmet Disket, is the founder of Namza Couture, the fashion brand that is reviving and popularising traditional Ladakhi textiles and attire.
Also Read: Himalayan Weavers: Hand-woven woollens by tribes in the Himalayas find a global market
She says the traditional clothes were dying out. "People turned heavily to western wear and traditional clothes were not in fashion. So, we thought of reviving the conventional attire and that's how Namza happened," says Padma.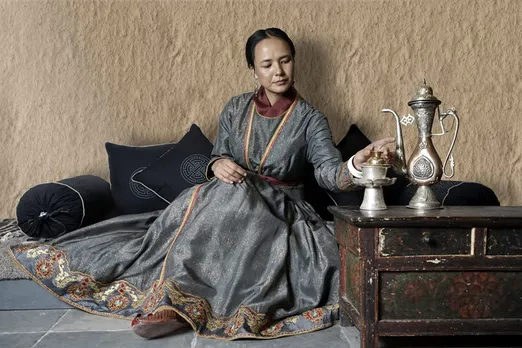 It sources the raw materials ethically and pays fair wages to artisans and other workers in the Himalayas.The label has gone from strength to strength. Having debuted at the London Fashion Week in 2017, it now has patrons across the world. 
Namza has an outlet in Leh and will soon open stores in Delhi and Mumbai. On the anvil are plans to open outlets in cities abroad. "We used our savings to start and finance Namza. We did hit rough patches but we overcame them," she says.
Also Read: How Nomadic Woollen Mills is taking 'Made in Ladakh' Pashmina to the world
Reviving the ancient legacy
Ladakh was an important trading centre on the ancient Silk route that passed through the Himalayas and connected diverse cities in China, Tibet, India and Central Asia, Persia, Arabia and Greece. Goods such as silk, cotton, brocades, pashmina, tea, spices, indigo, herbs, precious, gold, precious and semi-precious stones, food grains and salt were traded along the route. And Ladakh was an important trading centre for Pashmina.
Padma says she got acquainted with the diversity of Ladakhi clothing culture while studying Fashion in Delhi. "I was doing a project on Thikma, a traditional tie and dye technique of Ladakh. During that project, I got to know about the richness of Ladakhi culture and art. I wanted to return to Leh and study the traditional textiles," she says.
Also Read: How COVID-19 and India-China tensions have changed India's 900-year-old Patan Patola weaving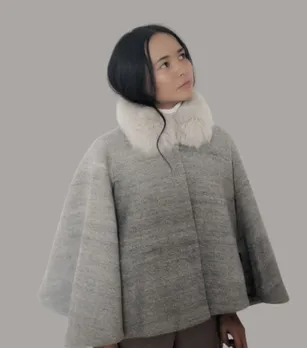 Padma says each region in the harsh climate of Ladakh has its traditional costumes dating back thousands of years and it is this heritage that Namza seeks to bring alive.
The traditional clothing in Ladakh include Nambu (woollen fabric woven from indigenous sheep wool), Spuruk used in the Zanskar region and made from sheep wool with a different weaving technique, Chali made from yak hair and used for blankets ,and Rebos are tents used by the nomads made from Yak hair. Tsug den are carpets woven from sheep wool mostly by nomads in the Changthang region.
Also Read: Born through an inter-caste marriage 700 years back, how Gujarat's Tangaliya weaving turned trendy
Traditional attire like Kos and Goncha are designed with a modern twist. The robes made of sheep, yak wool or hand-spun Pashmina are embroidered with brocade patchwork, sourced from Benaras (Varanasi). The motifs of cranes and lotuses, used in Ladakhi wear, have a deep significance in Buddhism.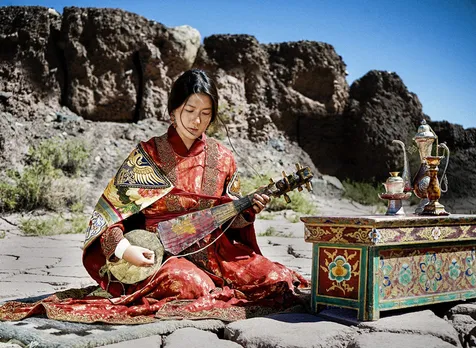 Besides wool, they also use other natural fibres such as cotton and silk for their couture.
Ladakh's weaving tradition
Padma and Jigmet are working with local weavers to revive traditional textiles and to contemporise them for a modern audience.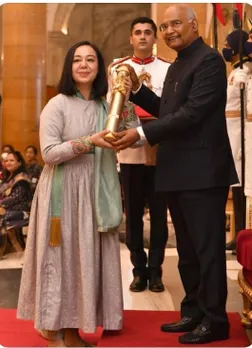 Padma says the weavers have knowledge of different weaving techniques which they have used for several centuries but were limited to a few designs.
"The weaving and spinning techniques were poor. Ladakh was mostly a source of raw material. "Wool from Ladakh was taken to Himachal or Kashmir where it was spun. But the government has set up a weaving institute to teach locals. Now they are very skilled and can make various designs. The spinners too weave a thinner fibre than was used earlier and this has brought more versatility," she adds.
Also Read: The Ethicus Story: How a Pollachi-based couple made sustainable farm-to-fashion viable
Namza has also introduced bridal wear, which has been very well received. "Earlier, the choice was only limited to brocades. But with our offerings, now everyone wants to wear Namza at weddings," Padma says with a chuckle.
The London Fashion Week was a big moment for Namza. Padma and Jigmet worked tirelessly for two months to complete all the outfits to be showcased.
She is looking at participating in the New York Fashion Week next year.
Slow, sustainable fashion
The process of creating fabrics is a long-drawn one. Padma does the designing while Jigmet is involved in the dyeing and weaving. The wool is sourced from Changthang region and Nubra valley. It has to be washed by hand and then the yak down (the soft underlayer of the animal's woolly coat fibre) has to be separated from the yak hair, which is coarser.
Also Read: This IITian quit job to revive ecofriendly handwoven dhurries; brings artisans back to the 2000-year-old craft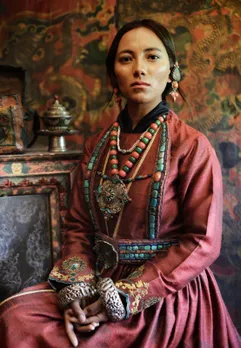 The washing is done by a women's self-help group. The cleaning is followed by carding which involves cleaning and inter-mixing the fibres to produce a continuous thread for further spinning.
The spinning is done by another women's self-help group. The spinning is done in the winter months when the women are relatively free.
"We pay them fair wages otherwise they are not motivated to do the work," says Padma.
Also Read: Bhujodi: Gujarat village that turned a nomadic tribe's shawl into a global fashion statement
Spinning is followed by the dyeing, which is also done using natural materials such as walnut, rhubarb, marigold, madder and various metals. They source the materials from the mountains.
After dyeing, the fibre is woven and finishing touches are given to it. "The entire process takes 8-9 months," says Padma.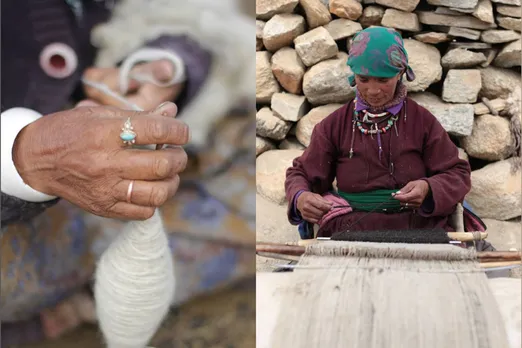 Around 50 women weavers are associated with Namza. This provides them with a steady income and is also keeping the traditional craft alive.
Future inspiration
Along with Namza couture, Padma has also started the Namza restaurant in Leh. "We had a garden at the back of our store in Leh. I am very interested in cooking and so I thought of adding a dining experience for our clients. They can get a flavour of the traditional clothes as well as cuisine. They can interact with the artisans and chefs. We provide an immersive experience," she says.
While researching for the restaurant, Padma realised none of the traditional dishes was documented except for popular ones like momos or thukpa.
Also Read: Farohar: How a mother-son duo is popularising Parsi cuisine through authentic recipes
"Our eating habits changed over time. Traditionally, the tribes used to eat barley but that got replaced by rice and cooking became Indianised with the use of a lot of Indian spices," she says.
But the duo is now reintroducing a lot of traditional dishes. Padma and Jigmet travelled to remote areas in the mountains and began documenting the cuisines in different regions.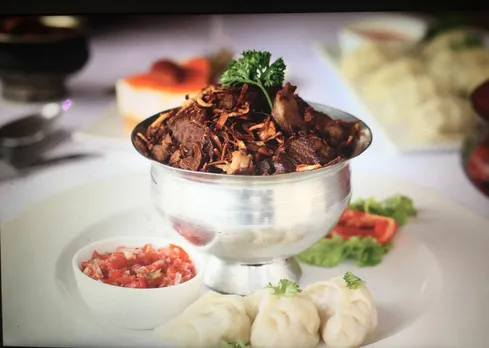 The herbs used in the cooking are sourced from the mountains so they are very fresh and flavourful. The herbs are dried and stored for use throughout the year.
Initially, Padma used her savings to finance Namza while Jigmet got a government loan. "We took things slow and despite struggles, we kept growing at a steady pace. Now we are making a small profit," says Padma.
Also Read: How this Bengal family is reviving traditional muslin weaving using organic cotton
She has a lot more lined up for the future. While they are retailing online, more Namza outlets are planned in different cities in India and abroad. Padma also plans to add home furnishings and interior design to her couture and cuisine lines.
Padma acknowledges that there were challenges and the going was tough. But she says she loved every moment of it. "I have worked for five years without a break but I enjoy what I am doing. It's my passion and that keeps me going."
(Urvashi Dev Rawal is a Jaipur-based journalist specialising in development, gender, and political reporting)
Also Read: Peoli: NID grads' slow fashion brand hand spins success story with natural yarns; empowers Uttarakhand women