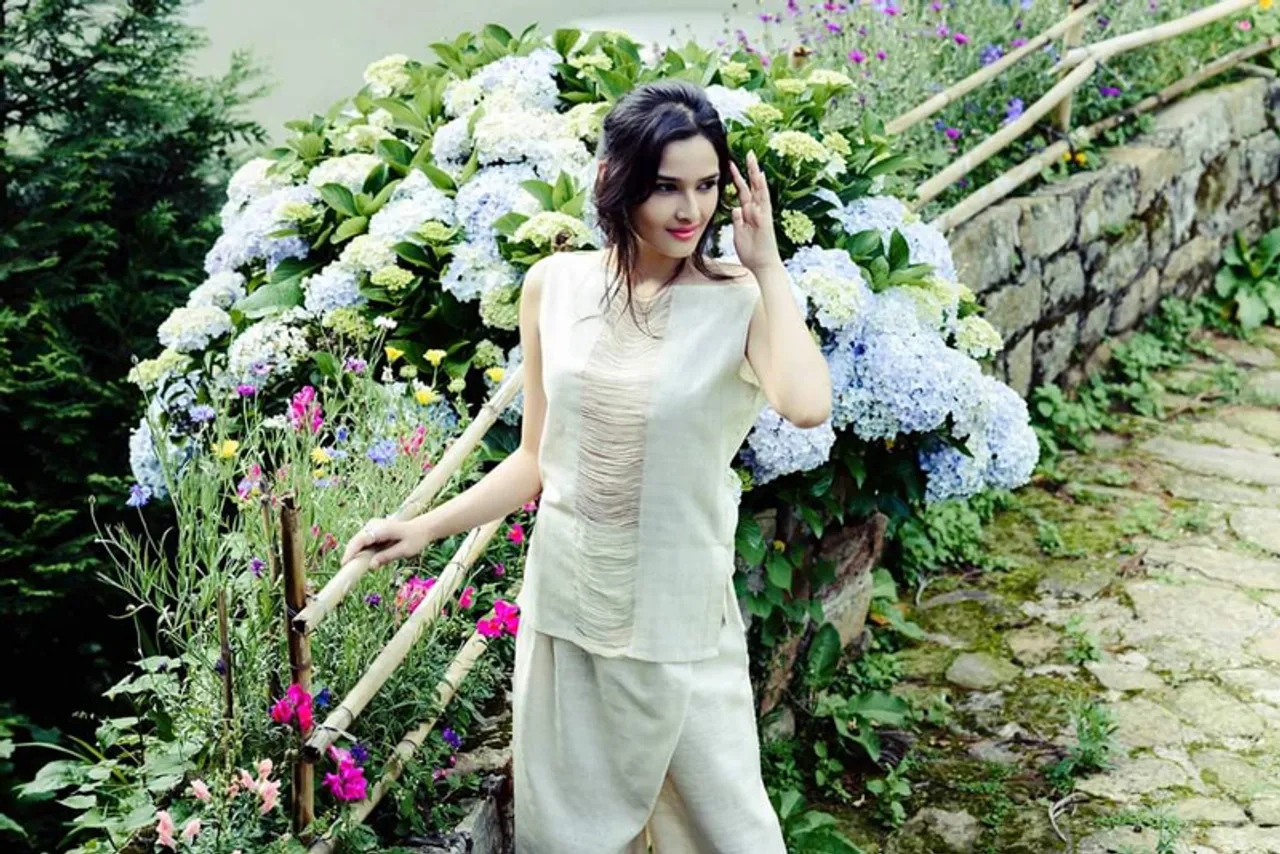 Launching North East India's first haute couture house in Meghalaya in 2011 and taking it on the global stage wasn't a cakewalk. But Janessaline Pyngrope has doggedly faced challenges to create a label that promotes sustainable and ethnic fashion and empowers local women weavers.
Janessaline along with designer and friend Daniel Syiem co-founded Daniel Syiem's Ethnic Fashion House in 2011. The duo has given a contemporary twist to the ancient and heritage fabric of Meghalaya, Ryndia (Eri silk). Their work has been showcased at various national and international shows in the US and Europe and fashion weeks in India, London, New York and Toronto.
With the tagline, 'Fashion with a Cause', the fashion house promotes sustainable fashion and champions the tradition and culture of North East India. They have been instrumental in empowering the local women weavers by making their craft economically viable and taking it to the world.
India is the second-largest producer of raw silk in the world after China. India produces various types of silks including Mulberry, Tasar, Eri and Muga. As per the Central Silk Board, the total raw silk production in the country in 2020-21 was 33,739 MT. The export earnings during 2020-21 were Rs1418.97 crore.
Mulberry silk accounts for 70.7 percent, Eri is 20.5 percent, Tasar is 8 percent and Muga is 0.7 percent of the total raw silk production.
Also Read: How this Bengal family is reviving traditional muslin weaving using organic cotton
Return to roots
Janessaline has a degree in management from BIMM, Pune. But she was sure she wanted to return home to Shillong and work for the development of the people. The same philosophy has guided her social enterprise.
She worked initially with an IFAD project in the Ukhrul district of Manipur but was keen to return home. "I was not interested in a corporate job. I wanted to work at the grassroots level. My posting in Ukhrul was my first interaction with weavers. From there I moved to the Ri-Bhoi district which is the weaving hub of Meghalaya. There I got interested in learning about their craft and livelihood," she says.
Also Read: LifeCraft: empowering Jharkhand's Kuiani women through fabric hand dyeing
Like in many other states, weaving is a traditional activity that is practised by women in the Ri-Bhoi district. Almost every house has a small loom where women sit for a few hours during the day, weaving clothes and household linen items with intricate traditional designs.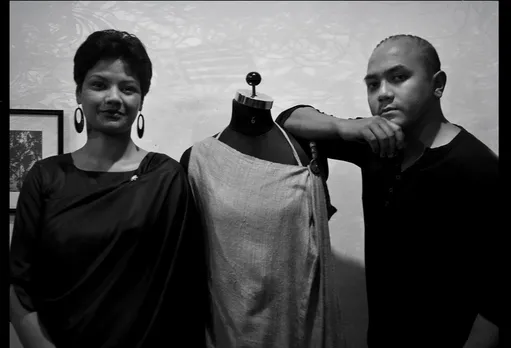 But the women did not turn their talent into commercial activity as there was no ready market for their products. "Only during some festivities, women were asked to weave items from Eri silk which people wanted to give as gifts to relatives or friends. The women got orders from middlemen who paid a meagre amount to the women," says Janessaline. The women earned around Rs15,000 once in six months.
Farm to fashion
Janessalin, who has a business marketing background, got in touch with her friend Daniel, a self-taught designer. Both wanted to work with the locals and help them economically. They combined the talent of the local women in weaving with Daniel's sartorial prowess to come up with their ethnic label.
Also Read: Namza: The sustainable fashion brand taking Ladakh's traditional clothing to the world
Daniel says he has given a modern and minimalist interpretation to traditional dresses and designs worn in the state. "The fabric is either used in natural shades of off-white and cream or dyed using natural vegetable dyes."
"If the fabric is left over, we don't throw it. We fashion earrings, neck pieces, sling bags, cushion covers, and patchwork from it. I cannot see the hard work of my weavers going to waste," he says.
Janessalin and her fashion label work with 25 women weavers in three villages of Meghalaya. The women spin and weave the Eri silk fabric intertwining traditional patterns and designs.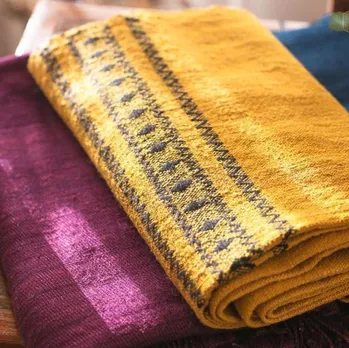 "I place orders with the women for fabric every two to three months which ensures they have regular work and a steady income," she says.
Weaving is a slow and time-consuming process. The women can devote only a few hours in a day to weaving.
Also Read: How Nomadic Woollen Mills is taking 'Made in Ladakh' Pashmina to the world
Janessaline says the time taken in weaving means it can take several weeks to get the hand spun and hand woven fabric. "The limited production means we can produce only a few pieces at a time. The prices are high too. So, we have kept the label exclusive catering only to knowledgeable clients who value the work that goes into the making of the fabric," she says.
The Ryndia garments are made to order for clients from India and abroad. The garments include scarves, stoles, shawls, jackets, dresses, blouses, tunics and palazzo. Janessaline says they make five to seven pieces in free size and natural shades.

The rest is made to order with specific measurements and colour palette discussed and deliberated with the designer and client before it goes into production.
The couture wear ranges from Rs10,000 to Rs25,000. A scarf costs around Rs1800 while stoles range from 2800 to 4500 while garments are upwards of Rs12,000 per piece. They also make bridal collections ranging from Rs25,000 to Rs1,00,000.
The label has two stores in Shillong and retail at the Meghalayan Age store in Delhi. Janessalin says they are in talks with retail outlets in Chennai and Kolkata.
Also Read: Born through an inter-caste marriage 700 years back, how Gujarat's Tangaliya weaving turned trendy
Eri silk production
Eri silk has been part of the heritage and culture of the tribes in the North-East who wear the fabric with pride. Women weave baby slings and dresses that are passed down for generations as heirlooms.
Eri silk is a versatile textile and is very strong and durable. It has the refinement of silk, the warmth of wool and the comfort of cotton. It gets softer with time and can be worn all year round.
Normally, the silk cocoons are boiled in water to get the silk thread which results in the death of the silkworm. However, the Eri silkworm makes a cocoon that is open at one end, allowing the moth to fly away. The cocoons are then boiled and the silk is harvested.
The silkworms are reared in homes, placed in baskets and fed on castor leaves for about 30 days. They then spin a cocoon that takes about 15 days. Once mature, the moth leaves the cocoon. These empty cocoons are then taken and boiled in water for an hour to remove a gum coating produced by the silkworms. After cooling, they are patted into small cakes resembling cotton pads and kept in mud houses for drying. Once dry, they are ready to be used for spinning.
Also Read: Tribal women turn entrepreneurs with Tasar silk farming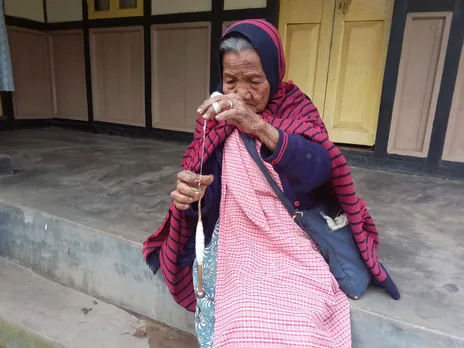 The fibre can be of the natural colour or is dyed into light shades using organic dyes made from local flowers and pigments. The spinning is done by hand using a spindle and is a time-consuming process.
In the fashion world, the trend of sustainability is catching on globally. Consumers are becoming more conscious about sustainable fabrics and want to know where the clothes come from, how they are made, and whether they are eco-friendly.
Eri silk fits right into this scenario, as it is produced naturally, its fibres are strong, it is washable and wrinkle-free, it is cooling in summer and warm in winter, and it gets better with time.
"It is one of the most versatile fabrics and can be converted into anything based on the client's needs and aesthetics," Daniel says.
Also Read: The Ethicus Story: How a Pollachi-based couple made sustainable farm-to-fashion viable
The struggle and going global
Janessaline says entrepreneurs face a tough time in setting up a business because access to finance is very limited.
"We faced it. We struggled. Banks were hesitant to give loans and corporates were reluctant to come forward. We had to do everything on our own," she says.
The duo invested over Rs20 lakh to set up their venture in 2011. As things were stabilising, the COVID pandemic hit. "Orders got cancelled, there were no buyers. But the business had to be sustained, bills had to be paid, salaries had to be paid," says Janessaline. "The staff, along with the weavers, has been very supportive and encouraging," she adds.
That resulted in a new line of jewellery, bags and other accessories. Janessaline is optimistic that business will thrive as consumers become more aware of sustainable fashion, healing the planet, rejecting plastic and synthetics and adopting eco-friendly practices.
Also Read: Bhujodi: Gujarat village that turned a nomadic tribe's shawl into a global fashion statement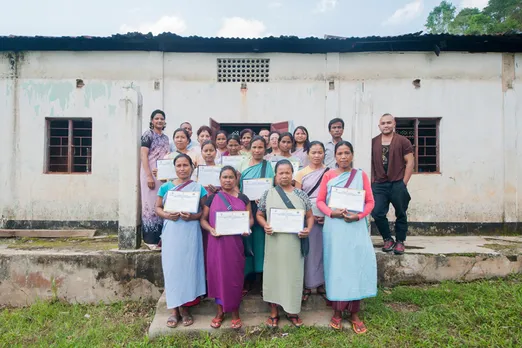 She says the enterprise has managed a small profit but that is ploughed back into the business. "Our monthly sales online and from our outlets are about Rs50,000."
Orders are picking up and they are getting a substantial number of business enquiries.
Janessaline and Daniel are eyeing the global market. Janessaline avers that there is a large untapped international market. "We cannot restrict ourselves to a regional or national market. We have to think global. To that end, we have hired a brand consultant to help the label grow globally. A social media manager is also in place to increase our reach and engagement and convert it into sales," says Janessaline who was conferred the 'Exceptional Women of Excellence' award by the All Ladies League and Women's Economic Forum in 2018.
(Urvashi Dev Rawal is a Jaipur-based journalist specialising in development, gender, and political reporting)
Also Read: Neerja Palisetty's Sutrakaar: Weaving paper yarn to make ecofriendly handicrafts