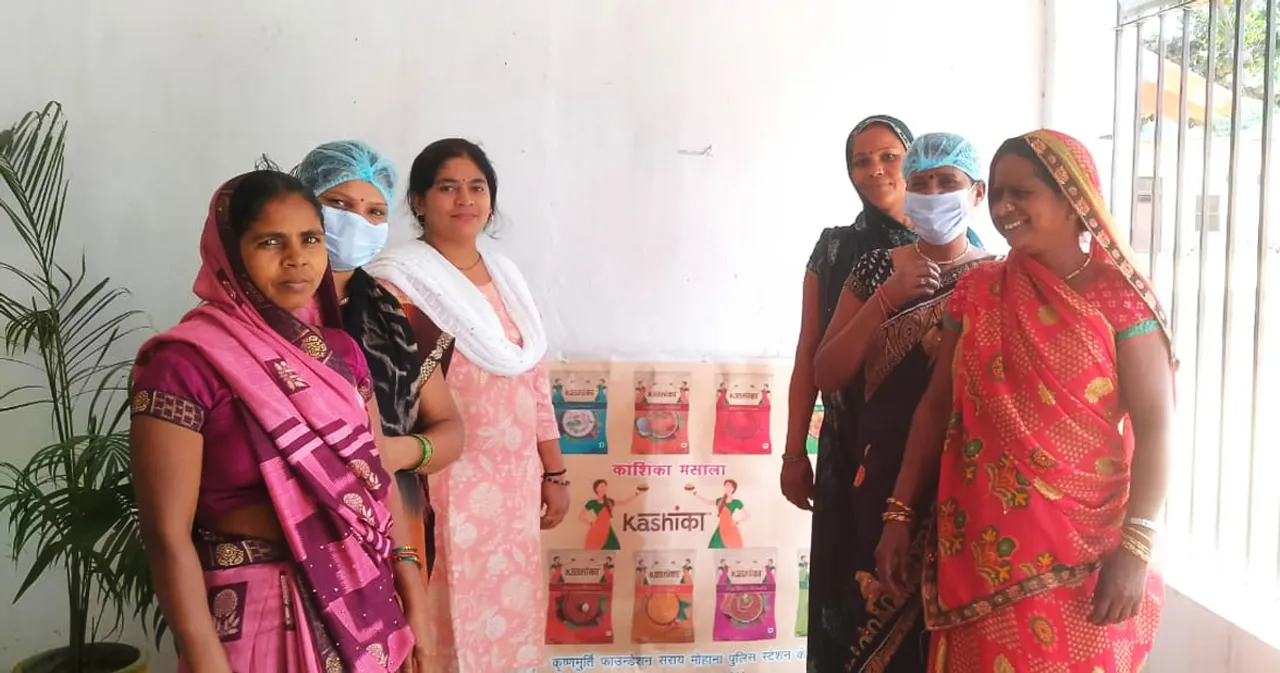 In 21st-century India, getting women out of the confines of their homes to work is still a challenge in some regions. Family and society still put fetters around women who want to break from convention.
Rekha Devi's story is a case in point.
Rekha, 45, lives in Rajapur village on the outskirts of Varanasi with her husband and three children. Her husband used to work in a power loom but for the past few years, he has been unwell and unable to work. Rekha lost one child to an illness.
Saddened by the loss of her child and with an ailing husband at home, Rekha became a member of a self-help group started by Sampark, an NGO that works with women.
"I joined the SHG and was told about saving money. The NGO teams trained us in making spices. Then they put up a small unit to make the spices and we started working there," she says.
"My husband was opposed to my stepping out of the house to work. He felt I would meet people and talk to them. It took several months to convince him about my work. He would get angry and even beat me a few times," she says.
"Finally, I told him to come and see my work. He came for a couple of months every day in the afternoon and was satisfied. He is now happy that I am earning."
Rekha earns about Rs10,000 per month. "It is such a relief for me. I hardly had any money earlier. But now I am able to manage my household well," she says.
Laying the foundation
Manisha Nishad, incharge of the spices unit, says Sampark started a women's empowerment programme in the Chiraigaon block of Varanasi district in 2017.
Sampark works with 1,000 women in Chiraigaon. The women have been divided into 80 self-help groups. It is the first of its kind social enterprise in the Chiraigaon area.
"The idea of the SHGs was to teach women credit discipline. Every Sunday, the women give Rs10 or Rs20, as per their capacity, which is their savings. When the women want money for some enterprise, they are given soft loans," says Manisha.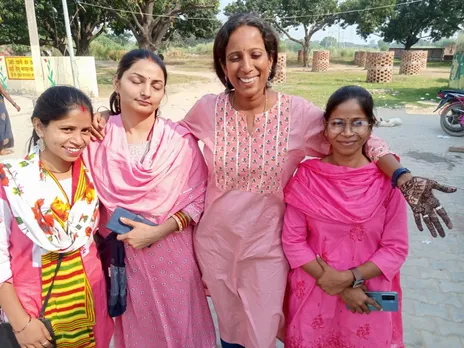 She says the women were given training in various skills such as making papads, pickles, and toys but these were not too successful. Eventually, the team zeroed in on spices which everyone uses.
Also Read: Kerala: How this 12th-pass woman turned her organic food processing home business into a successful start-up
The spice-making unit was set up in Sariamohana, on the outskirts of Varanasi where women from nearby villages come to work.
Sampark worked for 30 years in the Koppal district of Karnataka on women empowerment. The Sampark team worked with women to build capacity, provided them with financial skills, opened bank accounts for them and set up enterprises.
Krupa Sriram, the lead for women empowerment at Sampark, says women SHGs created their own pool of funds through savings. These were disbursed as loans to the women who wished to set up small enterprises like for making toys, or snacks. The SHGs formed cooperatives and became self-reliant.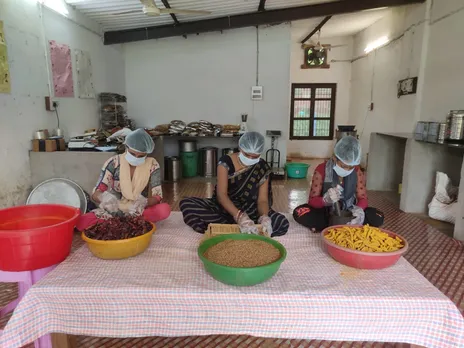 In 2017, Varanasi-based Rajghat School got in touch with Sampark to replicate their model in the city. The NGO tied up with Rajghat School to provide training in setting up enterprises.
Fighting rigid social norms
Working in North India has been a new experience, says Krupa. She says the social mores here make it difficult to get women out of their homes.
"When we were starting and wanted to get women to attend our meetings, even that was difficult. Families would object. Often the women were so busy with household work that they had little time to step out," she says.
Slowly, the Sampark team met women in Sarai Muhana and spoke to them about food and good health. In this milieu, eight-ten women came forward which was a huge step for them.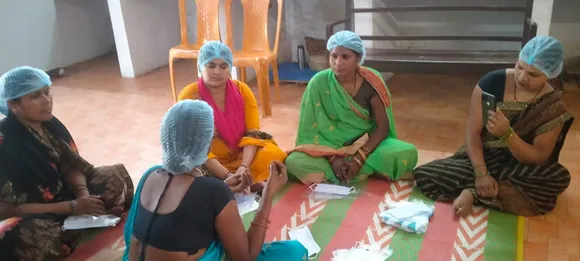 "We decided since their social set-up was confining, we would keep things simple. Handicrafts are a common theme to train women in but we decided against it as they are difficult to integrate in the market. They have to be updated with new designs and colours every season," she says.
"We kept it simple, something women could relate to and talk about and work from home, says Krupa.
Also Read: Haryana couple quit corporate jobs to set up handmade kids' apparel business; clock Rs 3 crore revenues while empowering rural women 
A spicy affair
After two years of training the women, Sampark registered Kashika Foods as a social enterprise in 2019. About 25 women work with the brand right now.
Once the women got together, they were trained in financial management, credit discipline, compliance, marketing and packaging.
"We taught them about sorting the produce, cleaning it, grading and packaging. All the spices are hand-picked and hand-pounded. Since quality is our prime concern, women were told to keep only good spices. We taught them not to put the spices on the ground but on tables, maintain hygiene while handling them, and wear gloves and caps at all times," says Krupa.
The women were also taught the process of converting the raw material into spices. Kashika got a bank loan to buy half a dozen machines to ground the turmeric into turmeric powder.
The spices are available in packs of 50 gm, 100 gm and 200 gm. The 50 gm packs are for local use. "People can't afford to buy too much at one time, they like to buy in small quantities," says Krupa. The price for the 10 gm packs ranges between Rs5 and Rs10. The 50 gm packs are priced between Rs18 and 25 while 200 gm packs are between Rs35 and 50.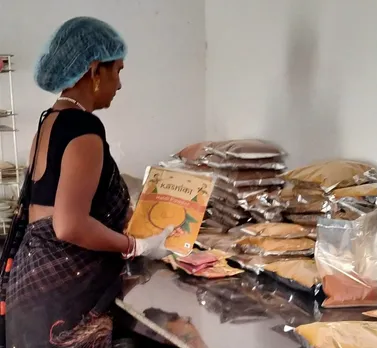 The women are paid a minimum wage of Rs300 per day and they work for about 20 days in a month. The women who sell the spices get a 20 percent commission and a 10 percent gift or a 10 percent incentive on every Rs2000 sale they make.
"The women were even shy to approach other women. We sent a team member with them and scheduled meetings in different areas. The team member would do a warm-up session, discuss health matters, then food and then Kashika. Through these sessions, our women members gained confidence and knowledge to do meetings on their own," says Krupa.
Also Read: Triguni Eze Eats: How 79-year-old Radha Daga's ready-to-eat meals travelled the world with Indigo airline
Today, the women make the spices, sell them, and do all the stock-taking and invoicing. "We want to ensure they get the benefit and there are no middlemen," says Krupa.
"When we go to sell our spices, we tell the customers that our spices are pure and healthy. Those who have tried them say they can feel the difference from the spices they buy from the market," says Rekha.
The raw material for the spices is procured from tribal farmers who practice natural farming.
Krupa says in the Bahraich belt, tribal farmers grow turmeric, coriander, chillis, mustard, bay leaf, pepper and other spices. The farmers have formed an FPO and Kashika sources from them.
Building a brand, and confidence
Currently, the focus is on building the local market because if they start selling in distant places, then transportation will add to their cost, says Krupa.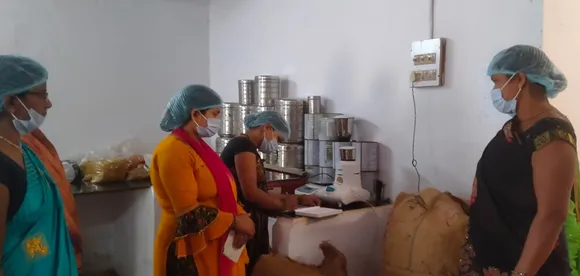 The women SHGs formed by Sampark source spices from Kashika as does the Rajghat school which has a hostel. Kashika is also approaching other institutions, says Krupa.
Sampark helps the women with marketing by taking them to various exhibitions organised by the Uttar Pradesh government as well as exhibitions in Delhi.
Krupa says the spices are also sold through the Sampark network in Bengaluru, and Delhi. "Women are able to sell from their homes and village and still earn an income by way of commission. The challenge is in increasing sales and scale," says Krupa.
 "Yet, the fact that they hold meetings in villages, talk to the women about food and health and sell their products in exhibitions is a big boost to their confidence and their abilities," she signs off.
(Urvashi Dev Rawal is a Jaipur-based journalist specialising in development, gender, and political reporting)
Also Read: Five women entrepreneurs empowering tribal women