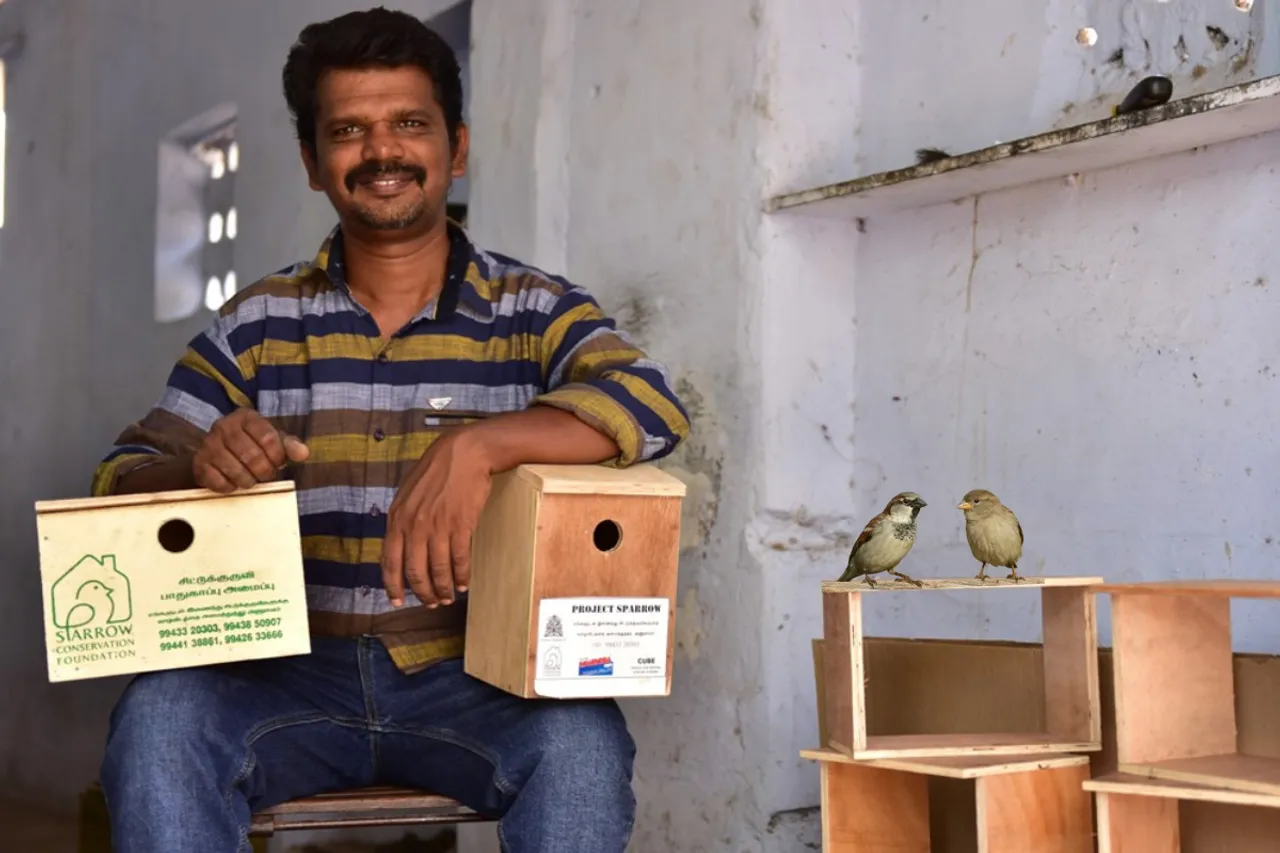 B Pandiarajan vividly remembers his childhood in the 1980s when he would play with sparrows near his house. "We would see them all over our neighbourhood. There used to be a winnowing tool at our house which separates the rice and husk. We would keep the grains for them and try to catch them only to set them free," he recollects. 
However, their steady decline over the next two decades worried him. When he was in his early 30s, he realised it was almost impossible to find sparrows around. The creatures who came in hoards to eat rice at his house were nowhere to be seen. And that set him on the journey to conserve the house sparrow, which prefers to live around human habitation over forests or grasslands.
Pandiarajan, who has been a sparrow conservationist for the last 13 years, has successfully brought back their population in his native city Coimbatore and is creating awareness about their importance in the ecosystem all over Tamil Nadu.
Also Read: From hunters to forest guides, how tourism & education are transforming the semi-nomadic Pardhis of Panna
Mission to bring back sparrows
Pandiarajan's hunt for sparrows led him to spot them at old houses and inside departmental stores. "They were not to be found in concrete houses, but in big departmental stores where rice and groceries are stored. They had made nests inside the shutters which was not safe," he says.
"Although we tried to bring them back by keeping food in our homes, they were constantly looking for small spaces like holes inside walls, electricity meter boxes, cups that hold ceiling fans and sunshades," says Pandiarajan, now 48.
Like other birds, sparrows don't know how to build nests on trees. They lay eggs on grass, dried vegetation, and other materials.
Realising the need to create little spaces where sparrows could feel at home, Pandiarajan and his ten friends started putting cardboard boxes in areas shielded from sunlight or rain.
Also Read: How Maldharis & Rojamdars live with Asiatic lions in Gir forest & help in conservation
However, the experiment failed as cardboard boxes became moist during monsoons and winters. They then switched to plywood to make sparrow boxes and that's how Sparrow Conservation Foundation was set up in 2010 to bring back sparrows to homes. 
"Our journey to creating durable sparrow boxes was one of trial and error. Initially, we made plywood boxes with holes with a length of two inches. The size made it easier for bigger birds like mynah to get inside, chase away baby sparrows and encroach upon their space," he says. 
Even squirrels would enter them. "Our in-depth research over the internet helped us finalise the design with 1.25-inch holes in the boxes. We started with four boxes for trial. It was perfect, and sparrows laid eggs in them. So we implemented them all over Coimbatore."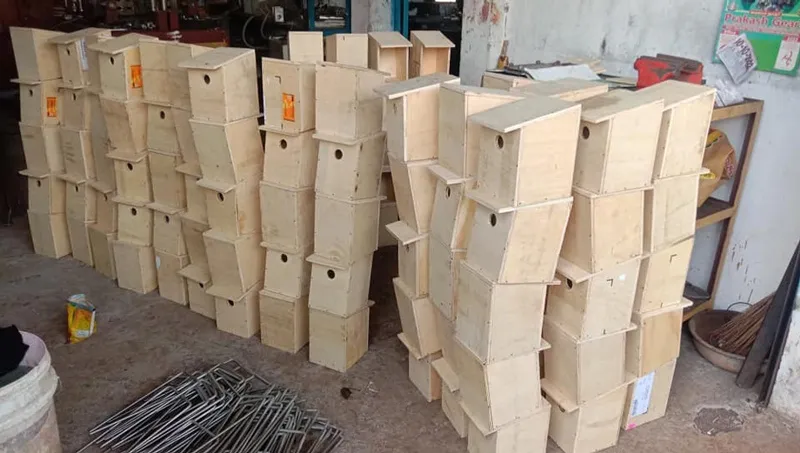 Pandiarajan suggests bird enthusiasts to not buy sparrow boxes from e-commerce sites. "They sell nesting boxes that have an extension stick in front of the holes where these sparrows would nest. This makes the boxes unsafe because crows and other predatory birds can sit on them and eat the nestlings." 
Essential to the ecosystem
According to Pandiarajan, the concretisation of rural areas and the unavailability of food grains led to the decline in the population of sparrows. 
"Sparrows live among humans and look for places where we live. Earlier we used to winnow rice grains outside our homes and the area where vessels are washed would have leftover food. This helped in their sustenance," he says.
"Their roosting (resting) spaces were once plants like lemon, pomegranate and mehndi that surrounded our backyard. Once we adopted modern ways of living, their lives were endangered," he notes.   
Sparrows or house sparrows play an essential role in preserving the ecosystem by being a friend of the farmers. They eat worms and insects out of creeper plants like snake gourds, broad beans, bitter gourds, and pumpkins and keep their population in check. "These insects serve as food for baby sparrows since they are easily digestible. Ever since we started using fertilisers, these insects disappeared, making it difficult for the sparrows to feed their babies," he says. 
Also Read: Tana Tapi: Forest officer who transformed poachers into protectors at Arunachal's Pakke Tiger Reserve
There are several mentions of sparrows in Tamil literature. Multiple poets including saint Thiruvalluvar, and writer and freedom fighter Subramania Bharathi have mentioned them in their poems. Bharathi's poem, The Sparrow, imagines a country free from all bondages and liberated like a sparrow.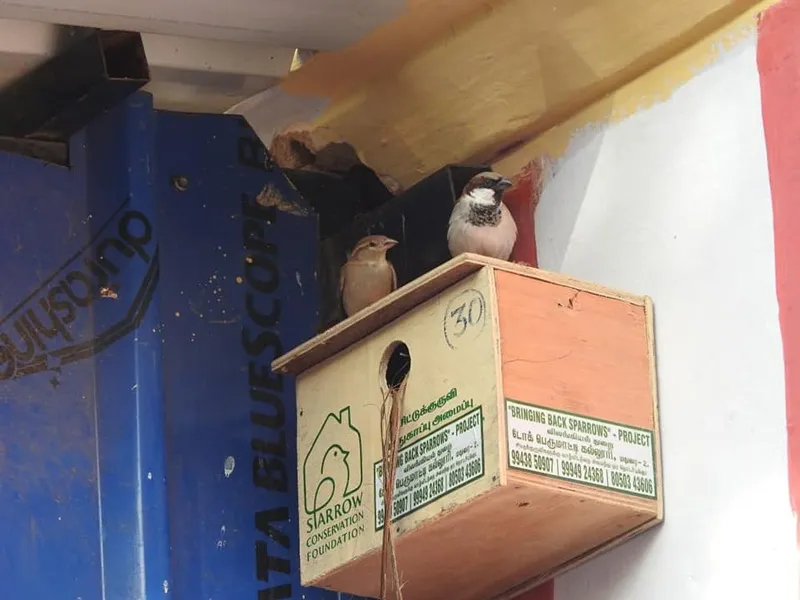 Pandiarajan dismisses the popular common theory that the declining sparrow population is due to microwaves from telephone towers. "This is a completely untrue theory prevalent and spread by people which is also as showcased in movies and media. In our field research, we found sparrows breeding below the towers in the buildings and also in the vicinity of the areas," he says. 
While helping two PhD students at Lady Doak College in Madurai who are working on their thesis on the sparrow population, he installed sparrow boxes in and around telephone towers to monitor their movements. At the fag end of their research, the students found that the declining sparrow population is not due to these towers.
A home for feathered friends
To date, Pandiarajan has made and distributed over 3,000 sparrow boxes all around Tamil Nadu including Chennai, Madurai, Salem, Dharmapuri and other places like Bengaluru and Odisha free of cost. 
Pandiarajan pays for the transport so that they can be sent to the respective cities from where sparrow enthusiasts can collect them. 
"Each box costs me Rs 80-90 and we make 50-60 of them per month at our factory. Sometimes, the number goes up to even 100," he says. 
"We have also placed ten boxes inside the popular Marudamalai Murugan Temple in Coimbatore."
Pandiarajan earnestly allocates a portion of his salary every month to make these sparrow boxes. He calls people and enquires if they are able to see sparrows nesting in these boxes. "Almost all of the boxes have sparrows in them," he says.
Also Read: Ladakh: Tourism gives a new lease of life to critically endangered double-humped camel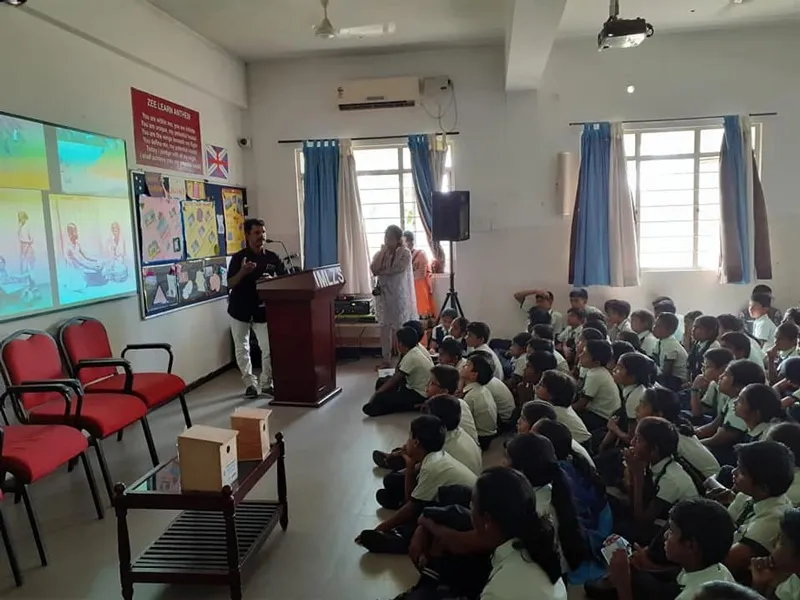 In 2018, the Coimbatore City Municipal Corporation and environmental groups inaugurated "Project Sparrow" in the city with the goal of installing 3,000 sparrow nest boxes throughout the city in two years. In the first phase, along with the Centre for Urban Biodiversity Conservation and Education (CUBE), Sparrow Conservation Foundation installed around 30 boxes in the Ukkadam bus stand and surrounding areas.
Despite being a school dropout, Pandiarajan has given lectures at more than 20 schools about sparrow conservation. 
Recently, during World Environment Day, he delivered a lecture at Lakshmi Ring Travellers in Coimbatore where he also distributed sparrow boxes.
When asked what can be done to help these avian companions and he says, "Keep broken rice or foxtail millet on parapet walls or terraces along with some water. If sparrows visit, place boxes for them."
Who are his volunteers? "Everyone who has the intention and the care to keep the sparrow population in check is our volunteer," he says. 
As he marches forward into his successful 14th year of starting Sparrow Conservation Foundation, Pandiarajan says his two teenage daughters are very proud of him. The next step in his journey, he wishes, is to create a nursery with plants and trees which come under the endangered category.
"Edho vaazhndhom, sethom nu iruka koodathu… namma adutha thalaimuraiku edachu vitutu ponum." (We cannot have an attitude of 'We can live the way we want and die.' We need to leave something for the future generation so that they remember us)," he says.
(Narayani M is a Chennai-based writer specialising in longform writing and human interest stories.)
Also Read: From hinterland to Europe, how Jaipur-based Raksha is helping birds & animals reach home