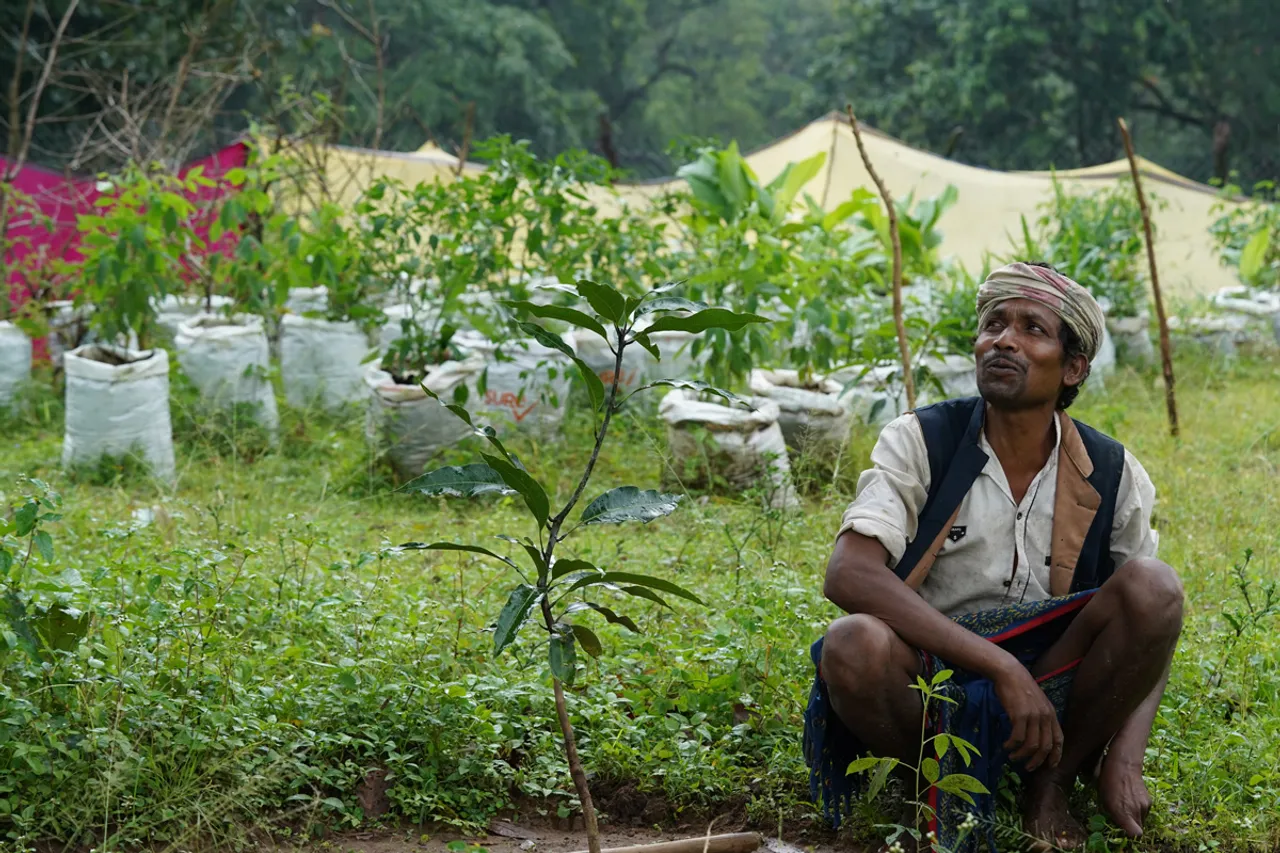 Rajesh Dhurvey, a Baiga tribal from Chichringpur village in Madhya Pradesh's Dindori district, worked as a migrant labourer in the chilli farms of Telangana. For many generations, his family had lived inside the present-day Kanha National Park, relying on forest produce for livelihood. However, in 1973, it was designated as a tiger reserve to check the dwindling number of the striped animal.
Rajesh's family was among thousands of tribals who were relocated to the fringes of the park – in the buffer zone – to protect the national animal. "Baiga adivasis rely primarily on the forest for sustenance. The government had allotted us plots during relocation but they were barren and we were not able to earn anything from that land," he says.
"Our village is home to 35 Baiga families. We used to migrate to Telangana to earn a living through chilli farming until a team from Earth Focus Foundation visited our village," he says.
The Earth Focus team inspected the land and guided them about growing crops suited for local soil and climatic conditions. "That helped us earn money and reduced our dependence on the forest. The organization began work with four farmers in 2019 and today, they are assisting 18 farmers in agricultural activities. We grow bamboo, mango, tomato, lemon, and sal, which we use for making leaf plates," he adds. 
Earth Focus also links the tribal communities with government schemes. Rajesh says ploughing their fields and sowing crops is now covered under the Mahatma Gandhi National Rural Employment Guarantee Act (MGNREGA). Some farmers also received pumps, pipes and sprayers under government schemes with assistance from Earth Focus, he says.
"Only three families had to migrate to Telangana this year since they had taken an advance payment," Rajesh adds.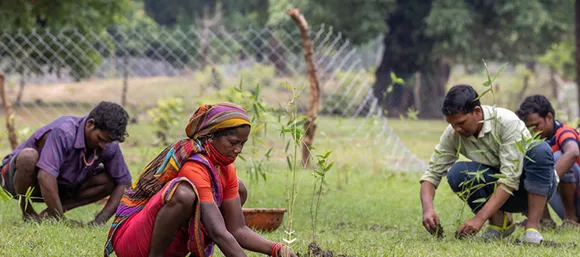 The tribal communities across the country have thrived in harmony with nature for centuries. These indigenous groups are the guardians of the forest with knowledge about native plants and animals. However, with fast-paced development and rising man-animal conflict, they are being displaced from their original habitats.
Two such tribes, the Gond and the Baiga, native to the Mandla and Balaghat districts of Madhya Pradesh, have been staring at a bleak future since the forest that nourished them turned into one of the largest national parks in central India.
Also Read: Tana Tapi: Forest officer who transformed poachers into protectors at Arunachal's Pakke Tiger Reserve
Spread across an area of 1,945 square km (consisting of a core zone of 940 square km surrounded by a buffer zone of 1,005 sq km) the Kanha National Park was created in 1955 and designated as a tiger reserve in 1973.
"Tigers were on the brink of extinction due to rampant hunting and poaching in the early part of the century. Project Tiger put a blanket ban on such activities in the 1970s," says Vipul Gupta, Executive Director of Earth Focus Foundation, which is working to rehabilitate families from both tribal groups.
"Over time, strict regulations at Kanha resulted in making Project Tiger a success. But the indigenous tribes that called this land their home and who were completely dependent on the forest for food and survival were relocated," says Vipul.
"They had no idea what to do with the land they were shifted to; how to earn and survive," he adds.
Earth-Focused Strategies
Earth Focus, established in 2019, strives to empower these forest-dwelling communities by creating sustainable livelihood opportunities and restoring their relationship with nature. It provides contextual education, where teachers present information in a manner that tribal students can relate to due to their own experiences.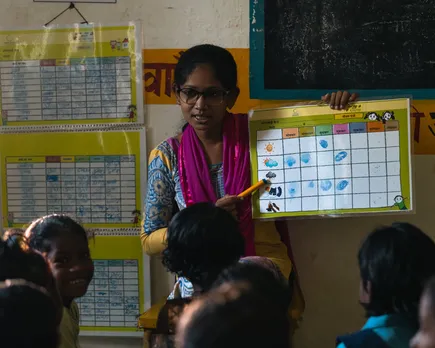 The foundation first conducts a 'visioning exercise' to understand the problems being faced by the tribal families. Accordingly, plans and programmes are chalked out to meet their requirements while ensuring the preservation of the ecosystem.
Also Read: Katul: The craft beer of Odisha's Kutia Kondh tribe
The non-profit organisation runs two programmes -- the Shiksha Program (Education) and the Samuday Program (Livelihood and Community Building) -- in 14 villages near the Mukki gate of Kanha National Park. 
Samuday Programme
During its baseline survey, Earth Focus learnt that lack of education, awareness about government schemes, and knowledge of sustainable farming methods, technological backwardness and large-scale migration has hindered the growth of the locals. Hence, the creation of long-term livelihood opportunities for marginalised groups became the focus area for the team.
The NGO is countering these with its nature-based solutions under the Samuday Program.
"People did not have shelters or sustainable employment opportunities when they were allotted land. These lands were uncultivable and water scarcity added to the woes. So the project was sketched to allow them to live with dignity -- to grow what they consume, sell what they don't and have resources to buy what they need," Vipul says.
The team assists in upskilling the tribal families and helping in farming activities that are suitable for their land -- strategic plantation is the mantra. They set up vegetable gardens that yield produce in the short term. Native oil seeds, pulses and millets are cultivated for the medium term and bamboo and mangoes reap long-term benefits.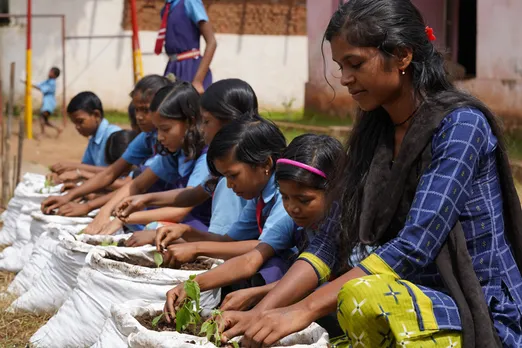 It has implemented the Jawahar Model of Farming with 32 families in four small villages. To overcome the limitations of land fertility, these families grow vegetables in grow bags. One such farmer who has benefitted through the implementation of this model is Purab Bai Armo. She uses grow bags to cultivate brinjal, chillies, coriander, lady's finger, turmeric and pigeon pea, which has improved the nutrition levels of her family.
Since millets can grow even in dry conditions and don't require too much water, Earth Focus is helping the tribal communities take up millet farming. 
To improve soil fertility organically, Earth Focus is training tribal people to prepare organic inputs like vermicompost, Jeevamrut etc. These reduce cash expenses on buying inputs from the market but also increase crop yield without hurting the environment.
During the first year, Earth Focus transformed around 40 acres of barren land into cultivable fertile lands. Finding long-term livelihoods in their own lands has significantly reduced incidences of migration. 
Earth Focus started its journey by adopting three villages and in three years, this number has increased to 15. Around 200 acres of degraded land have been restored, transforming 6000 lives. It believes that creating a self-sustaining model, which is a combination of modern practices and traditional knowledge, would reduce the dependence of the people on the forest and allow biodiversity to thrive.
Shiksha Programme 
Lack of infrastructure, financial resources, and contextual learning methods have been obstacles for tribal children to receive a quality education. Moreover, frequent migration due to livelihood issues also hinders their studies.
To tackle this, the Shiksha Program curriculum includes lessons on language, mathematics and biodiversity.
The team scrapped conventional teaching methods and makes use of fun activities and storytelling sessions to engage with the children and help them grasp the concepts. 
It believes that educating them about their surroundings would restore their relationship with the landscape where they reside.
Also Read: Listening, teaching & inspiring: How Chennai's TQI is mentoring students in 30 districts
The foundation has set up Anand Ghars, which are classroom spaces that provide activity-based education to children from tribal communities. These learning centres are open throughout the year as over 1200 enthusiastic children every day wait for their classes to begin. The children love the play-based teaching techniques and look forward to their lessons.
An important aspect has been to make the curricula contextually relevant by including local languages, customs and cultural identities.
Prakash Uikey belongs to the Gond tribe and hails from Mandla's Bamni. He has been sending his two children to the Anand Ghar and has noticed a significant improvement in their learning.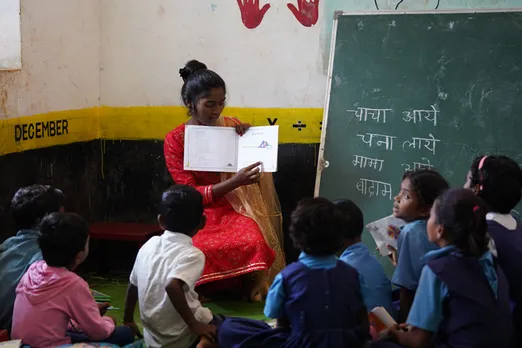 "During the COVID outbreak, the education of both my children came to a grinding halt. My son was in the second standard and my daughter was in kindergarten. The schools were shut and the teachers stood helpless due to several challenges. After returning to the village, I started sending them to the organisation's learning centres and saw a recovery in their learning levels. They are doing well academically now," he shares.
Malti Yadav, 23, hails from Manjitola, a small village in the Balaghat district and belongs to a family that had been struggling to make ends meet. She aspired to be a teacher but had to discontinue her education and was soon to be married off by her parents. However, an interview with Earth Focus landed her a teaching opportunity, giving her direction and financial independence.
She was recently promoted to the position of educator from an education supervisor in light of her outstanding performance. "After I started working as an education supervisor, I discussed with my family about pursuing further studies. Today I am working as an educator and also studying to upskill myself. The community also looks up to me now," she says.
Taking the outreach of the programme a notch ahead, the team has formed 'Mata-Samitis' (Mothers' Associations) to engage and bring together the mothers of tribal children. This is to take their feedback, keep them aligned with their kid's educational progress and seek suggestions. The women are also given opportunities to swap roles and become teachers for a day, every week.
Currently, there are at least 300 women enrolled in the Mata-Samitis.
Development and conservation can co-exist and Earth Focus is making this possible one village at a time around the Kanha National Park.
(Palak Agrawal is a Bengaluru-based freelance journalist. She loves to write about the environment, sustainable practices and human interest stories)
Also Read: From hunters to forest guides, how tourism & education are transforming the semi-nomadic Pardhis of Panna