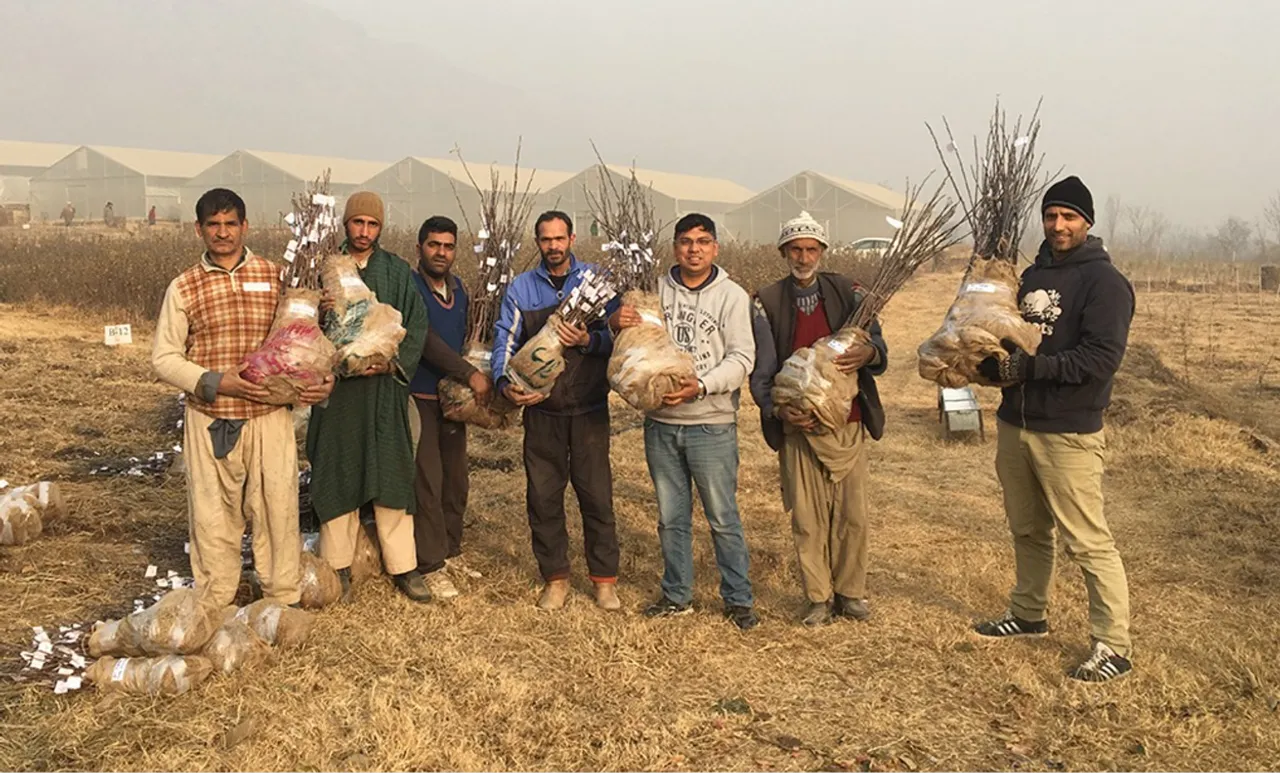 When Pratibha's husband, a farmer, died by suicide, she was left with three children and an ageing mother-in-law to take care of. She started tending to her three-acre farmland but was unable to reap the benefits of her hard work due to irregular rainfall and a lack of information on how to improve her farm's yield.
SankalpTaru, a tech-based environmental NGO, was working in the Vidarbha region of Maharashtra since 2019. SankalpTaru team members approached Pratibha and told her the organisation would train and support her in farming. She agreed to sign-up as a farmer beneficiary. 
The team members told Pratibha to opt for inter-cropping. Her crops of soybean and peanut were intercropped with lemon, guava and custard apple. They installed drip irrigation on her farm to address the problem of water scarcity.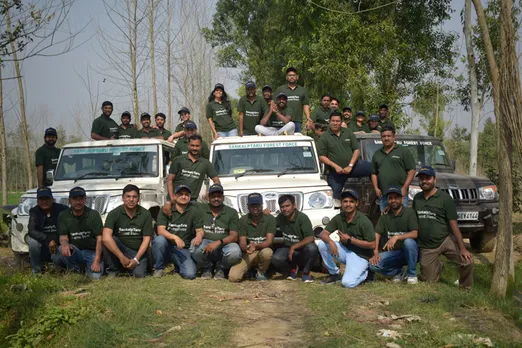 Due care and follow-ups were conducted by SankalpTaru coordinators. Within two years, her hard work paid off and the trees started to bear fruits. Pratibha began to earn a stable income of around Rs1.5 lakh per annum despite rough weather conditions.
"My husband died due to a vicious cycle of unpredictable weather conditions, water scarcity and debts. I was finding it difficult to cope with his loss and manage the farm. But with help from SankalpTaru, I am stable now. I will be able to repay my debts and provide good education to my children," says Pratibha.
This is the kind of work Apurva Bhandari, founder and CEO of SankalpTaru, wanted to do where he could preserve the natural habitat of the land and also support farmers to become self-reliant and earn more income. 
Also Read: Meera Chandran: This woman quit TCS to fight invasive plant species & restore degraded forests of the Western Ghats
Apurva, who has an MBA in Oil and Gas Management, worked as a consultant to several IT firms in India and abroad. But he felt he had a higher calling and quit his job to work for environmental conservation.
Apurva, 44, decided to set up SankalpTaru Foundation in 2012 to take forward his mission to increase global green cover. To engage people in his initiative to green the planet, Apurva used technology and made planting trees as simple as a tap on your mobile screen.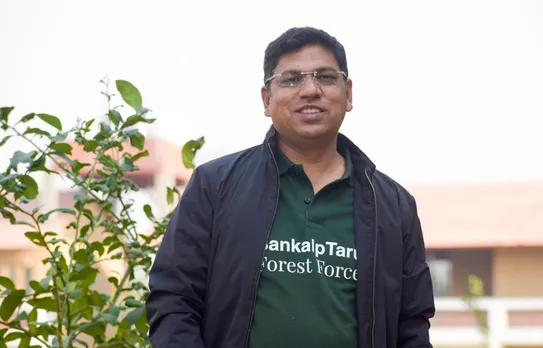 SankalpTaru, which means to take a pledge to plant trees, has planted more than 3.5 million trees across India. 
"Our plantations will sequester 1.5 million tonnes of carbon dioxide, generate 3 million tonnes of oxygen, and have aided 30,000 farmers. This will generate nearly Rs130 crores of revenue for the farmers and produce 50-kilo tonnes of fruits per season," Apurva says.
SankalpTaru has also collaborated with green heroes such as Sonam Wangchuk, Director of the Himalayan Institute of Alternatives, Ladakh, and Jadav Payeng, the Forest Man of India to jointly work on plantation projects.
Also Read: Growing green lungs: How Thuvakkam is creating urban forests in Tamil Nadu
The organization runs four models of tree plantation - Rural Livelihood Support  Program, Urban Plantation Program, Community Barren Land Transformation Plantation Program, and Clean and Green School Program.
Plant a tree… online
Through its app, SankalpTaru allows people to plant a tree at any of their plantation sites in India. "The process of planting a tree for a client is simple. They just have to go to our website and choose a location or a cause. The number of trees can be chosen. These trees can be gifted too. The cost varies from Rs 149 to Rs 499 depending on the location and the project."
To ensure that the trees planted will sustain, SankalpTaru has linked the farmers under the Rural Livelihood Support Plantation to maintain the trees with support from SankalpTaru.
The farmers maintain trees with the support of SankalpTaru's teams. In places where the organisation is creating forests, the teams maintain the forest for three to five years, depending on the location and terrain.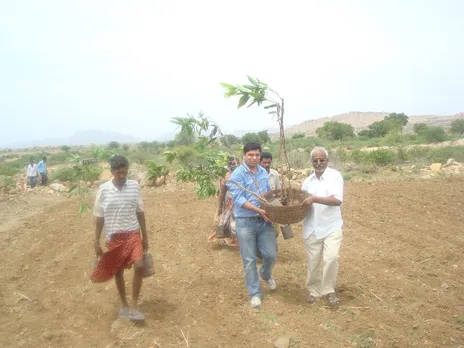 "People can choose the species of tree and the location and our teams do the rest. The person who has planted the tree can monitor its growth through the app which provides updates on tree plantations," says Apurva, who is based in Dehradun.
"Each tree is geo-tagged through our app and its latitude and longitude are captured in the database. This generates a tree URL which contains the photo of the plantation, its Google location and beneficiary's details, which is shared with the client."
Depleting green cover
Globally, the leading causes of deforestation around the world are agriculture, timber logging, mining and urbanisation.
The FAO Global Forest Resources Assessment 2020 says the annual rate of deforestation was estimated at 10 million hectares between 2015 and 2020.
Also Read: Udaipur youths turn barren lands green; help 1200 farmers go back to traditional farming
Studies estimate that the earth could become treeless in about 300 years if the rate of chopping trees continues.
According to Global Forest Watch, between 2002 and 2021, 68.4 million hectares of humid primary forest were lost globally, making up 16% of its total tree cover loss.
From 2001 to 2021, there was a total of 437 million hectares of tree cover loss globally, equivalent to an 11 percent decrease in tree cover since 2000. The situation is no better in India. 
As per Global Forest Watch, India lost 2.07 million hectares of tree cover between 2001 and 2021, equivalent to a 5.3% decrease in tree cover since 2000.
From Uttarakhand to arid zones
Apurva was born and raised in Uttarakhand. He says the motivation to start his green drive came from his home and his home state Uttarakhand. "My father, who was a plant pathologist, inculcated in me a love for plants. My mother was also involved in environmental conservation," says Apurva.
"In Uttarakhand, I saw nature's beauty in its most pristine form… lush green forests, snow-clad mountains, freshly streaming rivers, and waterfalls. I travelled widely across India and fell in love with the natural, cultural and linguistic biodiversity. I wanted to protect this diversity by carrying out plantations across the country."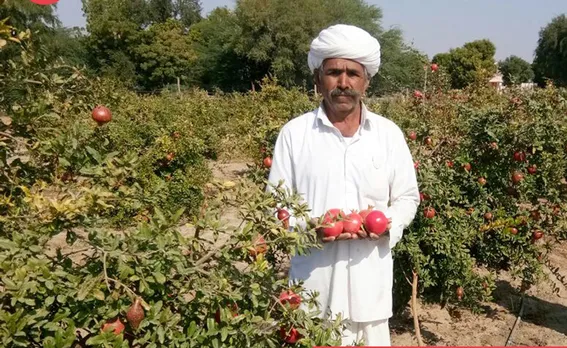 When Apurva began his work in 2012, the penetration of the internet was only around 10 percent. However, he decided to take a calculated risk. "When only a small percentage of Indians were using the internet, using an online platform to plant trees was a risk. It was based on the guesstimate that there would be a surge in internet usage in the coming years," he says.
Also Read: Return of the native: How Maruvan is restoring Rajasthan's desert habitat
Apurva started his journey in the most arid regions of the country.
"I wanted to test the waters and so I chose to start on a pilot basis from the toughest terrains, the Thar Desert of Rajasthan and drought-affected areas of Deccan of Andhra Pradesh," he says.
"Starting small helped us to better sustain the trees which we had planted. Gradually, with the demonstration of the success rate of tree survival to our donors, we could expand our plantation projects to 26 other states and union territories," he says.
He says he did not face any major challenges to start his work. "The main challenge we saw was around post-plantation maintenance to ensure high survival rates in the areas of water inadequacy, and extreme weather conditions in rocky, rough terrains." 
The organisation has four plantation models which include the Rural Livelihood Support Model, Clean and Green School Programme, Community Barren Land Transformation Plantation Programme, and Urban Plantation Programme. 
Clients for these programmes are corporate and retail donors. "Being a small organization, our success can be attributed to the number of trees we have planted so far for rural livelihood upliftment and environmental restoration."
Linking trees to farmers, improving livelihoods
To overcome the problem of survival of the trees, Apurva devised a strategy of growing native, fruit-bearing trees on the agricultural land of farmers or on community land under panchayats in rural areas.
By doing this, he not only encouraged agroforestry but also helped the farmers solve their livelihood issues.
Also Read: Sheeba Sen: Lawyer-turned-conservationist creating income-generating forests for local communities
Under the Rural Livelihood Support Programme, Apurva says, SankalpTaru teams approach farmers to register with them. The teams see the quality of land, the water availability, the species that can be planted and the income earned by farmers.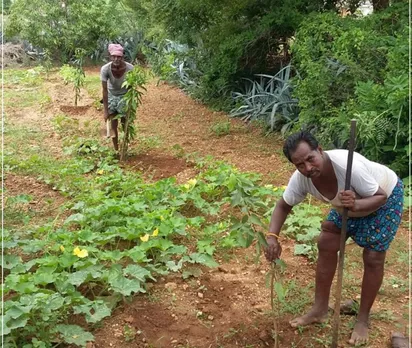 "After assessing the needs, our technical teams support farmers for a year. We hold workshops to train farmers in improving soil quality, mulching, making organic manure, drip irrigation and water conservation."
The farmers take care of the trees and they can sell the fruits and earn income.
For instance, Dharma Ram, a farmer in the arid Barmer town of Rajasthan, grew pomegranate trees on his farm. 
A SankalpTaru team trained Dharma Ram and installed drip irrigation systems in his field. He now earns Rs 4 to Rs 5 lakh annually.
In Ladakh, SankalpTaru helped farmers rebuild their fields, destroyed by flash floods, by turning them into green apple orchards. "In this way, we have helped some 35,000 farmers who are registered with us," he says.
Under the Community Land Plantation Programme, SankalpTaru takes the land on lease from panchayats in rural areas for three to five years. They support the local community in planting forests, regenerating biodiversity and creating livelihood for the locals.
"The locals are given training in taking care of the forest. They maintain the forest and can use the forest produce to generate income," he says.
Sensitising society for a greener future
Apurva says his organisation is collaborating with eco-conscious and sustainably responsible corporates and retail brands to carry out tree plantation campaigns that not only conserve the environment but also have a socio-economic impact on uplifting our rural economy.
SankalpTaru initiated an ambitious mangrove restoration project in the Sundarbans in 2021.
"This is one of our most powerful nature-based solutions to climate change. The project would not only help to create a shield on the shorelines against natural disasters like Tsunamis but would also help to create a massive carbon sequestration capacity and livelihood opportunities for the coastal communities in the coming future," says Apurva.
Also Read: Bhopal's Math teacher turned farmer-entrepreneur earns in crores through organic farming, helps 1400 farmers double their incomes
SankalpTaru conducts farmer training sessions in its PEEPAL Research & Development Centre in Dehradun, and environmental awareness sessions for corporate partners and donors.
The organisation has formed a long-term association with Govind Ballabh Pant University of Agriculture and Technology in Pantnagar, Uttarakhand, for technological exchange, research and training and capacity building.
SankalpTaru involves school children and the rural community in participating in its programmes like tree plantations, and Clean and Green School.
"The children are motivated by their practical experiences of seeing barren and desolate lands transforming into lush green farms, gardens, and agroforests," says Apurva.
Apurva says the organisation is working to expand its operations and annual plantation capacity which will help more farmers. "We have streamlined various Research & Development activities in the domains of Plant Propagation, Circular Economy, and Integrated Farming in our research centre in Uttarakhand. We plan to start farmer training programmes to provide better technical support and interventions to farmers across the country," he says.
(Urvashi Dev Rawal is a Jaipur-based journalist specialising in development, gender, and political reporting)
Also Read: How a sociology professor is turning arid Rajasthan green