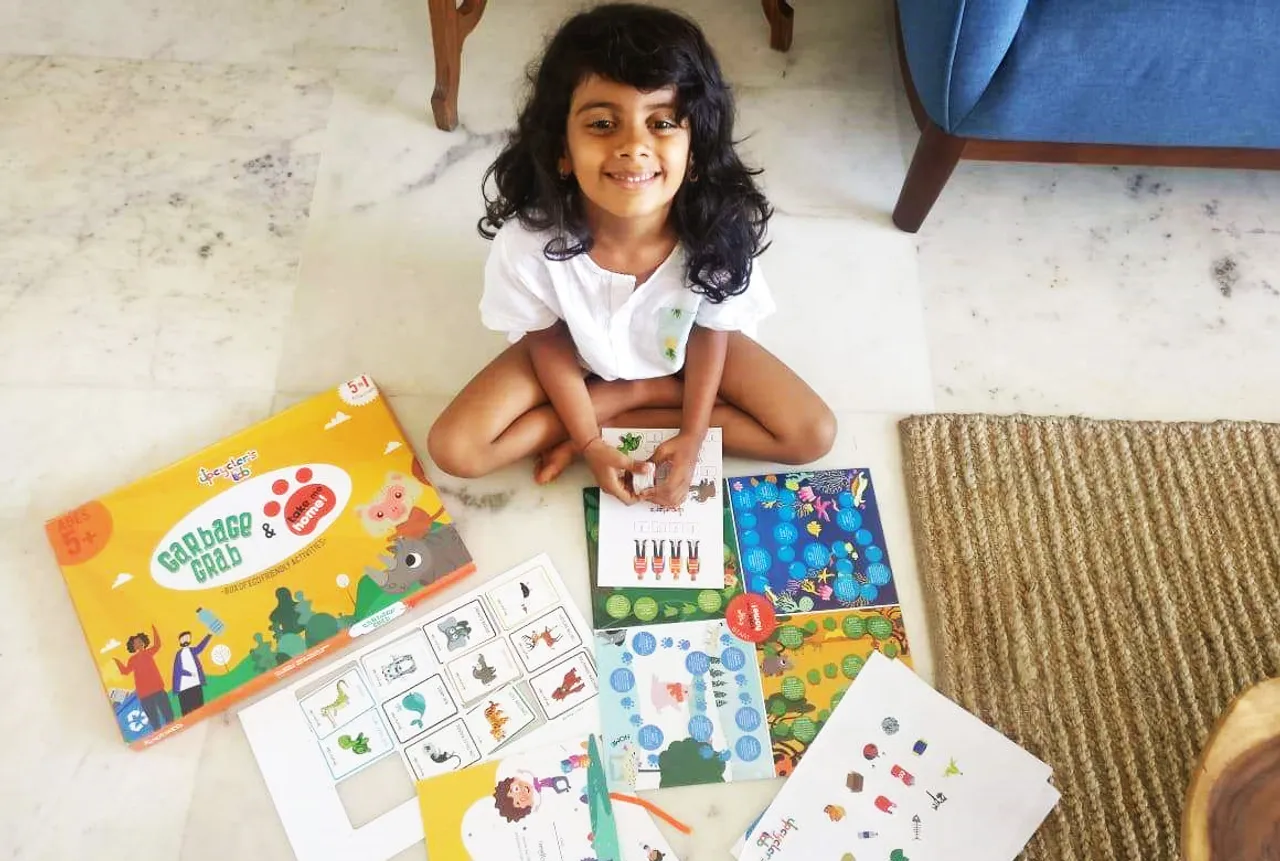 It was while studying for her master's in international management that Amishi Parasrampuria was introduced to sustainability and social enterprise by a professor. She was so intrigued that she quit a lucrative corporate job to work on upcycling and waste management.
When she returned home to Mumbai in 2015, she launched The Upcycle Co which turned non-recyclable waste into creative décor items. Amishi began making beautiful, quirky décor products such as stickers, key chains, bookmarks and clocks using vinyl, waste glass, CDs, paper and other waste items.
Initially, she was making around 50 products a month and within a year, the production increased to about 4000 pieces a week. By 2017, she had upcycled 1000 kilograms of waste. She sold products through exhibitions, workshops and online across India.
Also Read: How Toybank's learning-through-play is helping at-risk children grow into responsible adults
However, her work was not creating the impact she was hoping for. "People were buying the products, but they were getting stored at home. I thought that eventually, they will go to the landfill. Nothing changed," says Amishi, now 31.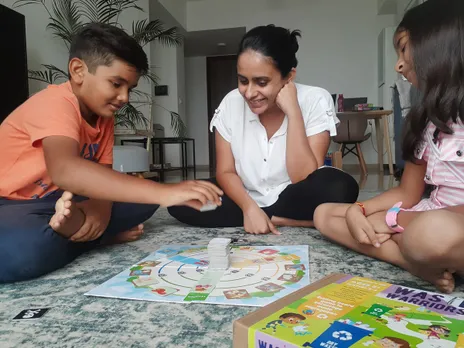 According to the Central Pollution Control Board (CPCB) Report (2019-20), India generated 3.5 million metric tonnes of plastic waste and 10.14 lakh tonnes of e-waste. Of the total 62 million tonnes of waste generated annually, around half is dumped into landfills, making waste management, upcycling and recycling extremely important. 
Green games for the environment
In 2017, while working with over 1500 students in Mumbai on the Bottle Bricks Project, Amishi was building eco-Bricks from upcycled plastic waste. These bricks were to be used at construction sites. 
The enthusiasm of the young participants at the Bottle Bricks Project led her to focus on creating awareness among children about sustainability and the environment through games. 
In 2018, she collaborated with her friend Manav Shah to focus on a different concept and create a bigger and long-term impact. The entrepreneur duo launched Upcycler's Lab which creates eco-learning tools and programmes for parents and schools. Its motto is: 'Teach them young, teach them right'.
The Upcycler's Labs makes board games, puzzles and flash cards using recycled paper and they are themed around the environment.
For instance, instead of telling kids that A is for an apple and B is for a ball, their flashcards have terms related to the environment -- A is for air and M is for mountain. 
Through their game called Waste Warrior, kids are taught about the segregation of waste and how it is treated. Apart from flash cards and Waste Warrior, there are two more board games called Green Guardian and Sea Samurais.
Also Read: Healing through theatre: How Shehjar is helping children in Kashmir cope with violence
"Through these games, children learn about waste management, water conservation and how to be a responsible consumer," says Amishi.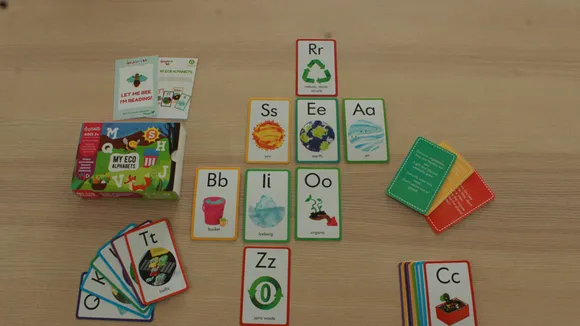 "All the games are made of paper certified by FSC (Forest Stewardship Council that promotes responsible management of the world's forests via timber certification). Earlier, we used paper dice but it did not work. So now we have wooden dice for the games," says Amishi.
Explaining the games' manufacturing process, she says they first work on the concept of a particular game by talking to teachers and environment experts. 
The game is developed by a team of eight members. Once the game is ready, they reach out to teachers, parents and kids for feedback.
If there is something that needs to be changed, the team makes the changes and then the final product is tested and ready for the market. All the products are crafted with recycled paper and printed using non-toxic dyes.
"From the concept till the final product, it takes about 6 months," says 36-year-old Manav.
Also Read: How Radhika JA fought a rare bone disease to handcraft a successful home business
Playing games outside of India
During the course of their work, the duo realised that there is higher awareness around the conservation of natural resources, sustainability and recycling in other countries. So they started exporting the games to the governments of Singapore and Kuwait.
Upcycler's Lab has exported around 8,000 games to the Singapore government and 10,000 games to the Kuwait government. 
"We did not see much scope in India a few years back because people were not aware of environmental issues. However, because of the Covid pandemic things have changed drastically here too," says Manav.
For the last year, the brand has been selling its products across India only through retail channels. So far it has sold about 5,000 games. "We have also done 15 workshops across India for school kids and parents on waste management awareness," says Manav.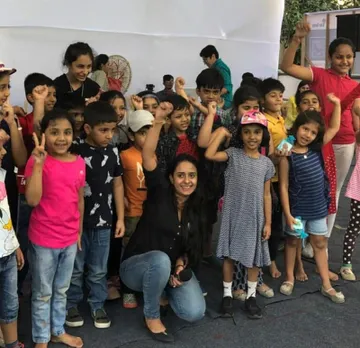 He says since they are selling to the governments in bulk, the revenue of the company has been between Rs 15 lakh and Rs 18 lakh annually. However, the business did take a hit during the pandemic.
Amishi says they are now in talks with state governments in India to add the games to the school curriculums. They will be making games in regional languages to cater to different regions.
Manav says the duo invested Rs1 lakh in the business. Through their journey, they have raised funds and also got a few government grants that have kept the initiative going.
Also Read: Gyanada: where children from Mumbai's slums code, compute and create apps
The duo aims to raise more funds and launch four new games this year. An animated series on the environment is also in the pipeline.
Kids influencing their families with green games
More than the money, Amishi and Manav are satisfied with the impact created by environmental games. Although the games are for kids, their families too are learning and changing their views towards managing waste.
Goa-based Vrinda Gupta bought the Sea Samurais and Waste Warriors games for her 10-year-old niece last year. Vrinda who is a footwear designer says not only her niece but the entire family is now cautious about how the waste of the house is managed.
"My niece tries to avoid buying things wrapped in plastic. However, if we have plastic waste, we collect it separately and give it to a plastic recycler who comes weekly. Moreover, we are composting our food waste to make manure that we use in the home garden," says Vrinda.
Also Read: Learning by doing: Project DEFY's 'nooks' skill learners from marginalized communities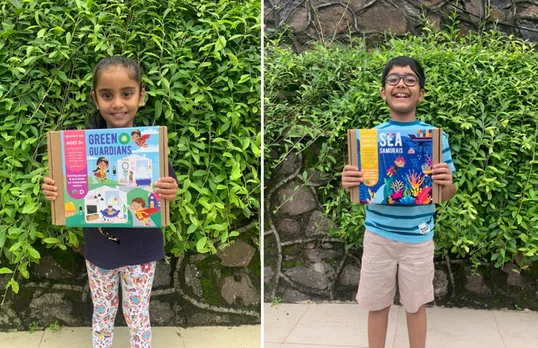 She says earlier they would buy compost for the home garden, but now they don't have to. "Now we are assured that we are eating organic vegetables which are good for health," says Vrinda.
She produces 10 to 12 kgs of compost every 30-40 days through her household food waste and uses it in her 500 sq ft home garden.
Mumbai-based Pooja Swanant says she came across the brand through social media and liked the concept. She bought flashcards for her 7-year-old nephew who loved the game. Pooja also bought him the Waste Warriors board game.
"By playing the games my nephew has become so aware that he asks everyone in the family to segregate the waste. Now we have separate dustbins for dry and wet waste. Moreover, we now send e-waste to the Croma store for recycling. We have become more conscious of our waste now," says Pooja.
She says the games have inculcated the habit of managing waste in the kids. "They will be conscious and mindful throughout their lives. The games are definitely impacting young lives for a better environment," adds Pooja.
Manav sums it up well, "When kids are influenced, the entire family gets influenced."
(Bilal Khan is a Mumbai-based independent journalist. He covers grassroot issues, LGBTQ community and loves to write positive and inspiring stories.)
Also Read: Water literacy: Communities in Rajasthan's Bhilwara district are playing games to learn about water conservation