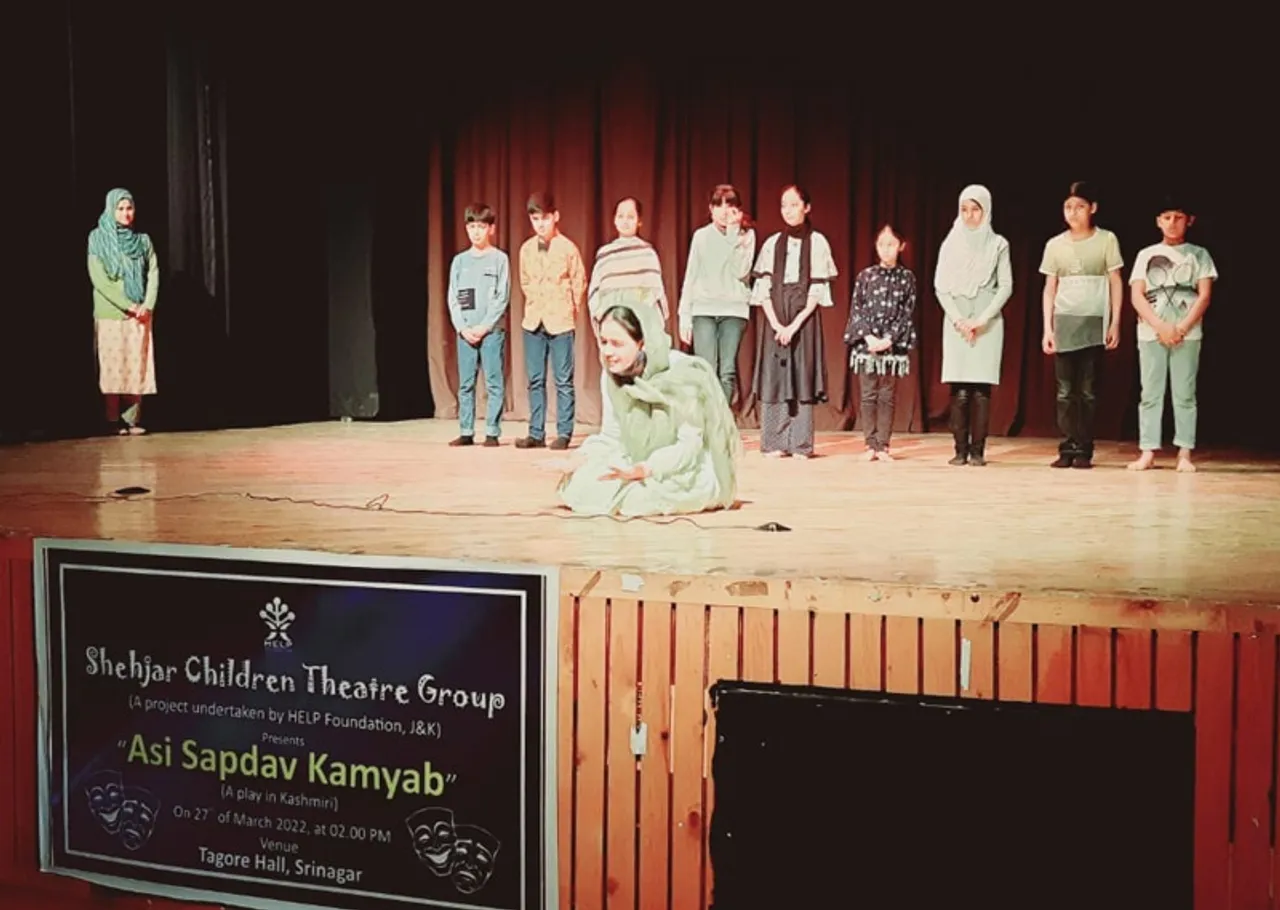 wp:html /
Until he was about 11 years old, Hakeem Javed was extremely shy. His life was transformed in the fifth grade when he took part in a theatre workshop in his school for the very first time. Theatre became a passion and it metamorphosed him into a confident young man with great enthusiasm and ambition.
Javed, now 55, works with the Shehjar Children's Theatre Group in Srinagar, Kashmir, to help them cope with the various struggles of their daily lives and help them achieve their potential so they can succeed and contribute to the community.
In 2006, Nighat Shafi, the founder of HELP Foundation, an NGO that offers residential and educational facilities for women and children orphaned by insurgency, approached Javed to train children and provide them with an outlet for the trauma caused by the decades of violence.
And thus was born Shehjar Children's Theatre Group. "It was a dream come true for me!" recalls Javed with teary eyes.
Also Read: Songs my Mother Taught Me: Archiving the history of family music from across India
Healing through theatre
Javed is working to give a new direction to children and harness their skills in various art fields. He tries to involve children from all regions of the union territory.
"Through theatre, I focus on storytelling and role-playing to bring the children out of the gloom and the dullness of their situation," says Javed in a matter-of-fact tone.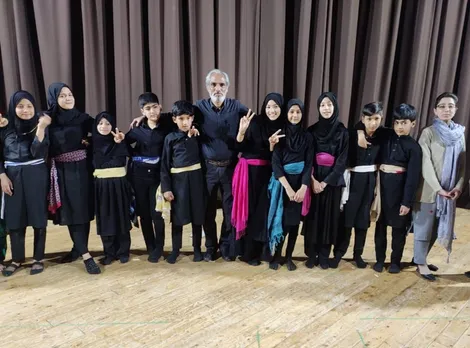 Javed is a mentor to hundreds of children from across the valley. Children love to be around him because he involves them in fun games and lets them experiment with different styles of drama. 
The old master doesn't usually make a script for his plays. "Every script is written with active participation by the cast, weaving in the narrative. This helps them understand the enactments and also unleashes their creative potential," says Javed.
Also Read: How Ustad Moinuddin Khan is keeping the rich legacy of sarangi alive
Sameer Lone, a 6th grader, comes to Shehjar after school every day. He loves to attend this class because it gives him the space to have fun, learn and grow at the same time. "Sir gives us a theme and asks us to come up with a script of our own. All sessions are very interactive and compel us to think and be artistic," he says.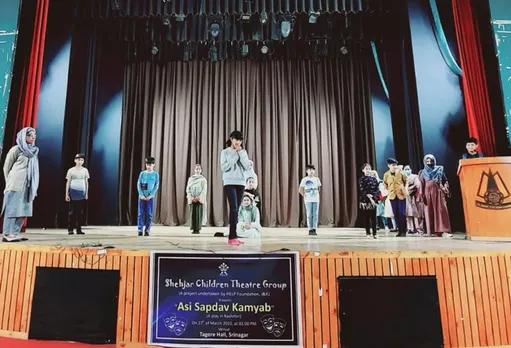 With healing being the prime focus, the theatre group provides children with expressive or creative therapies, such as drama therapy, which gives them a unique way to deal with problems, express themselves, set goals, and gain confidence.
Junaid Nabi, a psychiatrist in Srinagar, says, theatre connects children with the community and gives them a platform to express their inner feelings.
"Children can't fully talk about what's going on in their minds. Expressive therapy goes beyond traditional talk therapy. It focuses on creative outlets as a means of expression."
Also Read: How Ustad Moinuddin Khan is keeping the rich legacy of sarangi alive
Art, music, and dance are other forms of creative expression that can help children process and cope with emotional issues, including depression.
A passion for theatre
On his journey in theatre, Javed recalls that after he attended the drama workshop in school, his passion for theatre grew. He also discovered the Navrang Dramatic Club in his locality where famous actors and artists of the time used to rehearse their plays.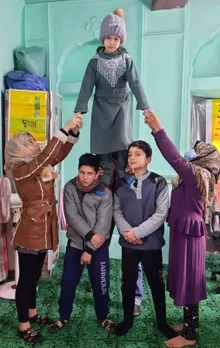 "I used to run back home after school just to watch them rehearse. I would fetch them tea, stationery or any other item that they needed and would sit in one corner of the room and admire them from afar," says Javed.
After observing every tiny detail at the rehearsal, he would gather his friends and practice short skits and plays with them. "This is how my journey began," he says with a smile.
Also See: In pics: Covid lockdown through children's lens
Javed says that he would often direct plays in his school, RN Mandir, where he put into practice everything that he learned.
In the year 2000, he met the renowned theatre actor and director, MK Raina, who visited Kashmir to conduct a five-year monthly workshop through NSD (National School of Drama).
"He became my greatest mentor and inspiration. He loved my flexibility and zeal to learn new things. Soon, after participating in the workshop as a student, I was invited to serve as a coordinator for the rest of the workshops. This gave my drama career a new direction," recalls the artist.
For the sake of survival, Javed started to work at a five-star restaurant. "I wasn't really happy with the way my life was progressing. I thought to myself that we get to experience life just once and there is no age bracket to learn new things. Thinking about a life without theatre made me feel very empty from within. I wanted to pursue my passion," confesses Javed. 
He gradually started to build a name in the field of theatre in Kashmir. "I started to get offers from various institutions to head their theatre teams. I loved interacting with children and felt alive when I taught them," he says. And after Shehjar, Javed hasn't looked back.
Also Read: This Jaipur NGO has brought a SMILE to thousands of women and children
The children's mentor
Knowing the importance of education in one's life, Javed encourages his students to read as much as they can. "We have set up a library right outside the rehearsal room where children can come in to read anytime. In addition to this, all children who come to learn theatre are given a notebook and pen each to motivate them to maintain a diary," he says.
The number of children attending the classes varies but on average there are about 10 children in a class. During vacations, the number goes up to over 20. Most of the kids are from poor backgrounds. 
"Shur-panchayat," says Javed, "is a committee wherein children become their leaders and take charge to keep injustice and other evils in check in their communities. Children hold a meeting every week to deliberate on issues like community hygiene and saving wildlife. They make sure all children in their community have been vaccinated and stay vigilant to ensure no child is being forced into labour and that everyone has access to basic education."
Also Read: Sakhi for Girls' Education: 100% pass, zero dropouts among girls in Mumbai slums
If anyone suspects any evil taking place, they report the case to the Shehjar office, he says.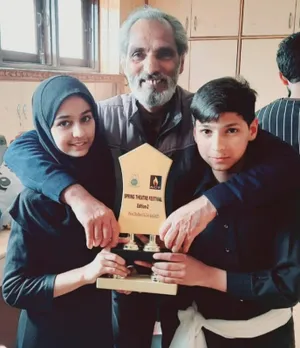 Javed has played a great role in taking Kashmiri children out of their bubble and instilling in them the confidence to compete with various professional theatre groups on national as well as international levels. 
"My students have secured first place in several theatre competitions and proved to the world that nothing can limit those with a passion to learn," he says proudly.
Also Read: Listening, teaching & inspiring: How Chennai's TQI is mentoring students in 30 districts
Aqsa Bashir, a Mass Communication student, loves to attend theatre performances in the Tagore Hall of Srinagar. "The condition in the valley is tough. There is a lot of tension among the students. When such performances are organised, our minds are refreshed," she says.
Javed has won several awards and titles for his spectacular direction and production. Some of their most successful performances include 'Shahi Paezar', 'Idgah', 'Asi-Te-Karave Eid' and 'Asi Gasov Kamiyab'. 
He feels children learn much more from life than from books. Drama helps people learn more about themselves and others and develop a greater understanding of society.
Highlighting the significance of theatre, Javed says. "Our day-to-day issues are highlighted in theatre. It is an essential part of our culture which needs to be preserved. I have been doing theatre for the past 40-45 years. Now I want future generations to experience the essence of theatre plays. Theatre is essentially a reflection of our society and keeps us connected with our past," he says.
(Parsa Mahjoob is a Srinagar-based  freelance journalist)
Also Read: How Culture Therapy is transforming lives of inmates in West Bengal's prisons