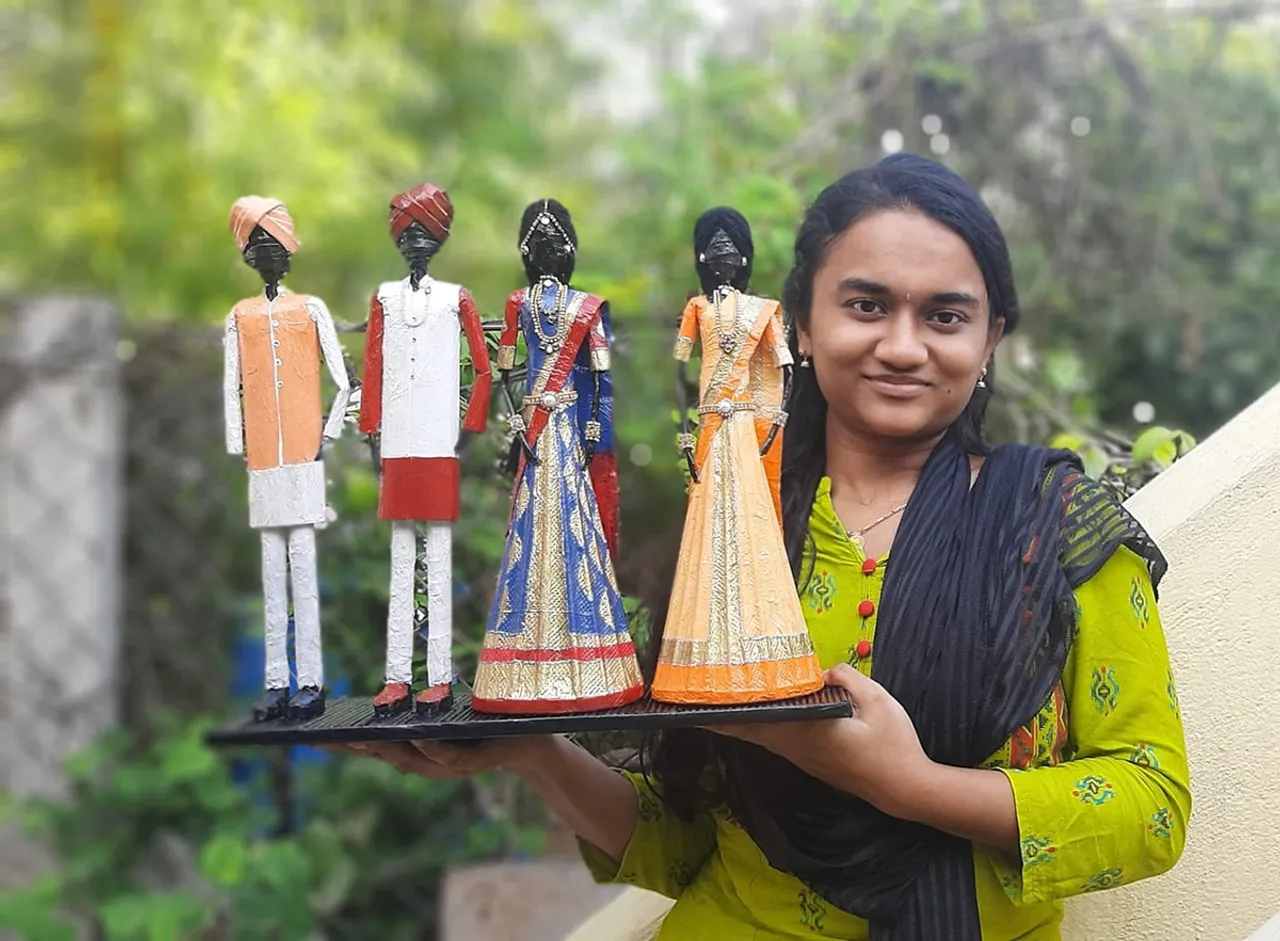 By the time Radhika J A was 11, she had undergone ten surgeries and had to drop out of school after class four as she was diagnosed with a rare bone disorder that made her highly prone to fractures. She lived with a fear of walking as her bones could break even without exertion. When Radhika was a teenager, she thought her life was over.
Fast forward ten years later. Radhika, 23, is today a successful entrepreneur up-cycling old newspapers to make exquisite and eco-friendly dolls and selling them across the globe. She is an inspiration for many. 
From depending on other people to walk to a neighbour's house or even from one room to another, Radhika is now an entrepreneur and sells her products under the QueenBee Paper Crafts & Creative Art brand.
A resident of Bharathipuram, a small village on the outskirts of Coimbatore, she was born with a bone disorder, more severe than brittle bone disease, making her prone to serious fractures. "My first fracture happened when I was six, following a normal fall while playing. It was only six months later that we realized it was a fracture requiring surgery," she says. 
Also Read: How Coimbatore's doctor Uma Deavi empowers underprivileged women through Kannamma dolls
Hardly a year later, she suffered another fracture requiring surgery and could not attend school after class 4. "I used to be so scared to walk, thinking it would lead to a fracture. But the constant sitting led to my hip and spinal cord bending. My bone issues seemed never-ending. I would often go into depression seeing my classmates and cousins moving on in life like getting into college or getting a job, while I was stuck in class four," she says. 
"Due to depression, I stopped talking to people, having angry outbursts for no reason; I would sit in the same place for hours staring at nothing," Radhika recollects.
It was at the age of 16 that her family learned about homeschooling. So Radhika began studying for class 8 after a six-year gap. "It was also around that time that I began handcrafting birthday cards and wedding wishes cards by upcycling old wedding invitations and materials at home," she says. 
Also Read: Bengal's Natungram: Craft village where wooden dolls come alive
A handmade entrepreneurial journey 
"In 2013-14, I would watch YouTube videos, learn new ideas and make cards with sketches and drawings using basic materials like crayons, sketch pens and watercolours," she says.
In 2016, Radhika's brother Rajmohan's friend gave her a pen drive with a video on how to make wall hangings using newspaper. Finding it interesting, she began creating wall hangings, which her family initially hung in their own house. 
"I honestly didn't think they were amazing until a few neighbours and family friends complimented us on the wall hangings and asked us where we bought them. When they learned that I had made them, they were surprised," she says.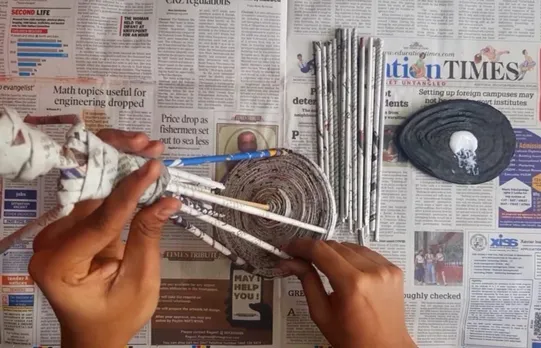 One of her neighbours became Radhika's first customer. They asked her to make a similar wall hanging for their house. She made one and sold it for Rs 750 and that was the beginning of her home business. Soon, a steady stream of orders began coming in from family friends, their friends and her brothers' friends circle,. 
"I used the money I earned to buy materials for my future pieces and used the remaining money to buy some of my books for my homeschooling. It suddenly made me feel good about myself," she says.
It was a few months later that another one of Rajmohan's friends showed her a YouTube video of old newspapers being used to make African-style dolls. It was around that time that her family gifted her a computer with an internet connection. They helped me create accounts on YouTube, and Pinterest and guided me in searching on Google for more ideas. 
Also Read: MP's Jhabua scripts a success story with its traditional tribal dolls
"Honestly, when I made my first doll, I did not think they looked great since they were black and their hands looked extremely thin like straws and not pretty. But my brother suggested I make ten more dolls with different costumes based on my creativity," she says.
At a book fair organised at the CODISSIA Hall in Coimbatore in 2018, one of her brother's friends put up a stall selling upcycled products. He offered to sell Radhika's dolls there. "I sold the dolls to him for Rs 100 per piece, and he priced them at Rs 120. I thought they would not sell, but to my surprise, they were sold out in three days," she says. 
That book fair was a turning point in Radhika's life because she realized that handmade dolls could be a full-fledged business.
Since then, she has sold 2,580 dolls, pricing them anywhere between Rs 300 and Rs 450 for a 12-inch doll depending on the work required. 
Also Read: Ghurni: Bengal's craft village where life-like clay dolls are bridging the rich-poor divide
The making of dolls
She uses old newspapers, scissors, glue and paint to make the dolls and applies a coat of varnish to the final product to make them waterproof. She also puts metallic wires inside the doll to make the structure strong. It takes a day to create a basic doll and more time is required for intricated pieces like dolls holding baskets etc.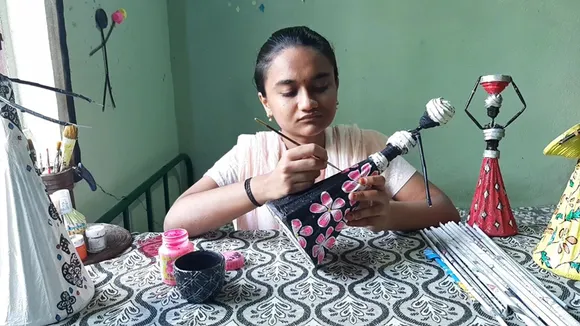 She gets orders for return gifts from colleges, IT companies, golu dolls, special gifts for couples and gifts to celebrate festivals from across the country. 
She customises pieces by changing the accessories, clothes and colours of dolls to suit customer requirements. 
Her range of dolls includes Radha-Krishna, Meera, musician dolls, family dolls, a couple with a child and many others. However, her favourite is the classic African doll with bright clothes and ebony skin tone. "I have received orders from the USA, Sri Lanka and Canada too," she says. Radhika earns anywhere between Rs 10,000 and Rs 30,000 a month on average and manages with help from her family.
"Whenever I start having aches and pains, my father helps with rolling the papers into thin tubes and my mother helps create the base," she says.
Also Read: Seven wooden toy-making traditions of India
"So I manage. But I want to expand. Instead of working on an order-to-order basis, I want to move to retail, placing my dolls on the racks of gift stores and interior designers."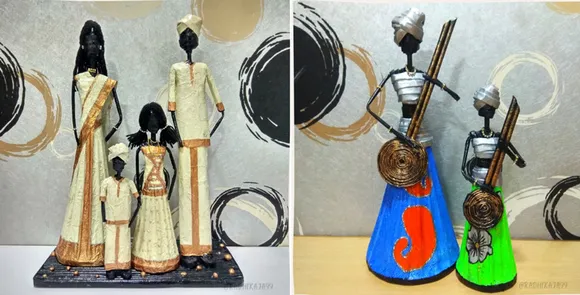 Radhika's loyal customers say her dolls, made from upcycled newspapers, are a source of pride and motivation for them. "I had initially read about her dolls, and ordered a few large-sized ones to place in my new restaurant. Their eco-friendly nature went with our earthen theme," says Shruthi KP, who runs Hotel Traditional in Ooty. 
"After I received many enquiries, I recently ordered six more dolls to give to friends and family in the USA. I love the fact that she customizes them for me like making a woman holding a basket or carrying other items etc.," she adds. 
Amritha Kannan, Founder of TWF - The Way Forward, says, "I have been Radhika's regular customer, buying her dolls for wedding gifts and to celebrate festive occasions. Her dolls have a unique tissue finish and are customized to Indian styles. The people I've gifted her dolls love them and use them for home décor," she says.
(Pratiksha Ramkumar is a Coimbatore-based journalist, specializing in writing on public health, agriculture and social issues. She is passionate about telling stories of inspirational people and events.)
Also Read: Mysuru's Ramsons Bombe Mane: Home to over 10,000 handmade dolls from across India