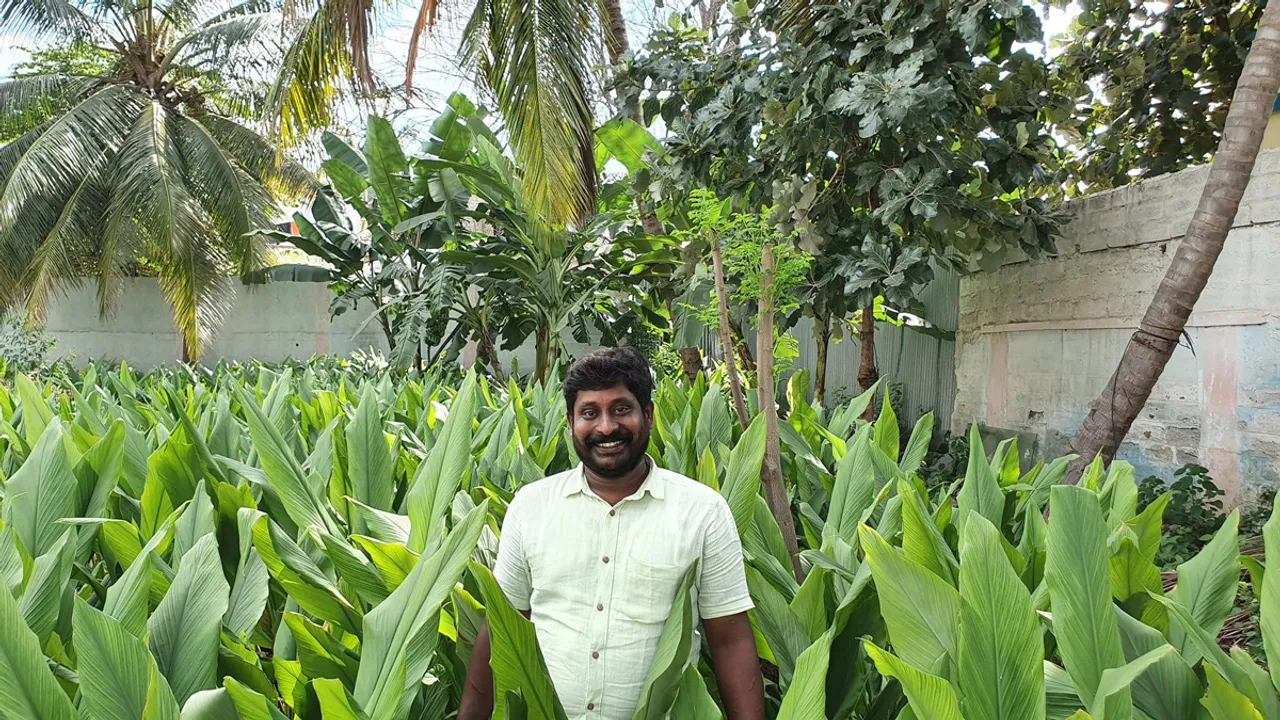 In January 2018, Aravinthan Arvi, who runs a private school in Coimbatore, asked a class 8 student where tomatoes come from. The student pointed to a neem tree and said that we plant a tree that grows big and then we harvest tomatoes from it.
The reply jolted Aravinthan. "I realised that children don't know where our food comes from," he says.
To correct the perception of children, Aravinthan decided to introduce the children to farming. "The idea was to teach kids about food and farming. Let them be close to nature and grow their own food," says Aravinthan, a post-graduate in optics and photonics from Germany's Karlsruhe Institute of Technology.
The school already had a terrace garden that was inaugurated on Pongal in January 2016. Since it is a residential school, Aravinthan decided they would grow their own food to provide safe and healthy food to the children.
The school also gives plants in grow bags to the children on their birthdays so they can take them home and nurture them.
In the past seven years, students at the St John's Matriculation Secondary School in Coimbatore have learnt about food by growing it themselves through organic farming. 
The school has 400 students and 50 staff. Aravinthan's initiative has motivated not only kids but also parents and teachers to take up terrace farming and grow organic food.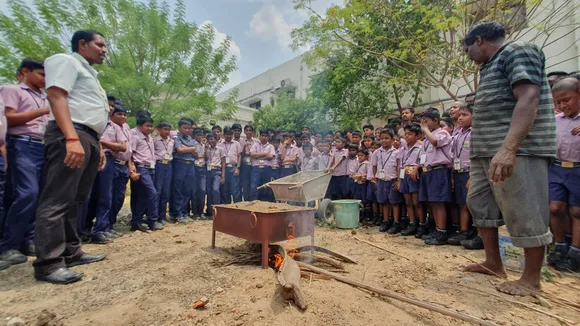 Through his initiative in farming, Aravinthan has collected and preserved close to 70 varieties of eggplant, 20 varieties of okra, 28 varieties of tomatoes, and 20 varieties of beans.
Also Read: Bhopal's Math teacher turned farmer-entrepreneur earns in crores through organic farming, helps 1400 farmers double their incomes
Back to the roots
Aravinthan, 38, grew up in Karur town in Tamil Nadu. His father is an advocate but also did farming on his ancestral land. Aravinthan completed his engineering degree and then went to Germany for his master's degree. He worked there for some time before his father asked him to return.
"My father ran a school in Karur. He wanted me to look after it. So, I quit my job and returned in 2010. I also worked in a college alongside," he says.
In 2015, Aravinthan's father took over another school in Coimbatore and Aravinthan shifted there. The school had 150 residential kids who stay in the hostel. Aravinthan decided to grow food in the school to provide healthy food to the kids.
Also Read: How this Goa family earns Rs 42 lakh per acre from organic coconut farming
"When we wanted to plant native varieties of brinjal, tomato, okra, chilli, radish, and turmeric, I realised that the seeds were difficult to procure. I got seeds from farmers and planted them. After the harvest, we saved the seeds and replanted them to save the varieties from growing extinct," he says.
The seeds are stored in a refrigerator. The seeds that are multiplied are put in glass bottles labelled with the date. 
Aravinthan says the older seeds are used first. Every couple of years the seeds are renewed by multiplying them and adding them to the collection.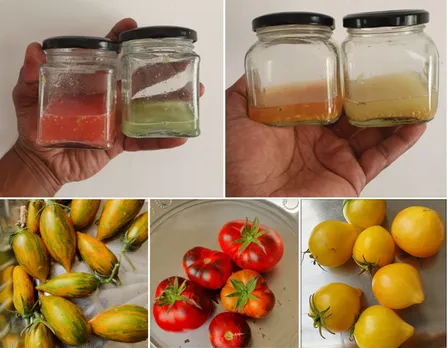 In 2016, the terrace garden was started but it did not provide enough food for the kids. "We had around 30 feet of space between the playground and the compound wall. We started farming there. We also grew 66 areca nut trees in an empty space inside the school building," he says.
To encourage kids to learn about farming, Aravinthan decided the school would present plants to kids in grow bags on their birthdays. "We decided to give radishes as they grow quickly. We grow them for about 15 days and then give them to the kids. They need to water them for another 15-20 days and then harvest their crop. This keeps them motivated," he says.
Bonding with nature
In 2018, the school took adjacent land on lease from a retired teacher who was happy to give it for the good work. "It was 12 cents (1/10 of an acre) of land. We decided to grow paddy there. I wanted to teach children about the importance of organic farming, how food is grown, and why we need to save native seeds."
"I think exposure to farming and nature, moulds kids in a better way. Apart from studies and games, children should have exposure to farming," he says. 
"Farming improves their observational skills, teaches them patience and instils in them a love for nature which will last a lifetime. A few might get inspired to take up farming," he says.
In 2018, Aravinthan created agriculture science groups for students in classes 11 and 12. There were around 20 students in the groups who learnt about paddy farming on the plot of land. They were guided by the agriculture science teachers.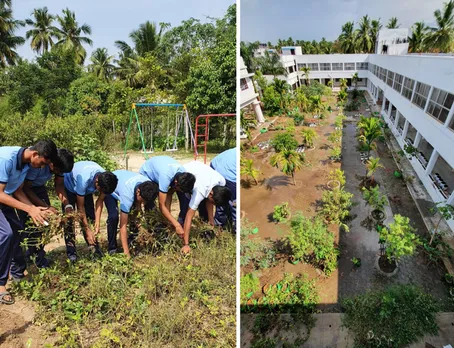 Students of classes 1 and 2 were given 'grow bags' to grow vegetables in and take care of them. "They labelled the plants, put their names and nurtured them. I tell teachers when kids are bored in class, take them out and let them water the plants and spend time with them," says Aravinthan.
Also Read: How tribal women farmers are conserving native seeds & ensuring nutritional security
Once the vegetables are ready, the kids can take them home. They can also exchange their vegetables with other kids. The parents are asked to cook the vegetable the same day. "Many parents have told me the taste of the vegetables is superior to the market ones. They say the rasam made from the tomatoes grown by the kids is better," says Aravinthan.
The push for indigenous
Over time, the school started producing an impressive agricultural output. 
The school produces around 2,000 kg of vegetables and various varieties of beans annually. Over the years, hundreds of seeds have been collected and a small seed bank created to preserve them.
The vegetables grown include tomatoes, eggplant, radish, okra, broad beans, chillies, drumsticks, and pumpkins. They also grow water apples, Manila tamarind, coconuts, and some pulses like green gram and pigeon pea lentils.
The school has acquired three cows and five goats so they make their own biofertilizers and biopesticides. The school gardener has been trained and makes the organic farm inputs.
Also Read: This techie quit TCS for the love of social work; has conserved over 250 varieties of native seeds
"In olden times, there used to be some 150 varieties of pumpkin grown across the world. There were more than 60 varieties of eggplant and over 10 varieties of okra in India. In Tamil Nadu, there were five to six varieties of brinjal in each district but slowly the indigenous varieties are dying out because farmers use only hybrid seeds now."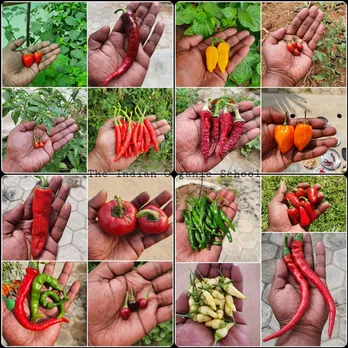 He says any surplus seeds are given to parents or teachers who are keen to do farming at home.
"Initially, we gave the seeds free but we got so many requests that it was difficult for us to handle the demand. So now we charge a nominal amount and only those who are genuinely interested approach us," he says.
Similarly, any surplus products like coconut oil or turmeric are also sold online through Facebook and Instagram at market rates. 
The coconuts that grow in the school are taken to a person in the neighbourhood who has a small oil mill at home. He takes out the oil which is then used in the school and the surplus is sold.
Aravinthan says that running the school and the organic farming activities are not aimed at making money. "This is my passion. When friends ask me if they should open a school, I tell them to do it if they want to do service, not to make money. We are moulding the future generation. We have to be careful how we nurture them. Of course, money is important to provide infrastructure and equipment. But one needs to strike a balance," he says. 
(Urvashi Dev Rawal is a Jaipur-based journalist specialising in development, gender, and political reporting)
Also Read: This septuagenarian Odisha couple has saved 1072 native rice varieties; shares seeds free with farmers