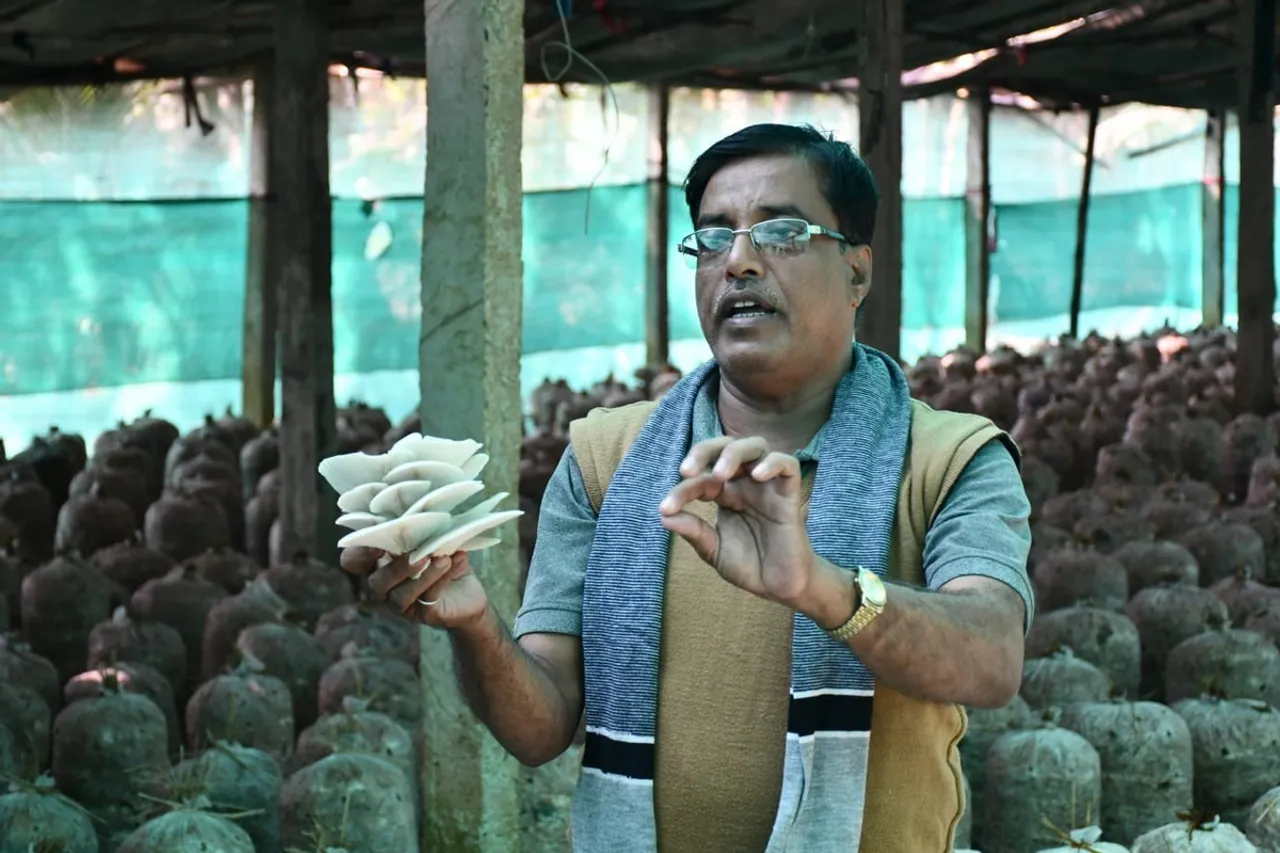 After graduating from the BJB College in Bhubaneswar, Santosh Mishra could not pursue higher education despite being good at his studies. Son of a primary school teacher in the Dandamukunda Pur village in Pipili tehsil of Odisha's Puri district, he wanted to support his family, which was struggling financially. Without enough money to study further, he attended a mushroom farming training programme at the Odisha University of Agriculture & Technology (OUAT) in Bhubaneswar in 1989.
He had saved Rs 36 over the years. "I bought four bottles of oyster mushroom spawns (seeds) from OUAT using that money," recollects Santosh, now 56.
"There was barren land near my house and with the help of my brother, I set up a temporary structure using coconut leaves, paddy straw, etc. We made four mushroom beds but harvested only three pieces of mushrooms!" he says with a laugh.
Mushroom entrepreneurship is a technology-intensive agribusiness, and its success requires good training. In Santosh's case, high moisture, fungal contamination, and insufficient lighting spoilt the crop. "I went to the OUAT and discussed the matter with the scientists there, who pointed out my mistakes and guided me on how to avoid them the next time," Santosh says.
He then took a loan from his father and prepared 100 beds in a shed spread over 1000 sq ft. "It was May 1989, and people were surprised how I harvested 150 kg mushroom, which otherwise grew only during the rainy season," he recollects.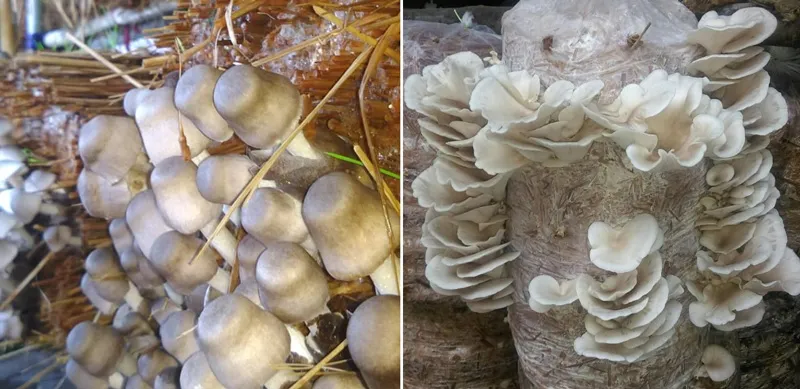 But selling it was another challenge. He took 5.2 kg of oyster mushrooms to Bhubaneswar and sat outside his college, where he was well known due to his active participation in theatre, sports and academic excellence. "I couldn't sell anything and also missed the last bus to my village at 9.15 pm. I slept on the footpath with the mushrooms and was woken up by the cleaner the next morning. He suggested I try selling the mushrooms to people living in the officers' quarters nearby," he says.
"I sold those 5.2 kg of oyster mushrooms for Rs 120, and that was the beginning of my entrepreneurial journey," he says.
He sold 150 kg mushrooms at a good profit and seeing his growing business, the local bank manager approved a loan of Rs 5270, which Santosh received in 1990. "I used that money to buy a straw cutter, and disinfectants, made a tank to soak the straw (immersion tank) and set up a structure for mushroom cultivation," says Santosh, who sells spawns, oyster and paddy straw varieties under the Kalinga Mushroom brand. 
Also Read: How this Gwalior professor became a successful mushroom entrepreneur
The business of mushroom farming
Mushroom cultivation requires little space, moderate light and aeration and good hygiene. Over 1,000 sq ft, one can have a four to five-layer set-up, which produces around 1,000 kg of mushrooms per cycle. Mushrooms can be cultivated throughout the year. 
Mushroom is also rich in nutrition and is a good source of copper, vitamins, potassium, and iron besides proteins. Mushroom cultivation also promotes environmental sustainability as it helps recycle farm waste (paddy straw).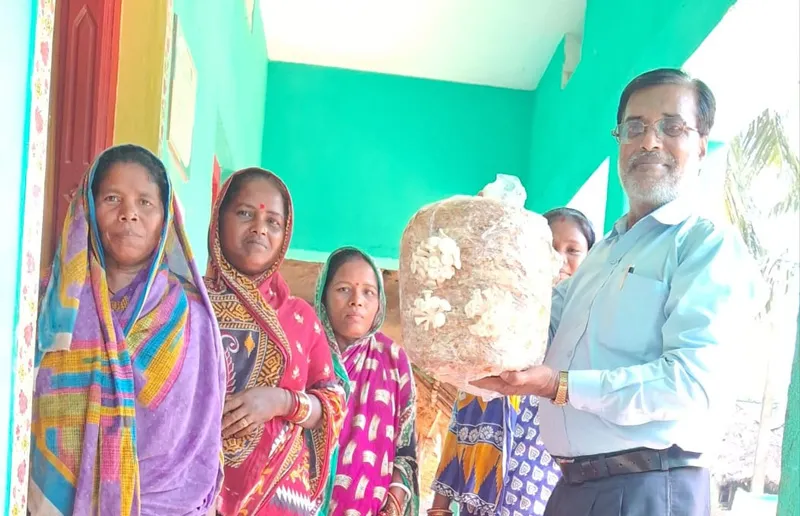 With his business success, Santosh received a loan of Rs 60,000, which he used to expand his facility. 
"I moved to 3,000 mushroom beds and harvested one quintal (100 kg) mushrooms from 100 beds every day," he says.
With that, he became a mushroom millionaire, earning over Rs 2500 daily in the 1990s. However, soon after, his father's ill health forced him to make frequent trips to Mumbai for his treatment. It was also a huge financial cost to the family. "Since I was away for almost 15 days in a month, a lot of contamination and other issues affected the business, which reduced substantially," he says.
The super cyclone that hit Odisha in 1999 turned his mushroom production centre into rubble. 
Also Read: From juveniles in correctional centres to landless labourers, how Pushpa Jha is helping create mushroom entrepreneurs in Bihar
"At the end of 1999, I got married to Jyotirmoy Mishra, a teacher's daughter, who pawned her jewellery within 15 days of marriage so that I could start from scratch," he says.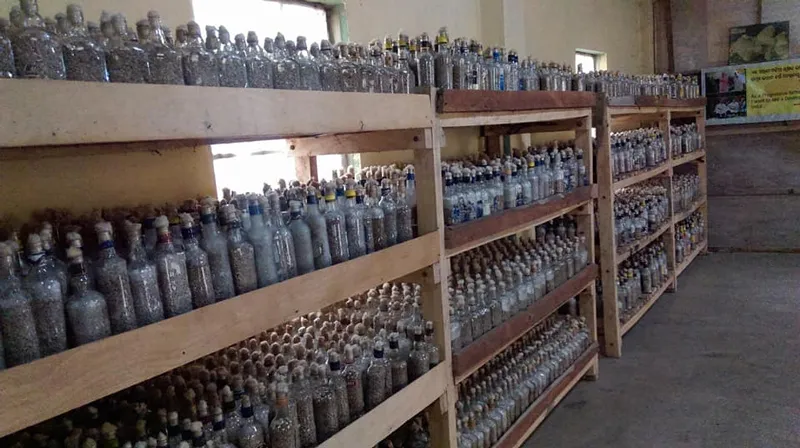 After that, he built a cyclone-resistant structure for mushroom cultivation and production of spawns and there has been no looking back since then. 
He has set up a spawn production-cum-training centre in his village where he prepares seeds of two varieties – paddy straw mushroom (Volvariella volvacea) and oyster mushroom. 
People from across Odisha, West Bengal, Chhattisgarh, Assam and Pondicherry to buy the seeds from Kalinga Mushroom sold at Rs 15 per bottle.
Also Read: Katul: The craft beer of Odisha's Kutia Kondh tribe
The process of preparing mushroom spawns
To prepare the spawns, wheat is boiled and dried under the fan. This dried wheat is mixed with 2 percent calcium carbonate filled in bottles or pouches, which are covered with a cotton cap. An autoclave machine is used for two hours to sterilise the mushroom substrate or grain spawn. It is then opened and cooled.  
Under a laminar airflow machine, which prevents airborne contamination, about 10 to 15 g of mother spawn is transferred to each sterilized bottle filled with substrate. "We then seal it with a paper cap and store it in the incubation chamber. After eight to 10 days, it is ready for use by mushroom farmers," he says. 
The cost of production per bottle is Rs 12 and it is sold at Rs 15. "We have the capacity to produce 5,000 bottles of spawns per day and right now we are making 2,000 bottles per day (Rs 30,000)," he says.
Santosh has plans to prepare value-added products using mushrooms now. At this training centre, he is already processing mushrooms to prepare pickles, papad, vadi (dried dumplings) and soup powder. "I am taking a Rs2-crore loan to set up a production facility where we can process oyster mushrooms," he says.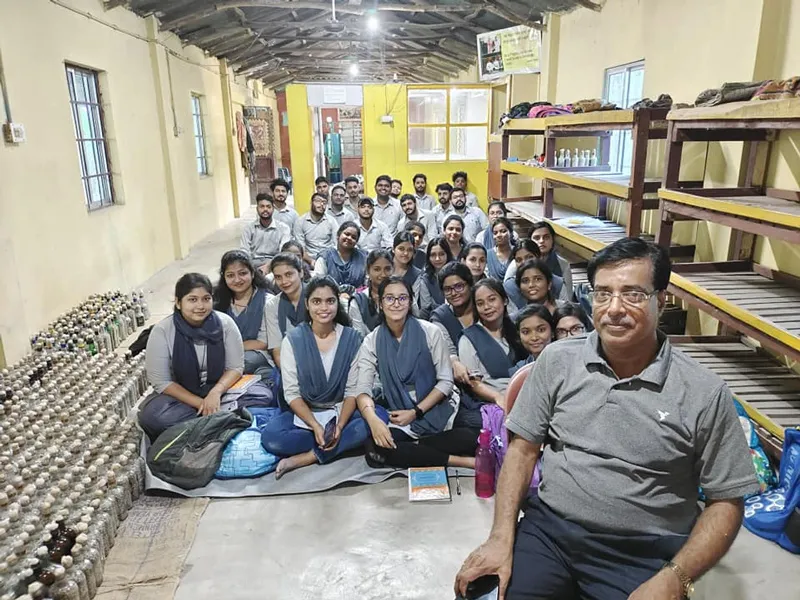 Right now, at the training centre, oyster mushroom is dried in a machine and powdered. This powder can be used to make vadi, papad, pickles, fritters, and chapattis (by mixing with wheat flour), sugar-free biscuits and snacks. "We will take this to a larger scale in the facility, which will be able to withstand natural calamities like cyclones. The products will be healthy and diabetic-friendly," he adds.
Training and expansion
For his work, Santosh received a state award in 2005 and was awarded by the Indian Council for Agricultural Research (ICAR) in 2011. He received the Global Agriculture Award at the Gujarat Summit in 2013 followed by the Odisha Citizen Award in 2021. 
Also Read: 65-year-old woman turns barren land into organic farm of medicinal plants, earns Rs50 lakh annually
"I am now focusing on spawn production and training people who want to be mushroom entrepreneurs," he says. 
Since mushroom cultivation can be started with little investment, it is a good income option for women, poor families, and other underprivileged sections of society.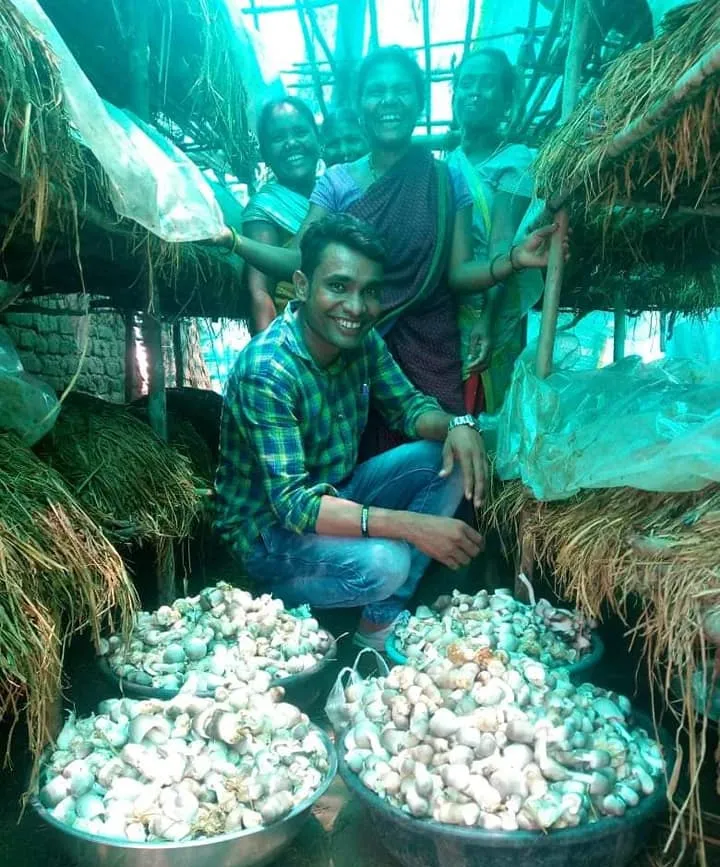 "I have given training to over one lakh people for free and most of them are women and people from poor socio-economic backgrounds," says Santosh, who has trained over 50,000 people under the Odisha government's Mission Shakti that provides livelihood support to Women self-help groups (SHGs). College students, working professionals and people from all walks of life get training under him. 
His paid training courses, for which he receives Rs 5,000 per session, are sponsored by corporates and have helped over 9 lakh people in 11 states including Uttar Pradesh, Kerala, Tamil Nadu, Andhra Pradesh, Maharashtra, Assam, Jharkhand, and Chhattisgarh. "I aim to connect as many people as possible with reliable sources of livelihood," he adds. 
(Rashmi Pratap is a Mumbai-based journalist specialising in business, financial and socio-economic reporting)
Also Read: Shifting from cotton to mushroom farming increases Haryana farmer's profit ten times