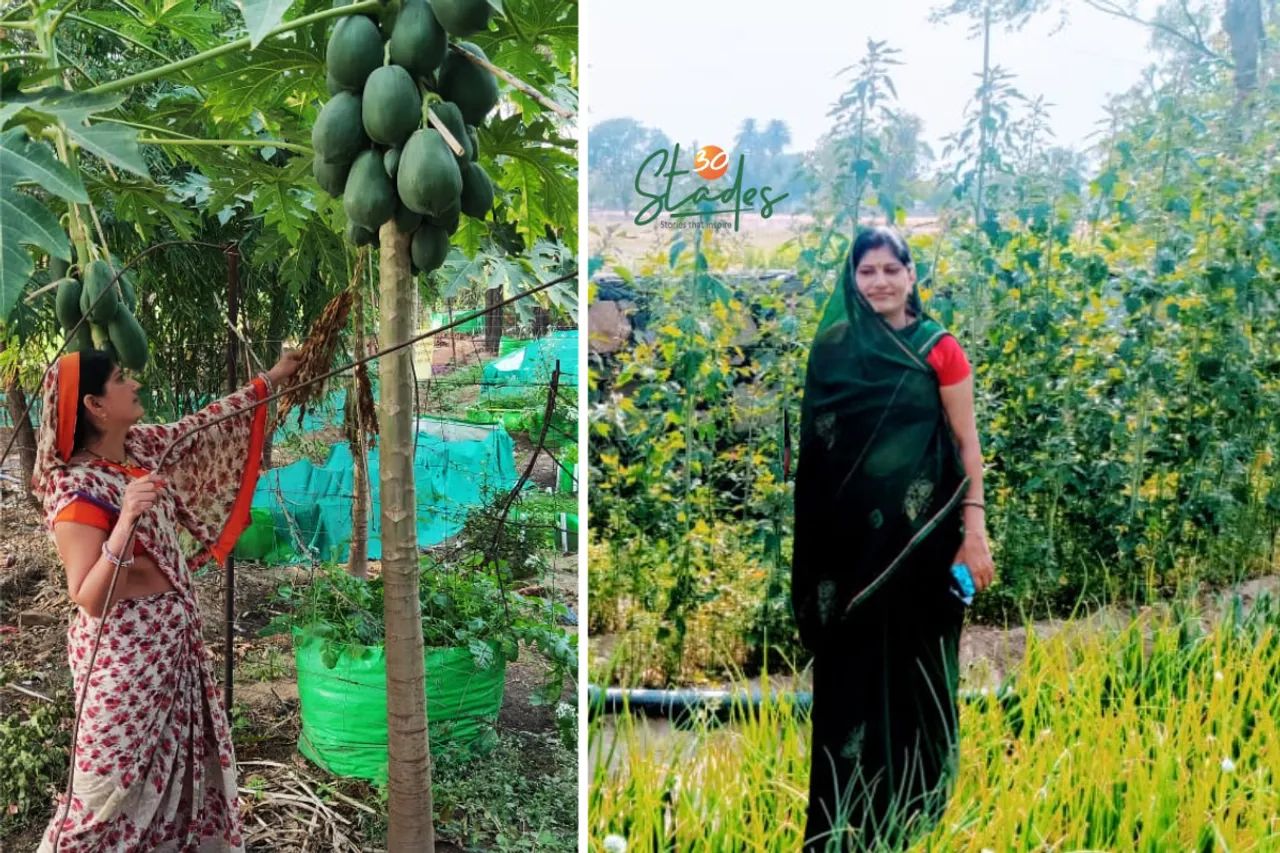 Rubi Pareek was just a year old when she lost her father to cancer. Without a consistent source of income, life was a struggle for Rubi and her family in the Mahua village of Dausa district, Rajasthan. All that she wanted was to study, but that dream remained unfulfilled as she could not continue her education after class 10.
"The senior secondary school was not near my village. Like most conservative families, my family did not want me to go far for studies after completing high school. In 2003, when I was 19, I got married," says Rubi.
Her marriage to Om Prakash Pareek in the Khatwa village of Dausa changed her life. The agriculturist family owned 45 bighas (12.3 acres) of land where it was cultivating wheat, mustard and other crops using chemicals. 
"The family was putting in a lot of hard work in farming, but the income was just about enough to make ends meet. The cost of chemicals, hybrid seeds and high water requirements ate into the profits," she says.
Rubi began to take an interest in farm work and her husband encouraged her to learn by sharing his experiences. In 2006, a team from the local Krishi Vigyan Kendra (KVK) visited the village and exhibited various wheat varieties. "I attended that session and asked them if there was an alternative to chemical-based farming. The scientists told me that organic farming was the solution. They asked me to come for a three-day training in organic farming," says Rubi, now 39.
However, it was not easy for her to step out of the house being the daughter-in-law of a conservative family. "My husband supported me a lot and encouraged me to move ahead. I went for the training," she adds.
Sowing seeds of organic farming
After attending the training, and working on the farm along with her family, Rubi gained some experience. She requested her father-in-law to allow her to experiment with organic farming on four bighas or about 1 acre of land.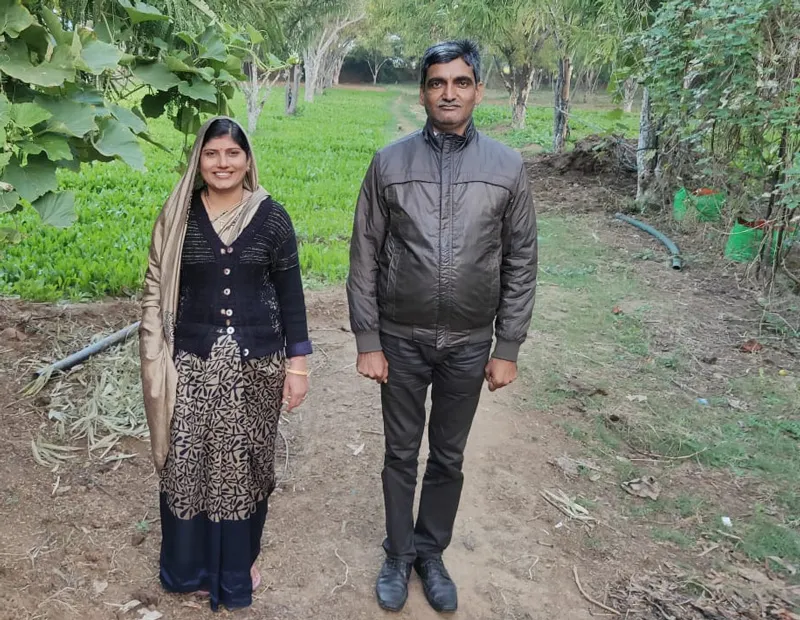 "He agreed and I cultivated guar (cluster beans), mustard and some other crops. But the output in the first year was lower than that of chemical farming and my family dissuaded me from continuing organic agriculture," Rubi says.
However, the husband-wife duo persisted. 
Rubi began to prepare organic compost using cow dung, cow urine, neem leaves and other farm inputs to improve the fertility of the soil eroded by years of chemical use. She also learned to make vermicompost. 
"We procured earthworms at exorbitant prices because we were not aware of the market rates. I started with a few vermicompost beds and the results were good," she says.
The application of organic inputs began to improve the yields of crops. In 2008, officials of NABARD (National Bank for Agriculture and Rural Development) visited her farm and encouraged her to put up a vermicompost unit. 
Also Read: How this Assam woman earns Rs3.5 lakh per month through vermicompost
"NABARD gave me a 50 percent subsidy to set up the 200 metric tonne facility. At that time, it was the largest vermicompost unit in Rajasthan," says Rubi, who has been awarded by NABARD as well as the Rajasthan government for her work to promote organic farming through free training sessions and women empowerment.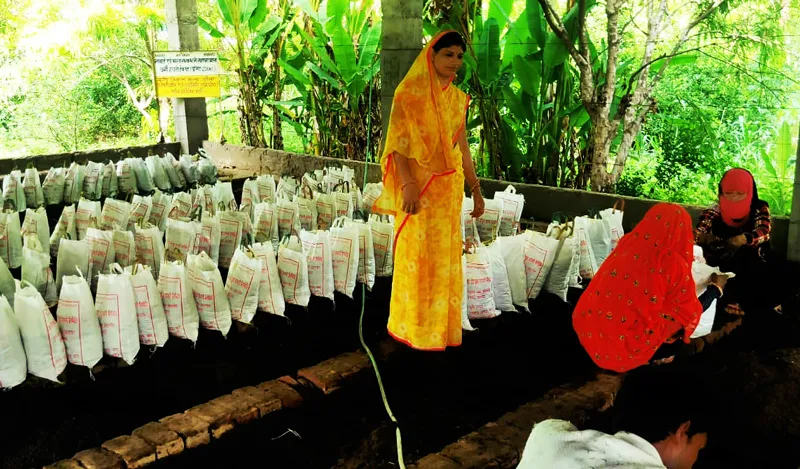 A new beginning
This unit was the turning point that brought many women farmers to Rubi's farm for training. "I began to train others in organic farming and vermicomposting and I have trained over 15,000 people so far," says the agri-entrepreneur.
Today, Rubi has over 100 beds of vermicompost, some on the vacant spaces under trees and others on land specifically earmarked for them. 
The unit produces 200 quintals (20,000 kg) of vermicompost per month and it is sold at Rs6 per kg. 
Her husband Om Prakash has also trained over 100 people in seven districts, including Dausa, Sawai Madhopur and Bharatpur, in preparing vermicompost. "We sell earthworms at the government rate of Rs125 per kg. But since we strongly believe in giving back to society, we give vermicompost, earthworms and other inputs for free to needy farmers so that they can shift to organic farming," says Om Prakash.
Also Read: How this Maharashtra engineer became a hydroponics fodder millionaire
Learning from experience and training, Rubi now also prepares Azolla fern, which is used as a fertiliser due to its ability to fix atmospheric nitrogen. When mixed with dry fodder for cattle, it improves the quantity and quality of milk.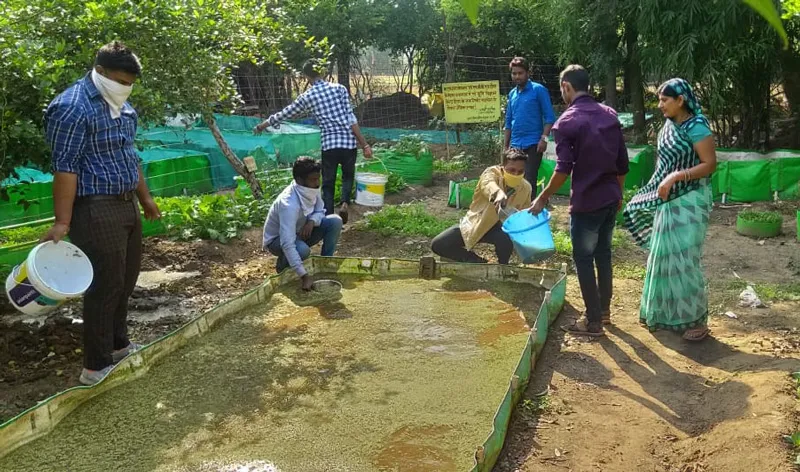 Azolla is an aquatic fern which can be prepared in plastic units or pits of 10 ft x 10 ft. The depth of the pit is one foot. "We have five azolla beds and to every pit, we add fertile soil, some cow dung and 5 kg of azolla seeds," she says.
"We also add Azolla fern to vermicompost beds. Dairy farmers buy it from us to add to cattle feed. We sell around 3 quintals (300 kg) of Azolla every month," Rubi adds.
From chemical to organic farming
Over time, Rubi's family also began to see the benefits of organic farming and today, their 12-acre land is completely organic-certified. 
"We have 10,000 plants on the farm and they are grown in three layers. Multi-layer farming maximizes the use of land and improves output," says Om Prakash. 
The outermost layer comprises plants of lemon and karonda (Carandas plum or Bengal currant) along the boundary. Aloe Vera and other medicinal plants are grown under lemon and karonda trees. Then there is papaya, bel (stone apple), gooseberry and other plants. In the space between them, there are plants for cattle feed.
"On some parts of the land, we grow wheat, mustard and chana in winters (Rabi season). This is followed by vegetable cultivation during summers," Rubi says.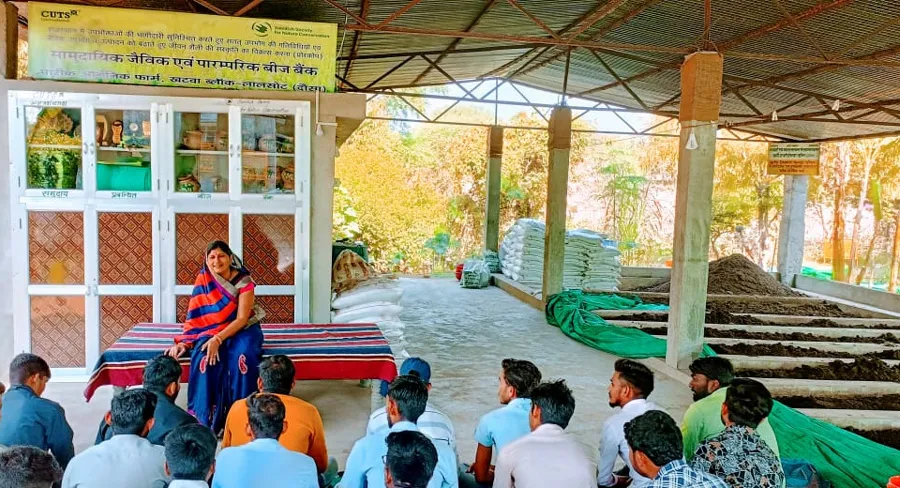 They grow native varieties of wheat and vegetables and also conserve their seeds. "I encourage farmers to use native seeds because they require less water and are naturally pest-resistant. They flourish well with the use of organic inputs," she adds.
Also Read: How tribal women farmers are conserving native seeds & ensuring nutritional security
Ruby also has a seed bank from where farmers can buy native varieities at nominal rates.
As Rubi interacted with more and more farmers, she discovered their problems and marketing the produce was the biggest of them. 
So in 2015, she set up a farmer producer organization (FPO), which has over 500 members right now. Rubi is the Managing Director of Khatwa Kisan Jaivik Producer Company Ltd., which helps farmers sell produce directly to customers.
"They don't have to go to mandi now. Buyers, mostly local government officers and businessmen who know about the importance of organic food, buy directly from the farms. The farmers get 40 percent to 50 percent more than the market rate without spending any money on transportation, sorting or grading," says the successful woman farmer.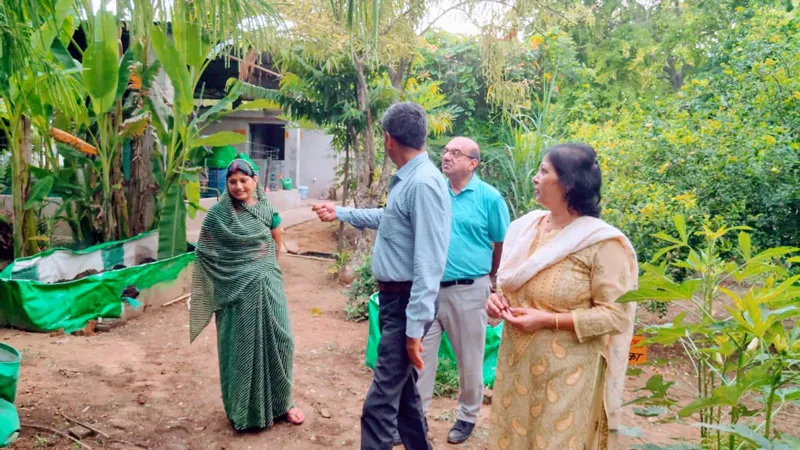 The farmer-producer company also provides financial support to farmers who are transitioning from chemical to organic farming. "It is natural for production to drop during the first three years after switching to organic farming. The FPO helps the members by providing free organic inputs and money as and when needed. In return, they have to make financial contributions to the FPO when they start earning profits," Rubi points out.
"We want to create a healthy sales ecosystem by eliminating middlemen. This is the only way for farmers to earn higher incomes. I aim to spread the message of organic farming as far and wide as possible," she adds.
(Rashmi Pratap is a Mumbai-based journalist specialising in business, financial and socio-economic reporting)
Also Read: Kerala couple turns barren land into organic paddy farm, sells native rice at up to Rs225 per kg