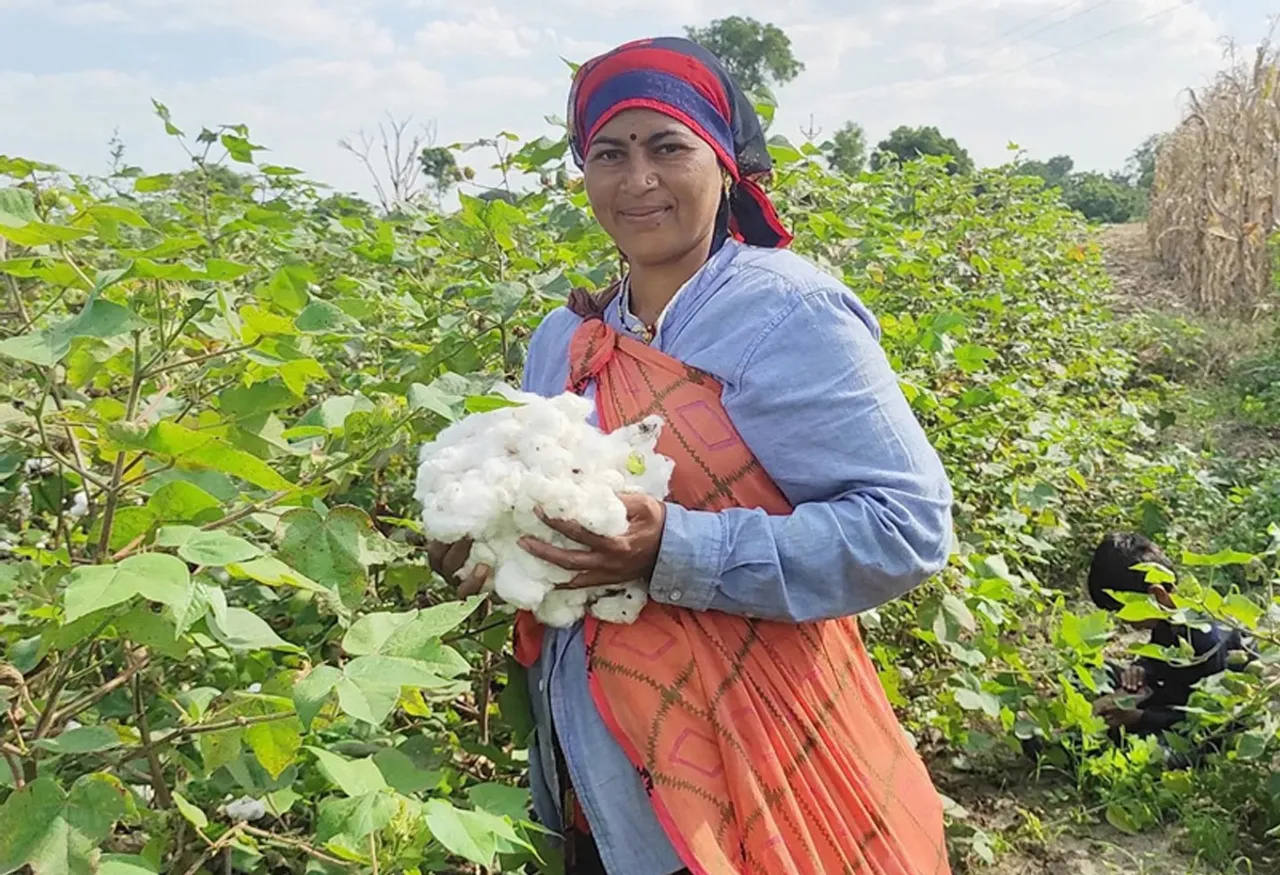 Savita Dakle had to drop out of school after class 10 due to her family's financial problems; she was married at 17 and the child bride had her first brush with the heat and dust of agricultural fields in 2002. The third among five siblings, Savita had never worked on any farm and was not accustomed to the agrarian way of life.
Her husband's family, however, grew cotton, bajra and maize on their 1.25-acre farm in Pendagaon village of Maharashtra's Aurangabad district.
"Soon after I got married, it was about time to harvest cotton. My mother-in-law asked me to accompany her to the fields. While other women harvested 50 kg in one day, I could harvest only 5 kg. My family and neighbours used to laugh at me and my inability to work efficiently on the farm," Savita recollects.
"People would ask me why my parents married me into a farmers' family. I used to ignore their comments but when alone I would cry," she says.
Savita, however, never complained to anyone as she didn't want her parents to know about her situation. "I wanted them to believe that I was happy and well-adjusted at my in-laws' place," she says.
Also Read: How Madhya Pradesh homemaker Lalita Mukati became millionaire organic farmer
From town to farm
To add to her woes, the teenager had to accompany her mother-in-law for working in the fields of other farmers with bigger landholdings. "The income from 1.25 acres of farmland was not enough to sustain our family. So I began to work in farms of other people for a daily wage of Rs 200," she says.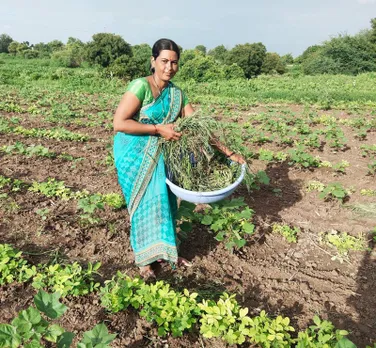 This was in contrast to the life she had lived as a young girl in Aurangabad. She was in class 7 when her father lost his job as the company where he worked closed down. Her mother began to sell vegetables for a living. Savita decided to help her family after giving her exams for class 10 and took up work at a pharmaceutical factory nearby.
"I was involved in the packaging of medicines. I was paid Rs 1200 per month and we used that money to support the education of my two younger brothers," she says.  
Her father sold the 2-acre land they had in their village to get her two elder sisters married. In 2002, after working in the pharmaceutical unit for two years, she was also married and this was the beginning of a new life for her.
Today, that novice teenage farmer of 2002 is a mentor and guide to lakhs of farmers across India as she provides them with free consultation and training through her Facebook Group called Online Farmer. 
With over 7.40 lakh members, Savita's Facebook group is also a platform to connect farmers with opportunities for marketing their products, brand building, solving their day-to-day farming problems and acquainting new agriculture tools and equipment for improving productivity.
Also Read: Rajasthan: School dropout woman farmer develops new carrot variety using ghee & honey; earns over Rs 50 lakh annually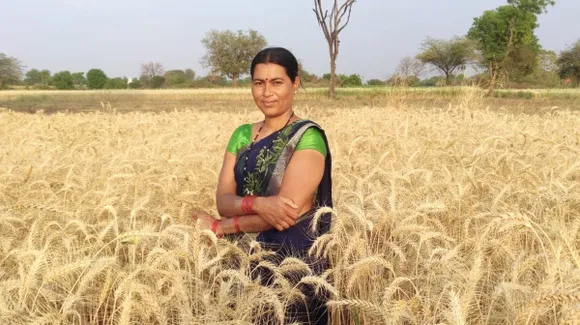 The group has 22 farming experts, who provide an answer to all problems of farmers ranging from the falling of tomato flowers before fruit formation to improving soil fertility.
Seeds of transformation
But Savita had to put in a lot of hard work before she could guide others and create a national platform for farmers.
Despite the initial setbacks in her attempt towards farming, she decided to pursue cotton cultivation wholeheartedly and began to learn as much as possible. "After harvesting 5 kg cotton in one day, I doubled the amount to 10 kg in two days. I felt it was useless to leave life to fate or cry about it," she says.
"Not every town woman can toil in the fields. But I wanted to learn and decided that I would work on the farms every day at any cost and in every weather," she says.
Also Read: Gujarat: This school dropout farmer became a millionaire with organic farming of mango
By working on others' farms, Savita learned about manures, their usage and application and which sprays were done at various stages of the crop cycle. "I learned ploughing, sowing, harvesting, post-production storage and all aspects of agriculture a farmer needs to know. In just a couple of years, my family started relying on me for all farming activities," she says.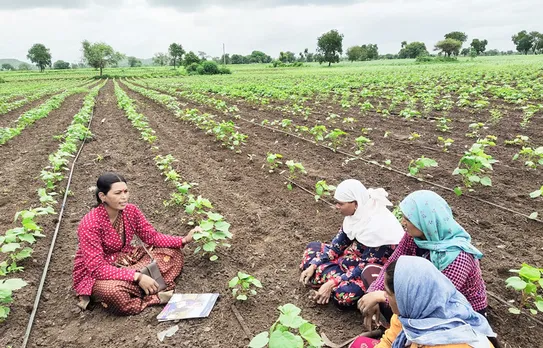 The turning point in her life came in 2017 when Seva Samta, a non-governmental farming organization, visited her village. "They were educating us about farming and how women could step out of the house and be independent. Initially, my in-laws did not allow me to attend the meetings. But I got an opportunity one day and attended the meeting."
The price she had to pay for that two-hour meeting was a lot of scolding from her in-laws. But Savita continued her learning journey. "Seva Samta was not restricted to farming. It also taught women farmers to come together in groups and trained them in new skills like helping each other and information sharing," she says.
That was the beginning of Savita's journey towards knowledge sharing.
"I made a small group of farmers on WhatsApp. By then I had been practising farming for 15 years and I thought it would be good to help others."
In the early days, 500 women farmers joined the group. "With time, we started adding more women," she says.
Also Read: How organic fruit farming made Rajasthan's Santosh Devi a millionaire
Her posts on the group mostly involved cotton cultivation, harvesting, her daily farm work, etc. Soon, women started asking for guidance and the group began to grow.
Empowering farmers
Savita realised that information sharing was leading to women's empowerment and she understood the lack of reliable agriculture consultation services for farmers. Almost 60 percent of Indians are dependent on agriculture for livelihood.
Yet, farming consultation and training in new techniques and equipment have been the Achilles heel for farmers in India for millennia. 
Small-scale growers struggle the most as they have almost no access to training or capital. And the vagaries of nature like drought or uncertain monsoons add to their woes.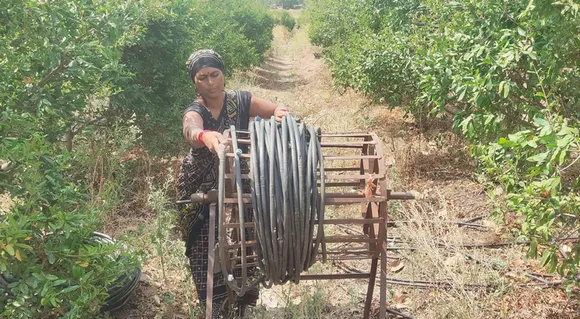 "Seeing the response of women farmers on our WhatsApp group, I thought it would be good to share experiences with more growers. I then started our Facebook farmers' group in 2017. It has over 7.40 lakh members now," she says. 
From buying the right seeds and vermicomposting to irrigation techniques and solutions for plant diseases, Savita's Facebook group is a free treasure trove of information for farmers.
Savita's daughter taught her basic English and also showed her how to use Google translation services. "Now I can write in English without any help," she says.
The Facebook group, with eight moderators, has 22 agriculture experts, including researchers, farmers, marketing specialists and others. They provide answers and guidance to all queries.
Savita and other members also post inspiring stories of successful farmers, natural and organic farming, updates on government announcements, prices and other information for the benefit of growers.
"Now my daughter and son also help me on the farm during their vacations. I want them to get educated and also learn to farm. The two are not mutually exclusive," she says.
(Rashmi Pratap is a Mumbai-based journalist specialising in financial, business and socio-economic reporting)
Also Read: Roja Reddy: Karnataka techie-turned-agripreneur's pioneering organic farming effort makes her a millionaire