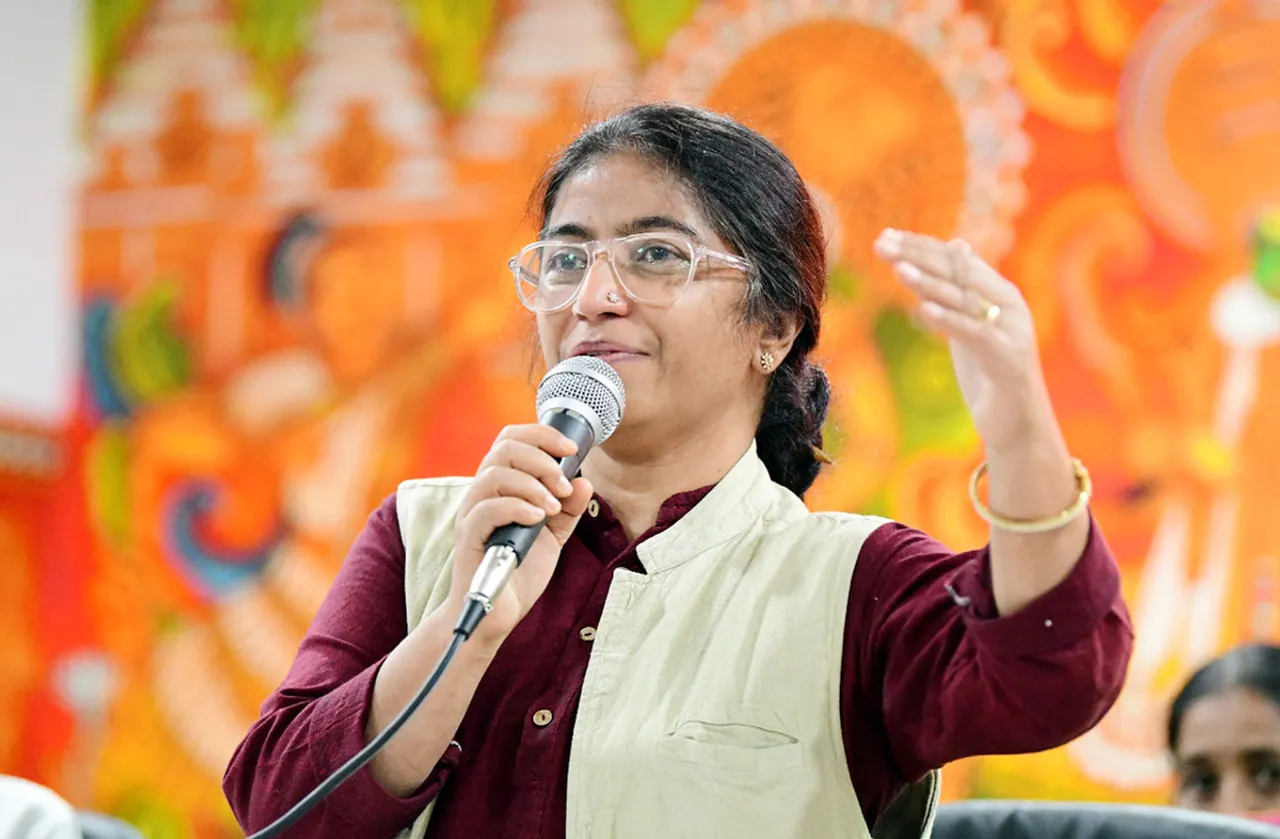 On the afternoon of July 7, 2023, Sunitha Krishnan coordinated her squad with the Andhra Pradesh district police to conduct a raid at a hotel in Visakhapatnam. Two Thai women who had been forced into prostitution in India were rescued during the operation.
"These women were lured to India under the guise of lucrative spa jobs. It is a typical instance of sex trafficking worldwide. It is the second-largest organised crime after narcotics and it generates over 900 billion dollars globally," says Sunitha, the founder of Prajwala, an NGO that rescues women enslaved for sex work.
Sunitha was alerted about the two Thai women by a client. The trafficker, who had detained them, had also taken possession of their passports. The rescue squads first verified the accuracy of the information because it could be a trap set for them. After verification, Sunitha immediately got in touch with the police in the Vizag district. 
Within three hours, the rescue effort had been carried out. Sunitha was near her phone throughout the operation so she could communicate with various stakeholders. The women were taken to a safe place and received first-aid and counselling.
In her work with trafficked victims spanning 27 years, Sunitha has rescued 28,200 victims and rehabilitated 26,500 women.
Menace of Trafficking 
Prajwala conducts around 45 to 50 rescue operations every month, irrespective of the citizenship of trafficked women. Ninety per cent of the victims are Indian.
Sunitha says the rescued women have to record their statement before a magistrate under section 161 of the Indian Penal Code. Till then they remain in police custody. After that, the court hands them over to Prajwala, where the victims are counselled as they deal with trauma.
Also Read: How Shilpi Singh is taking on human traffickers and rescuing women in Bihar's badlands
In the case of the Thai women, who are still in police custody, the principal trafficker who had their passports was not caught but his subordinate was arrested. Prajwala has to obtain a temporary travel visa from the Thailand Embassy and a Repatriation Order from the court so that they can go back to their country.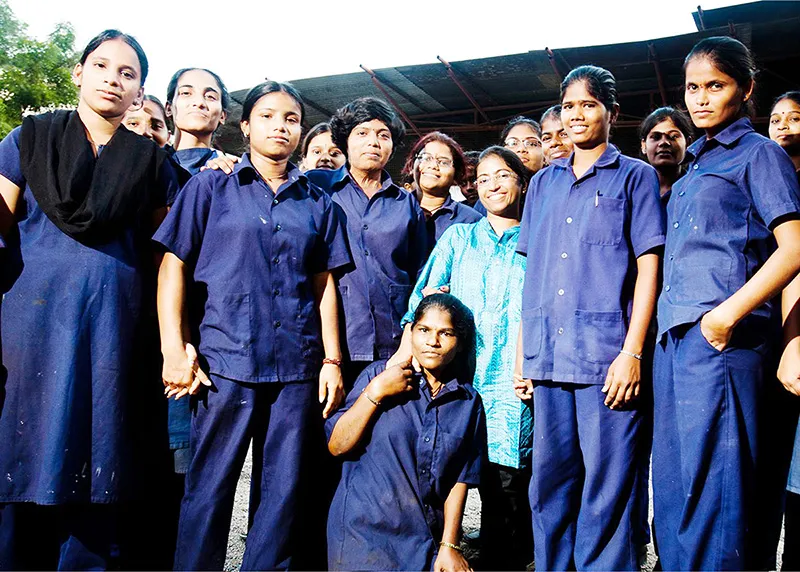 Like the two Thai women, most trafficked women are poor, so Prajwala takes care of the travel, legal and other expenses. The NGO will arrange flight tickets for the two women and obtain a departure permit from the Foreigners Regional Registration Office after which they will be sent home.
"In India, domestic sex trafficking predominates. It could be intra-state or interstate. In addition to girls from Andhra Pradesh and Telangana, the majority of the women trafficked are from Bengal, Uttarakhand, Uttar Pradesh, Madhya Pradesh, Maharashtra, Jharkhand, and Odisha," says Sunitha. 
"About 10 percent of the women trafficked are from Uzbekistan, Ghana, Tanzania, Bangladesh, Nepal and Thailand," says Sunitha.
She says they obtain information about trafficked women from various sources including customers, informers, the local community and parents of victims. The anti-human trafficking units and police, interstate or state-based, work together for rescue operations. Prajwala has a robust police networking infrastructure.
Also Read: Impulse NGO Network: How Meghalaya's anti-trafficking warrior has helped save over 72,000 lives from slavery
The trafficked women sometimes become combative during rescue because they are brainwashed by their handlers who tell them they will be tortured by police and shelter houses.
Battle of Custody
Sometimes the women, who are indoctrinated by handlers, refuse to testify in court, which has little choice but to release the girls to the traffickers.
Sunitha says the court should look into the claimant's past to verify the claim. According to the Immoral Traffic (Prevention) Act of 1956, if someone requests custody of a victim of human trafficking, the court shall not give custody without further investigation. The DPO (District Probation Officer) or an NGO may be contacted for help in determining the relationship between the prostitute and the individual, explains Sunitha.
The victim is given trauma treatment, counselling and psychological assistance so she builds trust in the legal system and deposes against the traffickers who might be trying to gain custody of her, says Sunitha.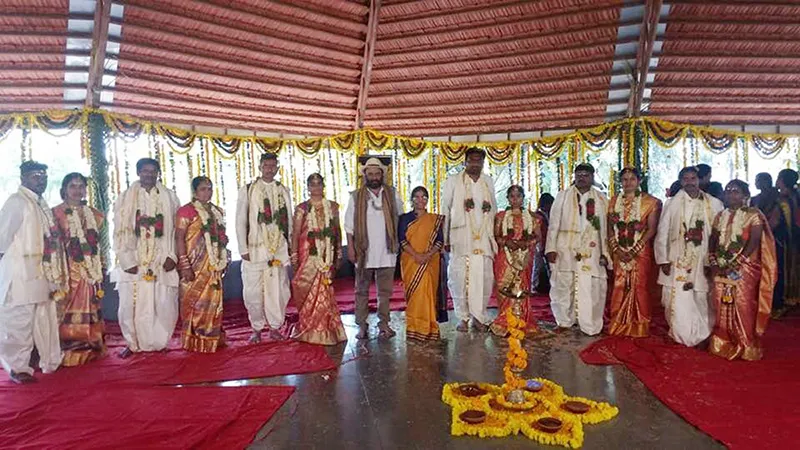 Sunitha cites a recent incident where a victim's mother came from Bengal to seek her daughter's release. The judge declined to release the girl. The mother stayed with the traffickers who had brought her to Hyderabad.
The traffickers also came to Prajwala to get the girl but the men were detained at the security checkpoint while the mother went inside.
Once inside, she recounted the entire episode of how the traffickers had coerced her daughter into the flesh trade. "We took the woman out through a back door and to court where she acknowledged that the individuals with her were human traffickers. The court immediately issued their arrest warrant," says Sunitha.
Also Read: Rescue Foundation: How Triveni Acharya saved over 6,000 girls from forced prostitution
Fighting for the introduction of the Anti-Trafficking Bill 
Human trafficking for sex, in Sunitha's opinion, is a multilayered organised crime. Due to the lack of a comprehensive law against trafficking, the authorities are unable to stop it.
She says the kingpin is hardly ever apprehended. "Their whereabouts are not known and the people who are arrested are only pawns who are unaware of their employer and superiors. For fast cash, they follow instructions." 
Sunitha says another hurdle is that police from one state cannot investigate a case in another state.
"I have spent the last 18 years advocating for this. To propose the Anti-Trafficking Bill, I filed a PIL (Public Interest Litigation) with the Supreme Court in 2003. In 2015, the Supreme Court rendered a beneficial decision. The Lok Sabha considered it and approved it in 2018. Regrettably, it has not since been tabled in the Rajya Sabha."
The bill grants police the authority to travel anywhere in the country to investigate. 
"If the Anti-Trafficking Bill is passed, it will increase the likelihood of breaking up the trafficking network and apprehending the main perpetrators," she says.
"My job involves rescue efforts, girl rehabilitation and prevention programmes, and then a lengthy reintegration procedure to bring their life back into society in a respectable manner. Besides, I continue to learn from changes in legislation," says the 51-year-old fighter.
Also Read: How Prerana is helping thousands of girls get out of intergenerational sex trade
Unsafe Task: Escaped 17 Killing Attempts 
In 2016, Sunitha received the Padma Shri, the fourth-highest civilian award, in recognition of her bravery and sacrifices. She directly engages with the infamous criminals in conflict. The work is extremely dangerous, and they have always had her as their target. There have been 17 attempts by the traffickers to get rid of her. However, she miraculously escaped death.
Sunitha endured several instances of physical abuse. She has backaches and became deaf in one ear because of one such beating. Her staff too has endured violence and one of her co-workers was stabbed to death in 1997.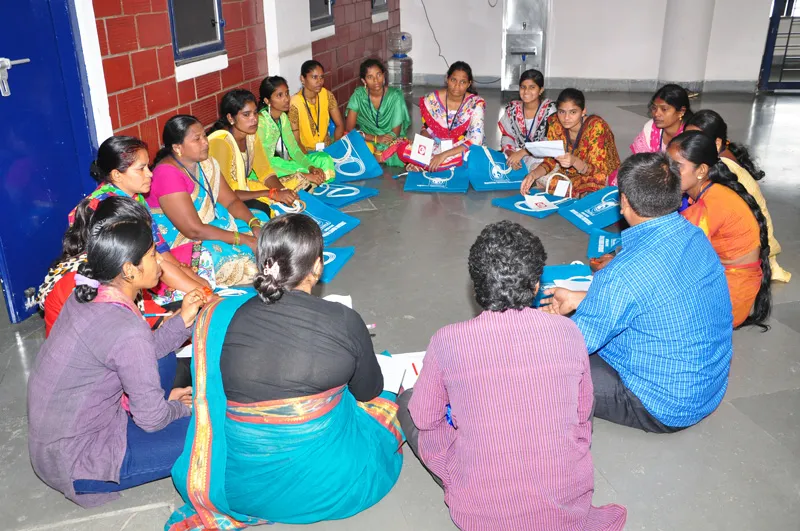 "The traffickers once sent a person who won our trust and started working on our campus. He injected poison into my meal and I became unconscious. My staff rushed me to hospital and I recovered in a few weeks," she says with a smile.
Another attacker tried to throw acid on her but he slipped and the bottle fell on him. Once a speeding truck hit the auto in which she was travelling, throwing her out of the vehicle but she recovered from the injuries.
Inside Prajwala
Sunitha says when victims are brought to Prajwala, they are in traumatised conditions and exhibit a high level of self-harm behaviour.
"We need someone to take care of the victims, their meals, their medication and their counselling. It is not an easy task because a minor and an adult experience antagonism and trauma-related emotions differently."
The victims who are brought often attempt suicide. Some girls are dependent on cigarettes, alcohol or narcotics. As they experience withdrawal symptoms, they become aggressive, shout, cause a commotion and assault the staff.
The Prajwala staff encounters these difficulties and dangers every day. They use a trauma-informed approach. Girls who are 5 to 6 years old when they are brought are manageable. 
But once they reach the age of 10 years and discover what happened to them, their lingering anguish leads them to attempt suicide.
Vicarious trauma, in which staff members experience trauma while managing trauma sufferers, is an additional difficulty. As a result, staff members experience maximum stress and burnout.
Rescue & rehabilitation
Prajwala was established in 1996 to educate the children of prostitutes. When Sunitha approached some of the prostitutes, who were evicted from the Hyderabad red-light area, they requested her to take care of their children since many were homeless or in jail.
Around 200 staff members are working for 450 victims housed at Prajwala's 12-acre campus in Hyderabad. These victims range in age from three-and-a-half years to 45 years. At Prajwala they are offered counselling and legal support to fight their case.
Also Read: Rescuing mortgaged kids, giving tribals a voice in decision-making, how Vaagdhara is bringing change from ground up
At Prajwala, everything is taken care of, from the wholesome meals to the boarding, counselling and further education. 
Today, the majority of the rescued women work as physicians, engineers, chartered accountants, television camerawomen, MBAs and lawyers.  
"Bringing back smiles on their faces is a big achievement," Sunitha admits.      
Amelia (name changed) now works as a government doctor. At the age of six, her parents sold her. Sunitha saved her from a Delhi brothel along with her sister. "Sunitha ma'am is my mother and father. She made sure that my sister and I had a convent education and could pursue our aspirations," Amelia says.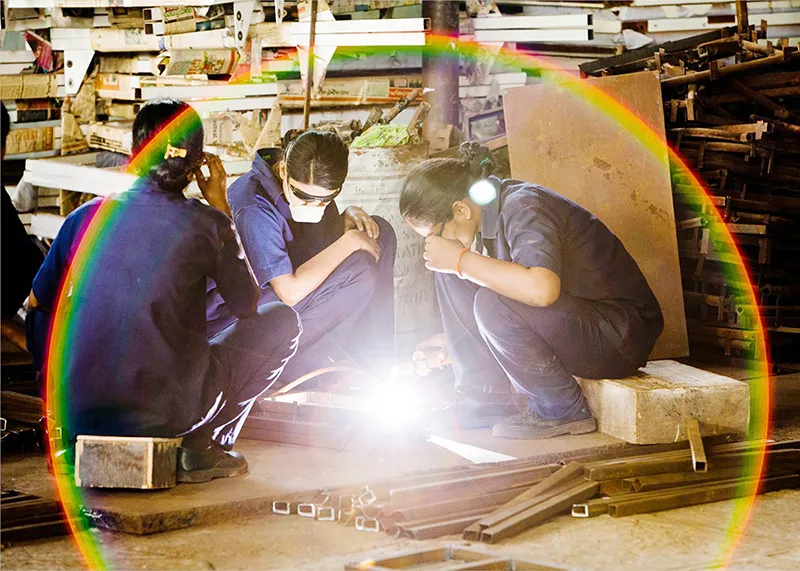 When Saanvi (name changed) was coerced into prostitution under the pretence of employment, her traffickers altered her name and religion.
Saanvi says if Sunitha had not rescued her, she would have succumbed to AIDS or become a sex trafficker at a brothel. With the help of therapists and counsellors, she allowed herself to begin over. "Today, I oversee Prajwala's Victim Assistance programme and provide assistance to victims who have been rescued from brothels," says Saanvi. 
Many non-traditional skills, including bookbinding, carpentry, welding, masonry and fabrication have been made available to women as a means of empowering them. 
Around 100 women manage a furniture business where they make and market their handmade items.
"I have performed the wedding ceremonies for almost 9,000 women. Our institution is their home. Pregnant women come here to give birth to their children. I am a grandma with more than 1,000 grandchildren. I even had to perform last rites for almost 100 women who passed due to AIDS," says Sunitha.   
Sunitha says sexual repression causes men to exploit a girl child. "The silence around sex has to be broken. We have to educate girls and boys about sex to instil respect for women in them. We're a part of this problem," she says.
A campaign against "cyber-enabled trafficking" will be soon started by Sunitha. The Covid epidemic has brought to light the technology-based trafficking, in which young women are captured through social media sites like Facebook, and Instagram, as well as employment and matrimony sites.
(Partho Burman is a Kolkata-based award-winning journalist. He writes inspiring human interest and motivational stories.)
Also Read: How this MP IPS officer helped 5,000 kids escape inter-generational prostitution