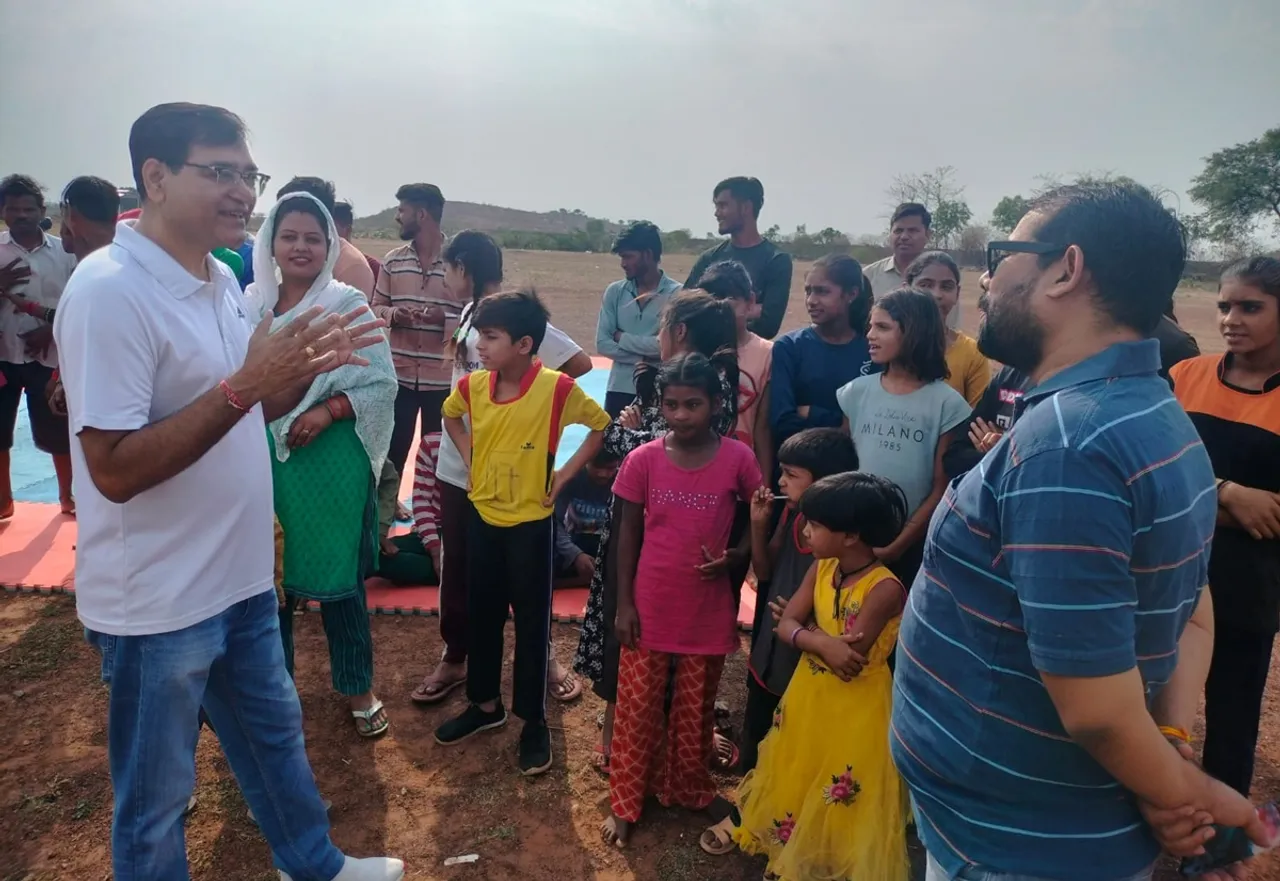 When Usha (name changed) from the Rajgarh district of Madhya Pradesh was 18, she was forced to take up prostitution to look after her family. Her father was unwell and unable to work and the responsibility fell on young Usha's slender shoulders.
The decision to take to prostitution did not create ripples in the family which belongs to the Bedia community, a denotified tribe that is also listed under the Scheduled Castes in Madhya Pradesh.
In the Bedia community, spread over 18 districts of Madhya Pradesh, the girls are initiated into prostitution by their families. The practice has continued for generations. 
Some girls who do not wish to marry or are driven by circumstances are pushed into sex work while those who want to get married are prohibited from the practice.
Usha too went into intergenerational prostitution without much thought to earn money to sustain her family. Her younger sister, Nisha (name changed), says Usha did sex work for a few years till her father became better and started farming.
"My parents were not keen that my sister takes up prostitution but there was no option. There were five mouths to feed, including my parents and three more children (two daughters and one son)," says Nisha matter-of-factly.
While Usha eventually moved out of the family and started living with one of her customers, the other three kids are studying.
Nisha is thankful that her parents did not push her into prostitution but supported her decision to study. "Many of my relatives and friends are doing prostitution. Many don't have a say, they are just pushed into it," she says.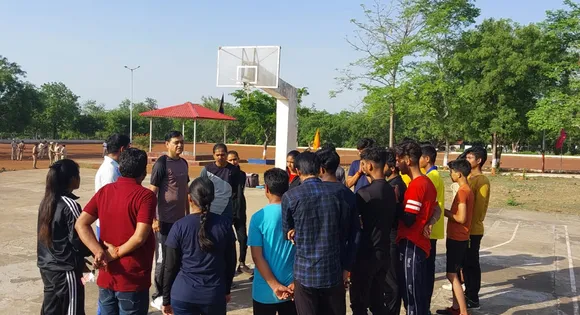 Most Bedia families see the girl as a means of earning money. "In the Bedia community, traditionally the men have been dependent on women and rarely go out to work. The girls are told from a young age that they have to take care of the family and repay any debts or loans. So, she is moulded from a young age to work as per the family's wishes," says Mrinalini Mishra, programme coordinator with Samvedna, an NGO founded in 2002 by IPS officer Dr Veerendra Mishra.
Samvedna has supported over 5,000 young girls and boys from the Bedia community to break the stigma attached to their caste and pursue higher education, and a better future.
Mishra says Samvedna started a new vertical last year on preventing human trafficking. "We started the first anti-human trafficking lab in the country called RACE – Research, Advocacy and Capacity Building against Exploitation. We have MoUs with different stakeholders such as the National Commission for Women, Tata Institute of Social Science (TISS), Madhya Pradesh Police, and Gujarat University for research and advocacy on preventing human trafficking," he says.
Also Read: Rescue Foundation: How Triveni Acharya saved over 6,000 girls from forced prostitution
The trust factor
Mishra, an international expert on human trafficking, says two reasons motivated him to work with the Bedia community. When he visited a Bedia village in 2007, he found that the girls pushed into prostitution were very young which he found unacceptable. 
The other factor was that the children enrolled in the government school as Gurjars, which meant they had to hide their identity for life.
"In those days the stigma was very strong, No one wanted to go to a Bedia village. They were excluded, discriminated against," he says. Mishra brought 13 Bedia children with him to Bhopal for education in 2010 and the story of change began.
In the initial years, they worked to educate and rehabilitate children in the slums of Bhopal. In 2007, when Mishra was posted as Special District Police Officer in Rajgarh, he came across the Bedia community and decided to work with them.
Trupti Jhaveri, chairperson, Samvedna, recalls her visit to a Bedia village in Rajgarh district along with Mishra. "Veerendra asked me to accompany him because if he went alone, he would be seen as a potential customer," says Jhaveri, who is a professor at TISS, Mumbai.
The Bedia community were socially excluded and discriminated against. "When we saw their condition, we wanted to support them and improve their situation. But it was difficult as they were suspicious and we had to spend three-four years just building trust," Jhaveri says.
The Samvedna team members would interact with the community to understand them and their problems. To gain their trust, the Samvedna team began assisting the community in other areas where they faced problems such as getting roads built, ensuring electricity supply and providing water and health facilities.
Ramani Ranjan, programme head, says, "Forty percent of women who are in prostitution were never sent to school and most dropped out by class 8 and none had passed class 12. The schools in the villages were up to primary level and the parents did not want to send the children for higher education to schools in other villages, citing security and safety concerns."
Also Read: Impulse NGO Network: How Meghalaya's anti-trafficking warrior has helped save over 72,000 lives from slavery
"This insight gave us a good starting point. We thought education could be a way to bring girls out of inter-generational prostitution. We found a lot of discrimination against the Bedias in villages which often restricted their access to education, health and government welfare schemes," he says.
Freedom through education
In 2012, the Samvedna team began work in two villages in Rajgadh district. From there, it also started its work in other districts where the Bedia community is present. 
In the last 13 years, Samvedna has spread to 60 villages in six districts and has helped over 5,000 children from the Bedia community get access to higher education. Those pursuing higher education are staying in hostels in Bhopal.
Mrinalini says the organisation offers Udaan and Lakshya scholarships to children to study. While Udaan is for school students, Lakshya is for those pursuing higher education. The scholarship covers the actual expenditure of students towards their tuition and boarding expenses.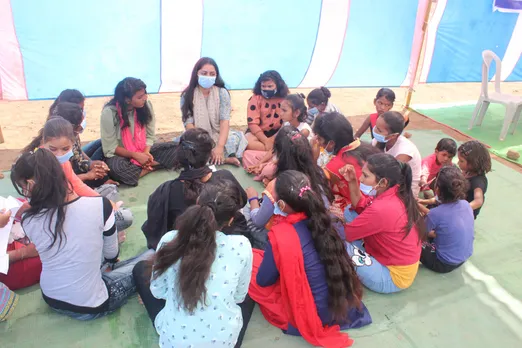 Children who score above 50 percent in class 12 are eligible to apply for the scholarship. The criteria to select the candidates are their financial condition, capability and interest in studies. The family of the student selected has to contribute 25 percent of the expenses. They have to promise not to send the girl into prostitution and not to meet education expenses from money earned through prostitution.
For the younger children, Samvedna has onboarded educators from the Bedia community to teach them. "We did this because they would be readily accepted among the community. The Samvedna team has designed a curriculum to reduce the learning gap and taught the children through various activities so they would find it engaging."
Samvedna has over 40 educators and Bal Mitras in villages who act as a bridge between the Bedia community and the government and help them in accessing government schemes through documentation work.
Ranjan says there is no census and date on denotified tribes. Through their fieldwork and surveys, the Samvedna team found out about the community's presence in 18 districts of Madhya Pradesh. Samvedna is working in 60 villages of six districts where their population is high.
Also Read: Rescuing mortgaged kids, giving tribals a voice in decision-making, how Vaagdhara is bringing change from ground up
"The children earlier lacked awareness and exposure. They did not know of the options available to them. But since some children are studying in class 12 or college, other kids in the village have a reference point, an inspiration," says Ranjan.
Currently, there are 38 students from the Bedia community studying in schools in Bhopal and 26 are pursuing courses like law, nursing, B.tech, and B.Ed among others, in colleges.
Ranjan says the funding to the organisation comes from CRY and other agencies and individual donors.
The lure of lucre
Breaking the tradition of sex work is challenging. Mishra says it's difficult when the entire ecosystem is supporting the tradition and lives off it.
Jhaveri explains, "We should remember that these children are not coming from poverty or scarcity. They have seen money. So, we have to offer them something attractive."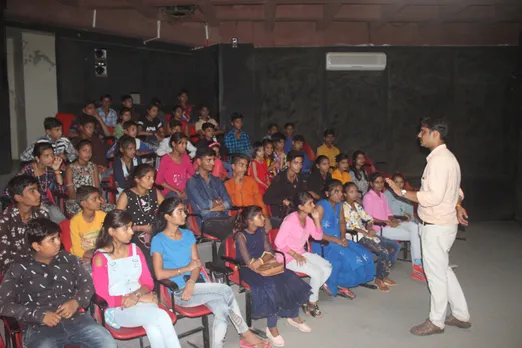 She says depending on age and personality, a girl can earn Rs5000 a day. But as they get older, the demand and money diminishes and they often end up as keeps of a customer, depend on children or a live-in partner for their subsistence. 
The customers of sex workers are usually the upper caste men from the village, police and government officials and students.
Jhaveri says the effort is to provide the kids not only a good education but also equip them with skills and give them career guidance so they can earn their livelihood.
Similarly, with the community too, projects that will create sustainable livelihoods are required. During the Covid pandemic, the team experimented with the Goat project under which goats were provided to 25 families to rear and sell, which brought in good money for them.
Jhaveri says if such projects can be scaled up, it will have a wider impact. Samvedna is working with the Madhya Pradesh government to design and implement schemes for the welfare of the Bedia community.
Mishra says to succeed in ending prostitution, it is not enough to work only with the girls but also hit the mindset.
"We have to engage with the girls, the mothers, the brothers and male relatives who are pimps. We have to build their competence and capacity so they end this dependence on the girls," he says.
The idea of starting Samvedna was to encourage the Bedias not to hide their identity and to build their capacity and provide options. "We wanted to create ambassadors, change agents within the community so others would be inspired to follow in their footsteps," he says.
(Urvashi Dev Rawal is a Jaipur-based journalist specialising in development, gender, and political reporting)
Also Read: How Shilpi Singh is taking on human traffickers and rescuing women in Bihar's badlands