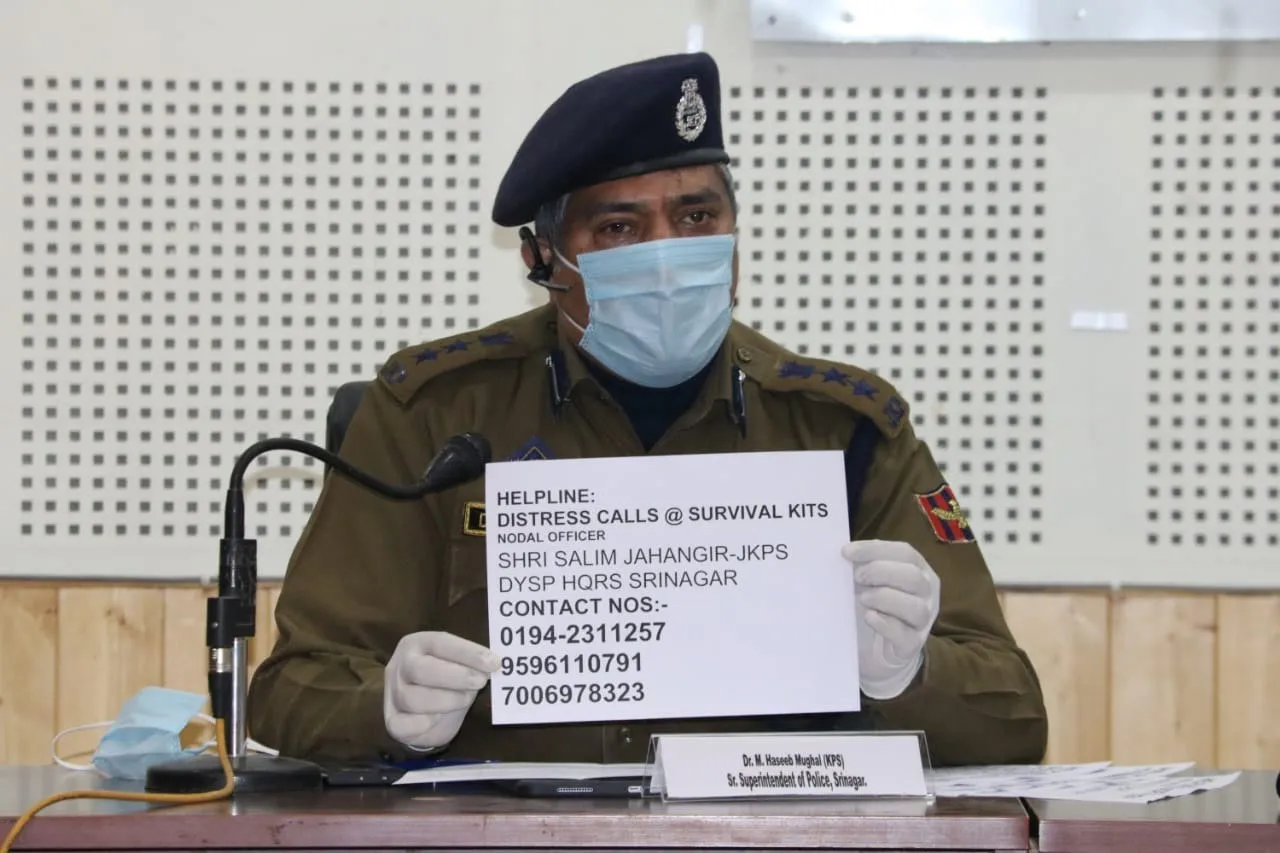 wp:paragraph
When an 80-year-old woman in Srinagar died of coronavirus disease (COVID-19) on April 28, her family could not make it to the funeral. The woman's close relatives were placed in administrative quarantine after she had tested positive for the disease. With nobody to bury her amid the lockdown, the Jammu and Kashmir Police performed the last rights and laid her to rest at a graveyard in the Rainawari area as per the World Health Organisation (WHO) directives.
In Nowhatta locality of Srinagar, which has in the past been witness to several incidents of stone pelting, the police provided protective gear to a vegetable vendor who was authorized to move around in the area, winning the hearts of many.
From psychological counseling to providing Rs 1,000 per affected person, the J&K administration is making efforts to not only meet their day-to-day needs but is also providing emotional succour amid the pandemic.
Also Read: Coronavirus Lockdown: Suicide helplines clogged as janta curfew takes toll over mental health of migrant labourers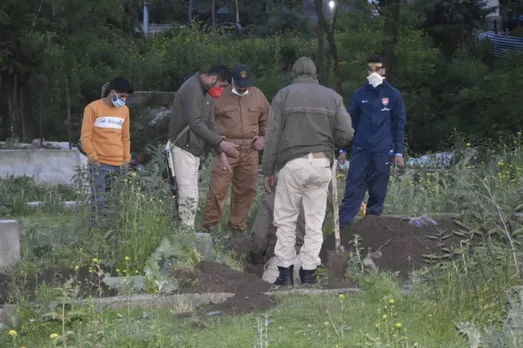 As things stand, COVID-19 is surprisingly changing Kashmiri people's relationship with authority and administration from one of distrust and conflict to one of mutual respect, as the administration pulls up its socks during the crisis.
While administrations all over India are performing similar tasks, in Kashmir it assumes more significance because of a 'trust deficit' between the people and local authorities. People generally view the police and administration with suspicion. But COVID-19 has altered circumstances. With the lockdown in place, it is the administration that people have to turn to. And the administration, in a break with the past, has been very supportive.
Also Read: Coronavirus Lockdown: Homelessness, loan defaults loom large as North East migrants face discrimination and job cuts
Whether the COVID-19 outbreak helps to bridge the trust deficit between the people and the administration remains to be seen. But for the time being, the police and administration has come in for praise from multiple quarters.
Breaking the mould
"The administration and J&K police are working in tandem and are on the frontline, going out of the way to help locals; that's a rarity in Kashmir," says Saleem Jehangir, a local from Dargah.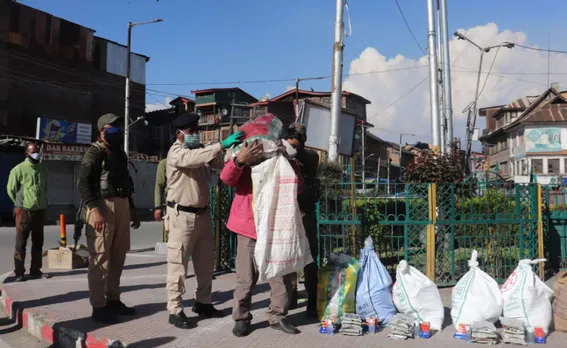 He pointed out that the administration is disseminating information through loudspeakers, and officials are on ground, which was not the case earlier. "The administration is making efforts to create goodwill, resulting in full cooperation from the people," he adds.
Also Read: Coronavirus Lockdown: Kitchen warriors work round-the-clock to feed millions of migrant labourers
"This is in contrast to our bitter past experiences, including the 2014 floods, where people were left to fend for themselves without administrative support," he recalls.
Soon after the lockdown, the Labour Department notified helpline numbers where migrant workers and daily wagers could contact for assistance. Manjot Singh, a carpenter from Punjab living at Allocha Bagh area of Srinagar, says the services have been speedy.
"As soon as we came to know about ration being offered, I made a call on the given helpline numbers and received an immediate response. I was provided flour, rice, oil, potatoes and other eatables," Singh says. Daily wagers, including migrants, are being looked after at either government shelters, at their employer's premises or by the NGOs in the state.
Also Read: Delhi nurse narrates his life experience as a COVID-19 warrior 
Jehangir says the administrative setup in Kashmir is bureaucratic and not political, which has made the timely response possible from the administration. "This is a great opportunity for them (police) to clear their image and be heroes in the eyes of the general public," he says.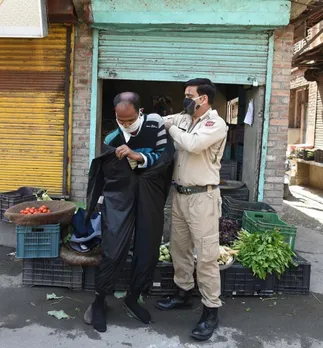 Zubair Hassan, an employee at the J&K Bank, says the administration has done a credible job with the limited resources at hand. "Apart from strictly ensuring social distancing, they have also ensured the availability of ration, medicines and other essential items during the lockdown."
The 80-year-old woman was not the only one who was laid to rest by the J&K police.
On ground and hands-on
Imtiyaz Ahmad, President, All Traders Transport Joint Coordination Committee, is in quarantine along with his family after coming back from Kota, where he had gone to visit his children. Jammu and Kashmir State Road Transport Corporation buses have been transporting back people stuck in various parts of the country.
Also Read: A migrant worker's 1,200km journey on foot during the Coronavirus lockdown 
"It's our third day here and we are being well taken care of. Kashmir Chamber of Commerce and Industry President Sheikh Ashiq Ahmad and Deputy Commissioner, Srinagar, Dr Shahid Iqbal Choudhary made life easier in these tough times," he says.
Choudhary's on-ground approach to COVID-19 containment has helped Srinagar keep cases under check. A total of 666 coronavirus cases have been reported from Jammu and Kashmir so far of which 254 have recovered.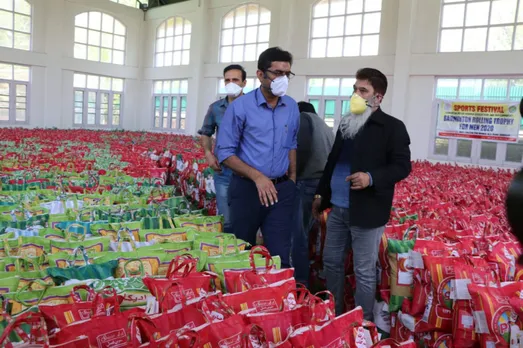 The 2008 batch IAS officer has been visiting homes, interacting with people and emphasising the importance of participation in a survey, being conducted by officials from Health, ICDS and Election departments, to check the spread of thecoronavirus infection.
Also Read: How cash is reaching India's remote villages amid coronavirus lockdown as governments release subsidies for the poor
"This is the biggest challenge one could witness in the entire service life. Once you go for a lockdown you have to ensure the supply of a lot of things like ration, medicines, essential services and essential commodities. We have to keep our health infrastructure running while other non-COVID health issues need to be attended at the same time. That makes it a big task to handle," Choudhary says.
"With the lockdown in place, deployment needs to be looked after," he adds.
He points out that sample testing has gone up to over 1,000 per day and more than three lakh families have been provided provisions.
"There is a separate team to ensure uninterrupted supply of medicines for them," he says.
Besides, there are designated teams for ration management, red zone area management besides labour issues and migrant workers," he adds.
Also Read: How to manage your money in the post COVID-19 world
Peer Viqar ul Aslam, activist and journalist agrees that the administration has risen to the occasion at a time when all parts of the system needs to work cohesively. "He (Dr Choudhary) has proven that bureaucracy can work. He has proven himself by responding to every query, giving equal opportunity to all and taking feedback seriously," he says.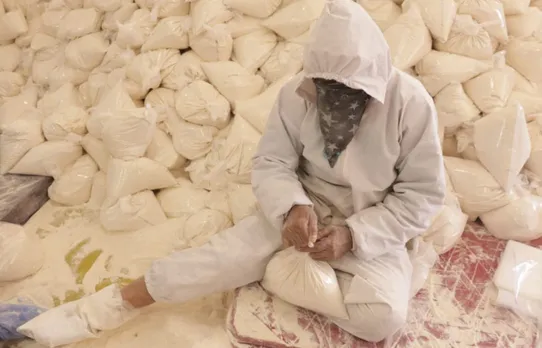 The situation in Srinagar has been contained by him but drastic measures need to be implemented in other areas as well, says Peer, who is working with the administration and NGOs to solve problems of the people.
Meanwhile, Senior Superintendent of Police Srinagar, Dr Haseeb Mughal says it feels good that people are praising their efforts. "It is our jawans who are on ground with minimum gadgets, security equipment and risking their lives to contain the spread of COVID-19," he says.
Also Read: Cooking to survive vs cooking as a hobby: How coronavirus lockdown is changing food habits     
In a state torn with strife for decades, and a history of conflicts and encounters between the police and the locals, the current harmony displayed, and support the police is receiving is heartening.
(Lead Pic: by Wasim Nabi; Srinagar SSP Dr Haseeb Mughal displays helpline numbers)
(Wasim Nabi is a Srinagar-based freelance multimedia journalist; Musaib Mehraj is a freelance journalist from Kashmir).
Also Read: Lessons from COVID-19 Lockdown: 10 tips to build your emergency fund