wp:paragraph
Dear Reader,
30 Stades, our digital magazine on inspiring and impactful stories from across India, has turned 6 months old today! And this is our first newsletter, a token of gratitude towards all of you who signed up for it and have been reading our stories.
30 Stades has seen more of the post-Coronavirus world than before it – a ratio of 1:2 (We launched on January 29). But the diversity of our stories doesn't reflect this skew. We have written extensively on the impact of COVID-19 on people's lives -- ranging from migrant workers, teachers and frontline warriors to tribals, sex workers and craftspeople.
Alongside, our portfolio is also rich with stories on environment, development, CSR, gender issues and art and culture from across the country. To mark the completion of six months, we have selected six of our most popular stories based on a reader feedback survey.
We hope to keep you updated regularly on our work hereon. Happy reading!
With love,
Rashmi
BY VINITA TIWARI
String instrument makers of Dadpur: Vinita Tiwari took a train from Kolkata to reach Dadpur and spent a day with the artists in the village – clicking pictures, recording videos and taking notes all by herself. The effort shows in her article. It is one of our much-loved stories, which continues to generate reader interest even 6 months after it was published.
BY MONA SINGH
Sarangi maestro Moinuddin Khan: Writer Mona Singh herself was about to begin sarangi training classes with the Ustad in April but the lockdown upset her plan. Her tribute to the maestro through this article received wide national and international readership.
BY RASHMI PRATAP
India's traditional board games: We all grew up playing board games like Ludo and Snakes & Ladders. But Rashmi Pratap's story on their history – and how kings, priests and commoners indulged in them -- was an eye opener. Many people are now connecting with Mysuru's board game historians after reading the story. And we also discovered that board games are a hit across the globe.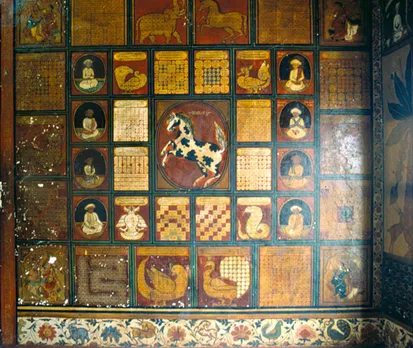 BY SAMMOHINEE GHOSH
Life of a sex worker in Sonagachhi post lockdown: This was one of the toughest stories to execute. Sex workers perpetually live in the fear of being looked down upon or ridiculed. It took many days for Sammohinee Ghosh to convince Moyna Pal (name changed) for a video interview. The effort was worth it. This story is priceless not only because it brings out the struggles of sex workers but also because Sammohinee handled the issue with the respect it deserves.
BY ANUSHA SUNDAR
Chettinad's egg-lime plaster craftsmen: The craft is over a century old and so are houses in Chettinad, where interior walls have a mirror-like finish. Anusha Sundar, through her write-up, brought alive the craft in all its glory. The story stands out also because the technique itself is unique and efforts for its preservation are laudable. Our readers loved it!
BY WASIM NABI & MUSAIB MEHRAJ
Kashmir's local kandoors (bakers): In Kashmir, the history of breads – lavasa, girda, kulcha and others – is interspersed with folk lore of Sufi mystique Lal Ted. Wasim Nabi & Musaib Mehraj not only told us the baker's importance in Kashmir's social milieu but also showed readers how intrinsic the tandoor (oven) is to the valley's daily life. Besides, the story was mouthwatering!