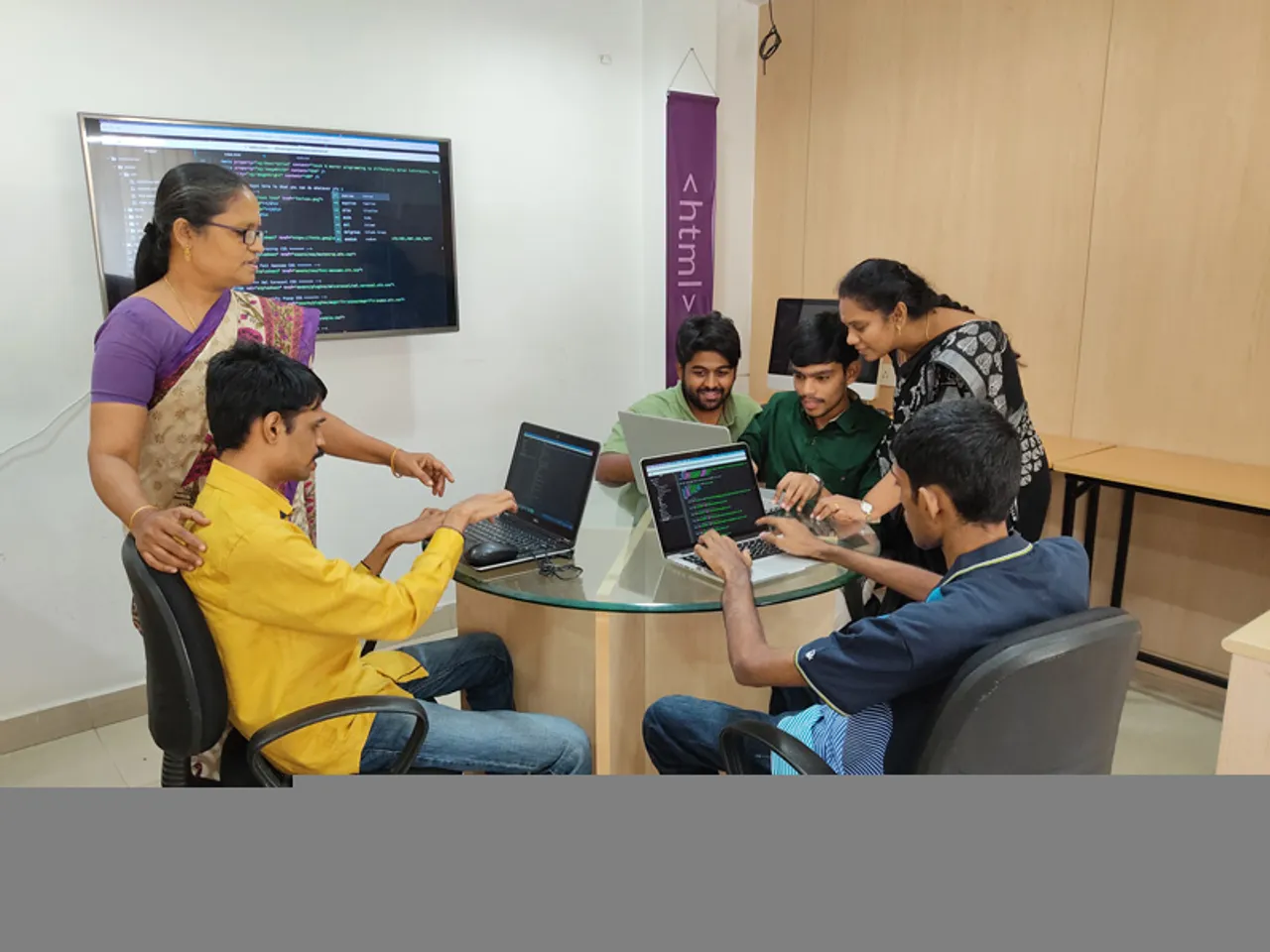 "Irrespective of whether you know how to code or not, understanding programming will help you in your career. I wanted this opportunity to be available to everyone, irrespective of who they are or where they come from," says 31-year-old Manu Sekar, who founded HashHackCode, a start-up that teaches coding to neuro-diverse students.
Sowing the seeds of coding  
His journey started when he was working in his first social enterprise TechDiva, where a client's daughter, who was in the autism spectrum, asked him to attend a career conference for autistic individuals in April 2019.
"I looked at those people as they were, without any labels. I didn't have much awareness of autism at that time. Many of these people are educated, but when it comes to an actual career, they've had very little choices like working in retail or making handicrafts which isn't a career," he says.          
It was at that very event where he convinced four sets of parents to send their children to learn how to code.
Also Read: From chopping, cooking to serving, how the differently-abled run Mumbai's Café Arpan
"It was during our time at TechDiva that we learnt to teach programming to people of all ages, be it a senior citizen or someone who had difficulty speaking," says Manu.
TechDiva worked with women from marginalised backgrounds and has now transformed into an NGO focused on uplifting women from rural areas through digital literacy. But that experience of teaching coding remained with Manu and he used it in HashHackCode.
'Neuro-diverse' and not 'differently-abled' 
Manu asserts that people should refer to differently-abled people as 'neuro-diverse individuals'.
Also Read: How i-Saksham's young education leaders are driving change in Bihar's most backward districts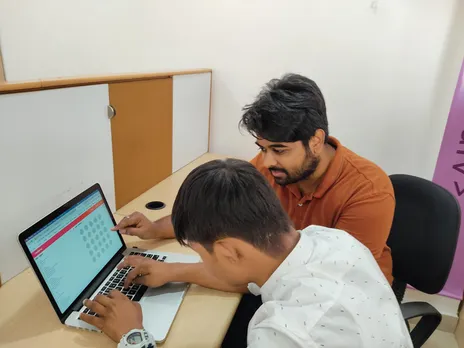 Ask him why and he says, "We have students with autism, down's syndrome, ADHD (attention deficit hyperactivity disorder) and those who have speech and learning difficulties, and all of them have a different thought process.
How does HashHackCode approach coding for differently-abled individuals?
As a graduate in mobile application development and branding who has studied in various countries, he asserts that he aims to make a change and not mint money. "We wanted to create skilled individuals because I feel that they shouldn't be hired by some CSR or charity organisations. Instead, they should be hired and paid for the talents that they have."
Also Read: Sakhi for Girls' Education: 100% pass, zero dropouts among girls in Mumbai slums
Mentors who are like family
Smrithi Ashraf, who has been working with the social enterprise for close to ten months now, has mentored students as young as nine years old. While juggling between her UG B.Tech degree at Government Engineering College, Thrissur and being a mentor at HHC, the 21-year-old has taught the basics of coding to five students from the autism spectrum.
"As they progress, we give homework according to their abilities. It takes them a minimum of six to seven months for them to learn these," Smrithi explains. 
"After 10 levels, they get to explore courses like advanced creative coding, independent coding and website development where they learn to create websites on their own," she adds.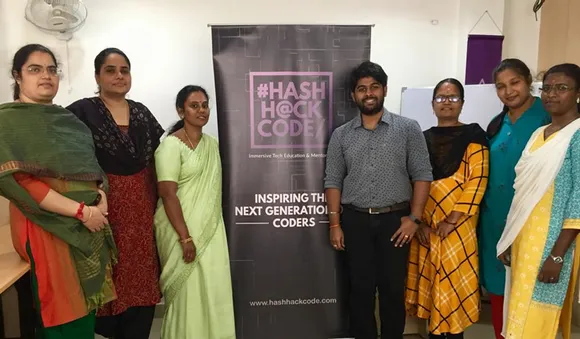 Smrithi, who is one of the 20 plus mentors at HashHackCode, notes that there are a lot of misconceptions about who differently-abled people are and how they behave.
Also Read: How Barmer's NGO Fifty Villagers is helping underprivileged students become doctors
"As mentors we don't say 'stop', 'no' or 'you're wrong'. Instead, we encourage them to spot their errors and rectify them." 
Over time, Smrithi says, she has developed a personal connection with the students and their parents as well. "I have become more patient and I started finding happiness in the little things in life. If these students can cheer at the output screen, why can't I find happiness in the things around me?"
Where both students and parents learn to code
In more than a year, Manu's start-up has touched many lives. Prem Sankar's mother Mangai Alwar always knew that her son, who was diagnosed with autism spectrum disorder when he was three-and-a-half, had a fascination with computers.
Also Read: How free education became a passport to London and Rome varsities for underprivileged Kerala boys
"Prem (now 25) was skilled in data entry at the age of 15 and used to work on MS Excel, PowerPoint etc., but he got bored eventually. It was in 2019 that we met Manu Sekar and introduced Prem to coding," recollects Mangai.
Mangai, who quit her job at a PSU, honed her skills as a special educator to help her son and his friends. Narrating how they approached the subject to him, she says, "Prem had a great memory but was weak in logic so we used the teaching methodologies that we used in school to introduce him to coding. With the help of small assignments like newspaper clippings and other real-life examples, we'd ask him to create the same through coding."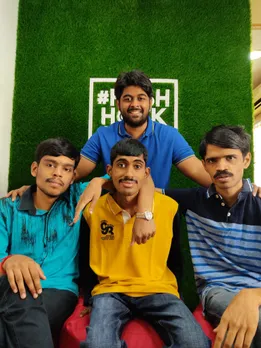 As he progressed, she says, that not only his confidence level and interest in the subject improved, but they also witnessed that his behavioural issues came down and his sitting tolerance increased.
"However, it is not easy to get jobs with disorders like these. Companies shouldn't look at their flaws, but rather look at their talents and provide opportunities accordingly," Mangai says.
Deepa Satish, another proud parent to an enthusiastic 19-year-old coder Saravana Raj, says that she thought it would be difficult for her autistic child and other kids with special needs to learn to code. "My child lacks creativity, but when he was taught the structure of coding at HashHackCode, he grasped it well. He used to throw some tantrums and
get irritated when he was disinterested. Today, with coding, all of that has reduced," she happily says. 
Also Read: Kashmiri teen turns mentor to speech and hearing impaired sportspersons
Deepa says that she never had any basic knowledge about computers and had her share of self-doubts. "For someone who didn't even know typing, learning to code at my age was something that I never thought I could do," she adds.
Empathy above all
Talking about companies hiring neuro-diverse individuals, Manu says, "Compared to the past, many companies today have indeed come forward to hire neuro-diverse people, but there are a lot of factors to be taken care of. If the companies do hire more such people, it will make their company culture much better. Their empathy and kindness level would increase, too."
Manu has bootstrapped HashHackCode so far and also works with other companies to develop their projects to earn for supporting the start-up.
"All these neuro-diverse individuals have no selfishness in them. They don't understand the concept of money. I am amazed at the potential they possess and I look forward to the day when they create their products and applications that will change the world," he says.          
(Narayani M is a Chennai-based writer specialising in longform writing and human interest stories.)
Also Read: Gyanada: where children from Mumbai's slums code, compute and create apps