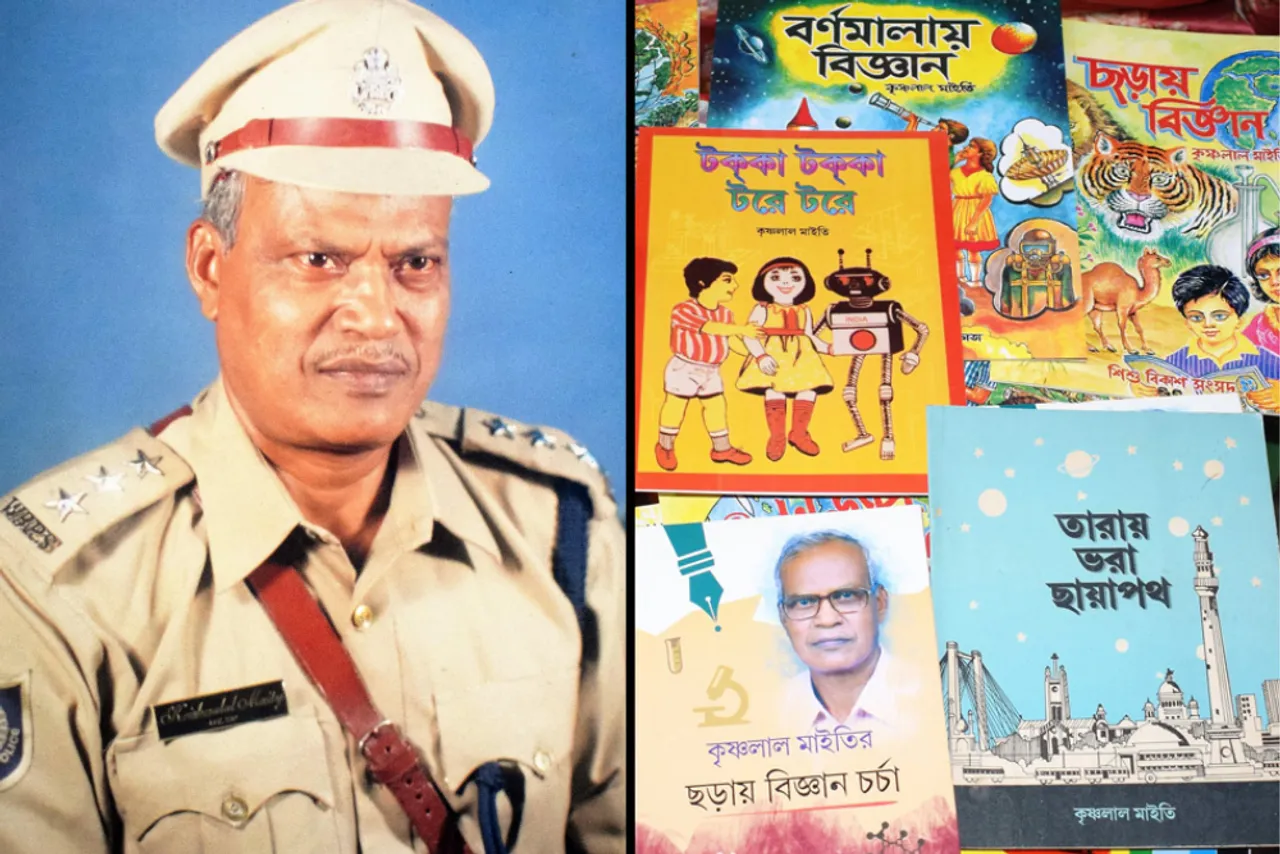 wp:paragraph
An officer, who served the West Bengal Police for 34 years, is helping popularise science and logic among children through his rhymes and poetry in lucid language. His rhymes are factual and based on science, history and geography. Over 500 primary schools across the state have incorporated his books into their syllabus.
Meet Krishnalal Maity, who joined the West Bengal Police as sub-Inspector in February 1974 and retired as Deputy Superintendent of Police in November 2008. 
Also Read: Poems of closet poets: From romance to war, unpublished poets write about them all
Offering answers to questioning minds
"You cannot stop a child from asking how an aeroplane flies. Where do plants get their food from? Why does the moon shine? Why a ball falls back on the ground? I try to answer these questions through my rhymes," says Maity, who lives with his family at Sonarpur in South 24-Parganas.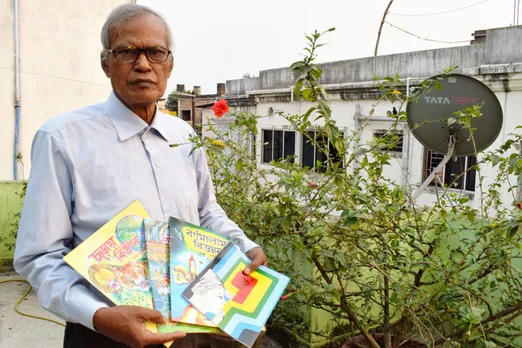 According to him, a child may not be aware of Archimedes or his law, but he or she will have queries. 
Also Read: Kavishala: A personal blog that's now a global publishing platform for poets and writers
Like his rhyme Aeroplane is enough to give children an idea about its basics:
"Propeller jato jore bon bon ghore, aeroplane tatto beghe sunete odhe; Wright's du bhai karen er abiskar, mahakash khule den abarita dwar."
(The propeller spins fast, the swift aeroplane takes off; Wright brothers invented it, which opened the doors to space.)
And this one -- Paper -- shares a quick fact with children: 
"Paper kathati pai papyrus theke, farasi shabd kaagaz jar opor lekha." 
(The word paper is derived from papyrus, the Persian word for the paper on which we write)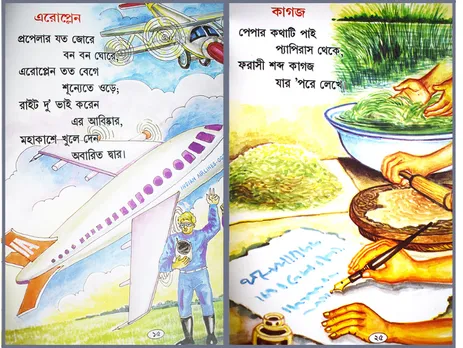 The journey with books
It was in 1995 that Sarada Shishu Shiksha Niketan in Barrackpore, Kolkata, introduced Maity's books, which are still part of the school's syllabus.
Also Read: How i-Saksham's young education leaders are driving change in Bihar's most backward districts
Among his most popular ones are Charay Vijyan; Barnamalay Vijyan (science in alphabets); Takka Takka Tare Tare; Chavi Praticchavi; Abishkarer Angnaye, Charachhande Prakriti and Taray Vara Chayapath. 
Sarada Shishu Shiksha Niketan's Headmaster, Prabir Das says Maity initially distributed books free to children. "I then introduced his books in our school. Though some parents objected to it, but the rhyme or poetry turned out to be useful for students," says Das. 
A musical album of his poems was released in 1996-97. Music composer Biswajit Mahalanobis sought his permission for recording rhymes. Charay Vijyan – A scientific education album for children was released. Noted singers Arati Mukherjee, Indrani Sen, Mousumi Dhali, Bobbhrobhi Chakraborty and Chaitali Roy lend their voices to the album.
Also Read: Bharti Foundation provides zero-cost education to over 40,000 underprivileged kids
The genesis of an idea
It was in 1963 that the idea of writing science-based rhymes first stuck Maity. While teaching his three-year-old nephew, Maity, who himself was in class 9th then, discovered that the traditional rhyme books were just works of fiction, leaving the questions of young minds unanswered. 
Years later, in 1986, he brought out a science-based rhyme book in Bangla -- Sadar Madhye Sathta Rang. "I was delighted to see my book find a place at Kolkata Book Fair," he recollects though his first book was published in 1983 after being rejected by many publishers.
By the time he joined the police force in 1974 he had already composed many rhymes and wanted to get them published. 
Even Shishu Sahitya Sansad didn't entertain him because of his unfamiliarity among the children's literature fraternity. 
However, when he was an Officer-in-Charge at Madhyamgram Police Station in 1983, a person visited him regarding some land dispute. During the discussion, Maity scribbled something on a plain sheet. Barin Mitra was the publisher of Naya Prakash and quipped, "Do you write?" Maity nodded.  
Also Read: How Barmer's NGO Fifty Villagers is helping underprivileged students become doctors
Mitra bade off urging him to send some write-ups. At the end of 1983, Maity's first rhyme book – Ram Chagaler Metay was published though it was not based on science. Mitra also helped in translating his books in Oriya and Assamese languages. He wanted to translate them into Hindi but, unfortunately, he passed away the same year.
An officer, who dealt with hardcore criminals, Maity didn't carry work home, where he spent most of the time selecting words for his poems. 
Maity completed the Bengali alphabets from A, B to L, M in his Barnamalay Vijyan, which was published in 1996. The book was later translated into Oriya and Assamese for Odisha and Assam school curriculum.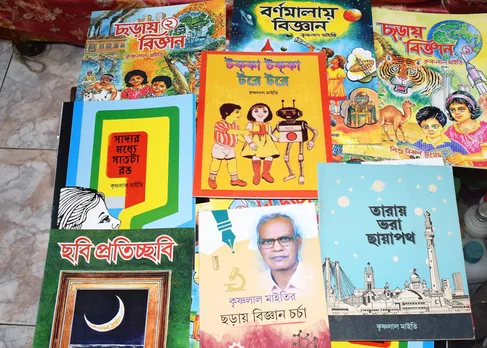 "The brain of a kid is like a clean slate. The intelligent quotient (IQ) level of a child is much higher than that of an adult. A child can pick unutterable words through sound waves, learn them and articulate fluently without viewing the text," Maity tells 30 Stades.     
Son of a postmaster, Maity completed BA from Yojoda Sathsangha Mahavidyalaya, Palpara with Economics in 1969 and cleared B-Ed in 1971. It was during those days, he penned his first creative rhyme – 'prithivir char bhage ek bhag sthal, baki tar teen bhag jal aar jal'. (One-fourth of the world is land, the rest of the three parts covered with water). 
Also Read: Gyanada: where children from Mumbai's slums code, compute and create apps
Maity's two sons, who grew up reading their father's rhymes, have completed their Doctorates from foreign universities. The nephew - Tapas Kumar Manna, whom Maity taught rhymes in 1963, has also done his Doctorate. Motivated by his elder son's molecular science subject, Maity also wrote poetry on DNA.
For his notable contribution to creative science writing in society, Maity was honoured with Acharya Prafulla Chandra Award, given by Nikhil Bangha Shishu Sahita Parishad on April 19, 1997. Science Association of Bengal felicitated him with Dr Gopal Chandra Bhattacharya Memorial Award on February 28, 2001, and Kalasangam complimented him with Dr Mohammad Shahidullah Memorial Award.
(Partho Burman is a Kolkata-based award-winning journalist. He writes inspiring human interest and motivational stories.)
Also Read: Kolkata Little Magazine Library: one-man effort to preserve rare books & periodicals