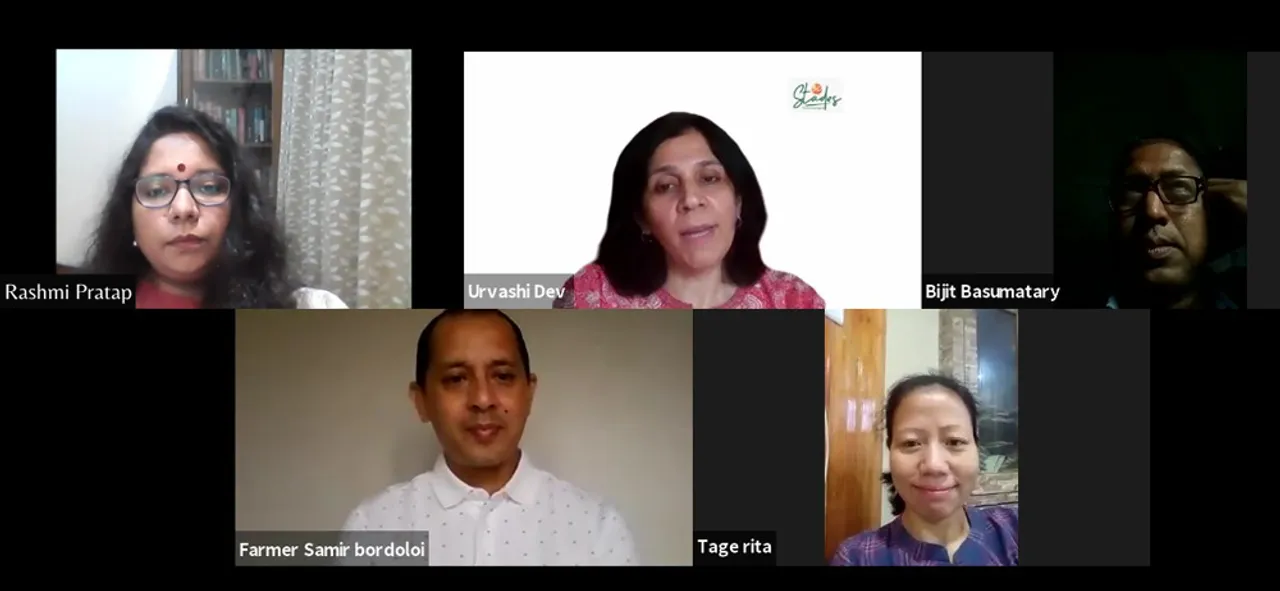 Manipur's Mirabai Chanu and Assam's Lovlina Borgohain winning two medals in the ongoing Tokyo Olympics is yet another reiteration of the abundant talent in the North East, the land of seven sisters blessed with mountains, valleys, forests and other natural resources. 
Yet, people from the northeast region continue to face challenges in different walks of life, whether it is education or entrepreneurship. The land-locked region's topography, lack of awareness and infrastructure adds to their hardships. However, young entrepreneurs are now successfully changing this through their efforts, especially in the areas of food processing and natural farming.
Also Read: Arunachal village woman turns entrepreneur, gives catering businesses a run for their money
30 Stades in association with Spread NE hosted a webinar on 'Overcoming the Challenges to Entrepreneurship in the North East' to understand how these entrepreneurs made a mark despite difficulties. The webinar was moderated by 30 Stades Co-founders Urvashi Dev Rawal and Rashmi Pratap.
The panel comprised organic agri-entrepreneur Samir Bordoloi, Tage Rita, founder of Lambu-Subu Foods and Beverages, and Bijit Basumatary, owner of the Organic Tea Industry. 
Also Read: Assam's Samir Bordoloi glamourises zero-cost organic farming; draws Northeast youth back to agriculture
While talking about the challenges, Rita, who set up India's first organic kiwi winery in 2017 in Arunachal Pradesh, said she started her enterprise because a state government policy supported enterprises in the field. However, the same policy became a bottleneck for her as the bureaucrats were not willing to implement it at the ground level.
She said while resources are available, many times people don't know how to use them. 
She facilitated organic certifications for many farmers as they are mostly farm-bound and unaware of the policies. "Once the soil and farm are organic certified, you have to get the product certified as many ingredients go into the making of a product. That way, products from the North East will be ready for the global market," she said.
Also Read: Tage Rita: Arunachal woman entrepreneur making India's first organic kiwi wine Naara Aaba
While working for a corporate agency, Samir realised that he was promoting the use of toxic chemical fertilizers. "I was putting toxins in the life of my own people. Just like humans and animals have doctors, similarly, plants should have doctors too," said Samir who opened a health clinic for plants which later transformed into a movement promoting natural farming in the North East.
Bijit Basumatary shared how an NGO from Canada helped him find a market that eventually provided a boost to his organic tea enterprise. While many small farmers in Assam are cultivating tea and also organic tea, most of them aren't able to access the market due to overdependence on processing factories and middlemen. So on-farm processing and right linkages are extremely important to make a business successful
Also Read: Bijit Basumatary: Paddy farmer's son whose organic teas from Assam have found market overseas
Samir believes in the power of storytelling on social media that can create a market and also provide the much-needed exposure from different parts of the country for farmers from the North East. 
"Stories sell and if we cover the story behind the processing of these food items, a wider audience can connect with it, making it a high-end product and increasing its popularity," said Samir.
Also Read: Once a vegetable vendor, how this Manipur woman turned entrepreneur by making silk cocoon ornaments
He believes that the government should step in to promote agro-tourism, mini food processing units, exploring biodegradable packaging, and establishing community enterprises.
"Growing, conserving and scaling up is our part while entrepreneurs from other parts of the country should come together to make it bigger," he added.
(Rishika Agarwal is a Patna-based writer specialising in art, culture and human interest stories)
Also Read: How a Manipur mother's hand-knitted shoes found global market