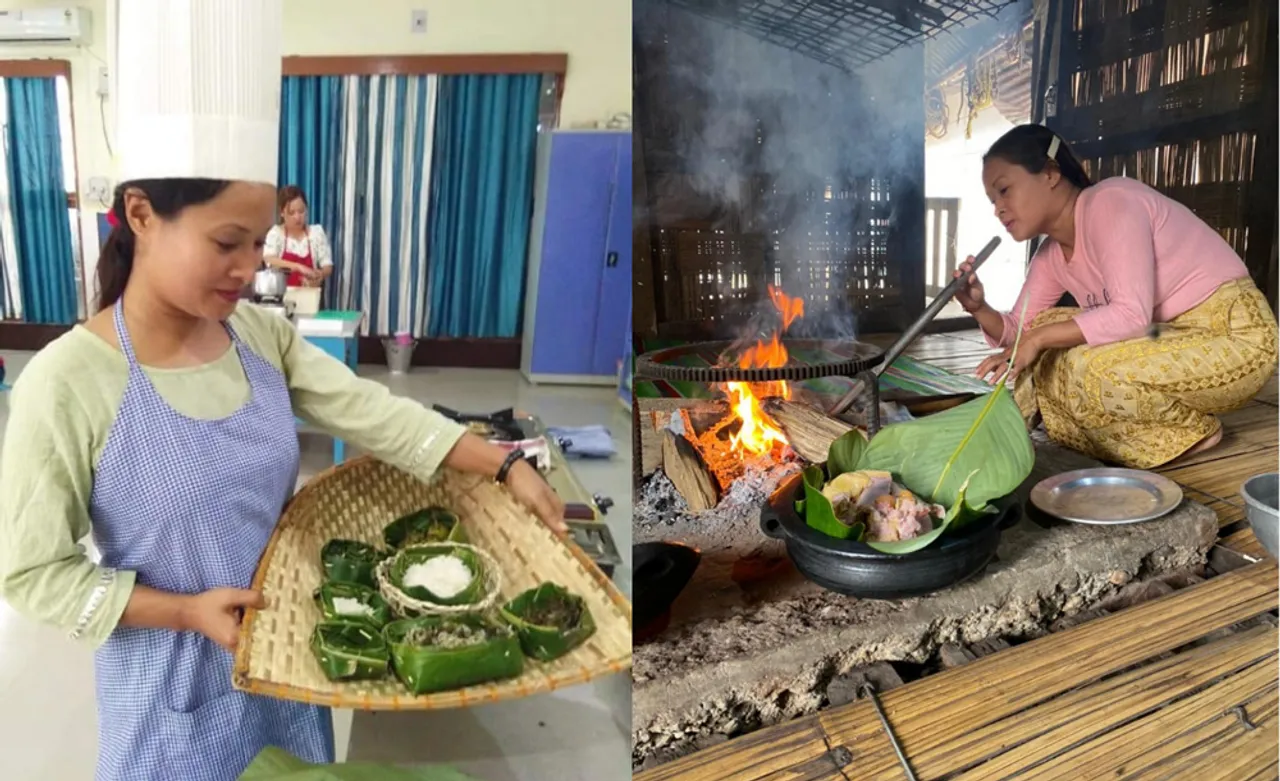 wp:html /
After the results of the local bodies elections in Arunachal Pradesh were declared in March 2021, a candidate who won from Papum Pare district arranged a party for 2000 guests. The celebration was the first major order for Teri Yajo who had opened her catering business just a few months earlier.
Yajo was nervous, to say the least. "I was so tense that I couldn't sleep. I had never cooked for 2000 people. I was worried about anything going wrong. It was my first big order and would help me establish my reputation," says Yajo.
The night before the party, Yajo hired a pick-up truck and with 10 helpers and the necessary utensils reached the venue in Sopo village at 11 pm to set up their outdoor kitchen. "We started cutting and chopping the vegetables, preparing sauces and finished frying. Around 4 am we began cooking for the party that was to begin at 1 pm," she says.
Also Read: Once a vegetable vendor, how this Manipur woman turned entrepreneur by making silk cocoon ornaments
Her nervousness throughout the event culminated in happiness as everything went off well and guests were highly appreciative of Yajo's delicacies.
Since it was still early days and Yajo wanted to establish her business, she had charged less than the prevailing rates that would go as high as Rs80,000 to Rs1,00,000 for an event of that magnitude. The authentic and fresh taste of her food made her the preferred choice for catering in a short span of time.
Also Read: Gujarat's Pabiben Rabari: from a daily wager to a millionaire entrepreneur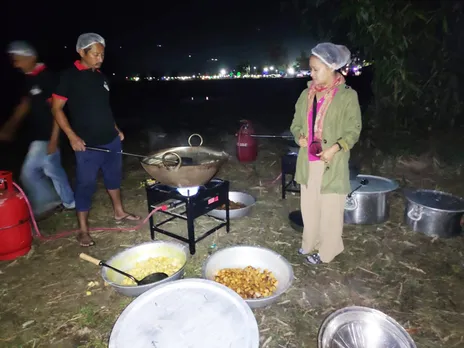 The 29-year-old who belongs to the Nyishi tribe has in some ways broken from the mould.
By starting her own catering business, Yajo has taken on the already established caterers who have been in the business for the last 30-40 years. "The sector is dominated by Biharis, Bengalis and Marwaris. Getting customers was tough as they preferred the known caterers," she says.
Also Read: Farohar: How a mother-son duo is popularising Parsi cuisine through authentic recipes
Cooking up a storm
It has been a long journey for Yajo who lost her mother at a young age and stays with her brother and sister-in-law.
She was fond of cooking from a young age. While studying in a residential school, she learnt to make Indian dishes from cooks. Her brother's association with Bihari and Bengali labourers also taught her many dishes. She also picked up Chinese cooking along the way.
Though she wanted to do a course in hotel management, her brother, who is illiterate, pushed her to pursue graduation. After working with a local NGO for a couple of years, she undertook a diploma course in Yoga and taught in a school. But the long working hours and low salary left her with little time for anything else and she soon quit.
Also Read: Kashmir's Sabira Mattoo: Pickling her way to success through home business
Yajo then started making pickles under her brand, Jo's Pickles, which she distributed to family and friends who pushed her to start her own business. But she was neither confident nor had the money to invest in a set-up.
Her break came in October 2018 when a cooking competition was organised by the state tourism department in Itanagar, about 60 km from her village.
Yajo participated, rustling up steamed fish with local herbs. She won the competition and with it came a prize of Rs10,000.
Also Read: Tribal women turn entrepreneurs with Tasar silk farming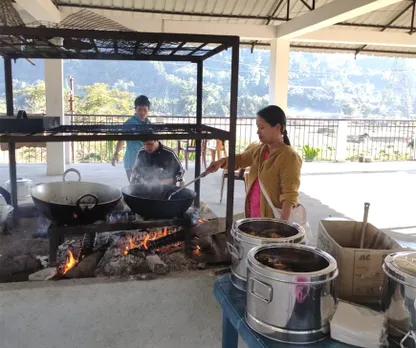 That gave her the needed confidence and soon after she went to Guwahati and purchased pots and pans to set up her own catering business, naming it Jo's Kitchen. "I used my savings of Rs1.5 lakh to make purchases. I did not take money from anyone because of the risks involved. Even if I went into losses, it was my own money," she says.
For the next few months, no orders came her way. She felt jittery and dejected. Then in November 2019, the cooking competition in Itanagar again came to her rescue. The theme was local cuisine prepared without oil or heavy spices.
Also Read: Kashmir's women entrepreneurs combine innovation with social media to run successful start-ups
A rosy future
December is the season of weddings and picnics in Arunachal Pradesh with its pristine rivers, lush green forests and snow-capped mountains. Families and organisations arrange picnics to scenic destinations to unwind.
An acquaintance of Yajo's arranged a picnic in December 2019 and asked her to cook for the party of 80 people. That was Yajo's first order. Her cooking skills ensured everyone had a sumptuous meal. "My friend was very happy and gave me a tip of Rs1000," she says.
Also Read: How 2 sisters are reviving cuisine of Bannuwal Hindus who migrated from Pakistan after Partition
As the business was picking up, the Covid pandemic hit and brought everything to a halt. Her last order was in April when she catered for a wedding. Yajo though is not brooding. In the forced break, she did a course on pickle-making, packaging and preservatives from the NIT in Yupia.
"People have told me that my pickles are tasty and the colour and mix of ingredients is ideal. I realise that to grow my business, I have to ramp up my supplies and graduate to attractive and sturdy packaging," she says.
One major hurdle for her is that she does not own a vehicle and has to hire one for events. Lack of finances meant she could not buy one.
Also Read: How a Manipur mother's hand-knitted shoes found global market
Another challenge is the packaging material. Yajo says nothing is locally available and she sources bottles, labels, stickers from Delhi or Guwahati.
Some friends who own department stores have agreed to display her pickles and if the response is good, they will source from her regularly. The vegetarian pickles are priced between Rs100 and Rs150 for 200gm and 400gm packs respectively while non-vegetarian ones are priced between Rs200 and 250.
Also Read: Tamil Nadu: How Deepika Velmurugan set up a successful home business by taking Kolam from doorstep to drawing room
She still gets orders from neighbours, friends and acquaintances, besides rustling up dishes that she sells from a food stall outside her house. Her recent experiment with tapioca chips has been a hit with customers.
Yajo is looking forward to the future. But marriage is not on the radar as she wants to focus on work. "I am confident my business will do well. I have earned the trust and goodwill of clients. I have to take forward my business. When I have enough money saved up I want to start my restaurant," says Yajo with an air of self-assurance.
(Urvashi Dev Rawal is a Jaipur-based journalist specialising in development, gender, and political reporting)
Also Read: Tage Rita: Arunachal woman entrepreneur making India's first organic kiwi wine Naara Aaba