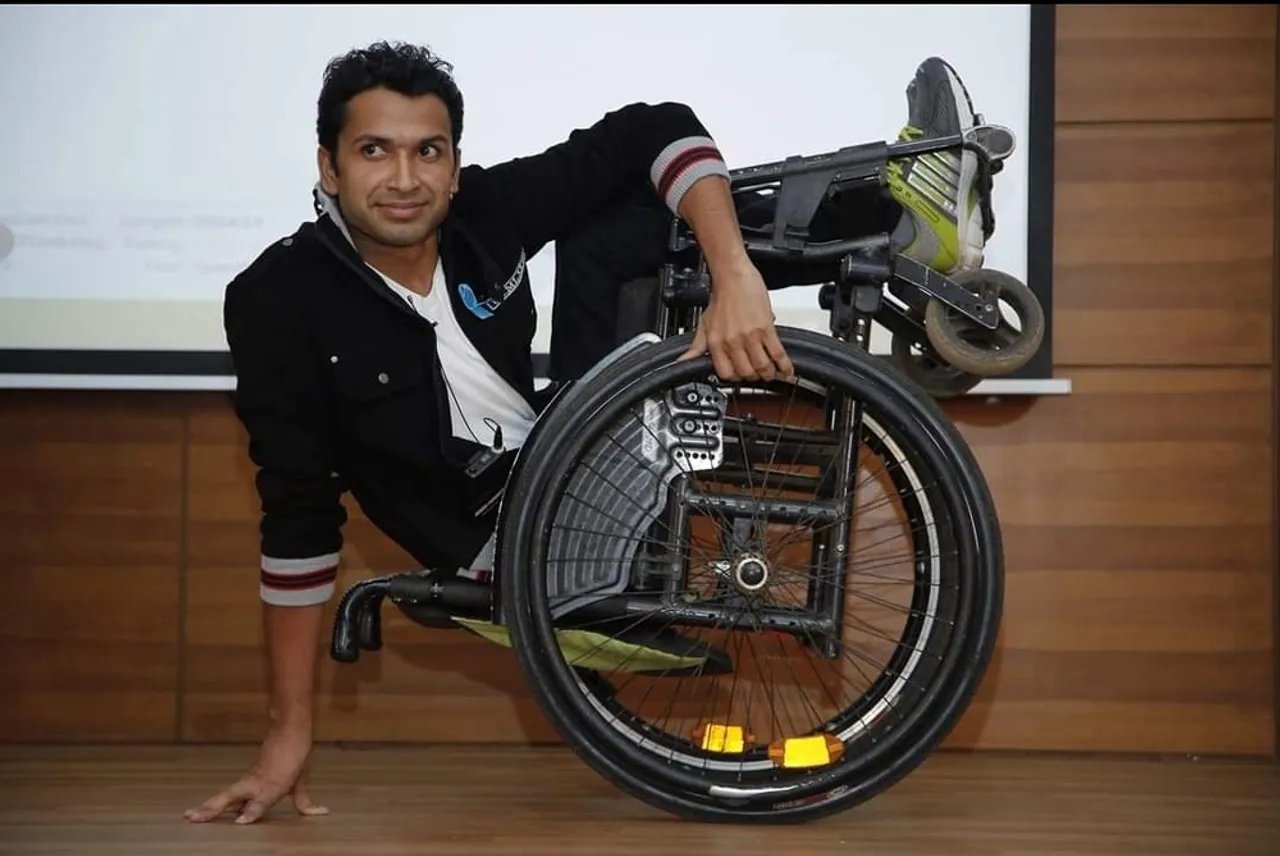 Lakhan Singh, 31, works with the Rajasthan State Electricity Board. In 2014, while working on a lamppost, he got an electric shock and fell to the ground. His lower body and one hand became paralysed. Lakhan was devastated and saw no hope till he met Imran Qureshi who coached him to be physically and mentally strong.
"I was working and living my life, but I was not happy. I would feel discouraged because people would pity me. Even activities like taking a shower, eating or going out were done with the help of at least two people," says Lakhan.
He came to know about Imran through a friend and joined his training sessions in 2019.
As he became independent and confident, his mental state also changed. "Now I don't care what people say about me. I am proud that despite being in a wheelchair I am living my life independently. This change was only possible because of Imran," says Lakhan.
Also Read: Jaipur Foot helps 1.8 million amputees take new strides
Imran, himself a paraplegic, has helped hundreds of wheelchair-bound people across India, teaching them to live independently and without shame.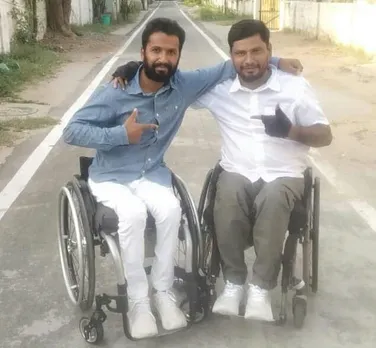 Imran, 31, hails from Gyanipur village in Sultanpur district of Uttar Pradesh. His wife and daughter stay with his parents in the village while he shuttles between his village, Mumbai and wherever he has to go for training others.
His father earlier drove a taxi in Mumbai for a livelihood. Imran, who was interested in painting, joined his father in Mumbai in 2007 to explore his interest and hone his skills in painting.
He met a group of artists in Mumbai's Koliwada area and started painting, mostly on walls and number plates. 
But all of a sudden, his lower body began losing power. "I would not be able to wear slippers and shoes or even walk for a few seconds. Tests and treatments did not help and eventually I became paralysed from the waist down" says Imran.  
Also Read: Devendra Jhajharia: The boy who lost an arm but won two Paralympic gold medals
Overcoming the trauma
Imran was treated at the Sion Hospital in Mumbai and then shifted to the physiotherapy centre. But his father could not pay the Rs6000 monthly charges for physiotherapy and he had to move out.
His parents had given up hope and he lived in an orphanage for some time.
Imran was depressed for several months but coming across other people who lived a normal life in wheelchairs gave him hope.
Instead of brooding, he took charge of life and after 18 months, he began performing daily activities independently. He would also do stunts in a wheelchair. "With practice, I could go to the washroom, take shower, go to bed and come back to my wheelchair on my own. I began travelling in a wheelchair on public transport," he says.
Also Read: Karnataka's Hosa Belaku gives financial stability & dignity to artisans with disabilities
Yet, when he went back to his village, the neighbours would come home and talk about things that demotivated him.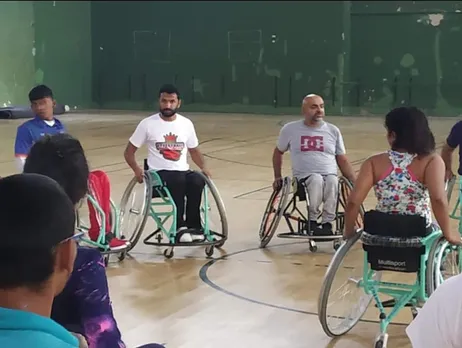 "Some would say death is better than this life. Some would ask how I would live the rest of my life. It was irritating and disheartening to hear their discussions. It was also tough to get out of the house and roam around because of social stigma associated with the wheelchair," he says.
However, by that time he was so strong mentally and emotionally that such things did not affect him.
Inspiring others
However, by that time he was so strong mentally and emotionally that such things did not affect him.
The training plan tells them about daily living skills, high and low bed transfers, bowel and bladder management, and wheelchair and cushion fitment, physiology counselling, transport tips and techniques, and question and answer sessions for wheelchair users and their families.
Also Read: From chopping, cooking to serving, how the differently-abled run Mumbai's Café Arpan
"The training is free of cost but people who participate in training contribute for food, accommodation and my travelling expenses," says Imran.
"All the people I have trained are performing daily activities without anyone's support. Earlier they would spend their money and effort on trying to walk, which is mostly not possible. After training they are seeing life with a new perspective," he says.
 Lives that changed
Mukund Jadhav, 35, from Maharashtra became paralysed after a spinal injury in 2010. At that time he was doing a telecom distribution business. But he had to take a break and resumed work after a year to earn money.
"I would do my business from home. I did not like going out because of social stigma. I would feel dejected for being wheelchair-bound and living life with others' support," says Mukund. His brother saw some of Imran's videos and got him to attend the training session earlier this year.
Also Read: Kashmiri teen turns mentor to speech and hearing impaired sportspersons
"After days of practice, I am performing daily activities on my own and I am also going out without any shame. Apart from my business, I will also train other wheelchair users like Imran," says Mukund. 
Chanchal Sharma from Rajasthan was left paralysed after a road accident four years ago. The 20-year-old spent three years in bed. "I used to think I would waste away in a few years because of lying in bed all the time. I had gained a lot of weight too," says Chanchal. Her parents tried various treatments but all in vain.
She came to know about Imran's training from social media and joined the training session in 2020.
Apart from training wheelchair users, Imran also encourages them to change the infrastructure in their houses and their wheelchairs.
Also Read: Women of substance share how they overcame challenges on the road less travelled
The wheelchair cushion should be comfortable so users can travel easily and not get bruised.
He tells his students to not waste time and money on treatments and physiotherapy because after a point, it is impossible to walk, whether doctors say it or not.
"It is better to accept and be comfortable in a wheelchair. Spend the money on improving infrastructure and the wheelchair according to your comfort to live without anyone's support," says Imran.
(Bilal Khan is a Mumbai-based independent journalist. He covers grassroot issues, LGBTQ community and loves to write positive and inspiring stories.)
Also Read: How Coimbatore-based Swarnalatha J used her multiple sclerosis diagnosis to promote mobility friendly facilities