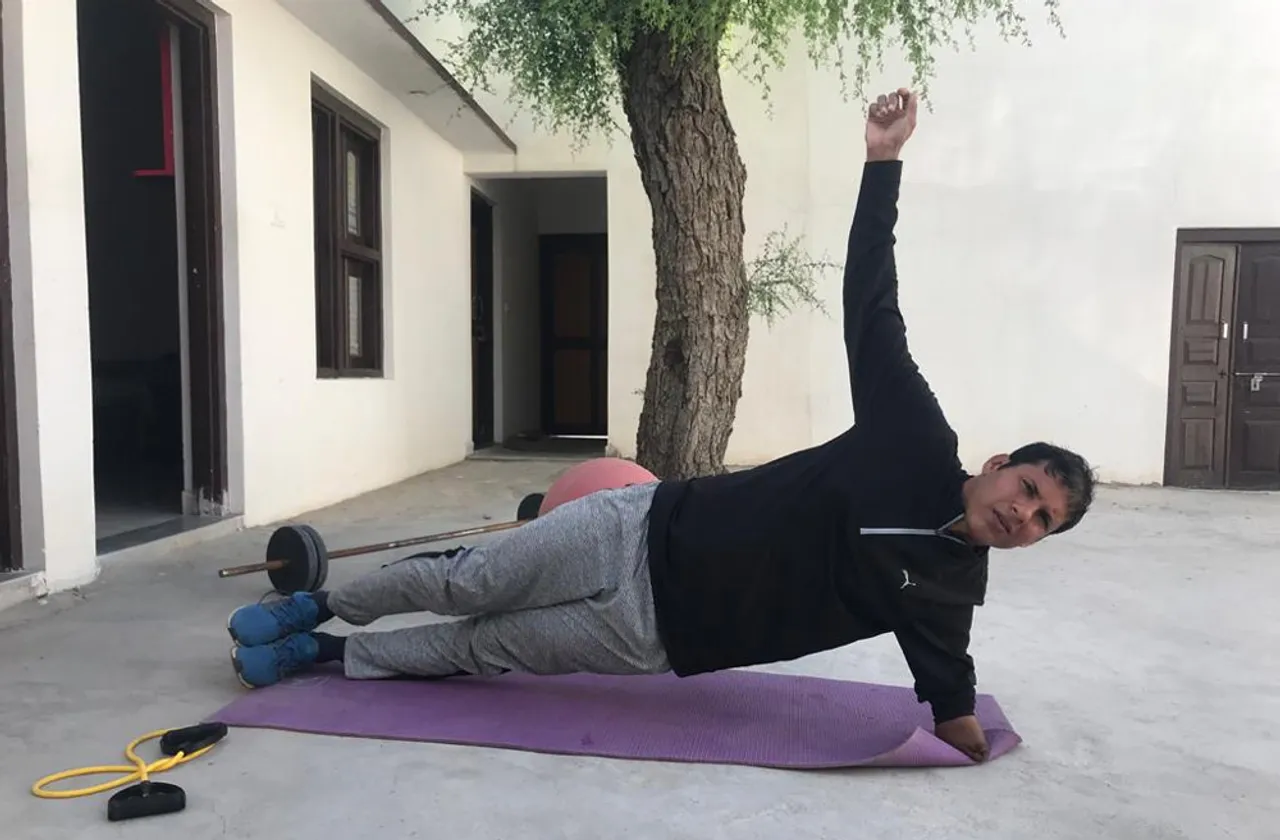 In a small village in Rajasthan's Churu district, a nine-year-old boy would practice javelin throw all alone, every day, for hours on end. Taunts and disparaging remarks by class-mates and neighbours about being an amputee fuelled in him the determination to succeed as an athlete.
Fourteen years later, as he stood on the podium at the 2004 Athens Paralympics with the gold medal for the javelin throw around his neck and the Tricolour rising on the flagpole as the Indian national anthem played in the packed stadium, an elated Devendra Jhajharia felt that the years of toil, sacrifice and even the jibes had all been worth it.
Overcoming disability
"Those remarks made me tough mentally which helped me in my sport. I believe that whatever happens, happens for good. I believe in a positive outlook," says the 40-year-old who is currently training in Gandhinagar, Gujarat for the 2021 Tokyo Paralympics.
Also Read: Kashmir's first woman footballer defies odds to follow her dream
Jhajharia was the flag bearer for the Indian contingent at the opening ceremony of the 2004 Athens games. "That was such a proud moment for me to carry my country's flag. I desperately wanted to win the gold," he says.
Jhajharia was born in Jhajhariyon ki Dhani in Churu district, falling in the Shekhawati region of north Rajasthan. The Shekhawati region comprises the districts of Churu, Sikar and Jhunjhunu. It is said that in almost every home, there is one person in the armed forces and one in sports.
Also Read: Buried at birth, how Gulabo Sapera survived to become the global ambassador of Rajasthan's Kalbelia folk dance
Jhajharia is the youngest of three brothers. The son of a farmer, he too would perhaps have followed suit but for an accident that changed the course of his life.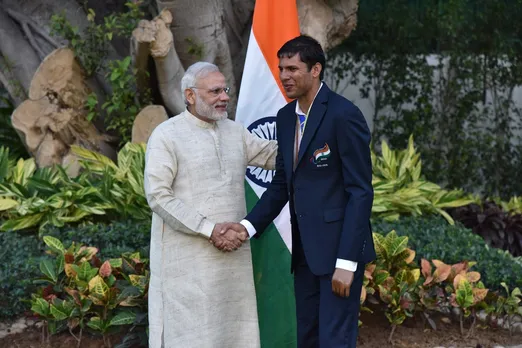 In 1988, Jhajharia was climbing a tree when his hand touched an 11 KV live cable that was placed in the tree. He was treated for four months in the SMS hospital in Jaipur but doctors had to eventually amputate his left arm.
It came as a shock for the young boy that he had lost his arm.
Also Read: Kashmiri teen turns mentor to speech and hearing impaired sportspersons
His mother proved to be a pillar of strength for the young boy as she soothed his fears and encouraged him to move out and face the world.
Charting his own course
It was not easy. There were those who made fun of him, some who treated him with pity. In the Ratanpura government school where he studied, Jhajharia tried his hand at shot-put, discus and javelin but other students dissuaded him saying he could not play as he was disabled.
But that only made Jhajharia more determined to become a successful athlete.
"It was when I won the district inter-school competition against able-bodied children that I realised that I was not weak. And from there I began pursuing javelin throw seriously," he says.
Largely training on his own, he competed with able-bodied athletes through college and university, winning the bronze medal in the inter-university competition against able-bodied competitors.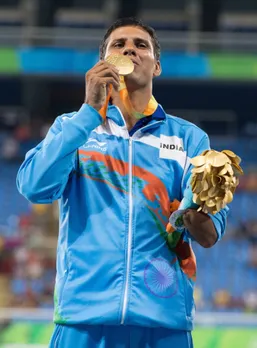 In 2000, RD Singh, a sports teacher at the government college in Hanumangarh, saw Jhajharia at a sports meet and offered to teach him. For the next few years, Jhajharia trained under Singh and won the Paralympic gold in Athens in 2004.
Also Read: How Barmer's NGO Fifty Villagers is helping underprivileged students become doctors
"My experience with him has been great. He is a very nice person. He advised me that even when you become a famous athlete, never become arrogant. Always be yourself. And I have followed his advice," says Jhajharia.
Recognition for Jhajharia and para sports
That Athens gold medal was a turning point not only for Jhajharia but also for para sports in the country. After his win, the government took over all of Jhajharia's expenses, easing a lot of his pressure.  "I had managed my own travel and other expenses in Athens. I could only afford to buy Rs500 shoes which I wore while my competitors wore expensive branded ones. But after Athens, things changed for the better," he says.
The government also gave recognition to the Paralympic Committee of India and it was affiliated and the path became easier for other para athletes.
"So, now when I see other para athletes training, I feel they are like my children. I have a hand in their success," he says.
Jhajharia's first international medal came in 2002 when he won the gold medal at the FESPIC games in South Korea. In 2003, he won the gold in the British Open Athletics Championship creating a world record with a 59.77 metre throw.
Also Read: How free education became a passport to London and Rome varsities for underprivileged Kerala boys
Competing against the best athletes at the international level is very tough but Jhajharia says having competed against able-bodied competitors in school and college made things easier for him. 
"I had to work harder to achieve my target and prove myself against able-bodied athletes. So I found it relatively easier to compete even at the international level," he says.
In the 2008 and 2012 Paralympics, the javelin throw event was not included. He was thinking of retiring. He got married in 2007 to national level kabbadi player Manju. "I told my wife that I would help her train so she could pursue her career. But she told me to try again in the 2016 Rio Paralympics," he says.
Meanwhile, his list of successes continued. In 2006, he won the silver medal at the FESPIC Games in Malaysia. In the 2013 World Athletics Championships in Russia he won a gold medal with a throw of 57.15 metres, breaking his earlier record. He became the first Indian para athlete to win gold at the World Athletics Championships.
Also Read: How Culture Therapy is transforming lives of inmates in West Bengal's prisons
Jhajharia won the silver medal at the 2014 Asian Para Games in Incheon, South Korea and the silver in the Doha Athletics World Championships in 2015.
From 2015, he teamed up with his friend and present coach Sunil Tanwar, a former javelin thrower who works with the Sports Authority of India. "We went to Finland to train ahead of the Rio Paralympics of 2016. Sunil pushed me hard, training for 6-7 hours daily. He helped me improve my throwing technique. I felt my fitness level was very good," he says.
That proved to be true as Jhajharia won the gold medal again, setting a new world record of 63.97 metres.
He was awarded the Maharana Pratap Puraskar in 2005. In 2014, he was named as the para-sportsperson of the year by FICCI.
Also Read: Snehil Dhall: Policemen's friend who decodes crime using psychology
Age is just a number
Even after having won so many medals and awards to his name, Jhajharia's hunger for success hasn't dimmed. Dismissing his 40 years, he says age is just a number.
"I am working on improving my fitness and agility and on the throwing technique. I am doing exercises with the medicine ball, using therabands and doing a lot of stretching and agility exercises," he says.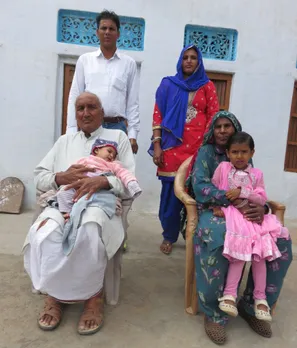 To perform consistently and win at the top level, it's very important to have mental toughness along with physical fitness. "I have seen so many struggles in life that I don't feel too much pressure. My past challenges have toughened me mentally. Now I feel I have nothing to lose and a lot to gain," he says.
Jhajharia is grateful to his parents and wife for their support. "They were the driving force behind me and have always stood by me. They are my strength," he says.
Jhajharia's wife and two children live in Jaipur while his mother stays with his brothers in their village in Churu. His father passed away three months back.
Jhajharia recalls that after winning the gold at Rio, he had gone to his village where he received a hero's welcome.
"At home, my mother was very happy that I had won a medal. I told her this is not my medal, this is your medal. If you had not pushed me to go out to the ground and play, I would not have won any medal. She replied that she had only wanted that I should not see myself any less than others."
Jhajharia feels that the facilities provided to para sportspersons by governments have improved by leaps and bounds over the years. "The centre is providing very good infrastructure for training though at the state level, facilities for para athletes need to be improved.
(Urvashi Dev Rawal is a Jaipur-based journalist specialising in development, gender, and political reporting)
Also Read: Mardani Khel: Maharashtra's talims popularise Chhatrapati Shivaji's martial art legacy