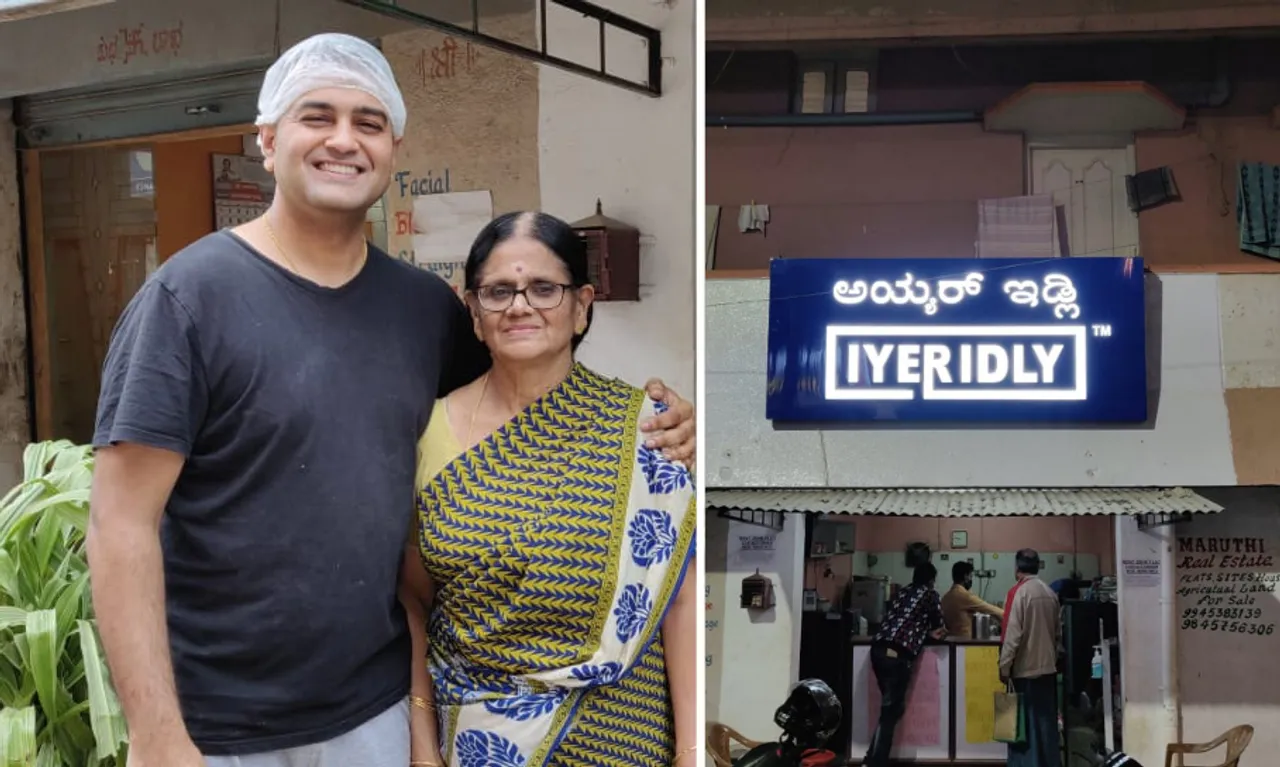 It was in 2020 that 29-year-old Krishnan Mahadevan decided to quit his lucrative job at Goldman Sachs, one of the world's largest and oldest investment banking firms, to work full time at Iyer Idly, a small eatery at Vignan Nagar in Bengaluru.
Set up by his father Mahadevan in 2001, Iyer Idly sells piping-hot idlis, which have found patrons from all age groups and professions in India's IT capital in the last two decades. 
So he decided to quit to take over the family business. Since then, there has been no looking back – only a straight highway to success as an idli entrepreneur.
Iyer Idly — a household name for idly lovers in Bengaluru — is a small quaint shop. Its story goes back to the year 2000 when Krishnan's father used to make idly and dosa batter at home for selling it to the neighbourhood stores. "We sold batter for a year and when people started suggesting that we make idlis, we opened Iyer Idly in 2001 as a tiny shop. We sold only idlis with coconut chutney for almost 19 years," narrates Krishnan.  
Also Read: Arunachal village woman turns entrepreneur, gives catering businesses a run for their money
The brisk sales despite mushrooming of restaurants all around are due to the consistency and quality of food on offer at Iyer Idly. Operating out of a 20ft X 10 ft outlet, Iyer Idly has maximized sales while keeping a tight grip over its costs. It has not invested in any fancy interiors or exteriors, focusing solely on hygiene, quality, freshness and taste. And that's what makes it a profitable enterprise.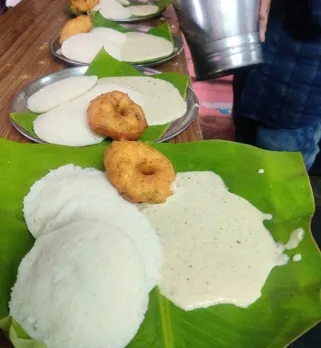 Krishnan has now expanded the menu to include vada, kesari bhath (South Indian breakfast dessert made with semolina, ghee, saffron and sugar)and khara bhath, made with semolina, mix vegetables and spices.
For the unversed, idly or idli is a steamed rice cake, a South Indian staple made with just rice and urad dal and has fans across the globe.
Also Read: Once a vegetable vendor, how this Manipur woman turned entrepreneur by making silk cocoon ornaments
Accompanied by coconut chutney or sambhar (a lentil-based vegetable stew), idlis are the go-to breakfast in any South Indian household because they are not only easy to make but are also light on the gut and a complete meal in itself. 
It is also one of the cheapest items on the menu at any restaurant, even at Iyer Idly.
From i-banker to idly-preneur 
Krishnan always wanted to be an "idly-preneur", but his dream only came true nearly two decades after Iyer Idly was started. "My dad started Iyer Idly to make ends meet and feed a family of five. I was involved in the business from a young age," he says.
Also Read: Farohar: How a mother-son duo is popularising Parsi cuisine through authentic recipes
"That was my first exposure to business at the age of 10," he says, adding that with time, he learnt to deal with money and serving food at the shop. 
As Bengaluru slowly developed, so did their business. "We used to sell idlis at Rs 1.50 per piece in 2001. Back then, selling even 100-150 idlis per day was a big deal. We were one of the first people to set a business here in Vignan Nagar," he says.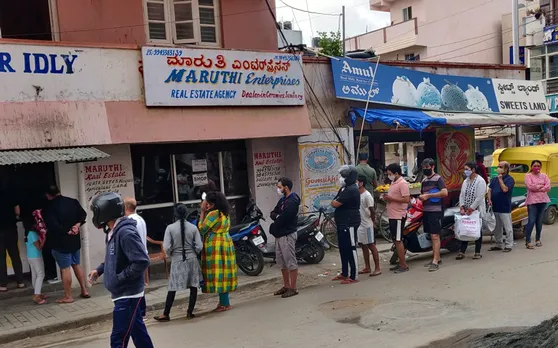 When Krishnan's father Mahadevan passed away in 2009, the responsibility to run the shop fell on him and his mother Uma. "I used to work at the shop and then go to college. Once back, I would again work at the shop. We stopped selling the batter and stuck to idlis since then."   
For Krishnan, this routine continued even when after he took up a job. "I was teaching as an Assistant Professor for a year and then moved to Time Inc. I worked at Goldman Sachs for four years after that. One fine day I decided to resign as I realised that I couldn't do two things at the same time," he says. 
Also Read: Kashmir's Sabira Mattoo: Pickling her way to success through home business
"It took me almost two years to convince my mother to quit my corporate job and continue selling idlis." 
The making of idli at Iyer Idly
Iyer Idly struggled in its initial years, admits Krishnan and notes that it took nearly five to six months before they could perfectly make pillow-soft idlis. Talking about the process of making the batter, Krishnan says,
"The two main ingredients are idly rice and urad dal. While the idly rice is soaked overnight, the dal is soaked for only about two to three hours before grinding. Both of them are ground separately and once they reach a particular consistency, they're mixed and allowed to ferment."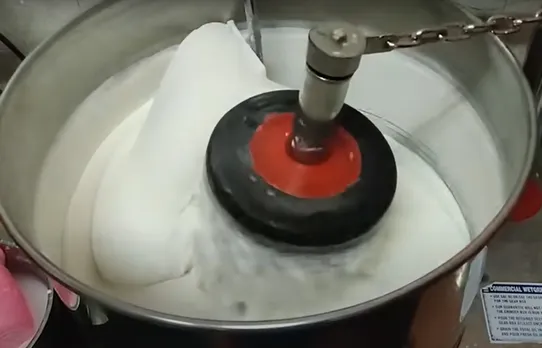 The fermentation process takes eight to ten hours on cold days and during summer, it takes about half the time. About 250 kg of idly rice and 120 kg of urad dal are used every week to prepare the batter. 
The batter is poured in idly trays lined with a muslincloth and then put inside a steamer. Two rectangular steamers at the shop can steam 216 idlisin one go.Each batch is steamed for exactly 12 minutes and not a minute longer.
For the chutney which is made fresh every day, nearly 100 coconuts are ground along with green chillies, fried gram, coriander and rock salt. "We source all the ingredients locally to support their livelihood," he says. 
Also Read: Tage Rita: Arunachal woman entrepreneur making India's first organic kiwi wine Naara Aaba
Krishnan says the batter is naturally fermented and is devoid of any preservatives. "I don't believe in adding soda or yeast to the idly batter. Once you consume two idlis, your stomach becomes full when you add such additives. But here, even if you eat four idlis, it will only fill half your stomach," he says. 
What makes Iyer Idly's idlis so special? "There is nothing special. It's all about putting your heart and soul into making it. There is no secret recipe." 
Growing the business
As years went by, Krishnan slowly made his mother discontinue and retire from the business. He and his team of seven continue to take the legacy forward. At any given time, Iyer Idly is packed with customers queued up to savour a plate of their delicious idlis.  
Also Read: From juveniles in correctional centres to landless labourers, how Pushpa Jha is helping create mushroom entrepreneurs in Bihar
Once Krishnan took over the business in a full-fledged manner, he brought in a few minor changes to his business approach. In 2021, Krishnan added vadas, khara bhath and kesari bhath to the menu. All the new items became an instant hit with customers. His shop also started accepting UPI transactions. And Iyer Idly partnered with online food delivery platforms - Zomato and Swiggy to boost sales.
Owing to inflation, Krishnan decided to increase the prices of items in the menu from January 2022.
"We retained the price of Rs10 from 2014 to 2021 because we wanted quality food to be affordable to all sections of society. When it comes to food there shouldn't be any disparity," he says.
Also Read: How home chef Sumitra Kalapatapu is popularising the little-known Andhra Brahmin cuisine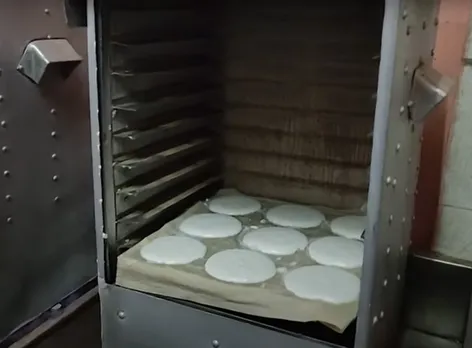 Although the footfall has increased tremendously over the years, Iyer Idly remains grounded and true to its roots, without any posh exteriors or fancy lights, and Krishnan says that hewould like it to remain the same way. 
"Even now I get franchise requests from all parts of the world including London, New York and Singapore, but I have not accepted them. I am happy and content with what I have," he says. 
Ask him about his plans for the future and he says that he wants to set up small stores in different parts of Bengaluru as well as across the country where he can provide quality food at affordable rates.
(Narayani M is a Chennai-based writer specialising in longform writing and human interest stories.)
Also Read: How a daily wage earner set up Rs 250-crore breakfast company ID Foods