wp:html /
One Friday evening in March 2019, Amit Godse received a call from the administration of Harihar Fort, a trekkers' paradise near Nashik. About 1.5 lakh bees had zeroed in on some of the rocks, leading up to the fort, for making a hive. Given the large number of trekkers visiting the fort on the weekends, there was a risk of people getting scared of the bees, losing balance and falling in the valley below.
Within three hours after receiving the call, Amit left his home in Pune along with a few of his team members and reached the fort at 2.30 in the morning.
"At 6 am we started trekking and reached the spot with bees by 7.30 am. We burned coconut husks in the vicinity, which calmed down the bees and they flew away. They hadn't yet built a hive. The area was cleared before trekkers started coming in," recalls Amit, founder and CEO of Bee Basket, which has been working towards bee conservation and tribal empowerment since 2016.
Relocation for bee conservation
Bee Basket charge Rs1,000 to Rs1500 per relocation, which helps in bee conservation as it shifts hives and bees without killing them.
Also Read: Five entrepreneur couples with successful green startups
 "The top one-third of the hive carries honey and the rest is the brood section with larvae. Once we burn cotton or coconut husk, the bees move away from the hive. We harvest the honey from the top without touching the larvae," he says.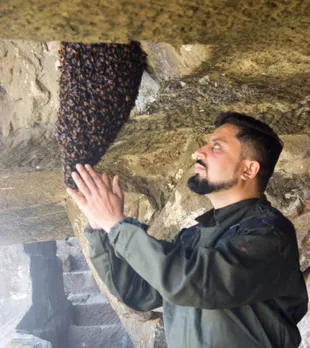 Then the hive with larvae is detached and using bamboo sticks, it is placed on a tree or on a farm. All the bees come back to the hive as larvae are present inside, repair the honey section and produce more honey, says Amit, a mechanical engineer who found his calling in bee conservation after an incident in 2013.
Working with Capgemini, Mumbai, Amit would often visit his weekend home in Pune. On one such visit, he saw a group of locals who called pest control services to remove a beehive.
Also Read: Couple quits Singapore jobs to set up successful artisanal jams business in the Himalayas
Curious to learn more about bees, he went to Malegaon, where he met beekeepers or apiarists who maintained bees inside boxes and sold the honey. However, they did not have much to offer about bee conservation or urban beekeeping.
Building a business around bees
The quest for knowledge took Amit to Central Bee Research and Training Institute, Pune, where he enrolled for a five-day elementary course on beekeeping.
Amit realized his true calling lay in making the world a safer place for these tiny creatures. He quit his full-time job and spent another month training to work with bees. He visited several tribal communities, which helped him learn indigenous methods of bee handling and honey harvesting.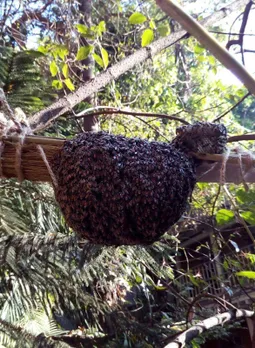 In 2016, Amit launched Bee Basket, which sells raw, unprocessed honey besides selling wooden bee boxes for beekeeping and connecting tribal beekeepers with farmers who require pollination services.
Bee Basket offers honey in seven flavours including Tulsi Honey, Rosewood Honey, Jamun Honey, with the price starting at Rs480 for a 500gm bottle. The annual turnover of the enterprise, including sales from honey, bee boxes, rescue operations and pollination services, was Rs22 lakh last fiscal.
Also Read: Build local: This architect creates sustainable & sturdy homes without using cement or steel
Bee Basket is helping in the conservation of bees by creating a network of 'bee friends' who rear bees. Besides conservation, a focus area for Bee Basket is providing pollination services to farmers and urban citizens.
The role of bees in pollination & food security
According to Food and Agriculture Organization (FAO), three out of four crops across the globe producing fruits or seeds for human use as food depend on pollinators.
"There has been an increase in demand for pollination services as the number of honey bees is declining. Reduction in pollination decreases food yield, affecting food security," says Godse.
Bees suck nectar from flowers, which forms the basis of honey. During this process, pollen sticks to the hairs of the bees and when they visit the next plant of the same species, this pollen is transferred to the flower's stigma. The male pollen unites with the female cell, leading to the formation of seeds in the flower.
Also Read: How Tamil Nadu's aeronautical engineer-turned-farmer is creating native seed bank to promote organic farming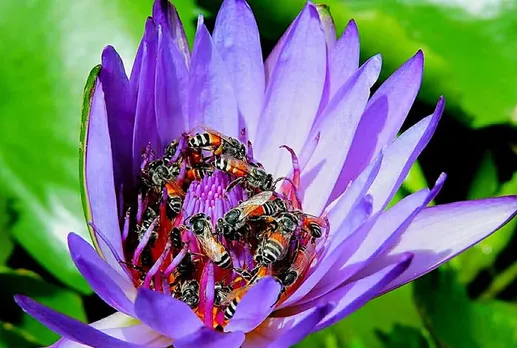 Thus bees play a vital role in the growth of many crops and wild plants, which is crucial for food production and biodiversity.
To create a community of beekeepers, Bee Basket began training tribal people on sustainable methods of honey harvesting and beekeeping (apiculture) some years back. "These trained beekeepers rent out the bee boxes to farmers for pollination at Rs1000 to Rs1500 per month. This creates a source of income for tribal communities," says Amit.
Bee Basket has so far trained over 1500 members of tribal communities in Maharashtra's Palghar, Bhimashankar, Gadchiroli; Sundarbans in West Bengal and some places in Gujarat.
Also Read: Krishna McKenzie: Auroville's British musician-farmer with a food forest & organic café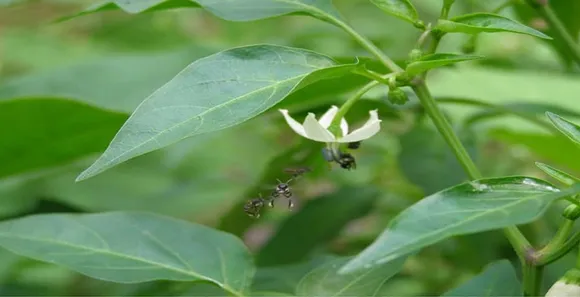 "We are now creating a platform to connect beekeepers with farmers on a much larger scale. In the next three months, we will launch a separate arm focused on pollination services to enhance food production and provide a livelihood to indigenous communities," Amit adds.
The Ministry of Agriculture is supporting this initiative. "IIM Kolkata is incubating our startup for pollination," he says.
Homes where bees are pets
Bee Basket's bee boxes for beekeeping are made of Sheesham wood and are similar to beehives, which have different chambers for storing honey, storing pollen grains and larvae.
"These boxes improve the productivity of plants for urban beekeepers, who can also harvest about 300 to 400gm honey annually from their own premises. A bee colony doubles or triples in a year depending on the availability of flowers. We breed two varieties of bees and promote stingless bees (Trigona laeviceps) for homes as they can be kept as pets," he adds.
Also Read: Shruti Tharayil's wild food walks bring Grandma's greens back into urban kitchens
The bees don't need much care in the box, which has openings for their entry and exit. "They don't require a lot of maintenance; you just need to plant flowers around them. This way you can help in conservation and also harvest your honey," says Amit, who has been running awareness campaigns in schools, colleges and corporates across India to promote urban beekeeping.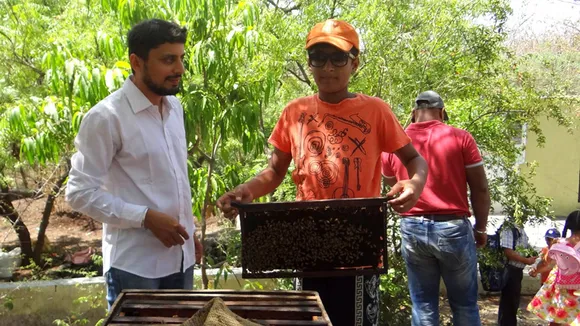 Owing to the shift in consumer behaviour during the Covid-19 pandemic, Bee Basket has grown its client base. "People are more interested in the stories behind a brand. Consumers are getting aware of ethical practices and looking for cruelty-free honey. The demand has been high, which has augured well for us," says Godse.
Ethical harvesting of honey
There are five types of bees found in India, of which Rock bees or Wild bees cannot be domesticated as they only form their hives under sunlight. Others like garden bees, stingless bees can be domesticated in bee boxes.
One can harvest honey four to five times from one beehive. Wild bees produce more honey due to their large size, while stingless bees produce just 300 to 400 gms of honey in a year. However, the latter is highly medicinal, sporting anti-cancerous properties.
Also Read: Last Forest takes honey & beeswax products from Nilgiri forests to global markets
Due to the high demand for honey, companies often indulge in malpractices and adulteration, which harms honeybees as well as buyers. Farmers often starve bees or feed them sugar syrup just to keep them alive. Amit suggests buying honey only from people who work closely with bees.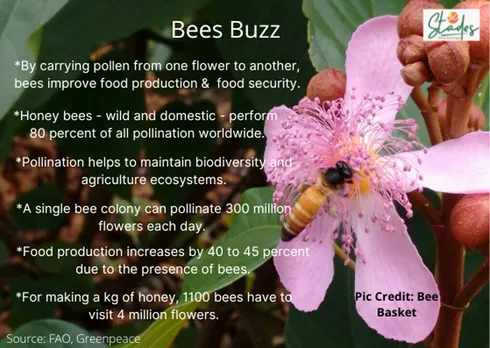 "During harvest, we cut only 60 percent of the honey part of the hive, and leave one-third honey for the bees so that they don't starve," explains Amit.
While discussing the shelf life of unprocessed honey, he says, "As long as the moisture content of honey is 17-18 percent, the honey need not be processed. If the moisture content is higher, then the honey is likely to get fermented."
Also Read: Snehakunja: Preserving biodiversity through empowerment of tribals in Western Ghats of Karnataka
Once the honey bees lower the honey's moisture content to the required limit, they seal the chamber with beeswax and only then honey should be harvested.
"Many commercial beekeepers harvest unsealed honey with high moisture content and further heat it to lower the moisture. This process not only results in the honey losing its taste and nutritional value but also removes all the pollens," says Amit.
Amit champions keeping bees as pets as it has many advantages. "Beekeeping is a nature-friendly hobby and improves mental and emotional health of urban beekeepers," he adds.
we have shifted this bee colony on a tree only close to Laxmi road, NUlkar Wada. Bees made this hive on a broom and we gave them other bees deserted hive.
(Riya Singh is a Ranchi-based journalist who writes on environment & sustainability)
Also Read: Sheeba Sen: Lawyer-turned-conservationist creating income-generating forests for local communities