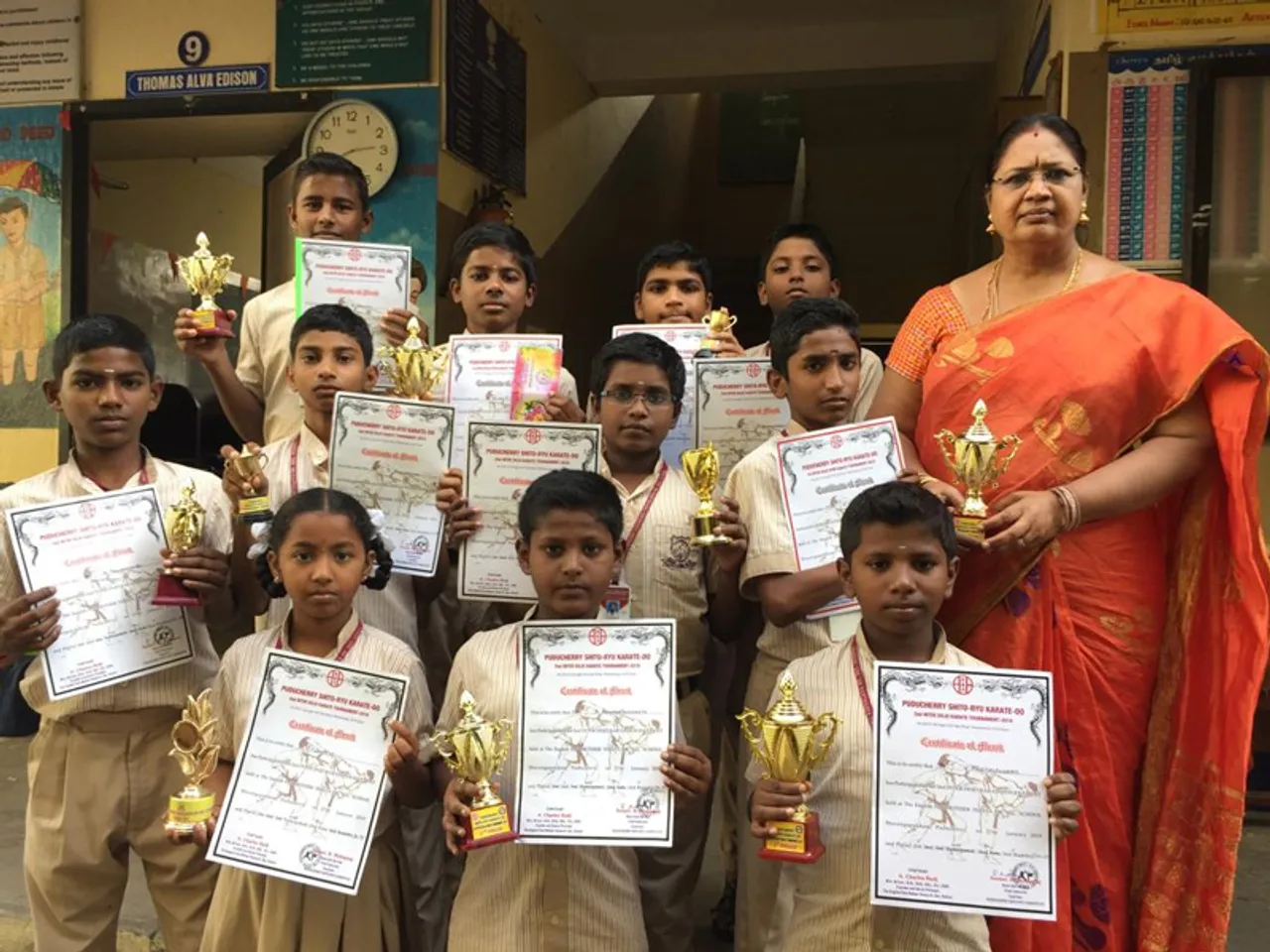 When one-month-old Sai Sharan Kumar was diagnosed with Williams syndrome, his parents were distraught because the developmental disorder affects the child's learning abilities. After researching about the condition, they prepared themselves to raise him in an all-inclusive environment.
"Due to the Williams syndrome, my son was hyperactive and had writing disability as his fingers would pain while holding a pencil or pen," shares Sai's mother Deepika Kumar. "We placed him in a Montessori school in 2018 soon after we moved from Chennai to Puducherry. Within a year, the management asked us to shift our son to another school citing issues in writing. That was when we learnt about Bridges Learning Vidyalaya and decided to enrol him there," she adds.
Three years later, Sai, now 12, is able to understand concepts better and write easily and legibly. 
Over 500 students, like Sai Sharan belonging to a diverse spectrum of neurodiversity including dyslexia, autism and ADHD (attention deficit hyperactivity disorder) are being taught at the non-profit Bridges Learning Vidyalaya higher secondary school in Puducherry, which was set up in 1998 and is a unit of Pondicherry Dyslexia Association. 
Many of the students have completed MBBS, Engineering, B.Com, MBA, photography and other professional courses after passing out of Bridges Vidyalaya. Some have been placed in top companies like TVS and Lenovo.
Also Read: From chopping, cooking to serving, how the differently-abled run Mumbai's Café Arpan
Inception & growth
The story of Bridges Learning Vidyalaya goes back 25 years when Special Educator and Therapist Dr Bhuvana Vasudevan started giving occupational and speech therapy, teaching about 50 slow learner students in Puducherry.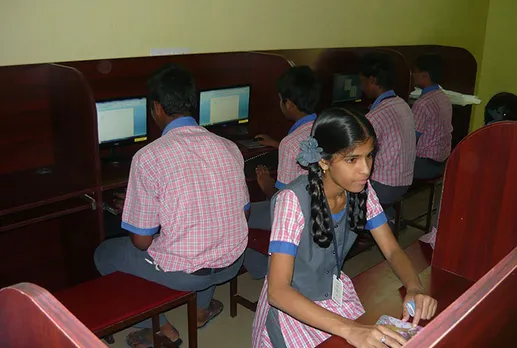 "When a few parents urged me to start a school after noticing improvement in their children, I started this institution in 1998 with financial help from philanthropists and the government," she narrates. 
Also Read: Kashmiri teen turns mentor to speech and hearing impaired sportspersons  
She adds that the stigma and lack of awareness made it challenging for parents to approach the school in the initial days.
Currently, the school, built over 6,000 square feet in Thanthai Periyar Nagar, provides inclusive education to over 500 students. The teachers are given a detailed orientation with respect to the syllabus as well as training the students before every term begins.  
Special education for students and methodology
Bridges Learning Vidyalaya follows the Puducherry Board syllabus for students from class I to XII. The school's teaching methodology concentrates on child-centred facilitation, approaching the student from their level and understanding the issues from their perspectives.
The IQ (Intelligence quotient) of students is initially assessed with the help of Malin's Intelligence Scale before onboarding them. The reading, writing, visual perspective, spelling, mathematics, memory, concentration and many other factors are checked to see at what level the child stands and which areas require specialised training. 
Also Read: Imran Qureshi: UP's paraplegic man motivates wheelchair-bound people to live independently & confidently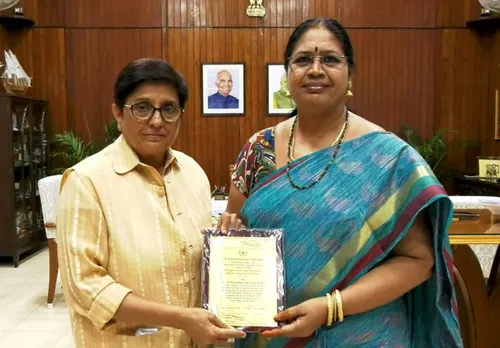 "According to the academic ability of the child, they're either in the mild, moderate or severe category," Dr Bhuvana says.
Lourdu Rebekkal, who has been teaching mathematics for primary students for over six years, explains that a student with a learning disability cannot be taught the same way as mainstream education. "When we are teaching addition, we cannot ask them to hold four fingers and keep the number five in mind. We use coloured beads instead. For memorising number tables, we take the help of audios. As they hear it often, it gets stored in their memory."
Also Read: Jaipur Foot helps 1.8 million amputees take new strides
Dr Bhuvana and Lourdu explain that the teachers don't focus on completing the portions, but see how much the children have learnt. "Just because one student understood the lesson, we don't move to the next. We train them to help others learn better," Lourdu says.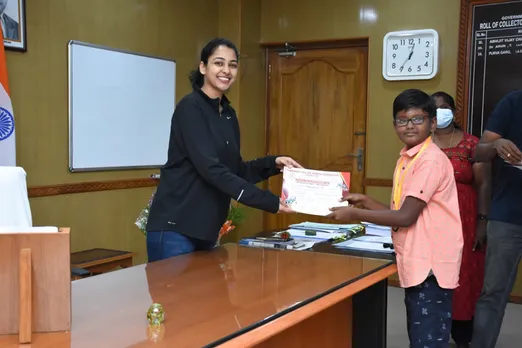 "There is no point in scolding them or raising our voice when they make mistakes. Teachers are advised to be patient and have a student-friendly approach," Dr Bhuvana says.
Students are also given art therapy and are trained in yoga and meditation. From the ninth grade onwards, they are also taught to make jams and pickles, hotel management skills and are also involved in social work activities like road safety awareness and lake cleaning.
Also Read: How Coimbatore-based Swarnalatha J used her multiple sclerosis diagnosis to promote mobility friendly facilities
Addressing learning disabilities
Lourdu emphasises the importance of early intervention. "Some schools ask parents to shift their children after eighth or ninth grade due to their learning disability. It then becomes difficult for us to teach them. Teachers, as well as parents, put in extra efforts to make sure they learn and pass tenth and twelfth grades," she says.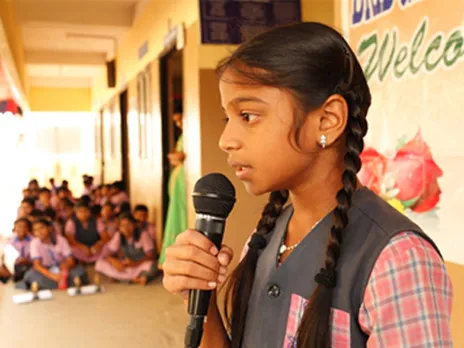 While there are 10-15 students for each class in the primary grades, there are about 20 students in grades nine to twelve. Apart from the training before every term, there are also monthly staff meetings to discuss students' progress. If there are difficulties in teaching a particular student, Dr Bhuvana pitches in with a new idea to make the concept easier to learn. 
She also joins the classes across all grades frequently, takes over the lessons and teaches in her own unique way. 
To build their vocabulary, several activities are conducted in the classroom. Sometimes, words are written on a paper cap and a student is made to wear it and stand in front of the class while their peers recite the spelling of the words. 
During exams, when a student struggles, teachers don't hesitate to sit beside them and read the question a few times for them to make sense of it.
Also Read: Breaking stereotypes: How Chennai's HashHackCode is creating 'differently-abled' coders
Even as the students progressed steadily with Bridges Vidyalaya's syllabus, the COVID-19 pandemic disrupted their learning path for several months. "While some students struggled without smartphones, some students became slow as they lost touch with reading and writing skills. With schools opening up, they are also slowly getting back on track," Lourdu says.
Impact created
Sai Sharan's mother Deepika, who is an event manager by profession, says she found visible changes in her kid's writing skills within a year of enrolling him in Bridges Vidyalaya.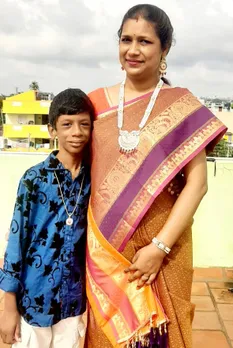 "Today he is able to write on his own and completes his classwork without help. He could recite the spellings of a few difficult words after the teachers created a story out of those words. Although he's in the fifth grade, the teachers treat him like he's in his first grade. Since they don't rush through the syllabus, children are able to learn the concepts fully," she says. 
Another parent, VM Mangalam, too has observed similar changes in her 12-year-old child M Sarantejaswin's learning graph. "By the time my son was six, I knew he had a learning disability. He had issues identifying words and even had difficulty holding a pencil. As a government school teacher, I knew how he was different from the kids of his age. Despite my relatives discouraging my observations, I decided to shift him to Bridges Vidyalaya when he was in the fourth grade," Mangalam says. 
Also Read: Karnataka's Hosa Belaku gives financial stability & dignity to artisans with disabilities
Her son felt comfortable within a few months of joining the school. "Until his third grade, he couldn't even write his name properly. Now, he's able to identify the structure of letters, sounds, write words coherently and read them aloud," she exclaims proudly. 
Extra-curricular activities are emphasised and several competitions and activities are conducted throughout the academic session. "When they come to the tenth grade, I conduct a psychological test for students to assess their area of interest and suggest relevant fields where they will shine," says Dr Bhuvana. 
They are given free education and offered vocational, physical, psychological, emotional and social training integrated with mainstream education until grade 12, removing barriers and preparing them to become productive citizens of the world.
Also Read: Devendra Jhajharia: The boy who lost an arm but won two Paralympic gold medals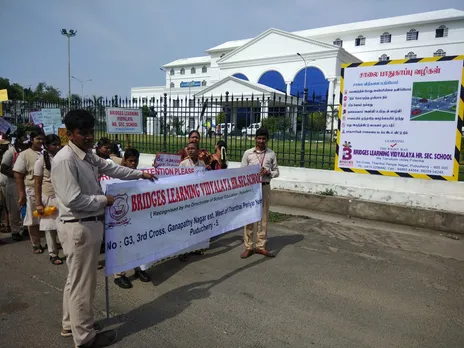 "We extend our educational support to students in rural and backward villages in and around Puducherry. As a resource person for the Puducherry government and Kendriya Vidyalaya Sangathan, I also train many teachers under the District Institute of Educational Training (DIETs) programme every year, teaching them how to mould children in government schools," Dr Bhuvana tells. 
In March 2020, Bridges Learning Vidyalaya received the 'Best school award' from former Lieutenant Governor of Puducherry Kiran Bedi for continuous successful results in class ten and twelve board exams.  
Speaking about the way forward, Dr Bhuvana says the school is looking at improving its infrastructure and reaching out to many children from rural areas to bridge the learning gap increased by the pandemic. The school is also accepting donations and support from philanthropists to help grow the institution.
(Narayani M is a Chennai-based writer specialising in longform writing and human interest stories.)
Also Read: This clinical psychologist is empowering people with autism & developmental disorders; 40,000 benefitted so far