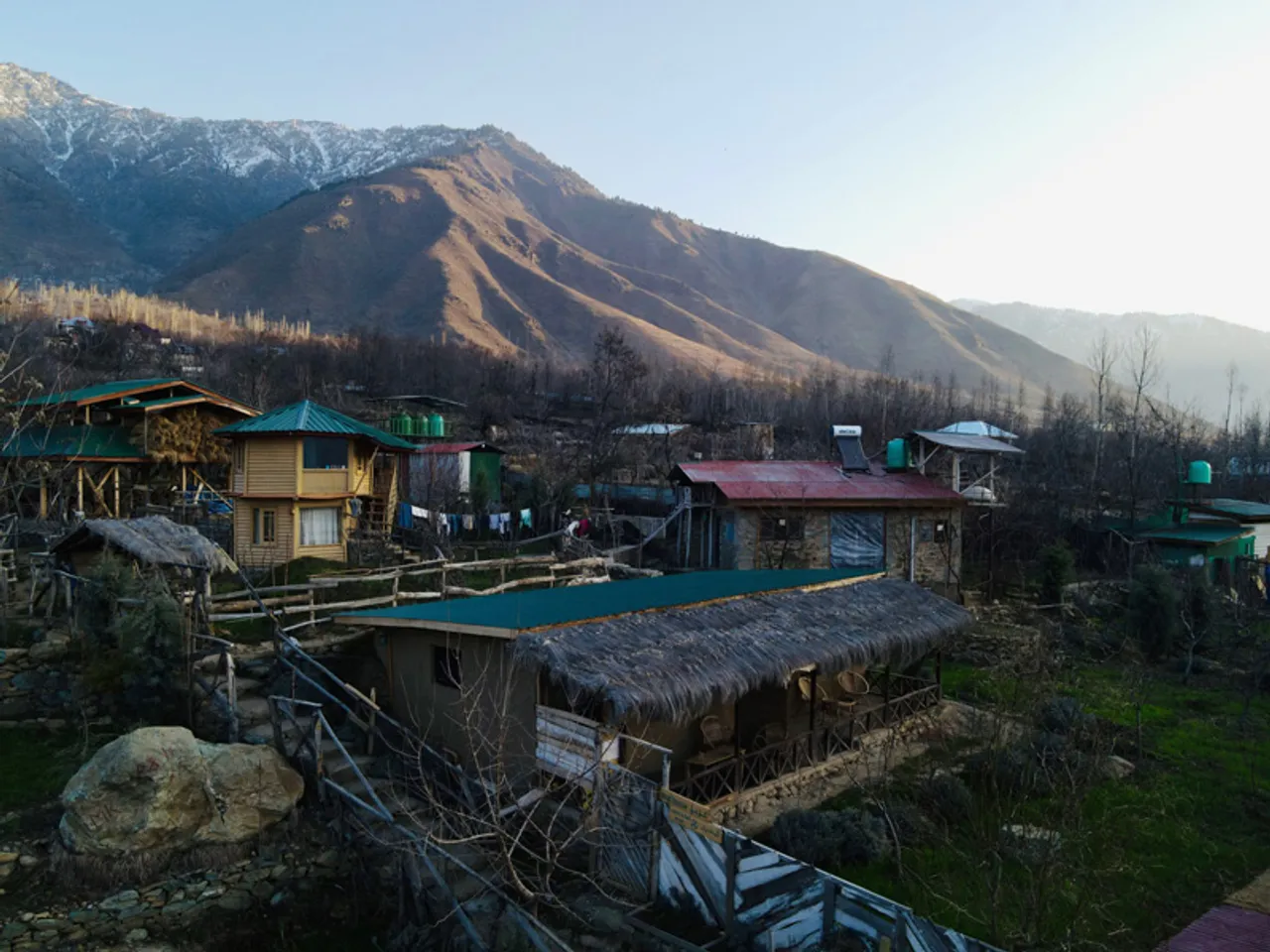 Nestled in the snow-capped Himalayas, Sagg Eco Village in the Ganderbal district of Kashmir transports one to Kashmir's cultural past. An initiative at socially and ecologically harmonious living, it is the valley's only eco-village with mud houses, an organic farm, zero-waste systems and amenities for sustainable tourism.
Social entrepreneur Fayaz Ahmad Dar, who founded Sagg, says the eco-village is an attempt to dive back into Kashmir's cultural roots and values, and nurture and promote them to heal the present.
Spread over 11 kanals (1.375 acres) of land amid natural surroundings, Sagg offers a host of workshops and training facilities; residential and educational student camps and consultancy services to help people build more eco-friendly spaces. Visitors live in mud houses and taste the traditional dishes prepared by the chefs using organic products.
"When one enters Sagg, it is like coming home. It is a place where one can reconnect with themselves. Sagg takes them on a journey of self-reflection, rejuvenation and detoxification," says 46-year-old Dar.
Also Read: Uttarakhand: Himalayan homestay empowers women through ecotourism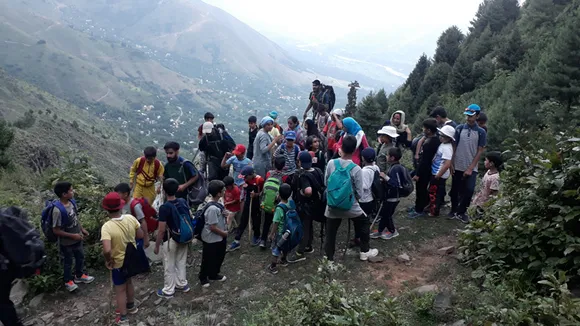 But this land was not always the heaven that it is today. Sagg is built on a piece of barren land that was devoid of basic facilities like water and electricity. It was only filled with rocks and thorns and had a few dying apple and apricot trees.
Dar and his team cleared up the land and converted it into a picturesque mix of traditional mud houses and decor made of cane and wood. They also began to grow local spices, vegetables and other organic produce to create a sustainable and eco-friendly village. Sagg opened to the public in 2016.
Dar used his savings and also borrowed money from his friends and family to start the eco-village. His initial investment was around Rs 50-60 lakhs. So far, he has invested Rs 2-2.5 crores. "Business slowed down due to COVID and the current income is about Rs5 lakhs per month, he says.
Also Read: Ecotourism meets rural art & culture at Gujarat's Woods at Sasan
For the love of the land
Dar belongs to a family of rice cultivators. He still remembers his father scolding him for skipping school and working in the field when he was a child.
"I loved playing in the mud. But my parents thought the conventional education system only could get me a job so they would drag me from the field to sit in the monotonous classes and pay attention," he says. "That schooling was supposed to improve the quality of our lives."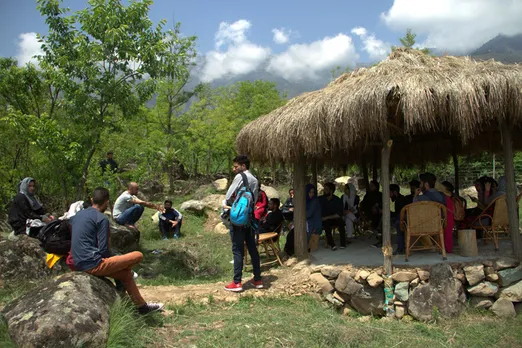 A theoretical approach to education didn't work for Dar. "I was never able to connect theory with experience until I practised what I learnt. Unfortunately, this is the dominant methodology in most schools and colleges even today," he says.
After schooling, Dar moved to Delhi and the US for further studies. But he longed to return to his homeland. He travelled and worked in various countries and was exposed to different cultures and environments that gave him exposure to alternate methodologies of learning. 
Also Read: Village in Jharkhand's Maoist hub transforms into eco-tourism spot reviving lost arts
Dar was aware of the situation in Kashmir and realised that the socio-political environment conditioned the youth to choose security over creativity. "I felt they needed to be equipped with strategies that could help them realise their potential and make the best use of their abilities," he says.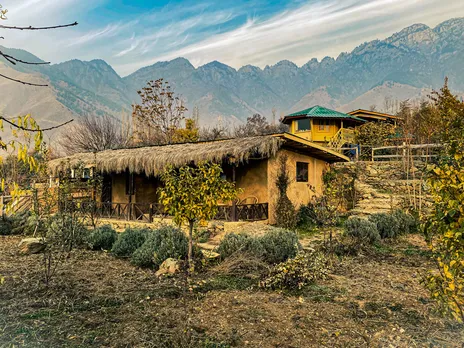 "If the Kashmiri youth are aware of their social and political context and how they can walk the road to healing and self-mastery, they can change the future of the valley," Dar emphasises.
Sagg: a lived experience
He wanted to share learnings and experiences with youth so they could make better life choices. It was with this mission that he returned to Kashmir in 2010.
"I wanted to tell people what education and schooling are. Schooling is not necessarily education. Education comes from experience," Dar says. He first did a research project titled 'Needs Assessment of Youth'. Teams of youngsters went to educational institutions in Kashmir, Ladakh and Jammu and engaged with students to talk about their problems and encouraged them to look at ways of solving problems.
Also Read: Heritage walks help rediscover city histories, give fillip to conservation
He then did a 'Visionary Assessment Exercise' with the youth. "Here our team attempted to imagine the kind of society we wanted to live in and how we could create it. Everyone envisioned a sustainable lifestyle that was human-friendly, environment friendly and that could improve the overall quality of life," recalls Dar.
Sagg provides various services like camping with an overnight stay at the village, which costs Rs 500 per person including breakfast. The charge for dormitories is Rs 700 per person for a night.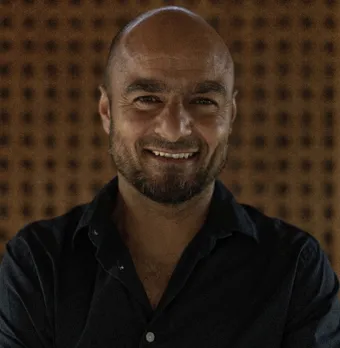 Their educational programmes like mindset sessions cost Rs 299 per person. These are conducted by Dar himself. Student residential camps for three nights and four days cost Rs 5,000 per person, including food and stay. The aim is to develop critical thinking, reflection, leadership, planning and entrepreneurship abilities," says Dar.
Other programmes include workshops on ecopreneurship (promoting sustainable development and lifestyle); organic farming, composting; upcycling; food processing; handicrafts; livelihood generation; paper-mache, pottery and more. Also on the menu are activities like eco-therapy sessions, art therapy, mud therapy, workshops, treks, and bike rides. 
Dar is assisted in conducting the programmes by Dr Shaheena Parveen and Lubna Rafiqi, both trained psychologists with experience in research and facilitation, who are also part of the core group that founded Sagg.
Also Read: Healing through theatre: How Shehjar is helping children in Kashmir cope with violence
Sagg currently has 10 full-time staff who get around Rs. 10,000- 15,000 monthly, depending on the job. They also have trainees working at the eco-village who get paid Rs. 7,000 per month.
Creating a natural lifestyle, empowering locals
The Eco Village has a farm where they cultivate a variety of crops, herbs and vegetables organically.
"Sagg uses and promotes zero waste systems, organic materials and traditional practices for farming such as zero pesticides and organic manure. We prepare and sell healthy foods and products based on natural ingredients from the farm," says Dar.
Some of their products include Kashmiri wild Honey, Ghee, Wuer (Kashmiri spice mix), Makai Sott (roasted corn flour) and Kashmiri sun-dried apples. They grow several spices such as lavender, rosemary, wormwood and mint among others. Their products have customers from all over the country.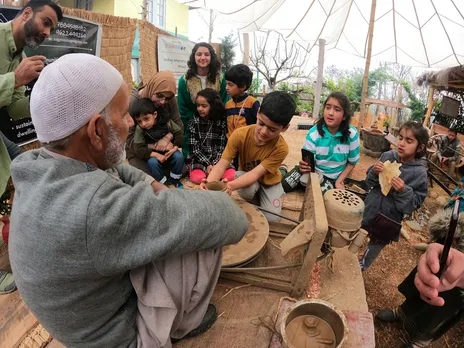 The produce from Sagg's organic farm is mostly used in their kitchen. Some of it is also used in their food processing workshops where locals are taught to make various types of pickles and jams.
Also Read: Kashmir's Sabira Mattoo: Pickling her way to success through home business
The products can also be bought from their shop outlet at the eco-village or people can place online orders through social media sites.
Sagg uses and promotes cost-effective earth-building designs for infrastructure, and the use of local materials. "The smallest things like tables and chairs are also made here from the wood that grows here by the artists who live here," Dar explains.
Also See: Watch Saima Shafi: Kashmir's engineer-cum-potter reviving the clay craft
During educational or recreational camps, Dar ensures 20-25 percent local participation by providing them scholarships. He also holds free capacity building and training workshops for local children and women every Friday.
Dar says that Sagg has been greatly appreciated as an ecological venture by locals as well as outsiders. "Sagg has captured the imagination of people in terms of the kind of development they wish to see in their societies. It has opened up the minds of people to start innovative business ventures that take care of the ecology, wildlife, culture, human needs and resources."
(Parsa Mahjoob is a Srinagar-based  freelance journalist)
Also Read: Village Ways: How eco-friendly holidays are lifting Uttarakhand villages out of poverty