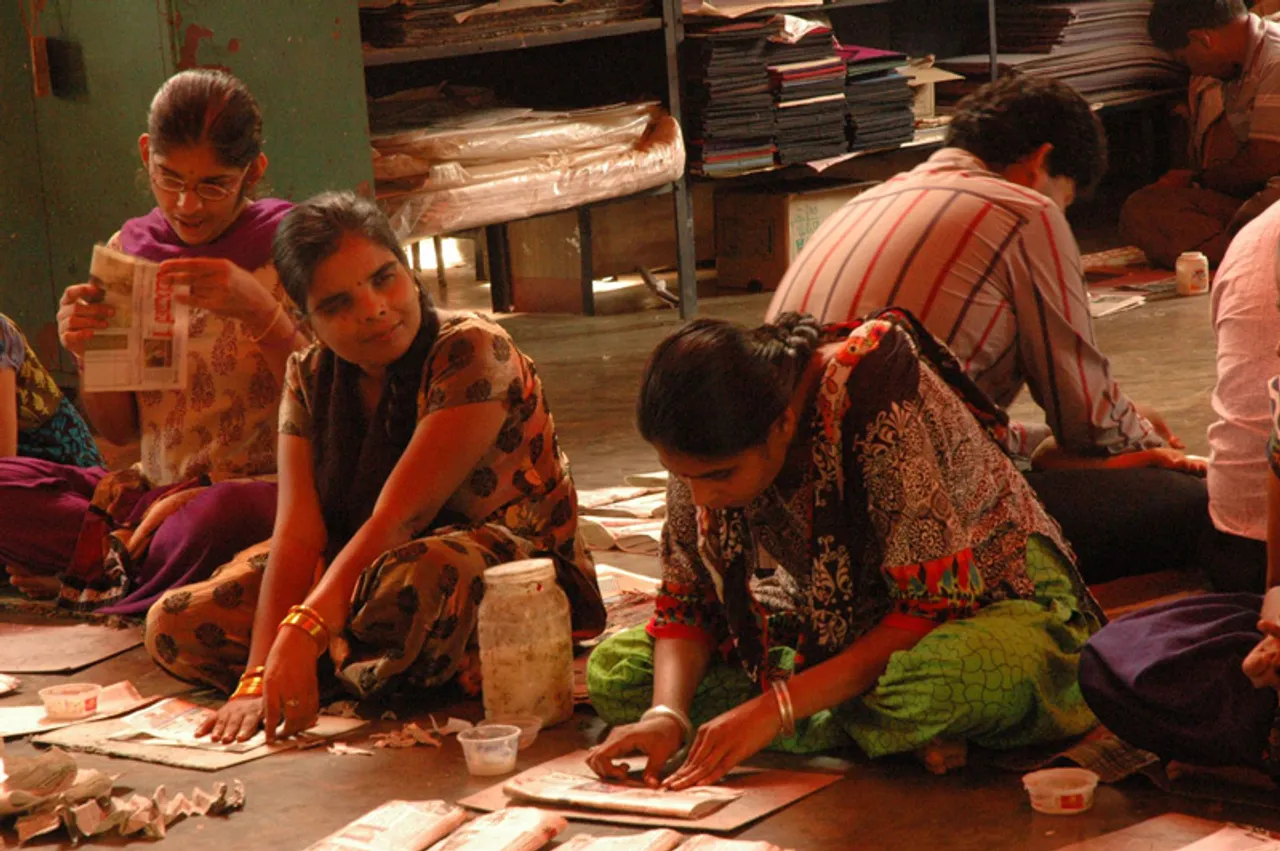 Pramila from Sirsi town in Karnataka suffers from a mild intellectual handicap. Her parents are daily wage labourers and could not afford her treatment expenses. Pramila's life was full of challenges. But ten years back all that changed when she came under the care of the Sirsi-based Prashanti Foundation.
They are trained in making sustainable products from paper and banana bark. Pramila was trained by the staff at Chetana and now works at the facility, earning Rs 6500 a month. She looks after the distribution of raw materials and packaging of products at Chetana. With her earnings, Pramila is financially independent and has also saved up enough money for her medical treatment.
Madhav, who is deaf and mute, has also been able to overcome his disability with support from Chetana. The staff was quick to discover Madhav's skills in hand-crafting items. So they trained him for a month to make photo frames, clocks and other decorative items.
Also Read: Karnataka's Hosa Belaku gives financial stability & dignity to artisans with disabilities
Madhav now earns a monthly stipend of Rs 7000. With a job and salary, his life took a turn for the better and he is now happily married and has a six-year-old child.
The patients at the rehab centre run by Chetana are taught to make pen holders, watch frames, photo frames, boxes, paper pencils and cloth bags.
Serving people in rural areas
Chetana was started by clinical psychologists Mala Giridhar and her husband Dr Giridhar in Siris in 2007. Mala hails from Karnataka. However, when she was young, her parents moved to Mumbai for employment. Mala grew up and was educated in Mumbai. She pursued her clinical psychology at the National Institute of Mental Health and Neurosciences in Mumbai.
Mala and her husband could have started a lucrative practice in Mumbai and lived a comfortable life. However, the couple decided to relocate to Sirsi and serve people there.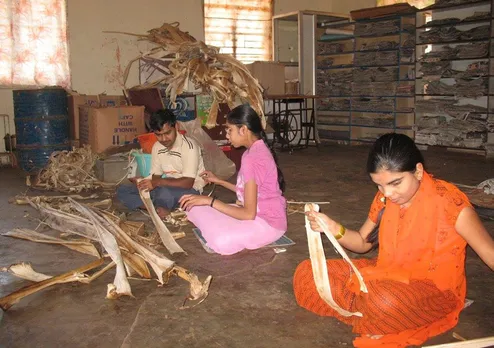 "My parents struggled in Mumbai to make a comfortable life. But my mother always said that once we could earn a living for ourselves, we should do something for others. She is my inspiration for what I am doing today," says Mala.
Also Read: GreenKraft: taking banana bark baskets made in Madurai to Sweden's IKEA & beyond
Mala says rural or remote areas most often do not have mental health facilities and that was a big factor in the couple's decision to move to a remote area.
Around 65 percent of India's population lives in rural areas where quality healthcare facilities are not available or accessible. While healthcare centres in villages provide services for some illnesses, those suffering from mental disorders are not on the priority list of the authorities as yet.
Also Read: Kashmiri teen turns mentor to speech and hearing impaired sportspersons
The National Mental Health Survey estimates that about 150 million Indians suffer from mental disorders. Of this, around 10 percent suffer from depression, anxiety, stress and suicide risks. But rural areas do not have adequate healthcare professionals to address mental health issues.
Mala says when she and her husband started seeing patients at their clinic, they noticed that often the patients needed not only treatment but also rehabilitation.
"That is why, the idea of a 'rehabilitation centre' came into my mind," she adds.
Rehabilitation and Skilling
Mala had seen a rehabilitation model while doing her MBBS where people with mental illness were trained to make various products. The idea was to keep them busy with different activities to reduce their illness component. 
"I implemented the same model and started the rehabilitation centre with two patients. We trained them to make paper packets that I used in my clinic. I dedicated a room in my clinic for the same," she says.
After a few weeks, Mala observed her social initiative was yielding good results as the patients fared better and learnt new skills.
Also Read: From chopping, cooking to serving, how the differently-abled run Mumbai's Café Arpan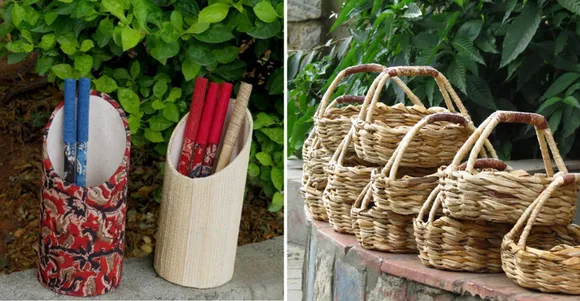 "My friends who were running handicraft businesses suggested that I expand the initiative to impact more lives. That is how the making of banana fibre products was included in Chetana," says Mala.
Mala then employed more women who could train individuals with disabilities to make various products out of banana fibre. "Today, 30 people with mental illness are working under Chetana and producing about 20 types of products. All the products are biodegradable, non-plastic and made using recycled products," says Mala.
Chetana gets almost all its orders from corporates in Bengaluru. "Occasionally, we also receive orders for products from outside of Bengaluru," she adds.
Also Read: This clinical psychologist is empowering people with autism & developmental disorders; 40,000 benefitted so far
Mala says the handicraft manufacturing unit of Chetana has disability-friendly toilets, nutritious mid-day meals and two vehicles to provide pick-up and drop to the people working in the unit. "We provide a transport facility because these people can't travel alone using public transport. We provide all these facilities for free," says Mala.
At the centre, the patients are not only taught skills but also coached in dance and exercise which improves their overall mental and physical health.
"They come to the unit around 10 am and start work. They have a break for lunch and rest from 1 to 2 pm. They work till 4:30 pm and after that, for 30-45 minutes they get to do some exercises, listen to music and dance. Then the vehicles drop them to their respective houses," says Mala.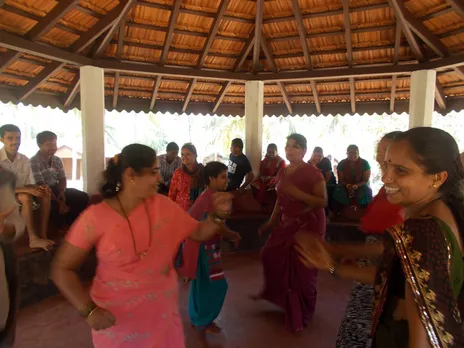 The people who are working at the unit are paid a monthly stipend ranging from Rs 5000 to Rs7500. "The stipend amount may seem small, but it has hugely helped change the lives of people working in the unit. Moreover, it becomes an extra income for their families," she says.
Also Read: Bridges Vidyalaya: This Puducherry School is mainstreaming students with developmental disorders; many are now doctors, engineers, MBAs & more
The impact of Chetana's work has been quite significant. Mala says the physical health of the patients has improved and they are better able to cope socially and emotionally. With the skills they have learnt, they can become financially independent to an extent.
The monthly expenses of the manufacturing unit are about Rs 1.20 lakh. "Before the Covid outbreak, we were doing a business of more than Rs1 lakh per month. However, post-Covid, we are short of meeting about 40 percent of our monthly expenses from our revenues," she says.
"We are not making a profit but running the unit well with help from friends and donors," explains Mala. 
Training process for newbies
Whenever a new person with a disability joins Chetana, the person is not given any responsibility for about a month. The person observes and tries to understand what is going on in the unit.
Also Read: How Coimbatore-based Swarnalatha J used her multiple sclerosis diagnosis to promote mobility friendly facilities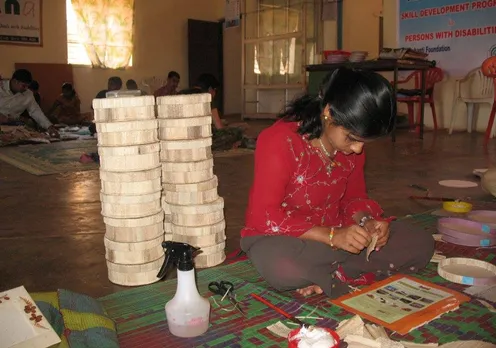 "Slowly the person starts interacting with the people working here. Once the person is comfortable, we try to observe what skill he or she has. After that, the individual is trained in that skill and then starts contributing towards the production of the various products," explains Mala.
She says some people are good at just crumpling newspapers that are used in packaging the products, some just straighten the banana fibres and some are good at more complex tasks like manufacturing the products.  
"We don't pressurize anyone to do any work. Because we are not for profit here, rather we want the people working here to make their lives better through involvement in activities and making friends in Chetana," says Mala.
Mala is satisfied with her endeavour. "I don't think I am missing out on anything in life. I am happy that I have people around me who support and appreciate me. I am extremely happy that I can make a difference," she says.
(Bilal Khan is a Mumbai-based independent journalist. He covers grassroot issues, LGBTQ community and loves to write positive and inspiring stories.)
Also Read: Imran Qureshi: UP's paraplegic man motivates wheelchair-bound people to live independently & confidently