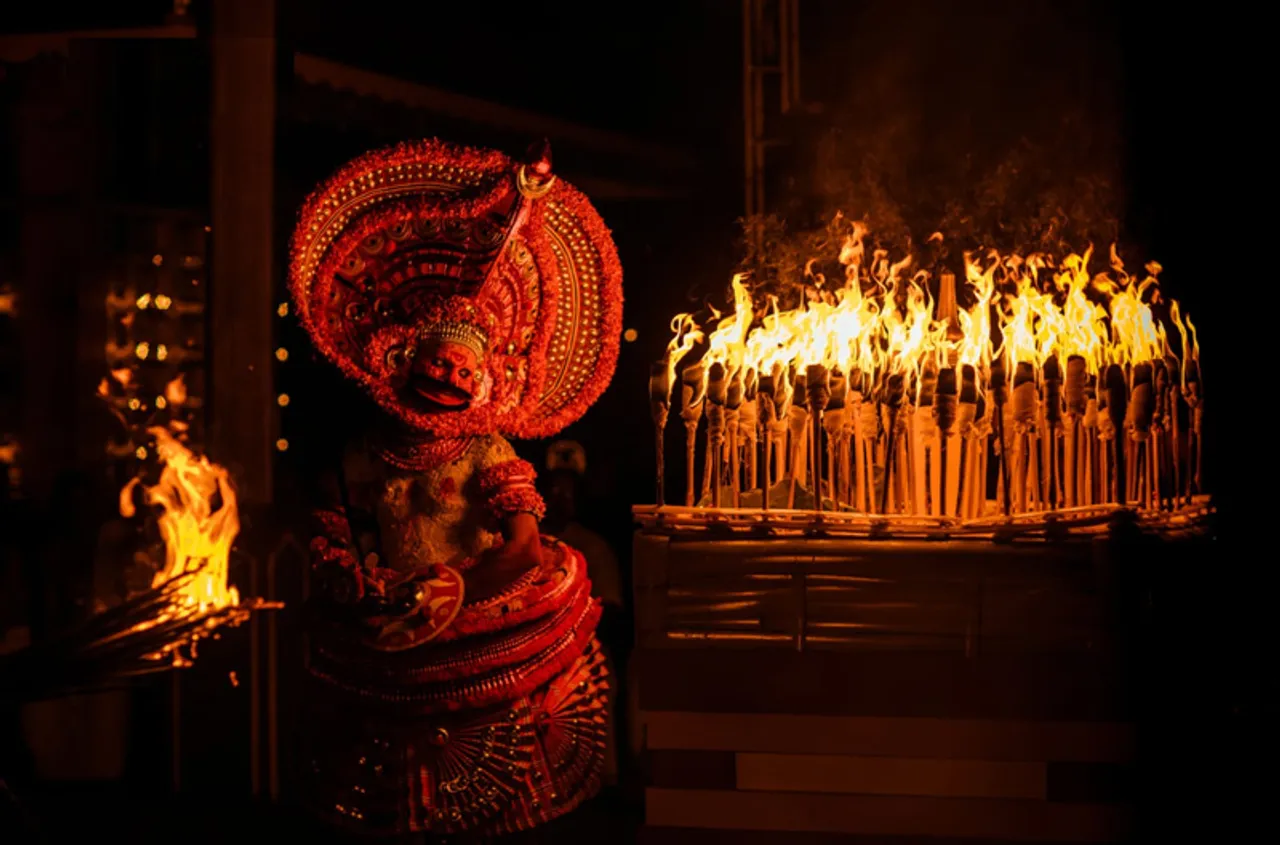 A wiry 16-year-old Sunil Panniker looked nervously at the burning embers in the open field before him. Tender coconut fronds covered his lower body while the upper body was bare and painted in various colours. Saying a silent prayer to his gods, he ran barefoot and fell on the embers…101 times.
Sunil successfully performed the Theechamundi (fire) Theyyam, much to the joy of his elders and the admiration of the residents of Payangadi village in the Kannur district of north Kerala.
The feat earned Sunil the title of Panniker and a gold bangle from the erstwhile royal family of Kerala.
Also Read: 'We need a paying audience to make performing arts self-sustaining': Odissi dancer Prachi Hota
The performer recounts stories of local heroes, folk deities, ancestors, tales of yakshis (vampires) and witches, and the myths of serpent and animal deities. But Theyyam is more than just an art form.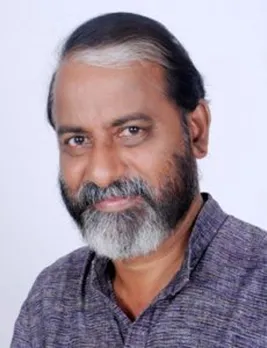 Dr V Jayarajan, founder chairman of Folkland International Centre for Folklore and Culture, says Theyyam, derived from deivam, means God in Malayalam. Folkland is a UNESCO-accredited NGO working to promote intangible cultural heritage.
The belief is that God enters the body of the dancer and inspires them to superhuman acts. Some Theyyam performances have rituals and acts such as walking through the fire, lying on fire embers, showing acrobatic steps, martial dances, climbing trees, killing animals and offering sacrifices.
"The Theyyam is regarded as a living God by people in north Kerala. Often, during the performance, people will approach the 'god' to seek blessings and advice," says Dr Jayarajan.
Sunil has witnessed it first-hand. He recalls performances in Paris and South Korea where the presenter narrated the story of Theyyam.
Read More: Thali ki Ramayan: The 150-year-old farmers' performing folk art from Uttar Pradesh
The audience cannot be faulted for their reverence. A Theyyam performance is a powerful experience, leaving viewers in awe. In the villages of north Kerala, people seek its power to fulfil wishes such as recovering stolen goods, begetting children, finding employment, and finding suitable matches.
Dramatic appearance
A major attraction of the Theyyam is the eye-catching costume and the intricate face painting called mukhathezhuthu.
The artist wears an elaborate costume made out of splices of bamboo, and softwood planks, and covered with red and black cloth. Voluminous skirts are worn with pleated clothes. Red, orange, yellow and black colours are used to paint the body. The female deities wear glittering ornaments and wooden breasts. Both male and female characters wear bangles called Katakam and anklets called Chutakam.
Read More: Jaipur's Bhatt family struggles to keep alive the Tamasha tradition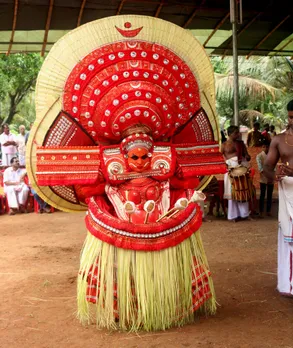 The headdress or 'Mudi' is an integral part of the costume. Each Theyyam has a different mudi which is made from bamboo splices and wooden planks that are covered with flowers and coconut leaves. Some mudis can be 40-50 feet tall and are supported by bamboo sticks.
The face painting is as elaborate as it is dramatic and can take several hours to complete. It is done keeping the emotions, characters and other features of the Gods in mind.
Earlier the colours were prepared using natural dyes but have been replaced by synthetic ones now.
Performance
Theyyam is a rigorous art form that requires the artist to be strong and fit. "He should also be well versed in dance, music and mime. He should know the rituals and character of each deity, the songs to be sung and how to make the costumes and wear make-up," says Dr Jayarajan.
Read More: Pala: Odisha's 16th-century folk ballad with roots in Hindu-Muslim unity
At the start of a performance, the Theyyam artist or Kolakkaran partially dressed in his costume stands before the shrine or Kavu and sings the Thottam song. The song describes the origin of the deities and sings paeans to their beauty, power and valour. The artist is supported by a few others who sing along with him and play musical instruments such as Chenda, Elathalam, Kurumkuzal and Veekkuchenda.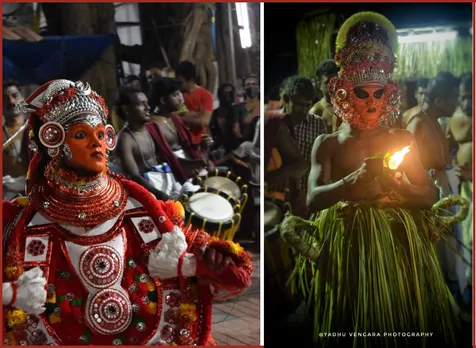 The aim of the Thottam is to invoke the god to enter the body of the performer. When the song ends, there is a frenzied beating of the drums and the Theyyam performs a dance called Uranjuthullal. It is believed that the deity has entered the performer who goes into a trance and dances vigorously.
A performance can last from two hours to several hours.
History
Theyyam dates back thousands of years when animism was the prevalent religious practice among tribals. Over time, it evolved to include elements from Hinduism. So, now, Theyyam involves the worship of heroes, spirits, dead ancestors, victimized heroines, as well as serpents, trees and animals.
Traditionally, Theyyam was not performed in temples but in shrines, ancestral houses, sacred groves and open paddy fields.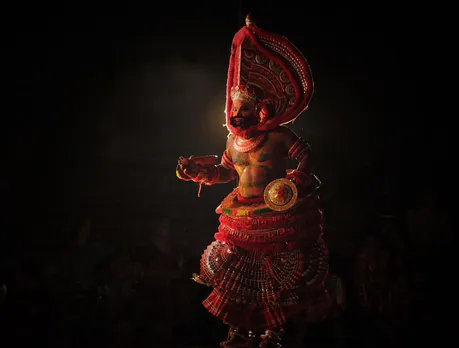 Theyyam is performed to bring peace and prosperity. Through the performance, the artist propitiates the divine and the spirits of ancestors and asks them to shower blessings and good fortune on them.
In Kannur and Kasargod districts, Thulam 10 of the Malayalam calendar which coincides with October 27 is celebrated as Pathamudayam. It is considered an auspicious day for new beginnings. Shrines like Kavu, Kotam and temples begin ceremonies to welcome the living God from this day.
Also Read: Five Indian performing arts that might soon be lost forever
"From October to June, hundreds of Theyyam performances are hosted in temples, shrines, homes and open grounds across villages in north Kerala, drawing huge audiences," says Dr Jayarajan.
Theyyam is performed only by men except for the Devakkooth Theyyam in Thekkumbad which is performed by a woman. "This Theyyam is not as arduous. The artist stands before the shrine and performs with limited movements," says Dr Jayarajan.
Kerala has around 400 Theyyams and each has its own music, costumes and makeup and way of presentation.
A family affair
Theyyam has traditionally been performed only by certain communities such as Vannan, Malayan, Mavilan, Velan, Munnoottan, Anjunnoottan, Pulayan and Nalke.
"These communities were from lower castes and, as such, the art form can be seen to break caste barriers as the upper castes also worship the Theyyam," says Dr Jayarajan.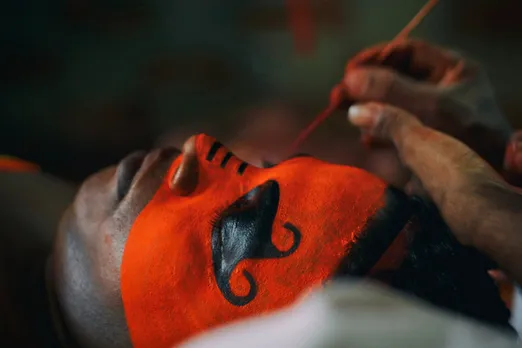 A distinct feature of the art form was that each community was assigned to one village where only it was allowed to perform. "This allowed continuity as well as an assured source of income for the Theyyam family," he says.
Also Read: From online performances to vaccination, Bangalore's StillSpace Theatre helps artists keep alive their arts during the pandemic
Another characteristic is that Theyyam is passed on from one generation to another within families. There are some communities that are matrilineal and others that are patrilineal.
"It is a secret and sacred tradition that cannot be shared with outsiders. So, no one other than family members can learn Theyyam," says Dr Jayarajan.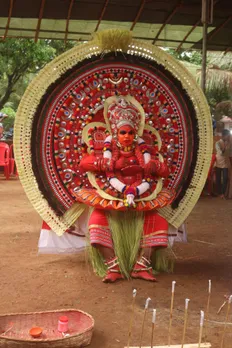 Moreover, it was a community affair. "The Tiya community would provide the coconut leaves and toddy, goldsmiths would bring the ornaments, and blacksmiths would sharpen the weapons used in a performance. These things cannot be taught," he says.
The boys start training at a young age and spend years perfecting the skill. Sunil who began training at the age of 12 under his grandfather says the boys accompany the elder performers and learn by watching. Sunil has taught his 21-year-old son who recently performed a Thee Chamundi.
Conserving the intangible
Sunil says Theyyam is still popular. Performers have regular performances throughout the year for which they are normally paid Rs1000 per artist.
Also Read: Buried at birth, how Gulabo Sapera survived to become the global ambassador of Rajasthan's Kalbelia folk dance:
"Theyyam is part of our intangible cultural heritage and should be widely promoted. Unfortunately, the government has not taken any steps to showcase it or help artists," says Dr Jayarajan.
Folkland has made efforts to sustain and promote Theyyam and other arts and crafts.
"We take artists for performances to other states and other countries. We have held performances in the US, UK, France, Germany and Korea," says Dr Jayarajan who has in the past served as an expert committee member of the ministry of culture and advisor to the Sangeet Natak Akademi.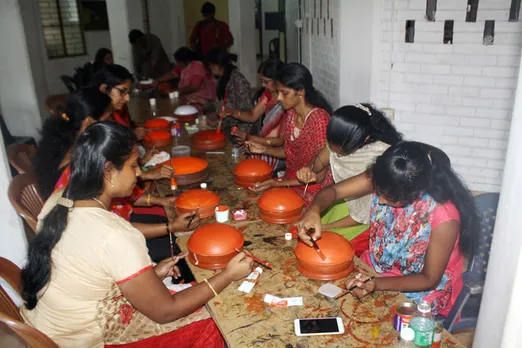 Folkland, founded in 1989, is working to preserve and promote folk art forms of Kerala. Dorf Ketal Chemicals India Pvt Ltd, a Mumbai-based company, has bankrolled Folkland's efforts. The company has been extending their CSR support for Folkland's activities.
Also Read: Nirvana through dance: Uma Dogra's journey through Kathak
The team at Folkland has helped revive folk and tribal art forms and crafts such as Shingarimelam, Mangalamkali, Oppanna, Nettippattam, and mural paintings for sustainable development and women empowerment.
Through performances, workshops, training and exhibitions, Folkland is empowering the artist community and creating awareness among the public about the need to preserve the rich cultural heritage. It has benefitted over 5000 artists through its programmes.
"We taught traditional mural paintings to a group of women who are painting on canvas, fabric and walls and earning their livelihood. Similarly, we taught Shringarimelam, a traditional drumming style to women who are now performing at various festivals and have a steady source of income," says Dr Jayarajan.
(Urvashi Dev Rawal is a Jaipur-based journalist specialising in development, gender, and political reporting)
Also Read: Yakshagana: Karnataka's ancient theatrical dance art adapts to reach global audience