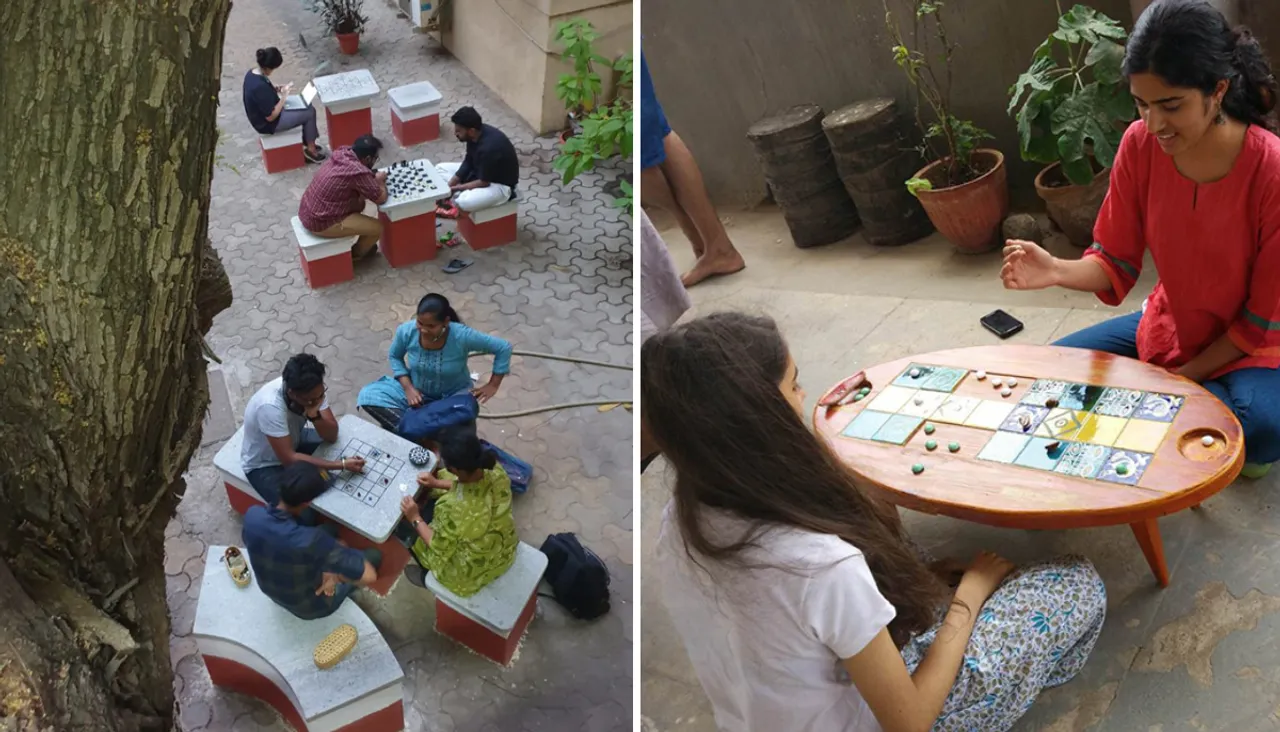 When Sreeranjini GS was growing up in the JP Nagar area of Bangalore (now Bengaluru), she would spend her free time playing games with her friends. Her parents had got etched traditional board games on one side of their home garden. 
Her evenings and summer afternoons were mostly spent in the garden playing Adu Huli (Goats and Tigers), Aligulimane (a Mancala game), Chaukabara (race game) and other ancient board games which not only increase social interactions but also improve cognitive skills like decision making and problem-solving.
"My mother used to teach music and so there were lots of children coming to our house. We would play board games etched on the ground on one side of the compound under the trees. They were also a good way to bring generations together as kids played with friends, parents and also grandparents," says Sreeranjini, who has done her Master's in Applied Genetics.
Also Read: Mumbai duo creates environmental games to teach sustainability to kids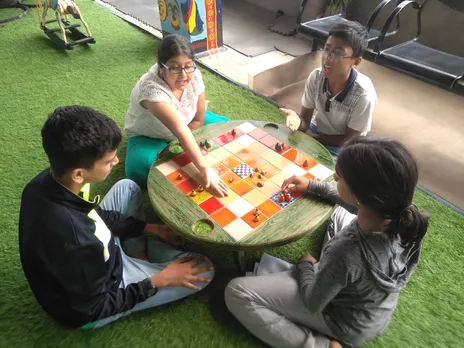 "As I grew up, I realised that the traditional board games were going out of circulation; the simplicity of the games was getting lost," she says. In the world of technology and the internet, traditional games have taken a backseat.
"Today, we have a lot of complicated games, which are good in their own way. But making space for traditional games was personally important for me," she says.
Sreeranjini met some other people working with toy makers and a meeting with Prof Sudarshan Khanna, who worked with the National Institute of Design's Faculty of Industrial Design, gave a new direction to her thoughts. "His work was interesting and he was writing about local toys created using local materials like firki (a toy that spins on the ground on being propelled by fingers). I spoke to him about traditional board games and he encouraged the idea of their revival," she says.
Also Read: How Toybank's learning-through-play is helping at-risk children grow into responsible adults
Prof Khanna put Sreeranjini in touch with a Kanyakumari-based group working to find a market for learning games and toys. "I started working with them and also began meeting artisans involved in making games and toys," she says.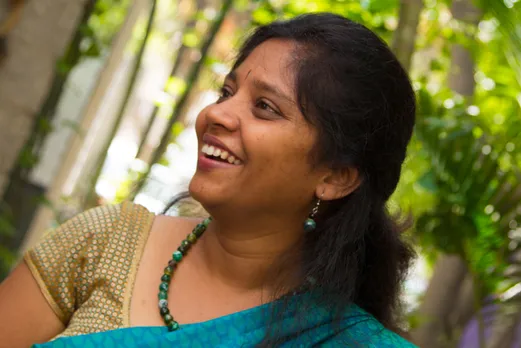 Rediscovering board games
The meeting with artisans and their handmade games prodded Sreeranjini to discover more about the ancient board games. She started looking up history books and talking to people of the earlier generation who played those games. "I even began visiting historic temples and monuments, which are a treasure trove of traditional board games. I discovered many games etched on the floors of temples," Sreeranjini says.
They were a means of entertainment for royalty, priests as well as the common man in the bygone ages. 
Board games find a mention in the epic Mahabharata too. Kauravas and Pandavas played Chaupar or Chaupad – a cross and circle board game – in which Kauravas won. 
In the medieval ages, Mughal kings played many board games, the most prominent being Chess, which is similar to Chaturanga, an ancient Indian strategy board game. 
Chaturanga's use was first documented during the Gupta Empire in the 6th century CE. And Akbar's courtroom had a life-size frame of Pachisi. 
Ancient board game patterns have been found in the temples of Belur, Halebidu, Shravanabelagola, Hampi, Somanathapura, Chamundi Hill, Hoysala temples and Arkeshwara temple besides Badami caves, Banavasi, Pattadakal. 
Also Read: Learning by doing: Project DEFY's 'nooks' skill learners from marginalized communities
Games like Pancha Keliya, Pachisi, Dash Guti, Aligulimane, Pagade and others were played across India, mostly using dice or cowrie shells and they can be spotted engraved in temples and inns in Tamil Nadu's Chidambaram, Kolhapur's Mahalakshmi temple (Maharashtra) and on the Sheetala Ghat in Varanasi (Uttar Pradesh) besides other places.
"Even today, I continue to comb through communities to source unique games that are no less than hidden treasures," she says.
Kavade – cowrie shells & game boards
After meeting the artisans in Kanyakumari, Sreeranjini created prototypes of games. "I began designing the games which would appeal aesthetically to all the age groups," she says. And this led to the birth of Kavade ToyHive, which is reviving traditional games through handcrafted ancient pastimes and also creating larger installations in public spaces.
Kavade is the Kannada word for cowrie shells, which are used in Chaukabara. "In terms of design and colours, we have tried to strike a balance between consumers of different age groups. The games are handmade by artisans practising various crafts across India," she says.
Also Read: Water literacy: Communities in Rajasthan's Bhilwara district are playing games to learn about water conservation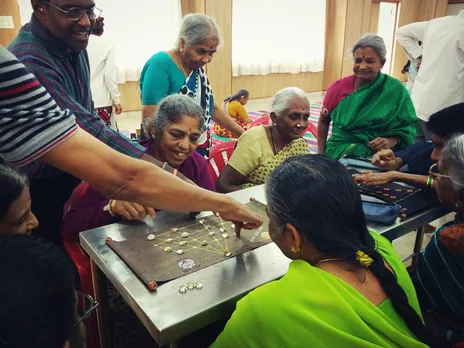 Sreeranjini has worked with 12 craft clusters in Karnataka, Tamil Nadu, Maharashtra, Himachal Pradesh, Odisha and Uttar Pradesh. This has resulted in games prepared with Kalamkari designs, Gond art, Lambani embroidery, Channapatna woodwork, canvas material and other innovations.
The board games are mostly priced upwards of Rs 500 while some wooden toys are priced at around Rs 200. The price varies as per the craft and material used in the game. Like a Chowkabara 5x5 embroidered game set is priced at Rs 1100 while the same game in a fabric scroll set comes for Rs 824. 
As far as possible, the games are handcrafted using eco-friendly materials like wood, palm leaves and eco-boards made from recycled multi-layer single-use plastics.
They are played using cowrie shells, tamarind seeds and wooden pawns. "Traditional board games have a magical effect. The sound of cowrie shells falling on the ground... the anticipation... the joy and camaraderie you experience with the people you play with, is indescribable. Kavade is an attempt to recreate those joys I've had as a child," says Sreeranjini, who has two sons aged 16 and 18.
Also Read: The Ethicus Story: How a Pollachi-based couple made sustainable farm-to-fashion viable
The business of board games
Kavade sells games through its own website, niche e-commerce platforms like Loopify and Khoj and its store in Seshadripuram. Kavade is also home to Attic -- an articulation space on the terrace top where cultural events, exhibitions, workshops, book reading and storytelling sessions take place.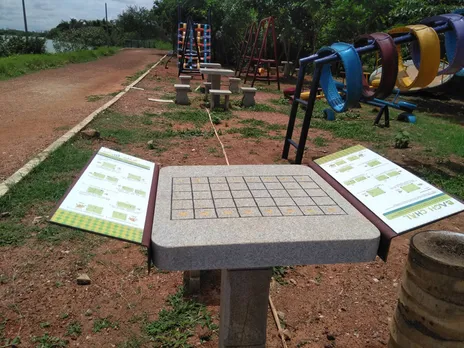 Customers of Kavade encompass all age groups. Sreeranjini recalls a 70-year-old customer who purchased a Chaupad. "She thanked me because her 90-year-old mother, an Alzheimer patient, didn't want to stop playing it," she says. 
Kavade also personalises board game furniture for homes and offices. "All traditional floor games can be custom-made into wooden tables to suit any décor," Sreeranjini says. For corporate gifting, Kavade tailor-makes board games to incorporate the brand logo and message as per order. 
One of her biggest contributions to the revival of board games has been their installation in public spaces like parks, residential societies, schools, resorts and within office premises. This has made games accessible to all.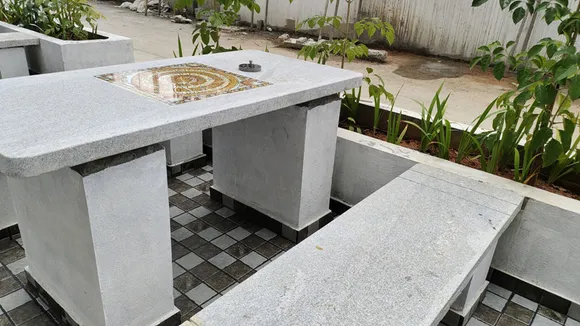 After the restoration of Jakkur Lake in Bengaluru, a pathway was made around the lake. "Niches of play areas were made where we have installed 16 ancient board games including Chaukabara, Navkankari (Nine Men's Morris), Adu Huli, Aligulimane etc," she says. The rules are put up alongside so that those not familiar with the games can also play them.
In the outdoor installations, games are carved out on stone benches and tables which last a long time. They can be played by anyone around. "I work with some stone workers who make these designs. We have put them in schools, apartment layouts, offices and other places," she says.
(Rashmi Pratap is a Mumbai-based journalist specialising in financial, business and socio-economic reporting)
Also Read: Meet India's ancient board game hunters