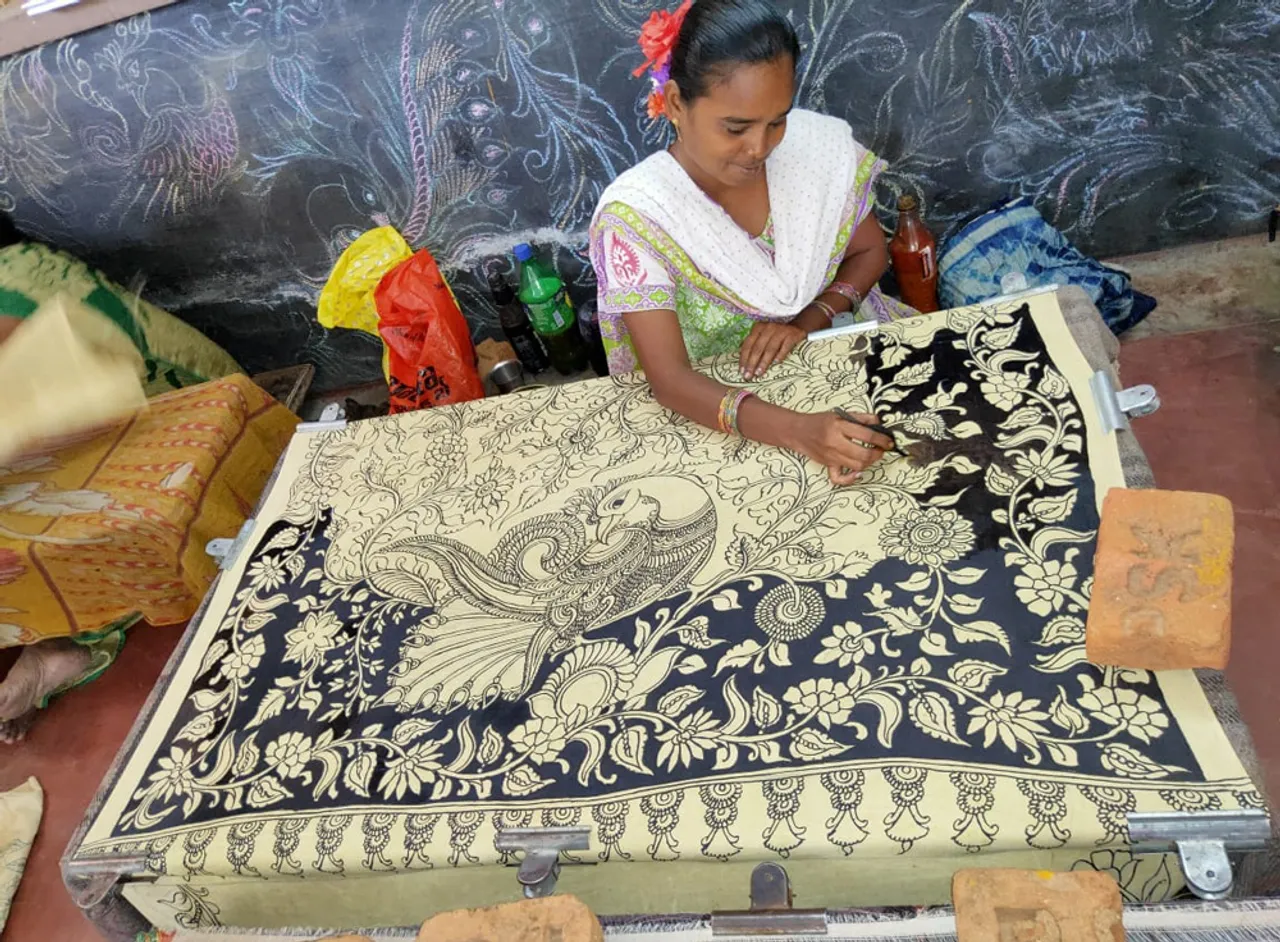 When Mery Rani's husband died in 2004, the 30-year-old from NTR Nagar village in Srikalahasti, Andhra Pradesh, was left with no means of income. With a young child to look after, Mery struggled until she received training in the Kalamkari art of hand painting on fabrics to create exquisite apparel and home décor items. The work provided her with a stable income to raise her son and even build a house.
"My husband was a truck driver with meagre earnings. When he passed away, I had no idea how I would provide for my only child," says Mery, now 47.
Also Read: Lambani: How bold Banjara embroidery with cowrie & coins travelled from Bellary to the world
Mery earns between Rs10,000 and Rs18,000 per month depending on the time spent on work. Her 29-year-old son is a wedding photographer. 
A. Sunitha from VM Palli village, also in Srikalahasti, lost her father due to kidney failure. He was working as a driver, earning hand to mouth. She was forced to give up studies after class 10 as her family did not have enough money for her education. 
Also Read: The Ethicus Story: How a Pollachi-based couple made sustainable farm-to-fashion viable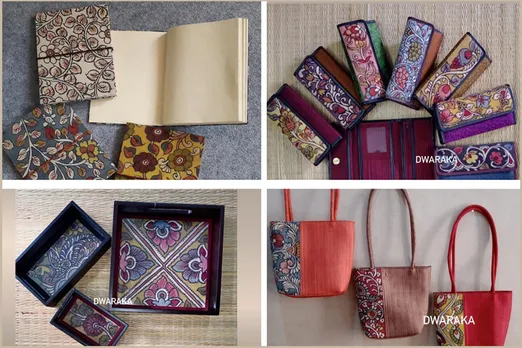 Sunitha heard about a group of women practising Kalamkari and learned the art from them. She began working as an artisan in 2008 and now earns around Rs10,000-15,000 a month, supporting her family of six members. 
Mery and Sunitha are among hundreds of women in villages of Andhra Pradesh's Srikalahasti who have been trained in the 500-year-old Kalamkari art by NGO Dwaraka, which stands for Development of Weavers and Rural Artisans in Kalamkari. 
Also Read: How COVID-19 and India-China tensions have changed India's 900-year-old Patan Patola weaving
Today, Dwaraka's Kalamkari sarees, stoles, dupattas, bags, pouches and home décor items handcrafted by rural women are sold in India and across the world through offline and online stores.
How Dwaraka revived Kalamkari
The word Kalamkari is of Persian origin, where kalam is pen and kari implies craftsmanship.
While Pedana Kalamkari practised in Machilipatnam uses hand blocks to create prints on cloth with natural dyes, Srikalahasti Kalamkari is done using pen and organic colours and traces its origin to the reign of Krishnadevaraya, who ruled the Vijayanagara Empire between 1509 and 1529.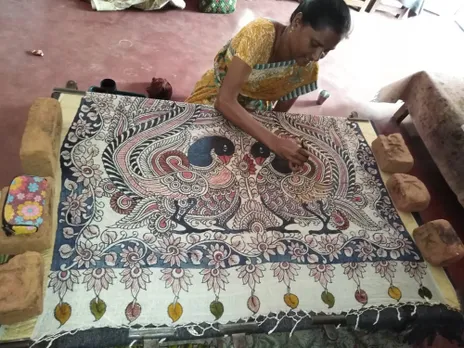 Dwaraka was started in 1998 by Anita Reddy as a social initiative to train village women into Kalamkari artisans and create a source of income. Anita is a social worker with several awards including the Padma Shri, the Mahila Sadhaki Award, Jean Harris Award and Woman Achiever Award for work in sectors of housing, healthcare and livelihood.
The Dwaraka journey began when Anita and her father Dwaraknath Reddy, an industrialist and philanthropist, opened the doors for a man who was starving and had not been able to sell any of his Kalamkari clothes. They learnt from him that Kalamkari art is dying and the artisans were leaving the profession for other sources of income. 
Also Read: Bagh Print: How Khatris are keeping the 500-year craft alive along with MP's tribals
The father-daughter duo visited his village in Srikalahasti and observed that the situation was alarming. "People were leaving Kalamkari as they didn't see any future in the art. They were struggling financially," she recalls.
Dwaraka also identified over 325 Kalamkari artisans who were readying to move to other professions due to dwindling business. By marketing their products, Dwaraka ensured that they continued their craft. 
Creating livelihoods, empowering lives
It went on to empower women as well as members of the Dalit communities by training them in Kalamkari. A case in point is the Kobaka village in Yerpedu, Chittoor, where Dalit agricultural labourers earned only on days when work was available. With Dwaraka, Dalit women have been able to break the life cycle of poverty and hunger through regular income to support their families.
Also Read: Bhujodi: Gujarat village that turned a nomadic tribe's shawl into a global fashion statement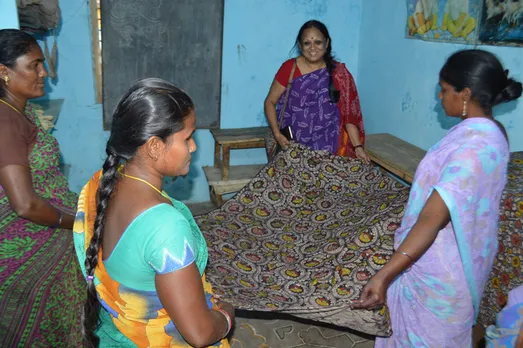 Over the years, women artisans have learned to independently manage the supply chain– from procuring materials to making natural vegetable dyes, design and quality control and monitoring.
"Dwaraka trained hundreds of women in kalamkari but the ripple effect of that has been for artists taking off independently and training others from the point we began to decades ago. And today there are we understand a couple of thousand artists, if not more have mushroomed from that efforts," adds Anita.
It has a store in Vyalikaval, Bengaluru and plans to open another outlet in Indiranagar soon. The products are sold online through its own website as well as through e-tailers like iTokri, GoCoop etc.
The process of Srikalahasti Kalamkari
Bhanu Priya from VM Palli village is also a Kalamkari artist. She failed in class 10 and then learnt Kalamkari to support her family. She now earns around Rs 15,000 per month and is able to provide good education to her two children.
Explaining about the craft, she says Kalamkari is a long and laborious process where hand-painting is done on natural textiles like cotton, silk or linen.
Also Read: Himalayan Weavers: Hand-woven woollens by tribes in the Himalayas find a global market
This makes the cloth smooth and ensures that the colour does not bleed while painting.
The sketch is made using a twig and charcoal obtained by burning tamarind branches. Now the bamboo pen or kalam is dipped in a fermented black liquid made by mixing palm jaggery and iron filings in water. This black colour darkens further on contact with the myrobalan-treated cloth.
Also See: Soaking, boiling, dyeing, washing…the creation of Madhya Pradesh's Bagh print in pictures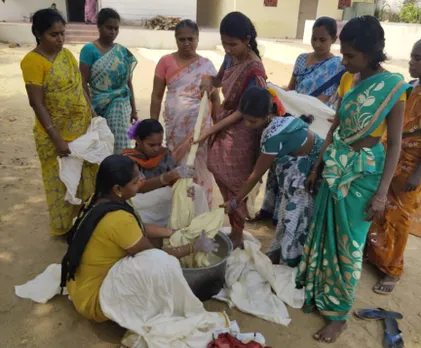 To obtain red colour, the cloth is mordanted with alum. The cloth painted with alum dried for two days and is then washed in running water before boiling with natural dyes. While boiling, the red colour appears on the cloth.
In the final stage, other natural dyes made from leaves, flowers, fruits and tree barks such as indigo, turmeric, pomegranate seeds and mango bark are applied. After the final wash, the bright Kalamkari art piece is ready for use in various products and art panels.
Also Read: How Kutch's Abdul Gafur Khatri is keeping alive 300-year-old Rogan art
Anita is married to Pratap Reddy, son of former Karnataka Chief Minister K. Chengalaraya Reddy. After the life-changing moment in 1998 when she met the struggling Kalamkari artist, she began visiting slums and rural areas of the state to help the poor artisans.
However, because her age is Covid-prone she had to reduce her visits to villages and meet people for some time. "I have been on overactive mode, have been to Srikalahasti and met all the artisans and have been going to other villages too. My age will never defeat my energies and therefore though I am 67 years old I will always be '18 till I die'," says Anita, picking a line from the Bryan Adam song to express her enthusiasm to help others.
(Bilal Khan is a Mumbai-based independent journalist. He covers grassroot issues, LGBTQ community and loves to write positive and inspiring stories.)
Also Read: Kullu shawls, once patronised by Devika Rani, losing out to Ludhiana's factory fakes