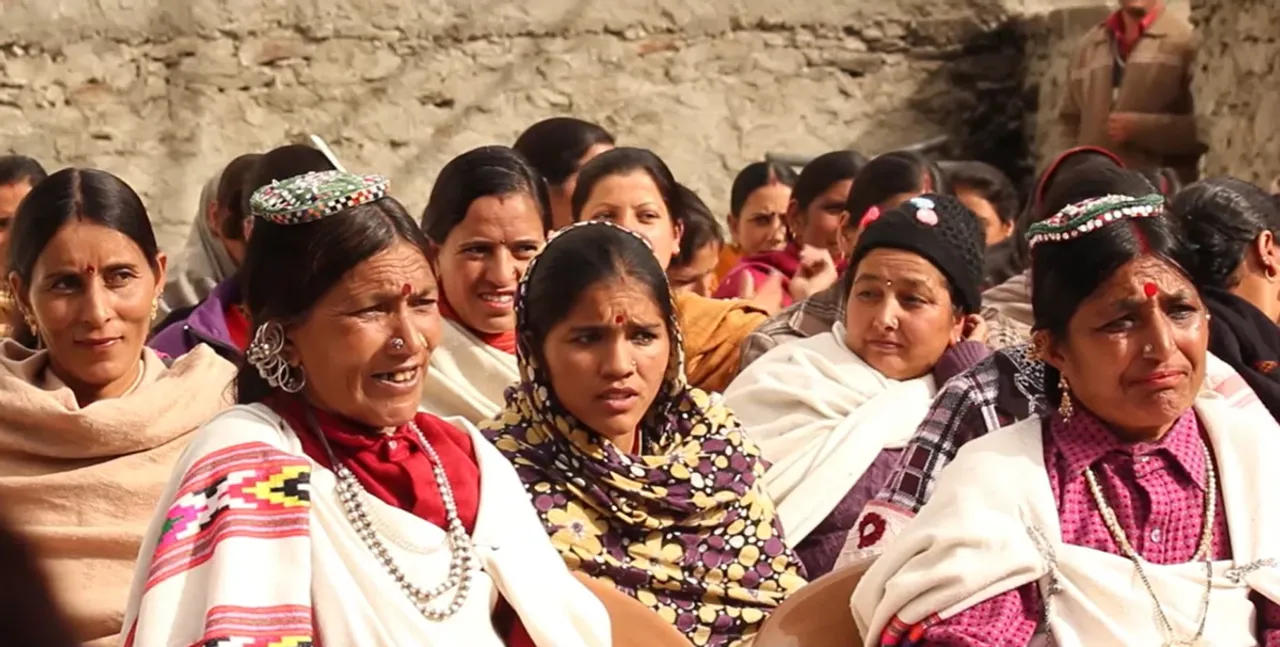 Set amid the snow-clad Himalayas, Pangi Valley, a tribal block of Chamba district in Himachal Pradesh is one of the most alluring places for tourists. But the tough terrain and extreme weather conditions keep the locals cut off from the outer world.
Haresh Sharma, a member of the Pangwal community and founder of Ceva Himalayan, an NGO, grew up in these tough living conditions. A believer of Mahatma Gandhi's vision 'Be the change you want to see in the world', Haresh took up the task of making the lives of these communities easier.
He was well aware that the people residing in these regions lack adequate infrastructure, educational institutions, electricity, and internet connectivity which keeps them ignorant about the benefits rolled out by the government or the many avenues for employment.
Also Read: Snehakunja: Preserving biodiversity through empowerment of tribals in Western Ghats of Karnataka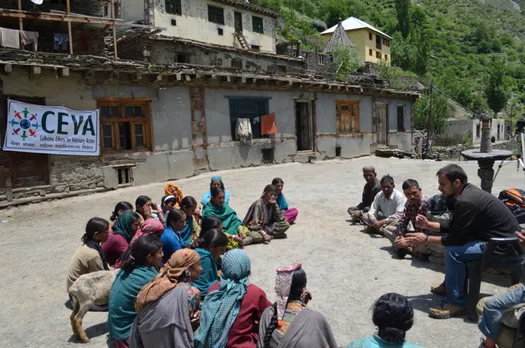 Situated in the midst of snow-clad mountains, surrounded by beautiful landscapes, flowers and waterfalls, the region remains isolated during the six long winter months due to heavy snowfall.
Cutting out middlemen
To work for the holistic development of the tribals, Haresh launched Ceva Himalayan in 2011. His aim has been to empower the indigenous communities by providing them with a platform to promote tourism and their organic products.
Before Haresh started working with the locals, they were interacting with middlemen who would buy their products at very cheap prices and sell them in the market at much higher rates.
Also Read: Buraansh: Himachal's start-up empowering women through market linkages
The farmers were not aware that the middlemen were cheating them. Haresh realised that the locals faced problems in marketing their organic agricultural produce.
Middlemen would take advantage of locals who have a limited window during the summer months for doing business and they have to stock up on rations and other essentials for the winter months.
After completing his Master's in Social Work from the Himachal Pradesh University in Shimla, Haresh started working with small self-help groups that empower local women.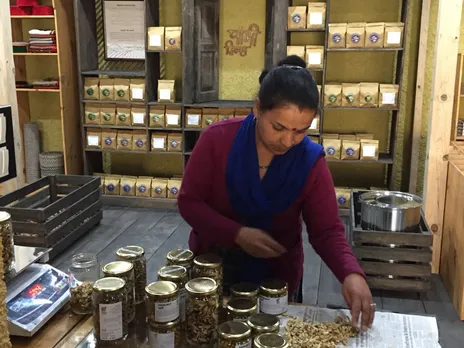 The self-help groups comprising 10 women each are engaged in activities like collecting herbs and wild mushrooms and cultivating rajma. Ceva started training them on entrepreneurship and provided them with a market to sell these products.
Pangi Hills and Pangi Tourism are two programmes run by Ceva to empower the indigenous communities residing in these regions.
A Holistic approach
Currently, Ceva Himalayan works with five tribal communities -- Pangwal, Gaddi, Gujjar, Lahauli, Kinnauri -- across the Western Himalayan tribal regions of Pangi valley, Bharmour, Kinnaur, Lahaul and Spiti.
Starting with livelihood security, it now works to ensure their holistic development. It promotes agriculture, horticulture, and tourism, and provides food security, alternate livelihood opportunities, and health benefits.
Also Read: Tribal women turn entrepreneurs with Tasar silk farming
"We cannot take up a single field to work because our objective is the overall development of tribal communities, whether it is health, education, advocating for their rights, or creating awareness regarding various programmes," says Haresh.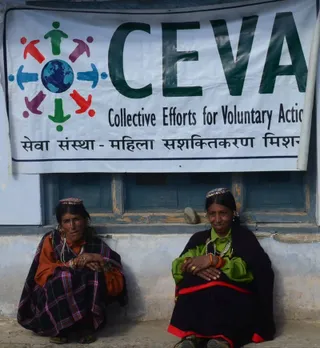 "The people cannot visit the banks or other offices due to poor connectivity and often they are unaware of the various schemes rolled out by the government for benefitting the tribal communities, development of these regions," he says.
The organization bridges the gap between the local artisans, women entrepreneurs and the government and other agencies by creating awareness regarding different schemes, demand for local products, and social rights.
Ceva Himalayan has 25 permanent staff members who work with the villagers. They hire volunteers as and when required and also conduct street plays to generate awareness among people on various issues, says Haresh.
Also Read: Last Forest takes honey & beeswax products from Nilgiri forests to global markets
Upskilling farmers and women
The organization provides an online marketplace for local products that are sold under the brand name Pangi Hills.
Ceva sources the products directly from farmers who make organic products from wild plants and herbs with medicinal properties like apricot moisturizer, honey oatmeal soap, organic saffron, apricot oil and organic room freshener among others. The farmers have almost doubled their incomes as they now get a proper price for their products.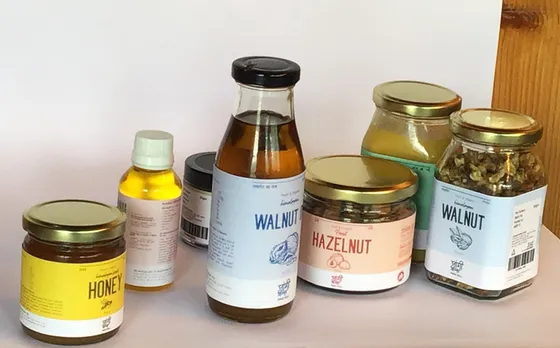 The team members of Ceva Himalayan train farmers to make the packaging more attractive by adding details about the health benefits, nutritional quotient, and other necessary descriptions about the products.
Ceva has collaborated with 250 women-led self-help groups and has empowered 13,000 women in the process.
"Due to poor packaging, the farmers found it difficult to find a good market. The sale of black cumin boosted in these regions after rebranding and smart packaging," Haresh says.
Also Read: Koraput Coffee: How Odisha tribals brew a global coffee brand
Due to a lack of knowledge, these communities and the local products are often exploited.
"Before our intervention, the local farmers were selling their products for half of the price. For example, they'd sell hazelnuts for Rs 1,000-1,500 per kg. However, after helping them with the packaging and marketing, they receive Rs 3,000 per kg for the same product," says Haresh. 
Around 1,800 suppliers are connected with the platform and they earn between Rs 15,000 and Rs 6 lakh per annum. The annual turnover of Pangi Hills for FY2021-22 stood at Rs 92 lakh.
Ceva Himalayan helps local farmers understand the value and demand for their products. "Farmers used to cut hazelnut trees during winters to build fire. So we had to tell them about the long-term benefits of hazelnut trees and how it can fetch them good money," says Haresh.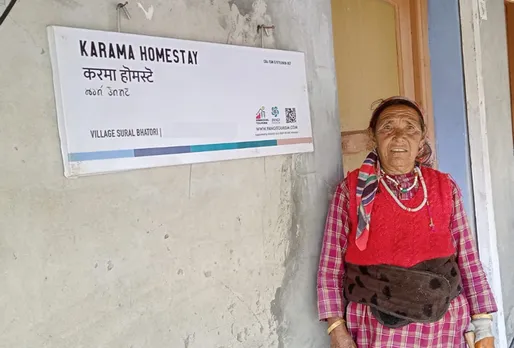 Ceva also encourages farmers to visit national and international trade fairs every year to showcase their products and understand the market. Ceva has helped around 5,000 farmers earn better through its various initiatives.
Also Read: 
While it is still working to get the licences to export its products to western countries, it enjoys a good demand from Kazakhstan. They also receive regular orders from Kolkata, Bengaluru, Hyderabad and other cities in India.
Farm tourism
Ceva also trains local residents on operating homestays, hosting guests and getting licences to run homestays. 
They have registered 60 homestays across Pangi Valley, which acts as an alternate source of livelihood for the locals. Last year, these homestays hosted around 6,000 tourists.
Ceva in collaboration with corporates like GMR Foundation conducts health camps and runs mobile medical units in 32 villages of the Bharmour area to help the residents with malnutrition, hygiene issues, etc. It creates awareness about women's hygiene, nutrients, the importance of green vegetables and good food habits.
It has partnered with NABARD, Gef, Himachal Tourism, and UNDP among others. Haresh says Ceva funds its activities through donations it receives from its partners.
The organization is looking forward to partnering with various corporates to extend their CSR activities to these regions and organizations working for climate change, the environment, and the development of tribal communities. It also aims to achieve the UN Sustainable Development goal by 2030, says Haresh.
(Riya Singh is a Ranchi-based journalist who writes on women empowerment, environment & sustainability)
Also Read: Uttarakhand: Himalayan homestay empowers women through ecotourism