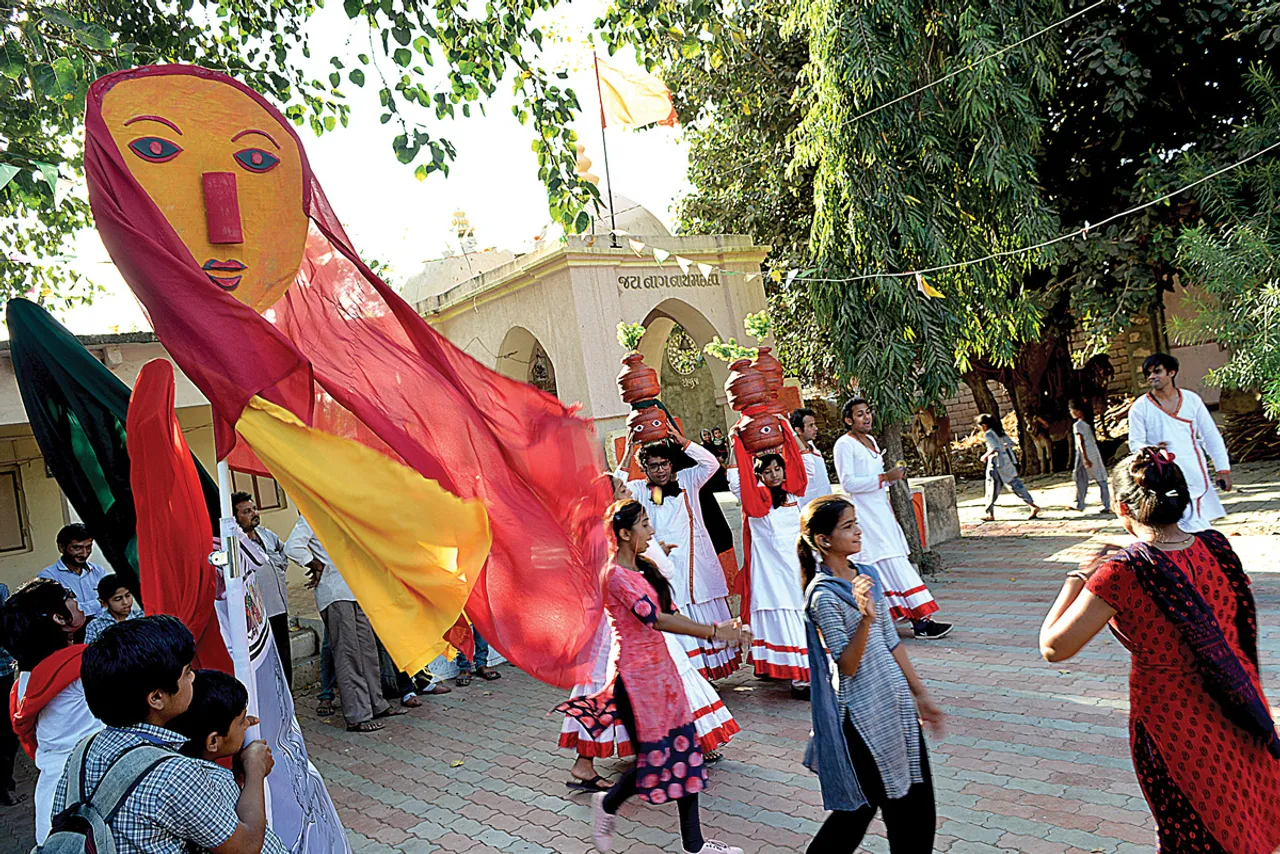 There is an intriguing game in progress. The participating women are given either rice or pulses in their hands. A bell rings, and the women move around and find partners. Then they open their hands and show what they contain. If both partners have rice in their hands, they are told a girl child will be born. If one has dal and the other rice, a boy child will result.  
This simple 'dal chawal' game explains to rural women the XX and XY chromosome situations which determine the sex of an unborn child. The objective of the game: to raise awareness and prevent ill-treatment of women who give birth to girls. 
This is one of the many ways in which Ahmedabad-based NGO CHETNA (Centre for Health Education, Training and Nutritional Awareness) demystifies health and nutrition issues.
The primary focus of the NGO in the past 43 years has been to work towards improving the food, health and nutrition status of women, young people, and children.
CHETNA works actively in Gujarat, Rajasthan and Madhya Pradesh. It is often invited to share its expertise with other states and at the national level too. 
Women-led organization
"We call ourselves a women-led organization, not women-centric. The reason being that while the decision makers are all women, the beneficiaries are not all women," says Smita Bajpai, Project Director of CHETNA. 
The NGO was founded in 1980 by a trio of enthusiastic women – Indu Capoor, Pallavi Naik and Minaxi Shukla. Indu, then 23, had just completed her post-graduation in food and nutrition at MS University, Vadodara. She was offered an opportunity to work on a project associated with the Vikram A Sarabhai Community Science Centre to coordinate a nutrition programme for slum children. She soon realized that giving food was not enough. There was a great need for education and awareness building on health and nutrition. She joined hands with Pallavi, who is also a nutritionist and set up CHETNA. Soon, Minaxi joined to take care of the children's programme. 
The CHETNA team strongly believes that good nutrition is the key to survival, health, and development. And, that health and nutrition status are important indicators of the well-being of individuals and communities.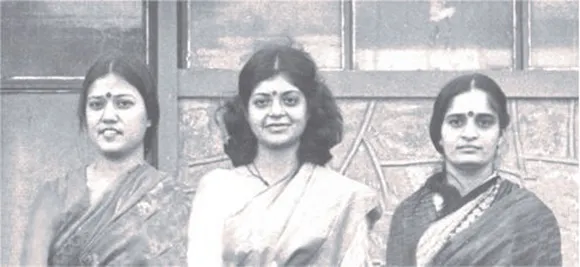 Health and nutrition are about access to resources as well as what individuals, families and communities can do for themselves. 
Also Read: How Srijan is promoting self-reliance among rural communities
Demystifying health
To demystify health, information packages – the Bal Sevika (child care) kit, an Anaemia kit, and a Women's Health Kit were developed in the initial years. As its reputation grew, UNICEF asked the NGO to prepare an educational kit on childcare, emphasising growth monitoring, oral rehydration, breastfeeding, immunisation, family planning and female education.
"Knowledge of health and nutrition does not belong to the medical community and nutritionists. We have always wanted to demystify this knowledge and put it in the hands of the people. Nutrition is a very technical subject. We simplify it and give action points at the community level. For instance, we spread awareness about the diversity of foods required for balanced nutrition by projecting a 'Tiranga thali' with green, white, and red or orange foods," explains Smita. 
CHETNA adds a gender perspective to the message on nutrition.
"We suggest that all family members should eat the evening meal together. That prevents women from eating last and getting leftovers. Also, family members get to bond and discuss important matters during the meal. Ours is an integrated approach where we use health and nutrition to address inequalities and gender discrimination," says Smita.
Also Read: Ekjut's community mobilistion mantra is transforming health and nutrition in India
Lakshmi Mujalde, 28, and her husband are farmers in a village in Madhya Pradesh. They have four children. Lakshmi has been associated with CHETNA for five years and has obtained training in nutrition and health. After this training, she is very particular about following the 'Tiranga thali' norm in her home and urges others to do so too. 
"Earlier, we did not bother about what we ate. Now we have nourishing vegetables for every meal and that has improved the health of adults and children in the family. We grow most vegetables on our farm. I have taught others how to grow a vegetable and herb garden too. I am in charge of health in the Gram Sangathan," says Lakshmi with pride.  
CHETNA's major focus areas are preventing under-nutrition among children, adolescents and women, improving the reproductive and sexual health of adolescents, young people and women, reducing maternal mortality and improving infant and young child health, enhancing the value of the girl child, strengthening Early Childhood Education (ECE), enhancing food security and improving access of public sector healthcare and nutrition services to marginalised communities. 
Life cycle approach
What is special about CHETNA's approach is the life cycle concept. The life of a woman is divided into nine phases – before conception, prenatal, newborn (0-28 days), infancy (0-1), childhood (2-9), pre-adolescence (10-12), adolescence (13-19), adulthood and old age. 
According to this approach, gender discrimination is at the root of all the problems girls and women face throughout their life cycle. The problems include sex-selective abortion and female infanticide, neglect, poor nutrition and health care, anaemia, poor hygiene and poor immunization status, lack of education, sexual violence, early marriage and pregnancy, maternal mortality, poor mobility, low self-esteem, dowry deaths and ill-treatment of widows. 
"We have to intervene at every stage of a girl/woman's life. If we focus only on maternal health or childhood care, it is not enough," she says.
"We have to address issues at different stages. The life cycle approach ensures care for a woman throughout her life. We have not been able to do much for the elderly strata due to a lack of resources. But we want to change that," says Smita.  
Also Read: From doorstep healthcare to goat rearing, how Plustrust is creating rural women entrepreneurs
Savita Bhavi, 20, a farm labourer works with her husband at the farm from 9 am to 6 pm. She participated in CHETNA's haemoglobin estimation camp and complained of weakness and vertigo. Her Haemoglobin Concentration (Hb) was found to be 5.5 gm. She was diagnosed as being severely anaemic.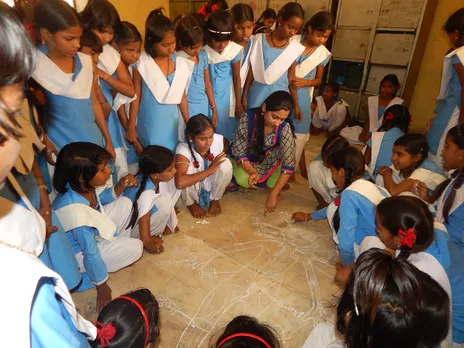 "I eat roti with sabzi or roti with dal every day. Sometimes, due to the workload, I eat less but work the same amount throughout the day," Savita told the CHETNA team. After intervention from family members and CHETNA, she was given two units of blood and her Hb climbed to 7.5 gm. After a couple of days in the hospital, she was discharged and asked to consume IFA (iron-folic acid) tablets regularly.
Significant impact 
Today, CHETNA is widely recognized as a resource centre for nutrition and health activities, especially for capacity building, training, and development of educational material. Its team comprises experienced professionals in the area of nutrition, public health, Ayurveda, Homeopathy, social work, rural development, and early childhood education.
CHETNA reached 32 lakh people in 500 villages, as per its annual report for FY22. It has trained 29,281 frontline workers - ASHA (Accredited Social Health Activist), ANM (Auxiliary Nurse Midwife) and AWW (Anganwadi Worker), para-medical workers and medical officers. The NGO has worked in 960 schools and built a capacity of 1,781 self-help groups, village organisations and cluster-level federations. It organizes training modules for NGOs and corporates as well.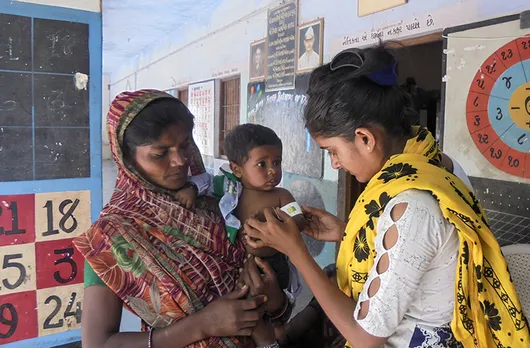 CHETNA has actively participated in the formulation of national and state-level policies for women's empowerment, youth, and children. It has contributed to the formulation of the National Youth Policy (2014), Rajasthan State Adolescent and Youth Policy (2006), National Adolescent Health Strategy (2014), National Early Childhood Care and Education Policy (2013), National Policy for Children (2013) and National Health Policy (2018).
Also Read: Millet farming brings nutrition, financial security for women farmers in Bihar
CHETNA has been developing innovative and interactive Behaviour Change Communication (BCC) materials which are based on the organisation's more than three decades of communication experience with semi-literate and non-literate communities. The material has also been extensively used in government programmes as well as by private organisations. In FY22, around 1,12,000 copies of CHETNA's material were sent to ten states. 
Multiple challenges  
Being accepted as an organization led by young women was a big challenge in the initial days. "Today, the challenges we face are four-fold. Human resources - getting good people is becoming difficult. We also get short-term funds (mostly CSR) funds while we require long projects to bring about social change," says Smita.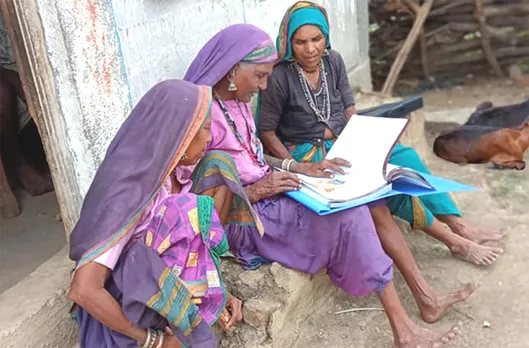 "The third problem is limited access to technology among the target population. Of course, our work involves much more than spreading messages through social media. We listen to people, their experiences and problems, document these and find solutions. Our fifth challenge, perhaps the biggest one, is tackling gender discrimination. In all programmes, there is an integration of nutrition and gender. Without addressing gender, the team has realized, progress is not possible," she explains. 
Current projects  
Sneha slum project in Ahmedabad: "The target population are migrants living in government dwellings. We are working on maternal and child health and nutrition," says Smita. From July 2021 to August 2022, 251 undernourished children in the age group of 1 to 5 years were identified in this programme and all the children (100 percent) gained weight from 100 grams to 2 kg. At the end of one year, 27 percent of children had normal weight as per their age. 
Sachet programme in Madhya Pradesh: "This is a multi-partner project focussing on 'Strengthening local democracy for multi-dimensional changes'. Three issues are tackled – health and nutrition (by CHETNA), governance (by Samarthan) and education (by Eklavya). Transform Rural India Foundation is anchoring the programme. We invite women to our training programmes who want to bring about change in their villages. They are trained to adopt sound health practices, access health services on time and demand entitlements. So, we build capacities of women leaders," explains Smita.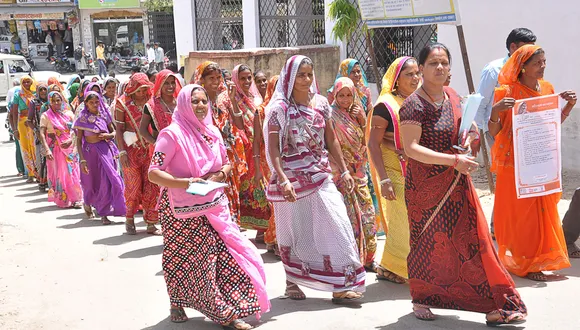 A total of 148 women leaders, 'Sachet Jijis', have been provided support to roll out training modules on health and nutrition at the SHG and Village Organisation (VO) levels. CHETNA has also initiated the process of preparing Village Health Plans (VHPs) for 77 villages between August and October 2021.
Tobacco control programme: CHETNA has initiated efforts for the prevention of consumption of tobacco products and effective implementation of COTPA (Cigarettes and Other Tobacco Products Act, 2003) in schools in the Ahmedabad district. During the last year, CHETNA trained 335 teachers and principals of primary and upper primary schools through virtual platforms to ensure 'Tobacco Free Schools'. The NGO organised a social media campaign on World Tobacco Day – May 21, 2023. 
Also Read: ANANDI: Changing the face of rural Gujarat by mentoring women to take up leadership roles
Spreading the message
According to Smita, interpersonal and face-to-face technique is best to disseminate information. This way, there is scope for discussion, clarification and sharing. For mass awareness, the NGO organizes and participates in fairs, rallies, and puts up wall posters. CHETNA has pioneered the use of traditional media to communicate health and nutrition messages. Some successful approaches have been Health Melas (health fairs), Yuvati Shibirs (fairs for adolescent girls), Bhavai (a traditional form of drama), folk songs and Poshan Melas (nutrition fairs).
Some of the accolades won by CHETNA over the years are: 'National Commission for Women Award' for outstanding contribution to promoting the cause of women in 2002; ''NGO of the Year Award at Modern Medicare Excellence Awards 2006 presented by GE (General Electric) Health Care; Indu Capoor won the 'Healers of India Award' in 2017; and CHETNA received "Indian CSR Award 2022" for best women healthcare initiative.