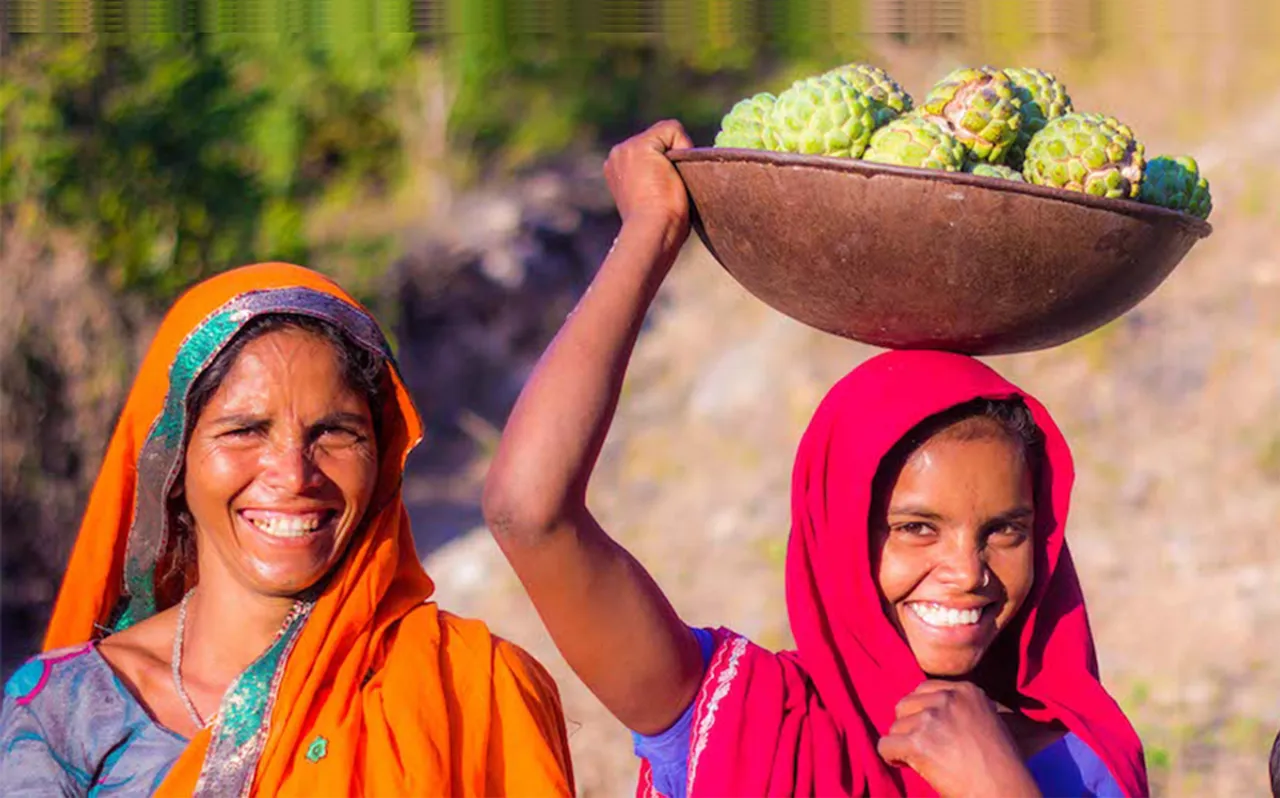 Maya Ghosh, 30, a resident of Bijrawan village in Madhya Pradesh, has been trained under the goat rearing-based livelihood programme of NGO SRIJAN (Self-Reliant Initiatives through Joint Action). She is working as a 'pashu sakhi' (friend of cattle) in her village for the past two years. Before she started her work, the 82 goat rearers in her village would lose goats due to disease and poor health. 
With the help of Delhi-based SRIJAN, she obtained training from The Goat Trust in Lucknow. Subsequently, she raised awareness in her village about the diseases that afflicted goats and better health management practices. Under her care, the goats became more productive and the meat weight increased. Within one year, the instances of goat deaths were reduced. She earns around Rs 4,000 a month for her work.
"My husband is a farmer and I have three children. For every goat I treat, I get Rs 70-80. I did not know anything about animals before I received training. I enjoy my work. Not only has my family's financial condition improved, but I am also well-respected in my community," says Maya.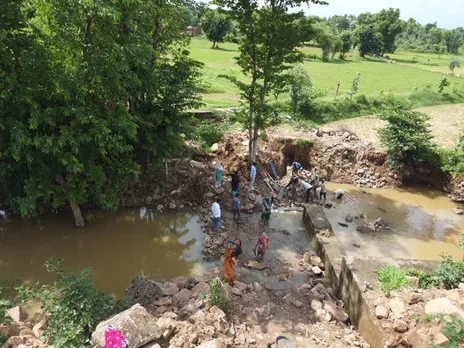 Hari Singh Gurjar lives in Marmada village, Rajasthan. His livelihood option is limited to farming and livestock rearing like others in the area. He had a large piece of land but half of it was barren and 30 percent of it was unproductive due to hilly topography, shallow soil and poor irrigation facilities. It was tough for him to support his family of seven members. 
Also Read: Water conservation in rural Rajasthan increases farming incomes four times; checks migration
After joining a village development committee, he actively participated in strengthening irrigation facilities by desilting a community pond and using the excavated silt on his barren land to make it productive. This initiative was emboldened by support from SRIJAN. Today, he cultivates bajra and paddy and gets a good price for the grains. 
Maya and Hari Singh are just two of the beneficiaries of SRIJAN's assistance. The NGO has helped nearly 3 lakh rural families to become self-reliant and live with dignity since it was set up 26 years ago. 
A life-changing moment
SRIJAN was founded in 1997 by Ved Arya, an alumnus of IIT Kanpur and IIM Ahmedabad. About its genesis, Arya says: "Once I quit my job at TCS in 1982-83, I was looking for a chance to work in the social sector. I started working with an NGO called PRADAN."
"A visit to Baba Amte's ashram changed my life. He would urge leprosy patients to be self-reliant. This made a deep impression on me," Arya says.
"I wanted to set up an organization that promoted self-reliance. I was convinced that rural communities need to be provided self-sustaining livelihood options."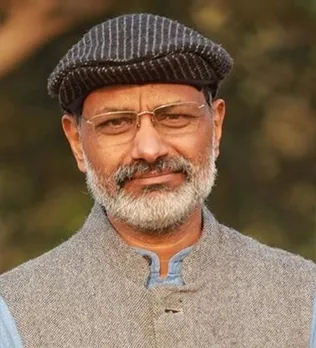 Today, SRIJAN is active in 2,636 villages in four states – Madhya Pradesh, Rajasthan, Chhattisgarh and Uttar Pradesh. It has helped form 5,500 Self-Help Groups (SHGs) and seven Farmer Producer Organisations (FPOs).
SRIJAN was founded on the core principle of a strong collaboration with the government, which was called the 'GO-NGO partnership' in the 1990s. A major benefit of this synergy was that government schemes and programmes would reach the poor. 
"The pinnacle of our collaboration with the government was between 2009 and 2014. I was even asked to write a few chapters for the MGNREGA 2 (Mahatma Gandhi National Rural Employment Guarantee Act), guidelines," says Arya. 
Also Read: Ceva empowers tribal farmers, women in Himachal's remote Pangi valley
Earlier, the idea behind MGNREGA was to promote community work to generate employment. SRIJAN proposed the idea of individual projects that would benefit the local communities like levelling of a field, making a pond, for irrigation or fisheries, or building a poultry or goat shed, he explains. In fact, SRIJAN has written a manual describing around 30 assets that could be built for individual families. 
Initial journey
"In 1997, it was not very difficult to set up an NGO. The government welcomed us and donors were happy with our work. Of course, we did face rejection at times. I put forward a proposal to Tata Trust to set up a water company in a village. Water is a crying need for farmers," he says.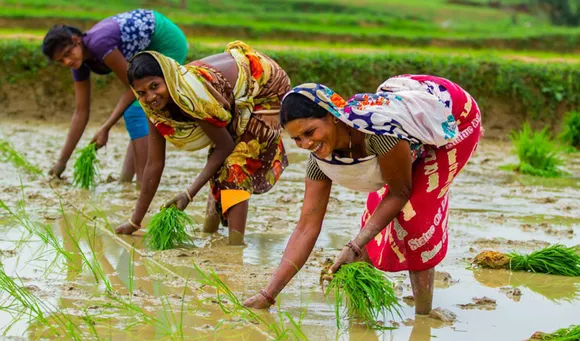 "I started my work in the social sector with lift irrigation. The daughter of Dr Manmohan Singh, Daman Singh, evaluated the proposal and rejected it. Our first project that took off was in Madhya Pradesh and it was part of a World Bank initiative. It was related to rainwater harvesting. Next came another water-related project in Rajasthan. A tank project in Karnataka followed," says Arya narrating the initial journey of SRIJAN.    
Large infrastructural works on tank rehabilitation, formation of SHGs of women, and aggregation of produce, especially milk, began during the genesis phase. After 2008, work on agriculture, horticulture, and some value-addition in the produce through mechanization was the focus. 
Also Read: How this Thanjavur techie restored 140 lakes and ponds in 5 states
Six-pronged model 
SRIJAN has a unique livelihoods cluster promotion model for small and marginal farmers. The model has six major components. 
· Building community institutions with management capacity
· Soil and water management
· Providing appropriate technology
· Access to finance
· Access to markets
· Replication and influencing policy
Depletion of soil and water resources poses a big threat to small and marginal farmers. Market prices hurt them too. 
SRIJAN's efforts to provide market access have benefited more than 45,000 small and marginal farmers. 
The NGO has assisted farmers through the aggregation and processing of various commodities like soybean, milk, pomegranate, organic fruits, non-timber forest produce (NTFP) like custard apple, Indian blackberries, 'chironji', and forest-grown mango.
Also Read: Chhattisgarh: 3,000 farmers in violence-hit Dantewada overcome poverty through collective power of Bhoomgaadi
Another requirement is the adoption of best technology and practices with regard to seeds, breeds, pest and disease control, and post-harvest preservation and processing. The NGO demonstrates the most farmer-friendly technologies in the villages and then trains farmers to use them.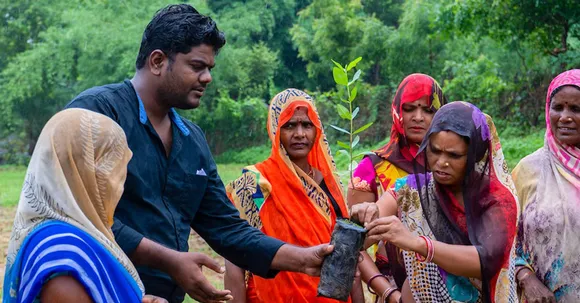 Dairy technology was one of the first when milk testing, chilling and packaging were done in Rajasthan. Fruit processing and processing of custard apple pulp is a flagship technology SRIJAN promotes in the tribal pockets of Rajasthan, Chhattisgarh and Madhya Pradesh.
Through the mobilisation of panchayati raj institutions at the grassroots level, SRIJAN fosters the strategy of building a strong relationship with government functionaries. District-level interactions and field visits from zila panchayat heads and district collectors are key components of SRIJAN's working model for replication and policy influencing.
Impactful initiatives
SRIJAN has assisted cattle rearers who get into dairy farming, horticulture farmers and tribals who depend on forest produce to make a living. "Can you believe this – tribal women sell custard apples to local traders for Rs 3 or 4 a kg. It is sold to consumers at Rs 250 a kg! We sought to end this exploitation with our efforts in food processing and integration along the supply chain," Arya says.
A total of 177 water bodies have been restored in Uttar Pradesh, Madhya Pradesh and Rajasthan. 
Rural communities have been urged to improve their incomes through the commercial cultivation of vegetables and improving livestock productivity in Madhya Pradesh.
Also Read: Ekjut's community mobilistion mantra is transforming health and nutrition in India
In the area of health, the Securing Nutrition, Enhancing Resilience (SENU) project in collaboration with GIZ aims to improve the nutrition status of women of childbearing age (15-49 years) and young children (6-23 months).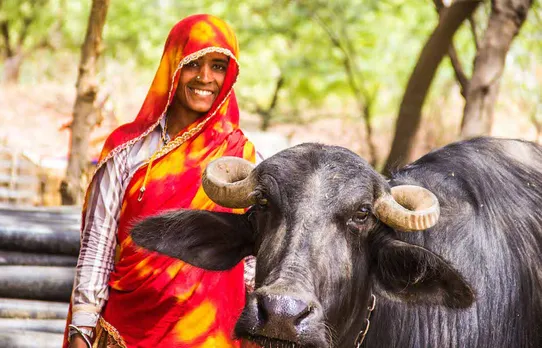 SRIJAN's 'nano-orchard' model of horticulture has created a new cadre of horticulture farmers. "I noticed that almost 50 percent of farmland in south India was under horticultural crops like coconut and areca nut. So, I thought why not adopt this practice north of the Vindhyas too? We started with the cultivation of pomegranate and mango trees," says Arya.
Issue of rural poverty
"Earlier, SRIJAN focused on providing livelihoods to increase incomes as a solution to reduce poverty. But now, we realise that there has to be an integrated effort that focuses on livelihood, health, education, gender issues and the environment. All these have to be worked on simultaneously to ensure faster development of the people who are on the periphery. Expenses on health can push a person below the poverty line. There is a great need to reduce the cost of healthcare and increase access to health facilities." 
Towards working on health, SRIJAN has collaborated with Jan Swasthya Sahyog on sickle cell anaemia and providing nutrition to babies in the first 1000 days. In the field of education, the NGO is planning to tie up with 'Teach for India' in rural areas. 
Also Read: Nirmaan: A BITS Pilani students' initiative that's now empowering millions of youth, women & tribals
Regarding the environment, waste segregation in villages and towns, and encouraging organic farming are two important initiatives promoted by the NGO. It is also encouraging farmers to grow millets to recharge the soil with nutrients. 
Women's empowerment
"Empowering women has been part of the core mission of SRIJAN. We have to bring women to the centre stage. They should participate more in decision-making. For instance, they should have a say on the kind of projects to be taken up under MGNREGA. Women should increasingly take up supervisory roles, negotiate with the government and, of course, become sarpanches. We promote SHGs of women not just to promote savings and credit, but also to build institutions to facilitate empowerment and development," Arya says. 
"I strongly believe in the power of Indian women, whether they are literate or not. They will be at the frontier of the country's development," asserts Arya. 
SRIJAN has received funds both as government grants and private donations. Its current partners include NABARD, Azim Premji Philanthropic Initiatives, Hindustan Unilever Limited, Aditya Birla Capital Foundation, HDFC Bank Parivartan and Axis Bank Foundation.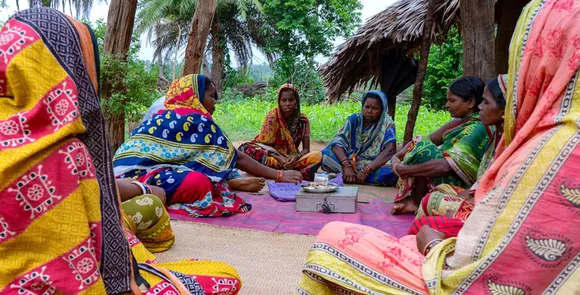 "For innovation and human resources, money comes from donors. In fact, innovations by NGOs not only help improve the efficacy of government programmes, particularly in the last mile, but are also the key to getting money from donors. Donors want new solutions to the poverty problem in the country," he explains. 
Now an informal advisor to SRIJAN, Arya has written a book titled 'The Book of Aspiration' (2020) which contains inspirational memoirs from social leaders. A second book along similar lines is in the pipeline. 
(Aruna Raghuram is a freelance journalist based in Ahmedabad. She writes on parenting, personalities, women's issues, environment, and other social causes.)
Also Read: How an NGO has been revolutionising the lives of 42,000 small farmers