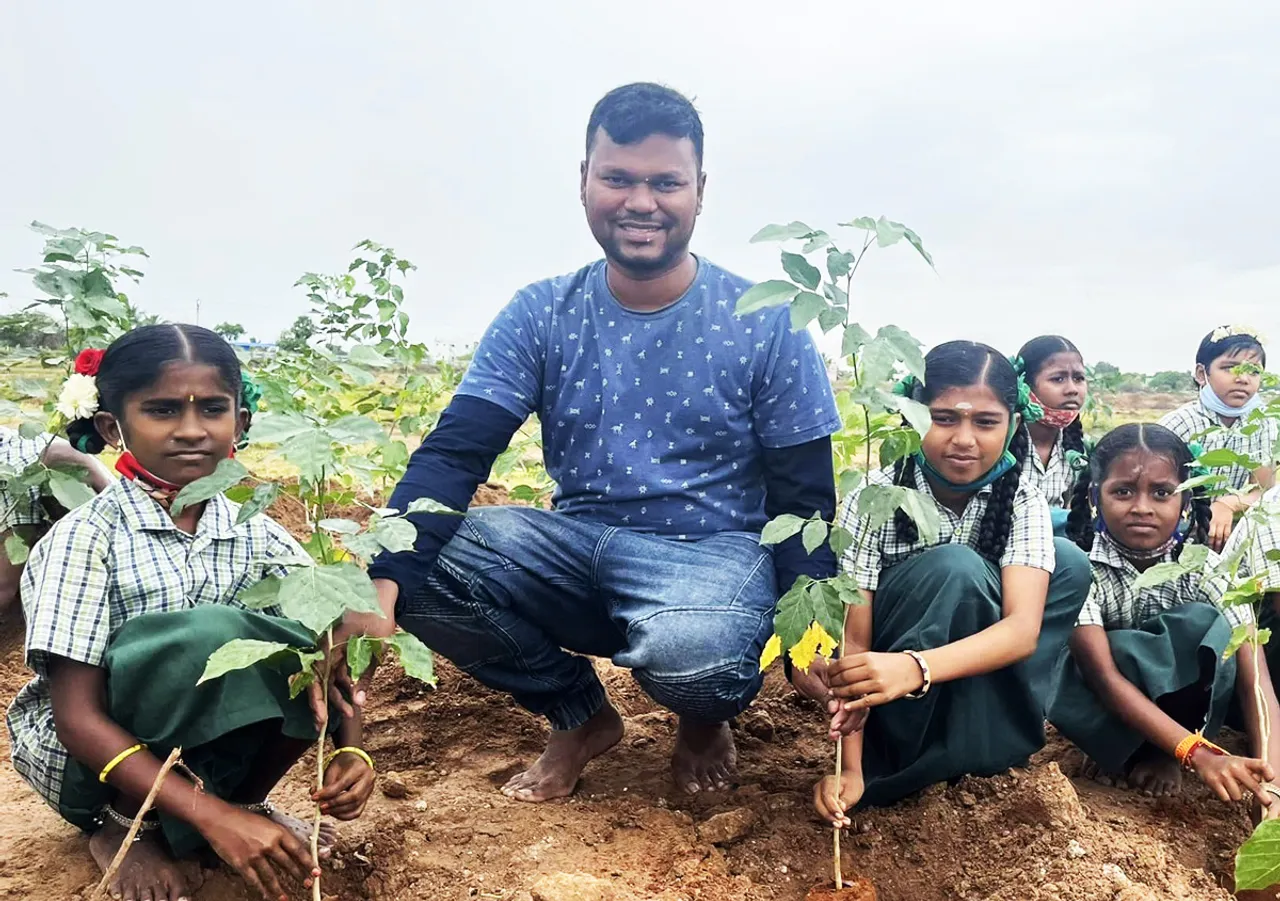 In November 2018, when Nimal Raghavan was vacationing at his home in Nadiyam village, Thanjavur, Cyclone Gaja hit South India, severely affecting Tamil Nadu. Houses and fields were destroyed and 45 people were killed. The cyclone crippled agriculture and livelihoods, killing livestock and felling thousands of trees.  
Nimal, who was working in a bank in Dubai after completing his engineering in electronics from Anna University, decided to quit his job and work for the rehabilitation of the affected people. His agrarian family had also suffered substantial losses in the cyclone.
In the three decades preceding Gaja, many farmers in Thanjavur (famous as the rice bowl of Tamil Nadu) had shifted from paddy farming to coconut cultivation due to better market rates, lower maintenance and regular incomes. 
Also Read: Arun Krishnamurthy: This man quit his job at Google to restore lakes across India
"Around 70 percent of the coconut trees in Thanjavur and nearby districts were uprooted due to Cyclone Gaja. A coconut tree takes four to five years to start giving fruit and farmers could not have survived without income for so long," says 36-year-old Nimal.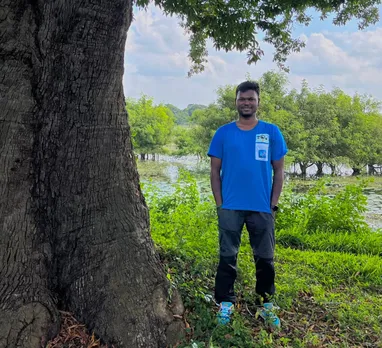 Water scarcity
The only option for the farmers was to go back to water-intensive paddy cultivation. But to their surprise, there wasn't adequate water for farming anymore. 
"Water scarcity had become a challenge because ponds, lakes and rivers had dried up. Water bodies had not been desilted for years; they had lost (underground) connection to the main source of water (through aquifers) and there were encroachments," Nimal says.
In this challenging situation, Nimal felt the only way to ensure livelihood for thousands of families was to rejuvenate and conserve water bodies, which provide water for irrigation, for cattle and also improve the overall water table of the region.
For providing immediate relief to the affected, he put out a social media campaign - #BounceBackDelta – to raise funds for providing them with food, groceries, clothes and other essential items.
But Nimal's longer-term goal was to revive the dying water bodies so that farmers could go back to farming and people could access clean drinking water. 
To achieve this, he began the work to revive the Peravurani lake, which is spread over 564 acres. Around 70 volunteers joined Nimal in desilting and restoring the lake which had become a garbage dumping ground. Around Rs27 lakh was spent and it was funded by the people. Many excavators and other equipment were sponsored. "We worked for 107 days in all. On the 60th day, we started getting water. It took 6 months to get the lake filled," he says.
Also Read: Why we must save our wetlands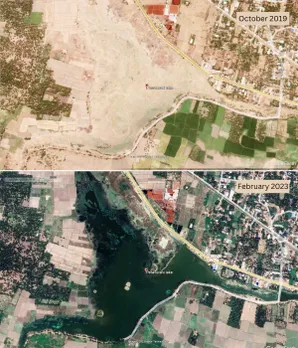 "We made four islands on the lake and planted native trees to bring back local biodiversity, including birds and bees. We strengthened the lake's boundaries and raised the height of the bund by five metres. We also planted vetiver saplings on the slopes to prevent soil erosion," he says.
After restoration, the water level came up to 40 feet from 350 feet and farmers could resume cultivation. Today, the lake has enough water for the irrigation of 6,000 acres of farmland.
Since November 2019, Nimal has restored 140 lakes, ponds and rivers in Tamil Nadu, Andhra Pradesh, Uttar Pradesh and Karnataka. "The 140th water body restoration work has been done in Haryana," he says.
Also Read: Bengaluru engineer revives 11 dead lakes, targets to rejuvenate 45 water bodies by 2025
Community-led approach towards restoration
Thanks to Nimal's work, over 45 lakh people now have access to clean water for drinking and irrigation. Around 500 families, who had given up farming, are now back in their fields, growing vegetables, pulses and paddy.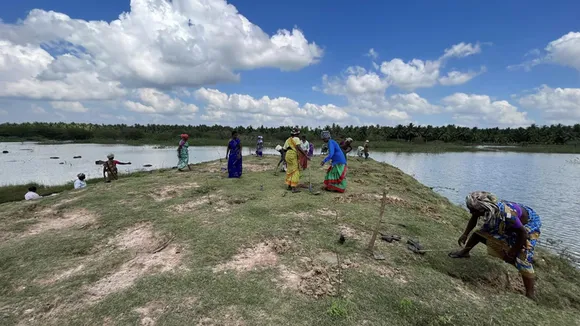 Nimal has set up NGO Mega Foundations to mitigate the impact of climate change by reforesting degraded land besides rejuvenating water bodies.
Mega Foundations has adopted a community-led and participative approach to restore water bodies and fight climate change. 
"The locals are involved in every stage. If we get the extractors, they volunteer to drive or fund the fuel. The youth take part in desilting, rebuilding and all other activities. And once they have put in so much effort in restoring a water body, they automatically take care of its maintenance," says Nimal.
After the success of Peravurani lake, he thought of replicating this model in other water bodies and began raising funds through social media. The next in line for restoration was the Ottankadu Lake in Thanjavur followed by the Keeramangalam and Neduvasal lakes. He also restored many defunct borewells and converted them into rainwater harvesting systems.
Also Read: Panzath: Kashmir village where a 900-year-old spring cleaning festival has conserved traditional water bodies
"We followed the same route of raising public funding and community participation. Milaap (crowdfunding platform) then helped us raise Rs 70 lakh in 2019," Nimal says.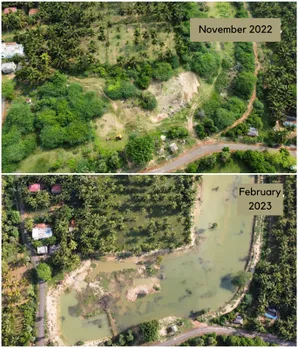 By then, Nimal's work had been noticed both the local governments as well as companies interested in funding the work through their corporate social responsibility or CSR initiatives. 
"Companies and local governments also approach us for restoration works. All the water bodies revived so far have been full of water since their restoration," he points out.
The process of lake restoration & revival
The budget for the restoration of each water body depends on its size and the quantum of work required. While some lakes need to be desilted, some need boundary works and others need to be connected to nearby water sources. 
Some restoration works can cost Rs 2 lakh per acre like in cases where water has been contaminated and needs to be treated and purified. Other projects may cost just Rs 2,000 per acre. 
Restoration work begins with a study of the inlet and outlet channels of each lake or pond. Apart from rainwater, these water bodies also get filled through groundwater seepage and connections from nearby streams. 
After a lake gets filled, the outlet channel carries the water to the next connected lake. So lakes can prevent droughts as well as floods.
In the coastal districts of Tuticorin and Tirunelveli, Nimal worked on saltwater intrusion in around 15 lakes. Due to a lack of awareness and poor maintenance, sea water entered these water bodies, contaminating the groundwater.
Also Read: Chand Baori: India's biggest & deepest stepwell built in the 9th century for water conservation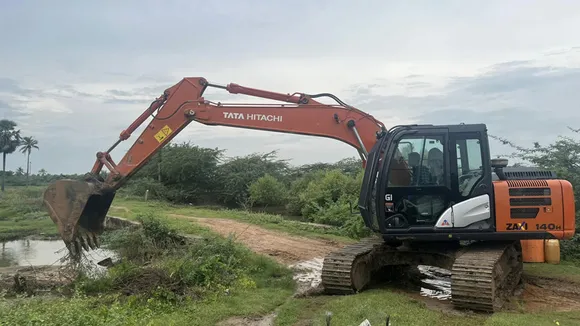 "I checked old maps with the Public Works Department (PWD) and saw that many lakes present 40 or 50 years back had now gone missing. Some of them were encroached, some had become garbage dumping grounds or had been covered by invasive species like Prosopis juliflora," Nimal says.
After discovering the lakes, Nimal's team began desilting them and built boundaries of the lakes and planted trees and made lake islands. "We had to revive the water inlet channels by desilting, which led to river water flowing into these lakes," he says.
Juliflora is known to severely deplete water resources and reduce the groundwater table. "We uprooted Juliflora, and buried these plants and made lake islands over them. Once buried, they become manure and help other plants grow," he says.
Earlier, people were buying water for irrigation from tankers, and neighbours who had borewells. Now, that has stopped. 
"Many families are now once again doing agriculture, harvesting three crops in a year like paddy, groundnuts, sesame etc."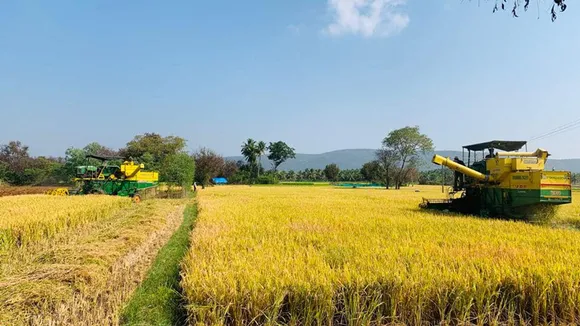 The lake islands have plants of native species, which are attracting birds and bees. This has helped in biodiversity conservation as well. 
Nimal aims to restore as many water bodies as possible. "I don't want agriculture to stop because of water scarcity. I don't want climate change to affect us. And I want to tell my children the stories of lakes and trees that I have heard from my grandparents," he says.
Also Read: Kalpana Ramesh: The architect leading restoration of Telangana's historic stepwells