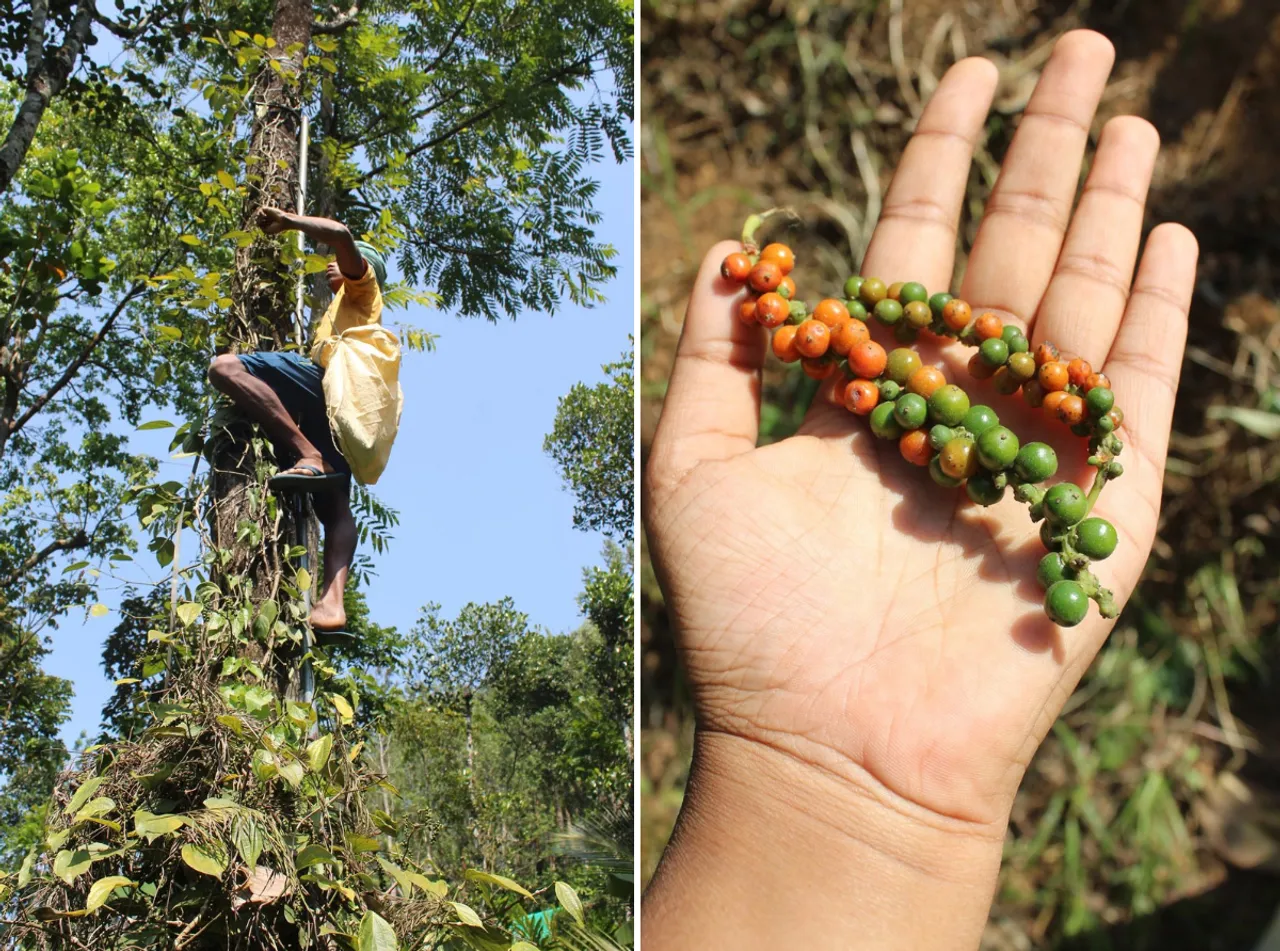 The majestic hills of Idukki in Kerala on the Western Ghats are home to a variety of spices, which add aroma to foods across the world. The cardamoms, nutmegs, peppers and other spices grown by the local tribes in the high and low ranges of Idukki have mesmerized the Arabs and the Greeks alike for millennia. 
With time, however, some of the native farmers began using chemicals to boost production to meet the growing demand. That eroded the quality of soil as well as output, and adversely impacted the profitability of growers, leaving them at the mercy of the market.
To fill this growing chasm between the growers and profitability, Bhavesh Sawariya and Annu Sunny have founded Graamya, which works with indigenous spice farmers of Idukki to promote natural farming in the region. 
"The farmers don't receive a profitable price for their natural produce and Graamya is addressing this gap in the spice market," Bhavesh says.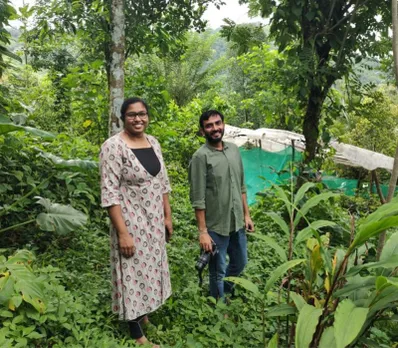 The Covid pandemic made people aware of the importance of strong immunity and foods that enhance resistance to diseases. This led to a rise in demand for organic products which has been a boon for Kerala-based Graamya. 
Also Read: How Tamil Nadu farmer increased profits & cut costs by 30% through organic farming
Graamya is today working with over 100 farmers in Idukki at two levels -- one, helping farmers transition from chemical to natural farming and two, finding the right market and price for their produce. 
From tourism to spices
But working with farmers is not how Graamya was born. The start-up grew from the first-hand experience that Bhavesh and Annu had while they were a part of the leadership development fellowship for India Fellow.
During the 13-month programme, they saw the life of villagers in rural India and the challenges faced by them. This experience motivated the duo to promote rural tourism in the remote villages of Kerela to provide villagers with an alternative source of livelihood.
In October 2016, Graamya was set up in Idukki as a tourism start-up. During the course of their work, Bhavesh and Annu observed their guests' interest in the spices of the region.
Eventually, the duo started a spice business as an experiment to assess demand. They sent their products to Delhi organic farmers' market where they were well received. The demand was boosted during the Covid pandemic when consumers grew more conscious of the products they were consuming. Thereafter, Graamya's focus shifted to the main livelihood source -- agriculture.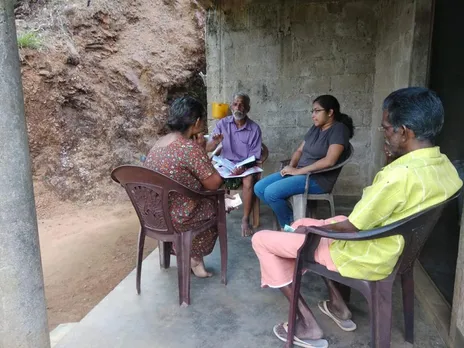 "Unlike wheat and rice, spices are not the main crop but the entire world consumes it in small quantities on a daily basis. But the way farming is happening for the last 10-12 years, it is heavily chemical-intensive and it is no longer a sustainable livelihood option for the farmers in the future," says Bhavesh.
Also Read: Jayant Barve: Maharashtra's organic farmer who became manure millionaire
Graamya believes that the only sustainable way for spice growers is to be more in sync with nature as this will enhance their profitability in the long run. And natural farming is the only way to achieve this goal.
In Idukki, which is a biodiversity hotspot, Graamya is helping farmers to implement zero-budget natural farming (ZBNF) as an alternative to chemical-based farm inputs. 
Natural farming focuses on rejuvenating the soil to maintain forest-like conditions to grow crops naturally. This takes care of soil fertility as well as pests. 
Also Read: Snehakunja: Preserving biodiversity through empowerment of tribals in Western Ghats of Karnataka
Transitioning to natural farming 
The start-up has segregated the farmers into three categories. The first are those already practising natural farming by choice and they know the process well. The second category consists of farmers from remote villages of Idukki who were by default practising natural farming. Farmers who have been practising chemical-based farming form the third category.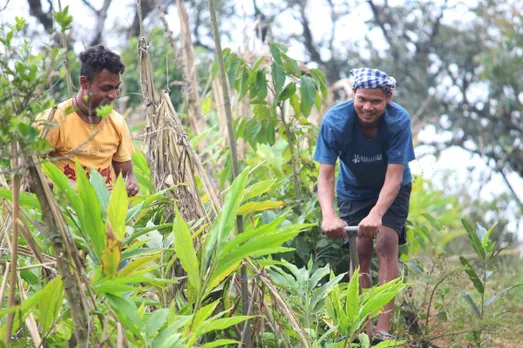 While transitioning to natural farming, the yield drops during the initial years. Besides, the farmers also shy away from natural farming because it is labour-intensive.
"Everyone isn't that far-sighted that natural farming will help them 15-20 years from now and most of the farmers don't even have that long runway. For some of them, it's like whatever they earn that year will keep them going. Hence, we have to keep these things in mind before approaching a farmer," says Bhavesh.
Another challenge for the spice growers is that the traders don't award them with increased rates for natural produce "The price has to be profitable. It should cover the costs and give you the returns for the labour," says Bhavesh, adding that Graamya is creating a channel where the farmers are well rewarded and the customers receive good quality natural spices.
Also Read: Udaipur's Jovaki empowers tribal women by processing wild fruits & vegetable
Onboarding a farmer
When the team gets to know about a farmer practising natural farming, they go for a field visit and collect samples for a lab test. They discuss the history of the place, methods of pest control, and growing practices to ensure that there is no chemical residue in the crop.
The start-up currently works with 25-30 indigenous farmers who have been practising natural farming by default or by choice. Another 100 farmers want to transition to natural farming. It helps them by estimating the time for the soil to rejuvenate, providing them with the right variety of saplings and connecting them with local awareness bodies like Krishi Vigyaan Kendra which promotes natural farming. They also help farmers find the right market for their products based on the residue level.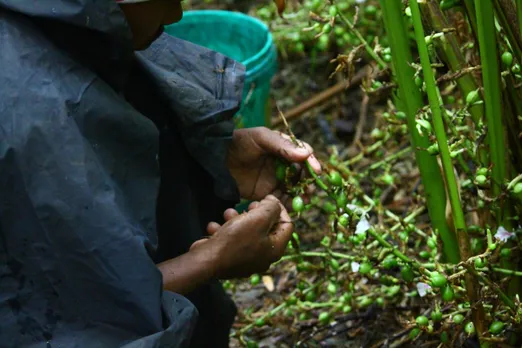 The natural farming techniques vary depending on the spices. "Cardamon, one of the major products, involves the most chemical-intensive methodology of cultivation, which we are trying to change," Bhavesh says.
Natural farming emphasises the use of desi or indigenous Indian cow breed because its dung and urine have a much higher concentration of microorganisms (good for soil) as compared to European Holstein and Jersey breeds.
Graamya's farmers use Jeevamrita, a mixture of cow dung and urine of indigenous cows, pulses, seasonal fruits or jaggery/sugarcane juice and a handful of soil. This is the main component of natural farming.
"Natural farming comes with a lot of labour, you have to keep observing the plant, check for any pests, arrange cows, collect cow dung for fertilizers, which makes it difficult to convince the farmers to transition from chemical farming," says Bhavesh.
Also Read: Meera Chandran: This woman quit TCS to fight invasive plant species & restore degraded forests of the Western Ghats
The fair marketplace
Graamya procures naturally-grown spices directly from farmers and offers them better returns by eliminating the middlemen. 
Its product range includes green cardamom, black pepper, white pepper, nutmeg, mace, clove, dry ginger, unsweetened cocoa powder, roasted cocoa beans, turmeric powder and Malabar tamarind.
The rates offered to farmers by Graamya are 30 to 35 percent higher than the market rates. The products are sold through its website as well as other online stores selling natural and organic products.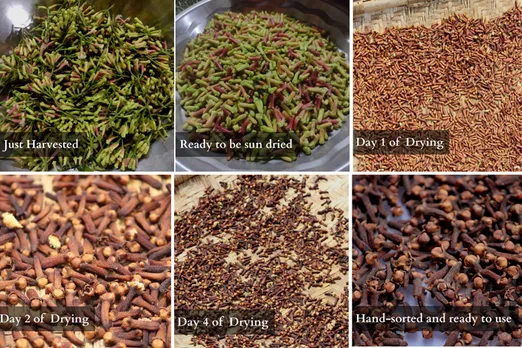 While pepper is in demand in Tamil Nadu almost throughout the year, cardamom is popular in the northern states, and mace finds buyers in Gujarat. 
Graamya exports natural spices to Switzerland, the Netherlands, Australia and the USA.
Graamya's turnover for FY2021-22 stood at Rs 65 lakh and it is targeting Rs 80 lakh for this fiscal. The rising demand for ethically sourced, eco-friendly products post-Covid has given a boost to the platform. Other than ensuring high quality, the start-up takes extra measures to suit the consumers' palate. It is trying to preserve the diversity of taste by offering different variants of indigenous spices, which is a rarity. Like it offers two varieties of black pepper – Perumkodi and Karimunda and two types of green cardamom – Palakudi and Njallani. 
The startup works with the farmers during the post-harvesting stage, where the chances of spoilage are high. Harvest and post-harvest processes require precision, care and expertise and are as important as the cultivation. "Most of the post-harvest processes are undertaken at the Graamya unit," he says.
 Also Read: Sheeba Sen: Lawyer-turned-conservationist creating income-generating forests for local communities
Like in the case of pepper, says Bhavesh, only the ripe and matured berries are hand-picked to make black pepper. A mechanized thresher separates the berries, which are sun-dried for three to four days. It is then sorted and graded as per the density and stored in air-tight, opaque containers.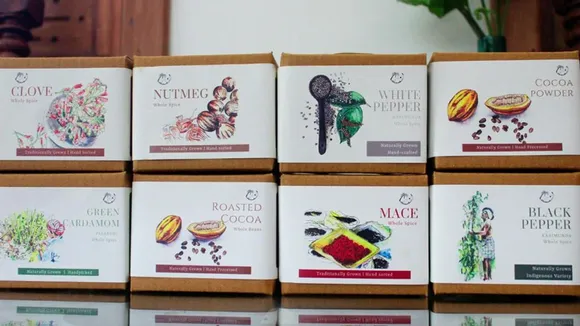 Similarly, only the ripe cardamoms are picked in each round of harvest. 
The hand-picked cardamom pods are washed with water and dried in dryers for over 20 hours at 45 to 50 degree Celsius to maintain the flavour, aroma and other properties of cardamom. 
The cardamom is then sorted, graded and packed in air-tight packages to avoid any moisture. 
Also Read: Tribals turn shareholders in Aadhimalai Producer Company; triple their income
"However, everything produced naturally need not necessarily be of high quality," Bhavesh adds.
Bhavesh says that apart from altering the soil quality, chemical farming also hurts the local ecosystem. It is difficult to spot honey bees, insects, frogs or even snakes in a cardamon plantation which uses chemicals. Most of the farmers and their family members residing near the plantation develop chronic disorders like cancer, high blood pressure, migraine etc. These issues are on the rise in the last 10-15 years, he adds.
The chemically-grown spices also affect the consumers. "People not only use spices for their flavour but also for their health benefits but if it's loaded with chemicals, it does more harm than good to you. That's why, we believe, that natural farming is the best way to live sustainably," he says.
(Riya Singh is a Ranchi-based journalist who writes on women empowerment, environment & sustainability)
Also Read: Last Forest takes honey & beeswax products from Nilgiri forests to global markets