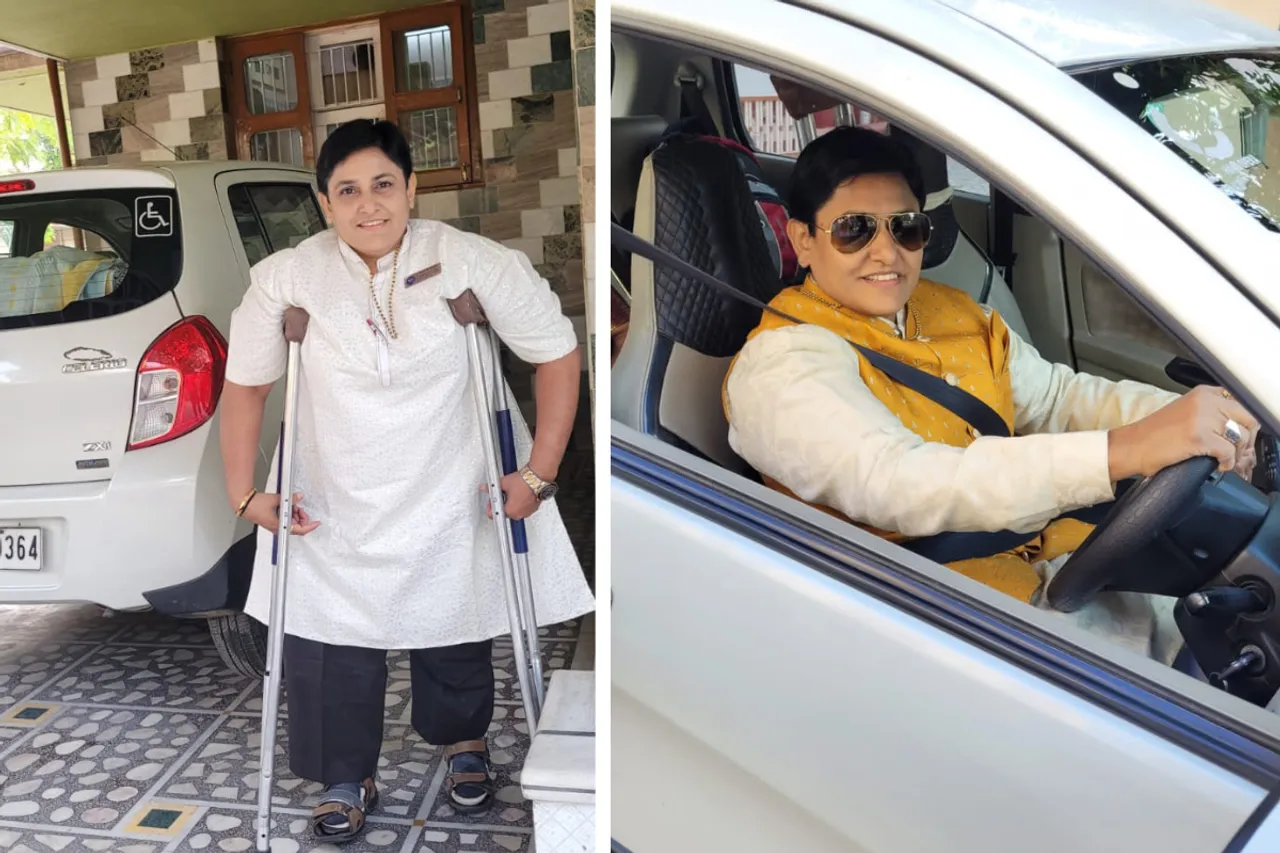 In 2006, Kavita Modi went to the Regional Transport Office (RTO) in Ahmedabad to get a learner's license to drive. The RTO officials declined her application because she was physically challenged. 
Kavita pursued the matter and talked to the RTO officials for a few days and was eventually given the license. She then joined the Ability On Wheels driving institute and learnt to drive.
"After I learnt to drive a car, I went to get a driving license. I was denied again. They (RTO officials) said, I should have a modified car according to my disability to get a driving license," says Kavita who lost the strength in her legs due to polio when she was two years old.
Kavita bought a car and modified it by adding a parallel accelerator and brake extension to control the vehicle with her hands. After that, she drove to the RTO and got her license.
Today, Kavita manages her family business of manufacturing plastic spools in Ahmedabad. She thanks Harish Kumar of Ability On Wheels for helping her get her driving license
Also Read: How Coimbatore-based Swarnalatha J used her multiple sclerosis diagnosis to promote mobility friendly facilities
"From applying for a learner's license to training, car modification and getting the driving license, Harish Kumar helped me through the process. Without him, I might not have been able to drive," says Kavita.
Harish, 52, is able to help Kavita and thousands of others like her because he has first-hand experience driving vehicles despite his physical disability. A computer engineer by profession, he worked in the telecom industry for about 15 years. Originally from Dehradun, he settled in Ahmedabad after getting a job there.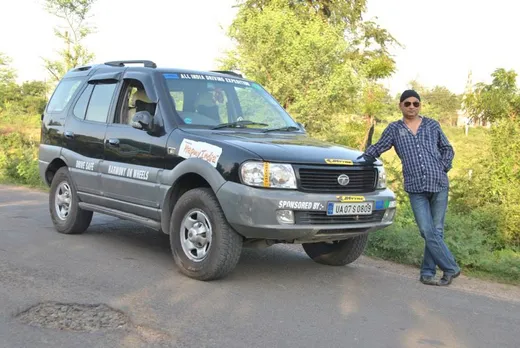 Harish who does not have his right hand below elbow since birth, learnt driving a car in 1999 on his own. He also struggled to get a driving license. He decided to take a break from his professional life and followed a path of social change.
In 2012, Harish participated in a driving expedition called the Golden Quadrilateral Expedition and made it to the Limca Book of Records for covering 6,000 kilometres in 129 hours.
"After that many people with disabilities approached me asking for training to drive a car. That is when I planned to analyze the problems disabled people face when it comes to learning to drive and registering for a license. I observed that there is a lack of awareness among disabled people as well as officials that needed to be addressed. Moreover, disabled individuals lack motivation, confidence as well as training assistance," says Harish.
An estimated 7 million people in India are physically challenged with mobility restrictions and every year one lakh get added to the list, Harish points out.
Getting on the move
In 2016, Harish started a car driving training centre called Ability On Wheels for those having disabilities in their limbs. He invested about Rs10 lakh from his savings to start the centre and hired two trainers too. 
Harish charges Rs 4500 for a 15-day training session which he says is enough to learn to drive.
"You can easily drive a car even if you have only two out of four limbs. Now, these automatic cars with top-end technology have made things easier for all of us," says Harish.
He started the training institute from a playground called the GMDC Ground in Ahmedabad with two cars. Harish also organised training camps across Gujarat to create awareness among the people. "In the first year itself, we trained 500 people. This helped to spread the word among people and also the RTO officials."
"While training individuals to drive cars, I also guide and help them get a driving license, buy cars and carry out modifications," says Harish, who trains around 250 people every year.
"The learners are not only from Ahmedabad but come from all parts of the country. The majority, though, is from Gujarat," he says.
Also Read: Imran Qureshi: UP's paraplegic man motivates wheelchair-bound people to live independently & confidently
Modifying the vehicles
Elaborating on the modifications required in the cars for disabled individuals, Harish says for those having a disability with the right leg, a parallel accelerator is added. It can be controlled with the left leg and costs about Rs. 10,000.
For those who have lost both legs, a steering wheel spinner knob is added on the steering through which the accelerator and brakes are controlled. This costs about Rs 18,000.
"A few authorized centres do these modifications. For auto clutch modification, the cost is between Rs. 30,000 and Rs 40,000 which is the most expensive mechanical change among all. However, this is not needed in automatic cars," says Harish.
The physically-disabled people get additional benefits while buying a car. 
He points out that GST is reduced to 18 percent as compared to 28 percent for others. They get road tax exemptions according to their states' rules. Some states have a 100 percent exemption, and some have partial exemptions. 
Even insurance charge is 50 percent of what is paid by others. They are also exempted at the tolls and get different FASTag cards for the exemption.
"To get all the benefits the individuals have to plan everything in advance. You must have your disability documents and other documents in place. You need to first finalize a car. Then you have to apply for the benefits on their respective online portals. You will get certificates or approval papers which you have to submit while buying your car at any showroom," says Harish.
Also Read: Karnataka's Hosa Belaku gives financial stability & dignity to artisans with disabilities
He adds, "You cannot sell your car for five years once you buy it. It is to avoid any corruption that people may use to avail of the concessions."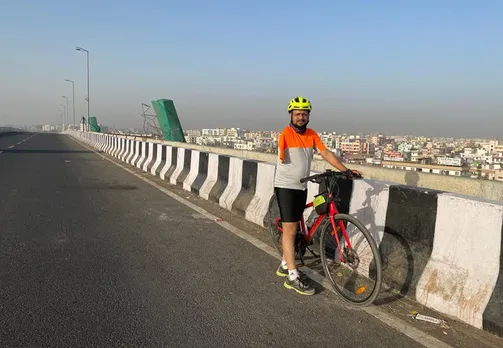 Jaipal Singh, who hails from Bihar, shared his experience while seeking a driving license. It took him about a year from getting a learner's license to a driving license. "I would repeatedly meet the RTO officials but they would just give me the next date to visit. They were trying to demotivate me by delaying the process so that I would give up. However, with the help of Harish ji, I managed to get my license as well as my modified car," says Jaipal.
"Society thinks disabled people are not capable of doing anything and they should not be given any opportunity. But their perception is wrong. I can drive a car, I can ride a bicycle and I can run," says Jaipal, who lost his right arm after electrocution when he was 5 years old. 
He studied computer science and is now working for the State Bank of India as an IT Officer in Patna.
The cab service
Harish has also started a cab service under the name Ability On Wheels for wheelchair-bound individuals. 
"We started with one car in which we removed the third-row seats and added a ramp. We also increased the height of the car roof to provide enough headroom," Harish says.
Wheelchair-bound people can travel in the car without getting out of their wheelchairs.
Now they have two modified cars, one of which has been donated by an Ahmedabad resident.
"The cabs are always booked. Some people hire it regularly for physiotherapy visits, some hire it to explore the city. People know about our services," says Harish, adding that it is a social service and he has no intention to make profits out of it.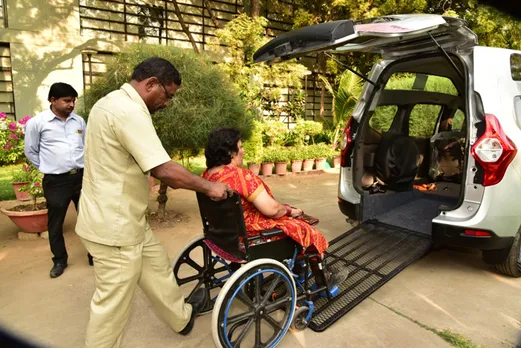 Dr Diya Singh from Ranchi, Jharkhand, used the service when she was on a visit to Ahmedabad last year. "It was a very comfortable and safe journey. I was in Ahmedabad for a few days during Digital India Week 2022 and booked it for the duration. Such services should be available in every city," says Diya whose body was paralyzed when she met with an accident in 2013. 
Also Read: Bridges Vidyalaya: This Puducherry School is mainstreaming students with developmental disorders; many are now doctors, engineers, MBAs & more
With time and a lot of treatments, she has some movement in her limbs, but she has to use a wheelchair.
Employment for trained individuals
Harish says has been striving for employment to train physically disabled individuals in the cab services like Ola and Uber but his efforts have gone in vain. 
"I spoke to the state as well as the central governments to allow the trained individuals to drive public transport like online cab services and e-rickshaws so that physically disabled people from economically backward sections can earn a living. But the governments believe it is unsafe," says Harish.
Harish, however, says, "Their drive is not accident-prone. I have been driving for years and haven't met with even a single accident. You will rarely find a trained physically disabled person having a car accident while driving because they are more cautious than the rest," he says.
(Bilal Khan is a Mumbai-based independent journalist. He covers grassroot issues, LGBTQ community and loves to write positive and inspiring stories.)
Also Read: Echoes SOS: This Delhi café employs speech & hearing-impaired people