For anyone with a creative streak, it's not easy to sit idle without giving vent to their creativity. This was also the case with Mumbai-based Bhavini Parikh, who got married after completing her BSc (Home Science) and became a homemaker. 
"However, I always wanted to pursue something that could give me an identity. I did not want to be only a homemaker for the rest of my life," Bhavini tells 30 Stades.
So in 1990, she began to procure pieces for surface ornamentation work from an apparel export house in Mumbai. Surface ornamentation involves adorning a fabric's surface after it has been prepared using various techniques like block printing, tie-dye, embroidery, etc. "Although the export house wanted to outsource work on at least 100 pieces a day, I opted for only 25 pieces as I could not handle more work by myself," says Bhavini, now 56. 
She was paid between 50 paise to a rupee per piece for surface ornamentation work -- about Rs25 per day at the upper end.
Soon, Bhavini met with a couple of women who needed work. She trained them so that she could also provide them with work. "Initially, these women were not ready to learn due to the efforts involved. However, I convinced about ten women and trained them. When the word spread, more women came forward seeking work," says Bhavini. 
From collaboration to entrepreneurship
Eventually, about 100 women began to work on 10,000 pieces a week. "For a decade I worked on this business from home and then in 2000, I rented a small garage where I and a few other women would come and work on the pieces," says Bhavini. 
Also Read: This Kashmiri man quit Sony India to upcycle plastic waste; clocks Rs 1 crore annual turnover through sustainable products
In 2007, this apparel export business was shut down due to dwindling demand. Bhavini had to figure out something else. She had made some contacts in the fashion industry and so, she began contract manufacturing of womenswear and childrenswear for various brands. To run this white-label business, Bhavini and his husband Nishit, who was into hardware goods trading, registered a company by the name of B N Fashion in 2007.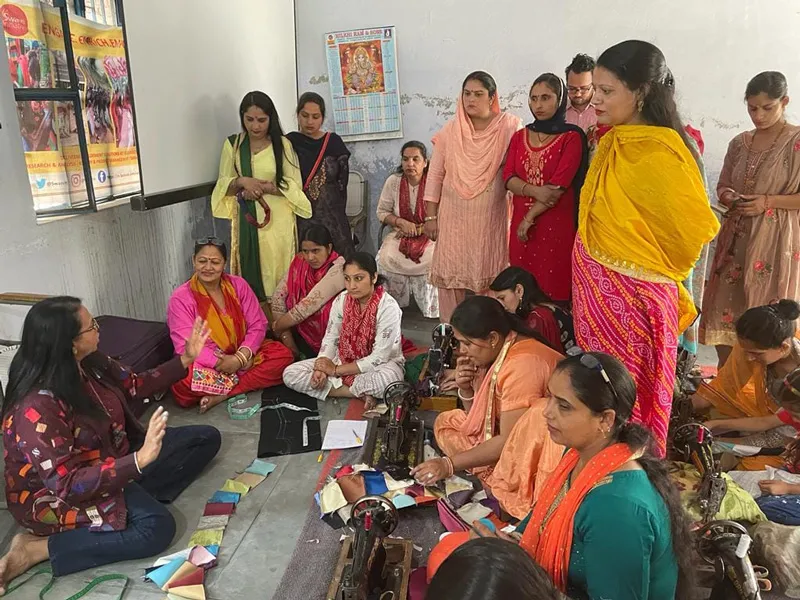 This business grew with time and in 2009, Bhavini opened a two-storey manufacturing unit spread over a total of 1100 sq ft. "We were manufacturing clothes for seven brands and could make good money. With 10 sewing machines, we would make Rs 50 lakh to Rs 1 crore annually depending upon the work," the woman entrepreneur says. 
The husband-wife duo continued the work for almost a decade from 2007 to 2018. The fabric trash produced during apparel production was sold for Rs 5 to Rs 20 per kilogram depending upon the scrap size.
Becoming an impact entrepreneur 
In 2016, Bhavini came across research that made her realize how detrimental the fabric scarp is to the environment. India is among the top five apparel manufacturing markets and a global hub of fast fashion garments. 
Also Read:  Gujarat's Rajiben Vankar: How this housewife set up a successful business by upcyling plastic 
Textile waste is the third largest source of municipal solid waste in India. 
Every year, India dumps more than a million tonnes of fabrics in landfills, which take decades to decompose. During the decomposition, they emit greenhouse methane gas and also release toxic chemicals and dyes that seep into the soil and groundwater. 
"I realised I was also hurting the environment by being part of the fashion industry. So I thought of up-cycling fabric scraps produced in my garment manufacturing unit," she says.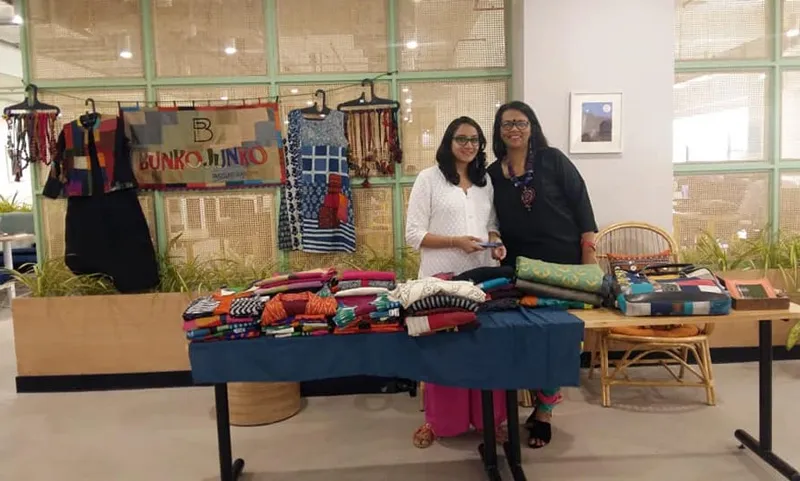 Bhavini made a few childrenwear and home décor products using fabric waste and showcased them at some exhibitions on an experimental basis. "The response was good. We could see that people loved up-cycled products," she says. 
In November 2018, Bhavini registered her textile upcycling brand Bunko Junko, which designs and develops fashion clothing using pre-customer industrial textile waste, dead stocks and other sustainable materials. 
In 2019, Bunko Junko received a grant of 10,000 dollars (around Rs 7 lakh then) from Visa as part of its global grant programme. This gave a boost to the business which up-cycles post-production textile waste using patchwork, knitting, and making accessories etc.
Also Read: Peoli: NID grads' slow fashion brand hand spins success story with natural yarns; empowers Uttarakhand women
The sustainable fashion business
Bunko Junko resonates with Japanese words which stand for 'art decoration creation'. At this sustainable fashion brand, pre-customer textile leftovers are turned into beautiful products ranging from womenswear to kidswear, bags, belts, jewellery, home décor products, office essentials, etc. 
"We collect scrap materials from manufacturing units and segregate them based on size, colour, and other criteria. We then create garments, home furnishings, and accessories while following a zero-waste policy," she says.
Bunko Junko also sources dead stock or surplus materials from smaller enterprises that generate less waste. It has prevented about 38 tonnes of scrap from going into landfills so far. "We repurpose these small quantities of scrap fabric, adding unique touches to our designs," she says.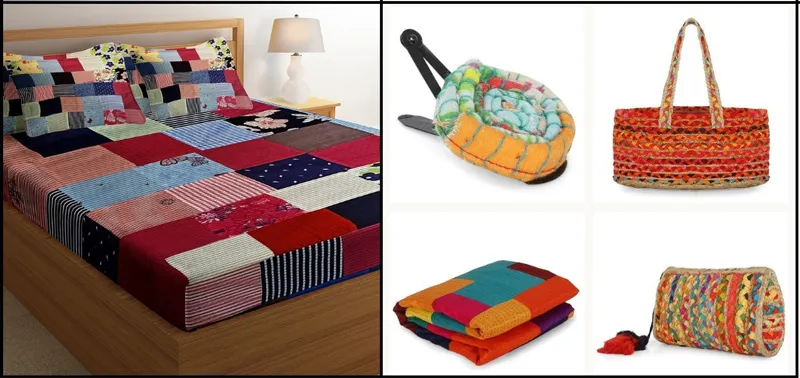 "By rescuing and repurposing textiles, we also actively reduce the demand for resources like water and contribute to the preservation of natural ecosystems. Our packaging materials are also made from upcycled and recycled materials to minimise carbon footprint," Bhavini adds. 
What started with just a few items as an experiment is now an ethical fashion business offering 250 varieties of up-cycled chic products to customers across India. 
The products are priced between Rs 900 and Rs 10,000. "In India, people think that these up-cycled products should be cheap or rather free as they are made of leftovers. They don't realise that upcycling waste into new products also requires a lot of design and manufacturing work. Moreover, by doing this we are trying to reduce the harmful impact of the fashion industry on the environment," says Bhavini. 
Bunko Junko products are sold through multiple channels such as exhibitions, the company's website, and direct to businesses (B2B). 
"The major sales come from the B2B channel. We make around Rs 34 to Rs 40 lakh in revenue annually. Of this, 90 percent is from offline sales while the rest is from the online channel," says Bhavini. 
In her entrepreneurial journey so far, Bhavini has trained around 5,000 women across Maharashtra, Gujarat, Bihar and some other states.
Many of these women are now working independently and earning enough to take care of their expenses and also manage their household expenses with ease. 
"We continue to organize workshops to train women so that they can work independently and earn a living. Today their children are CAs, engineers and doing well in life," says Bhavini.
(Bilal Khan is a Mumbai-based independent journalist. He covers grassroot issues, the LGBTQ community and loves to write positive and inspiring stories.)
Also Read: From Rs 5,000 to Rs 30 lakh, how Pooja Kanth set up a profitable home business