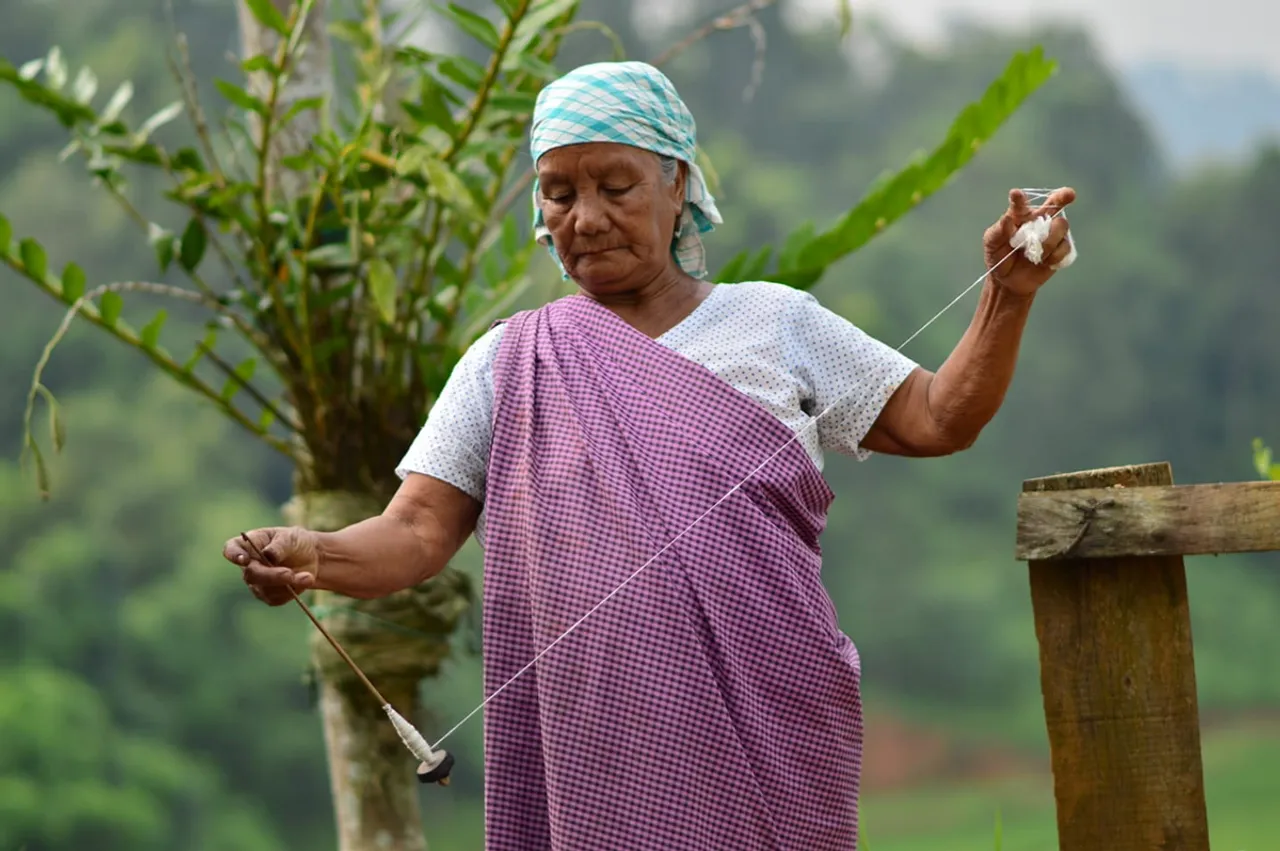 Sometime in 2015, Iba Mallai found herself at a crossroads after working for seven years in the corporate world of Bengaluru. The monotony of the work overpowered the allure it once held over Iba, who had started working after her graduation in business management (BBM). 
Having grown up in Meghalaya's Ri Bhoi district in a community that weaves and dyes their own fabrics, Iba wanted to pursue her passion for sustainable fashion in a way that could give back to her roots.
So she quit her corporate journey for a diploma in fashion design from the JD Institute of Fashion and Technology, Bangalore. In 2016, with an investment of Rs3 lakh, Iba started her ethical clothing line named Kiniho in the Umden village of the Ri Bhoi district. 
Eri – the non-violent silk 
Umden, Iba's native place, is well known as the Eri Silk Village of North East India because, for ages, it has been producing the world's most sustainable silk fibre – Eri – without killing the silkworm.
"I wanted to connect with my roots and so, I came back to Meghalaya. In the Umden village where I was born and raised, we rear our own silk worms, spin the yarn and weave our own fabric. I felt Eri Silk would be the perfect fabric to support the voice and mission that I have," says Iba.
Also Read: Namza: The sustainable fashion brand taking Ladakh's traditional clothing to the world
Kiniho, in Meghalaya's Bhoi dialect, means redirecting one's attention to the beauty that's already present. Iba intended to highlight the beauty of traditional hand-woven Eri silk and its connection to the earth.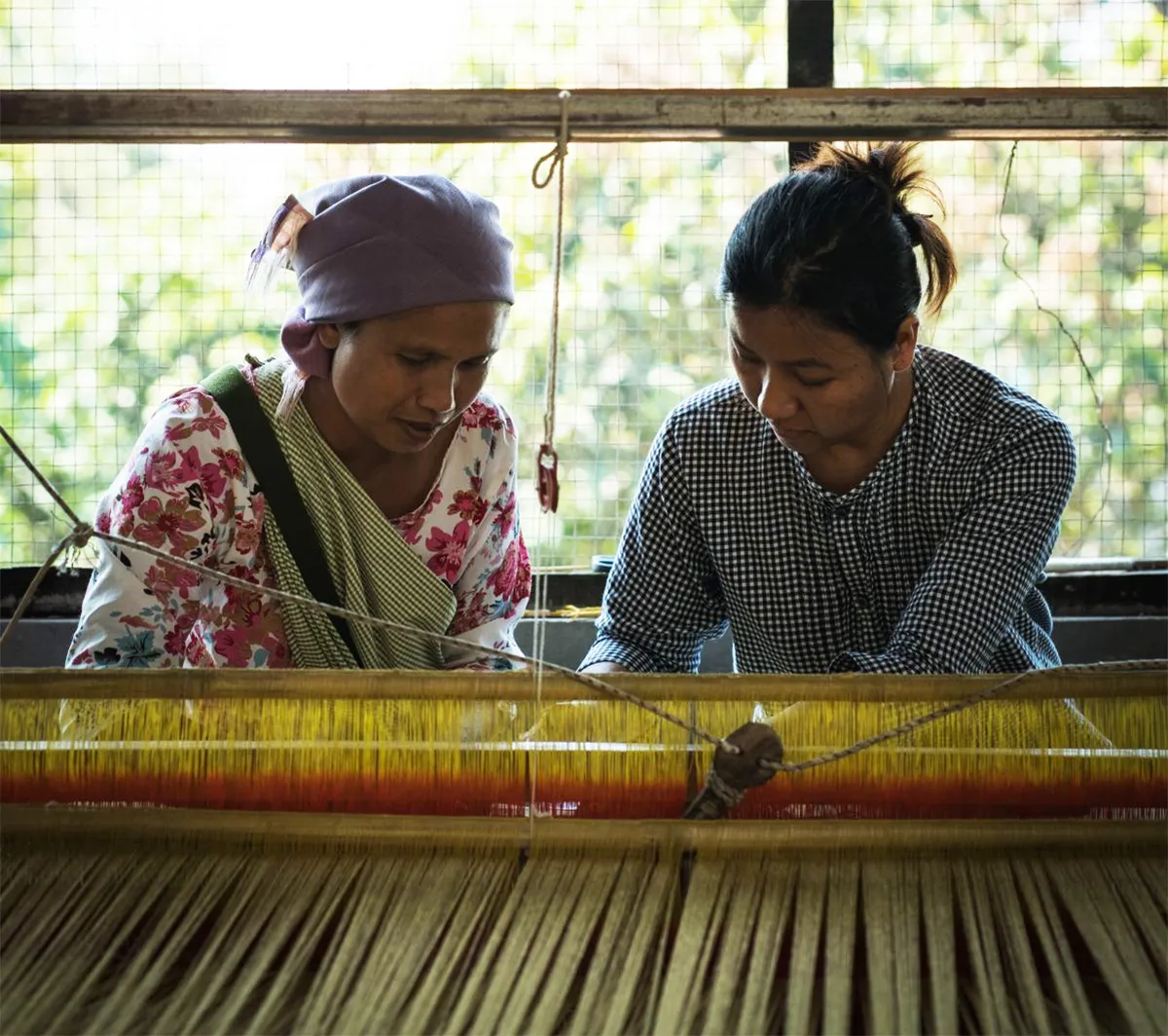 Eri silk, also known as Endi or Errandi silk and as 'Ryndia' in Khasi language of Meghalaya, is produced by caterpillars of the Samia ricini moth (Eri Silkmoth). It is primarily found in the North East region of India besides Japan and China. 
The process of Eri silk production is sustainable and cruelty-free as the moths are allowed to leave the cocoon before it is boiled, unlike other silk varieties where the silkworms are killed. That's why it is also called Ahimsa silk.
This ethical aspect has contributed to the growing popularity of Eri silk as a sustainable textile. Its short fibres and unique thermal properties offer not just comfort but also a profound connection to the people's heritage.
In contrast to other silks that boast a glossy and sleek texture, Eri stands out due to its abundant irregularities. However, despite these variations, it possesses a subtle sheen. This distinct characteristic serves as a reminder that beauty can be found even within imperfections.
"The entire process of both rearing silkworms and extracting fibres is non-violent. Only when the silkworm leaves the cocoon, the cocoon is boiled and the fibre is extracted. Even the process of feeding the worms is organic, not involving the use of fertilizers," explains Iba.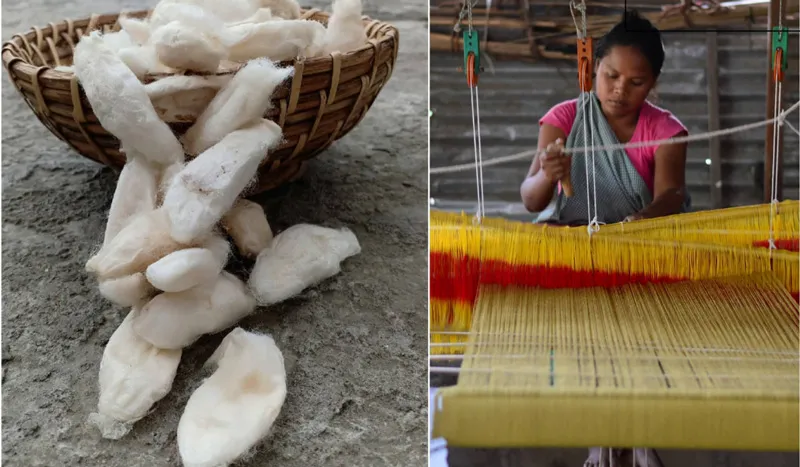 Kiniho – sustainable fashion
Kiniho is a slow fashion brand that sources its silk yarn from over 100 local farmers in and around the Umden village. At times, Iba also purchases cocoons to spin yarns of a particular texture as needed for her designs. It blends heritage with modern trends while keeping sustainability at its core. 
"I focus on creating contemporary sustainable designs by blending Meghalaya's traditional spinning and weaving skills with modern styles," Iba says.
The handmade label creates minimal, clean and relaxed silhouettes. It uses hand hemming, crochet and embroidery in its collections. They include women's clothing like flowing dresses, tops, peplums, and trousers, as well as men's shirts, shawls, scarves and the traditional Khasi dress jainsem.
Also Read: How Nomadic Woollen Mills is taking 'Made in Ladakh' Pashmina to the world
Hand spinning is a traditional practice in Meghalaya. This technique involves using a drop spindle to twist and create yarn from raw silk fibres.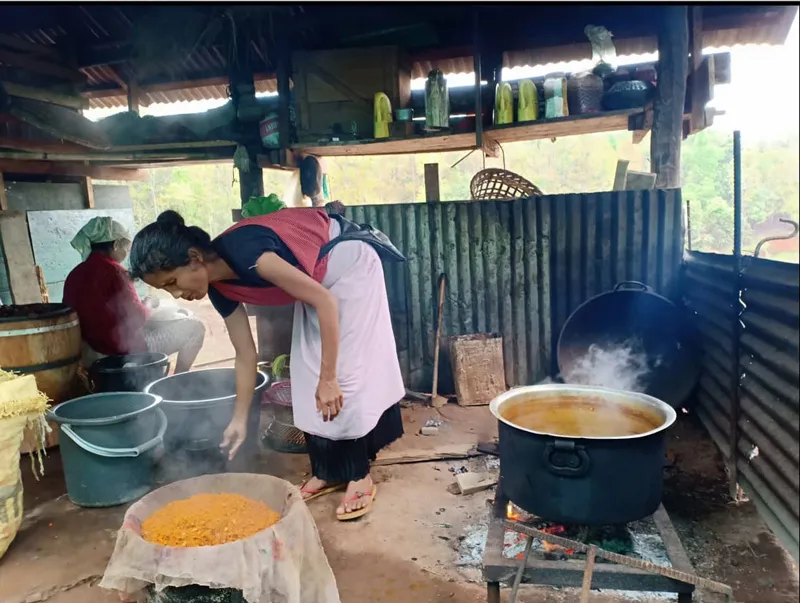 The fabrics are dyed using natural colours obtained from, flowers, barks and leaves of turmeric, marigold, pomegranate, and iron-ore, among others. "I like experimenting with natural dyes to make new shades. Last year, we also started working with Indigo, which is not popular in Meghalaya," said Iba. 
Kiniho places a strong emphasis on waste reduction through an approach that avoids surplus production. 
"We are a zero-waste sustainable fashion brand. Instead of discarding leftover materials like fabric scraps and yarn, we repurpose these elements to craft accessories such as neckties, bags, neck pieces, and earrings," Iba says.
Also Read: How Exotic Echo is reviving Nagaland's centuries-old loin loom weaving
Women empowerment
Kiniho has an in-house team of 16 weavers and it also works with around 40 other women weavers from the village. The weavers work with the 'thain madan' or floor looms as well as frame looms, which produce exquisite Eri fabric. Kiniho empowers women by providing them consistent livelihood opportunities at fair rates. 
The weavers receive a monthly salary varying from Rs 6,000 to Rs 15,000 depending on the work done. 
"Some of our weavers are students who were unable to continue education due to financial constraints and some are unemployed youth. We want to help them by providing opportunities for a better livelihood," Iba says.
Beyond offering employment opportunities to women, Iba has also acted as an inspiration within her community, motivating others to embark on a similar journey. Her efforts have been instrumental in raising awareness about the market's potential and encouraging others to explore it.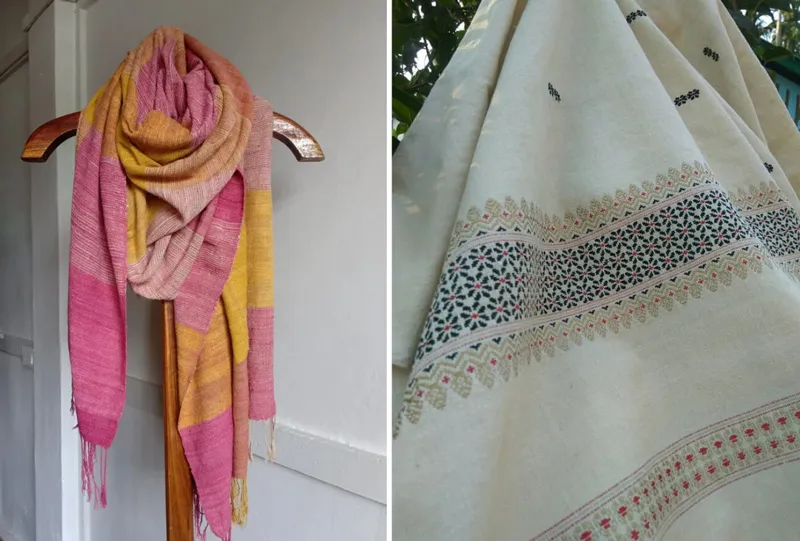 Iba believes that the discussions about sustainability have prompted the younger generation to recognize the significance of mindful consumption and ethical fashion. "With concerning issues like global warming, people have become more conscious about what they are wearing, this has surely helped us," said Iba.
Also Read: Tribal women turn entrepreneurs with Tasar silk farming
Kiniho also caters to customers from the UK, Australia, and Italy, to name a few. The company has a regular order pipeline from Delhi-NCR, Bangalore, Jaipur, Hyderabad, Goa, and Mumbai. "We receive good responses from places where people understand and appreciate craft and textiles. However, our major customers are from Meghalaya," says Iba. 
The annual turnover of the company was around Rs 30 lakh last fiscal. 
While talking about the challenges, Iba says, "When you are running a business, there are certain demands. But if you are working with artisans, you also need to understand the culture, it's not just business. Since Eri silk is rare and the demand is huge, at times we struggle to meet the targets," she added.
In the coming few years, Kiniho aims to broaden its international presence. It plans to expand its customer base and also explore the possibility of exporting more products to foreign countries. Iba is confident that Kiniho has the potential to become a leading sustainable fashion brand. She is committed to creating a positive impact on the environment and the local community.
(Riya Singh is a Ranchi-based journalist who writes on environment, sustainability, education & women empowerment)
Also Read: Peoli: NID grads' slow fashion brand hand spins success story with natural yarns; empowers Uttarakhand women