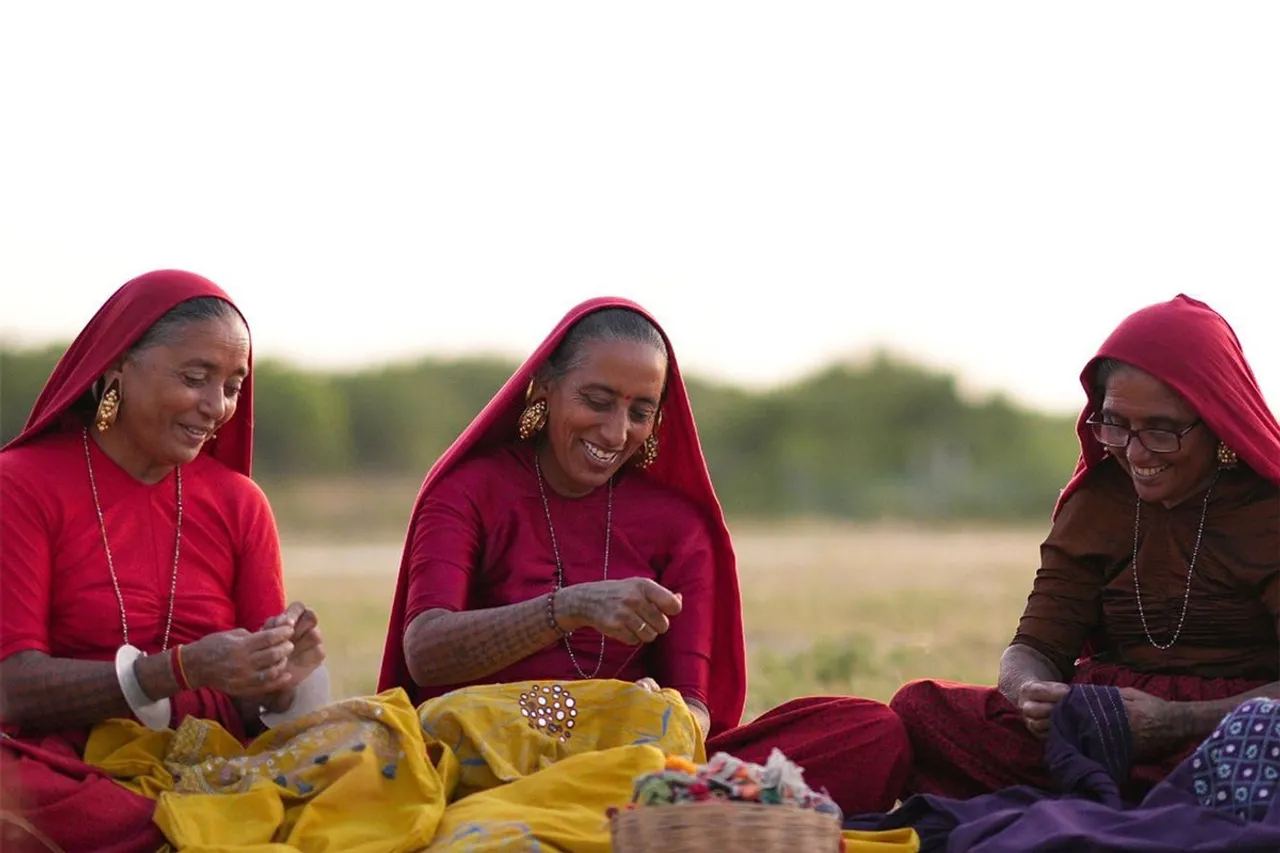 Jarina Qureshi, who works at Okhai, lifts her head high when asked about her profession. She is a cutting master in the male-dominated garment industry, where important tasks like cutting the fabric or making patterns are mostly done by men while women perform low-skill jobs of sewing buttons or matching threads.
"Okhai provided us with 40-day training by NIFT, and we learnt the basics of cutting and stitching garments. The 25 of us who got trained shared our learnings with other women to help them progress," says Jarina.
Okhai's designers guide her with market trends and new designs, which she executes. But that's not all about the contribution of Okhai to her life. A single mother to her daughter Afreen, Jarina says, "I resumed work when she was just 2.5 months old. My mother and sister helped me. Once she turned 5 months old, they got me a baby carrier and I started to bring her in my two-wheeler. This is how she was brought up," she says.
Jarina is one of the many rural women artisans who have discovered financial independence with Okhai, a brand offering handcrafted apparel and lifestyle products and empowering artisans. 
Also Read: Dehradun: How Purkal Stree Shakti is quilting joys & empowering women in the foothills of the Himalayas
Okhai was set up as a trust in 2008 by the Tata Chemicals Society for Rural Development (TCSRD) to support women artisans in the villages of Gujarat's Okhamandal taluka in Jamnagar district. Okhai marries the traditional handicraft knowledge of rural artisans with modern aesthetics to create contemporary designs.
Okhai started in Mithapur in Okhamandal in Gujarat, where the indigenous Rabari (also Rewari) people have been living for generations.
"Many years ago, there was a drought in the region, which depended on agriculture for livelihood. At that time, the community members came together and realised they could earn a living through their traditional embroidery skills. What was until then an art practised at home and passed on from one generation to another became a form of livelihood," says Okhai CEO Manorath Dhillon.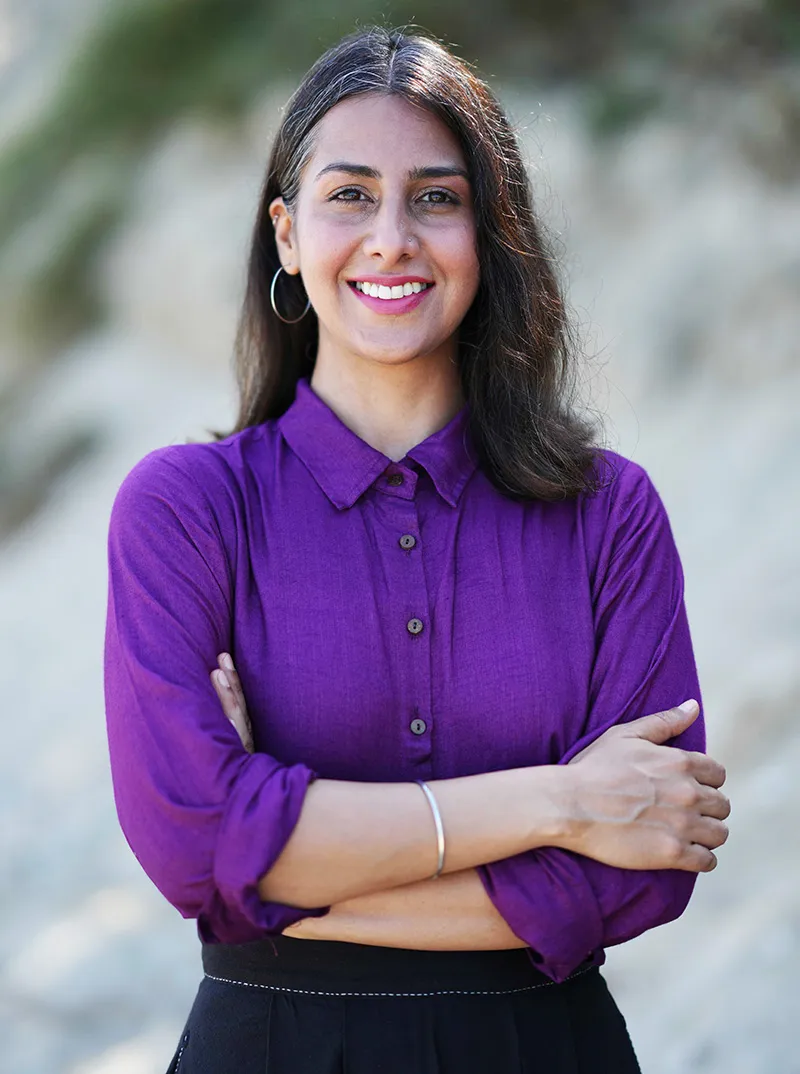 Okhai helped set up and brought together some of these women's self-help groups under one umbrella to provide consistent income to the locals. In 2010, Okhai roped in women artisans from Haldia, West Bengal, to prepare jute products, and in 2011, it expanded to Babrala (Uttar Pradesh). 
"Now the initiative has spread across many parts of the country, incorporating handicrafts like block printing, handloom weaving, and basket weaving, among others," she says.
In the early years, the handmade products were sold through exhibitions but as sales grew, Okhai became an e-commerce platform in 2016. "The idea of someone making things in a village and then taking them to the city to sell was not sustainable. There was a big market gap and the artisans were devoid of market knowledge and technology. After a series of workshops and design interventions to understand the market and bridge the gap, Okhai launched its website, and sales picked up," adds Manorath.
Initial funding and a decentralised approach 
According to Manorath, the initial funding was enough to take the products from one exhibition to another. "The idea was to generate income using their skill sets so that the artisans could be financially independent. Instead of handing out money, Okhai gave them employment, and what better way to do it than through the art they practise?" she says.
One of the important aspects of Okhai's model is its decentralised system of working and a strong focus on consistency and quality.
"The idea was to get the artisans to a common centre where they could work every day. But they were not ready to leave their homes because they had families to take care of, or did not feel safe besides other reasons," she says.
So, Okhai opted for a decentralised model. "The artisans themselves came up with the idea to form a network where a group of artisans could carry raw materials, distribute, and collect the finished products. This model is in place even today. It is essentially what drives Okhai and if not decentralised, it wouldn't have been as successful," says Manorath.
What started with 500 artisans is now a collective of 30,000 people with the main centre located at Mithapur. Each artisan earns up to Rs 20,000 per month depending on the amount of work they take up.
Also Read: How Sahaj India has empowered 18,000 tribal women in eastern Gujarat
Okhai offers a range of products including menswear, womenswear and childrenswear, home linen, laptop sleeves, jewellery, accessories, home décor and linen. They are made using traditional crafts like Rabari stitches and embroidery, heirloom embroideries from Kutch, block printing from Ajrakhpur, Aari work from Kashmir, crochet work from Bihar, Kalamkari printing, Madhubani painting, Blue Pottery, Dokra Work, metalwork, leathercraft, macramé, silver filigree work, Chikankari, Kauna grass basketry and Sabai grass products, to name a few.
Okhai currently has one store in Mumbai besides stockists who carry some of their products, like Tata CLiQ, Jaypore and Myntra to name a few. About 90 percent of their sales are online and the brand has expanded from Okhamandal to working with artisans across the country. 
The average growth rate of Okhai has been around 50 percent in the last five years. It did not divulge revenue details.
A collaborative design process
Even though Okhai artisans take pride in their craft and say it runs in their blood, it does not prevent them from collaborating with designers to come up with new and contemporary designs.
There is a team of designers who move between offices in Kutch, Mithapur, and Jaipur, depending on the site of production. They sit with the artisan groups to plan the collection.
"The designers don't dictate the design but exchange ideas and inputs. The reason we can do more collections is because the artisans are extremely creative and the process is collaborative," says Manorath.
"The ones who don't want to be a part of the design process are either in stitching or operations. So anyone who is doing embroidery is in some way a part of the design process," she adds. 
Also Read: This Assam couple quit jobs to promote forest conservation through handlooms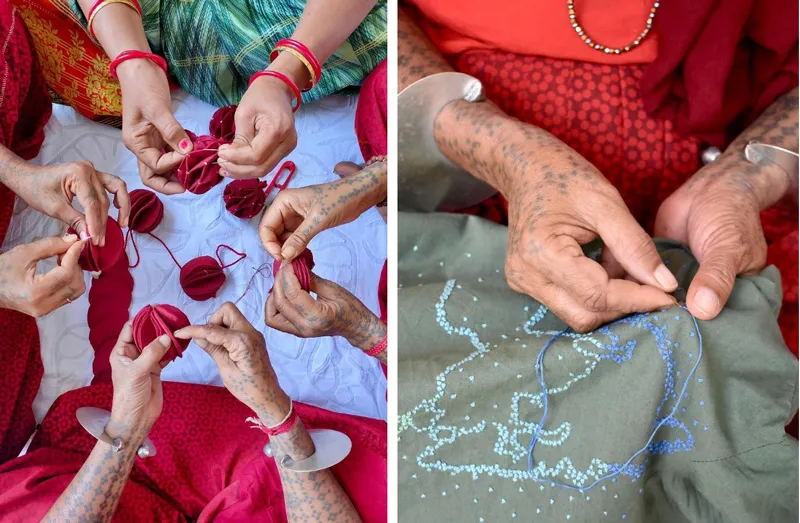 At Okhai, she says if one looks closely, each piece is slightly different from the other. But if you put five pieces of the same design together, a common eye would not be able to differentiate. "There is consistency in design, colour, and layout of composition. We are not looking for every piece to be the replica of another."
Lalitaben Parmar, who has been working for 10 years with Okhai as a design innovator, says the work has not only made her independent and improved her household condition, but also took the heritage of her ancestry craft to a larger audience. 
"We have been practicing the art of embroidery for generations and I have taken inspiration from my mother and sister. We work with the design team as a family and suggest changes in terms of designs, colours and motifs. I love working with them as much as I enjoy my tea breaks. After going back home, I explain the designs to other artisans," says Lalitaben who is the head of Anmol Mahila Mandal.
Also Read: Niyati Kukadia: The engineer taking tribal beadwork jewellery from the Rann of Kutch to the world
Neha Chauhan, a native of Mithapur who has been a designer with Okhai for six years, says it is a collaborative process of exchanging knowledge. "When I first came here, artisans were doing basic stitches and traditional motifs. I tried making contemporary motifs using their stitches and also taught them new ones which they easily learned. That is how we started blending traditional techniques with new thoughts," she says. 
For example, they have done mirror work for a very long and are experts in the art.
"I used mirror work and made a constellation out of it and we launched the constellation collection. Even though artisans knew what a constellation was, they never thought of using them in embroidery. That's how we collaborate."
Regarding another collection, Neha says, "We did an applique collection in which I used artisans' ancient applique art to make contemporary designs. We have created many designs and collections that incorporate the land's culture."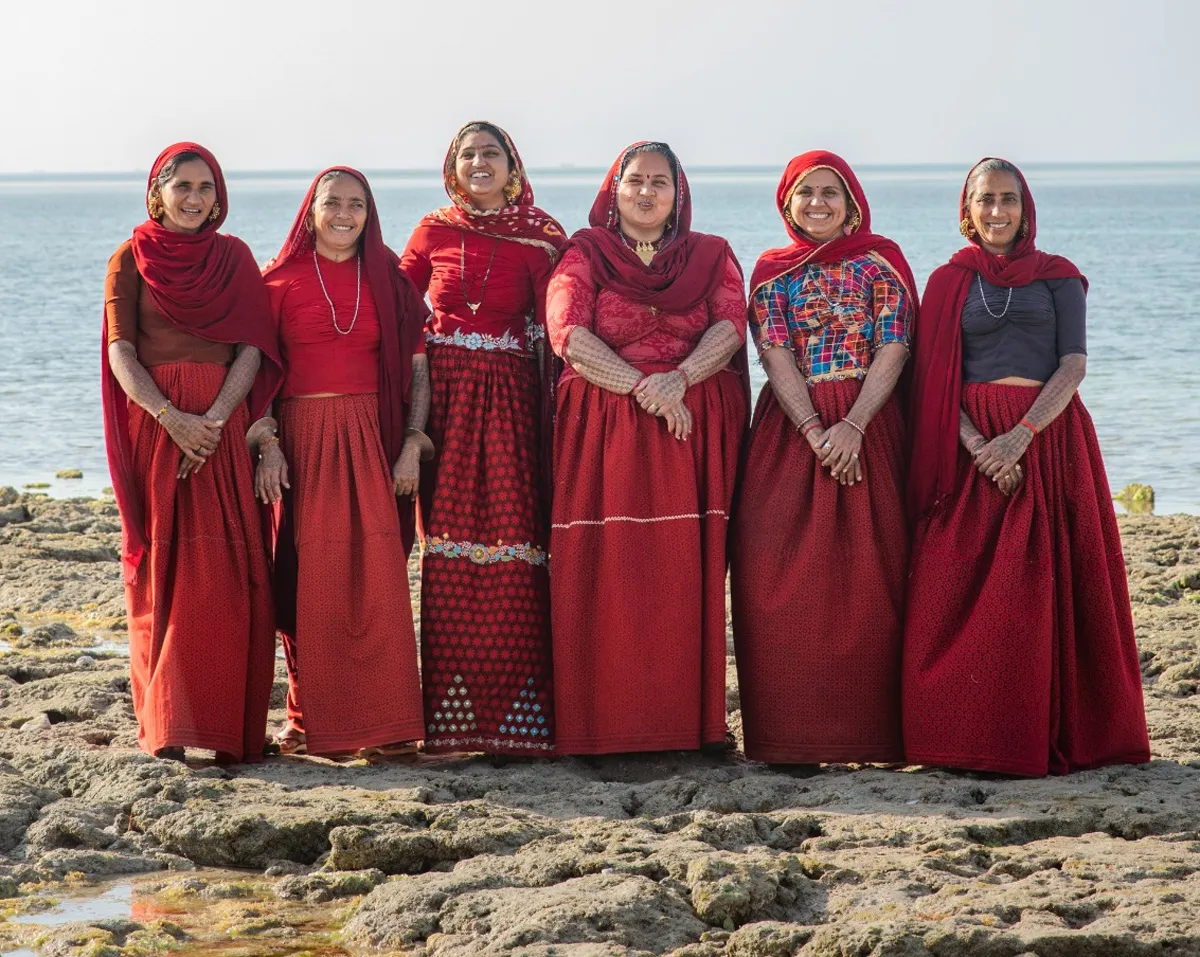 Okhai offers various workshops on colour theory, marketing, and design processes to help each woman artisan stand on their feet and flourish even without being associated with the brand.
At Okhai, about 80 percent of the employees are women, and artisans who joined during inception are still working. New artisans are recruited through reference. 
Manorath says they share samples, and they are assigned tasks depending on the quality of their products. "We don't say no to anyone who comes. For example, some artisans can do only mirror work and if there are 1,000 of them, you need to give them consistent work. The design team has to figure out collections using mirrors. It is easy to give work to A-grade artisans but the others may not be able to earn anything. We also make efforts to train these artisans."
Empowering women
Laxmiben Karamta of Arambhada village is the head of SHG Vakol Mahila Mandal which started in 1999 and comprised 16 women. A year later, the group joined Okhai upon introduction to the brand.
A master cutter, 48-year-old Laxmiben and her group do applique work for Okhai. "I learnt applique work by observing my mother, the way she moved her scissors and subsequently, I began to try out some designs on waste paper," says Laxmiben adding that a lot changed in her life after joining Okhai.
"I belong to the shepherd community and rarely ever visited a city. But since we joined Okhai, we interact with designers, can save money, and deposit it in the bank."
Laxmiben, a mother of two sons and daughters, says her employment has helped improve the financial condition of her family. "When I joined Okhai, my children were really small and I funded their education with my earnings. Now one of my sons is in Dubai, while the other is studying. My daughter too finished college recently. My husband was a driver but he did not have a good income. This job helped me support my family. The banks also give us loans and I save a good amount regularly now."
Also Read: How Kamli Tribes is empowering Udaipur's tribal women through embroidered handicrafts
Laxmiben and her group work six days a week, with each person making about 10-12 pieces a month. "We feel delighted that our craft is still living and people across the world value it. Nothing gives me as much joy as this recognition for our work."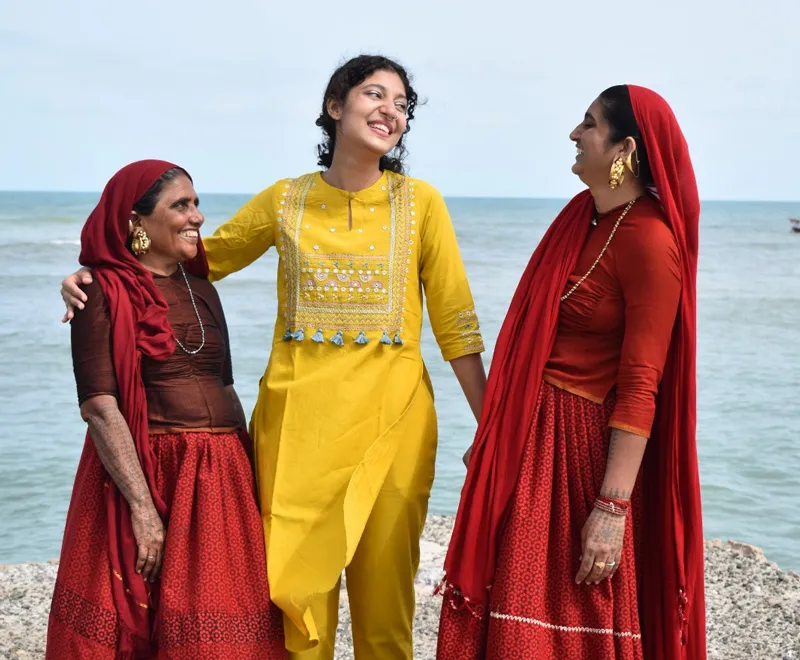 Empowering women has been an important pillar of Okhai's work. It has not only made women financially independent but also helped some like Rajuben to run their households without any other support. Hailing from Dwaraka, Rajuben travels to Mithapur for work and has been associated with the brand for a decade now. "I live with my in-laws and I have two children aged 15 and 10. My husband passed away and I am the breadwinner of the family," says Rajuben who does applique and embroidery work.
"Since I am a single mother, schools refused to admit my children citing that I won't be able to pay fees. But when I started to get regular earnings, my respect also increased," she adds.
Slow and sustainable
With 70 percent of the products being apparel, Okhai tries to make silhouettes that use maximum fabric and minimise waste. "We keep changing the way we cut fabric, and layouts to ensure there is no wastage. We also have a resell button on our platform, through which customers can resell whatever they bought from Okhai," says Manorath.
The brand uses natural and sustainable fabrics like cotton, linen, and silk and biodegradable packaging made using cloth and paper. Okhai is also working towards a zero-waste policy.
"It is a huge commitment, but we are taking baby steps. Our primary commitment is income generation for women. The secondary goal is to be as sustainable and circular as possible," she adds.
Okhai is a slow fashion brand, which means their collections take anywhere from 8 days to 2.5 years to be ready. As they work on a backward cycle of two years, they are currently planning for 2025.
(US Anu is a Madurai-based writer. She specialises in stories around human interest, environment and art and culture.)
Also Read: How Rangsutra has tapped the skills of rural artisans and turned them into entrepreneurs