The word handloom carries within it an amalgam of sustainability, empowerment, skill and labour of love. Each region in India has its own handloom tradition. Before the power looms came to the country in 1904 (in Ichalkranji town in Maharashtra), every village had a community of weavers who handmade cloth and tapestry on the loom. The looms were set up in their houses and were closed or shut down only when there was nobody to continue the tradition.
In the bygone days, weaving was a way of life. Handlooms signified the independence of weavers from market forces as villages were self-sustained units, with needs of clothing, food and other items being met locally.
In the Northeastern states of India, almost every household had a handloom where fabrics were woven, mostly by women, during their spare time. That tradition continues in many homes even today. For the bridal trousseau, it is customary among many tribes to include handspun and handloom clothes.
Handloom weaving involves interlacing two sets of yarn – the warp (length or vertical) and the weft (width or horizontal). The primary function of the loom is to hold the warp or vertical threads under tension to help the interweaving of the weft threads.
Handloom, a wooden device used for weaving cloth without electricity, is of two major types -- pit loom and frame loom. A pit loom is fitted in a pit where the weaver sits at the ground level and uses pedals to raise the warp threads. A frame loom, on the other hand, is made of bamboo and wooden panels fastened at right angles to construct a box-like structure.
Weaving – a historic art 
The first reference to a horizontal loom is found on a pottery dish in ancient Egypt, which goes back to 4400 BC. The widespread use of handloom fabrics, however, began around 3000 BC post the invention of cotton.
In India, many of the figurines belonging to the Harappan Period (2600 to 1900 BC) are seen wearing skirts and headdresses, pointing to the use of looms for weaving.
Some families in India have been the custodians of ancient weaving traditions for centuries.
The Salvi family from Gujarat's Patan region has been practising Patola weaving for over 900 years. The history of Paithani weaving in Maharashtra goes back to 200 BC and Odisha's ikat weave technique was first practised in the 12th century.
Similarly, many other handloom traditions throughout India have continued for centuries. It is Kani and Pashmina in Kashmir, Banarasi brocade from Uttar Pradesh and Ikkat weave from Telangana and Odisha. Here are ten types of handloom weaves in India that have survived despite competition from power looms:
1. Paithani weaving from Maharashtra is synonymous with sarees which are part of every Maharashtrian bride's wedding trousseau. Colourful silk threads and zari are woven on handlooms into exquisite Paithanis, which have motifs of peacocks, parrots, flowers and vines on the pallu (loose end of a saree).
The name Paithani is derived from the town Paithan (in present-day Aurangabad district), earlier called Pratishthana. It was the capital of the Satavahana dynasty (200 BC) and exported silks and cotton to the Roman Empire.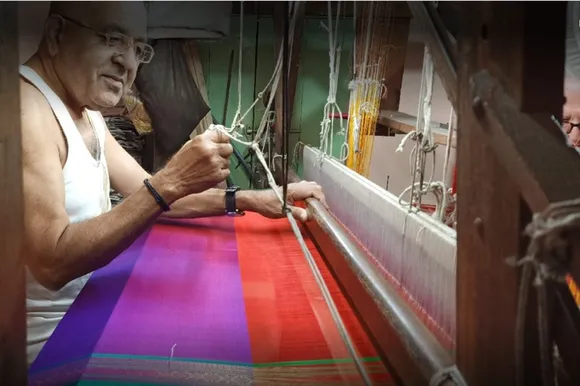 From the paintings in Ajanta and Ellora caves to the reign of Peshwas of the Maratha Empire (1713 to 1818), Paithani weaving is integral to the history of Western India as it is mentioned in various inscriptions and historic letters.
Read more here: Maharashtra's Paithani Sarees continue to weave magic after 2,000 years
2. Pashmina weaving from Kashmir is known the world over. Traditionally, women spin the raw Pashmina, mostly sourced from Ladakh, into fine-count wool yarn.
Weaving on the loom is done by men, who turn the yarn into biscuit-coloured Pashmina shawls renowned for lightness and warmth.
It takes about 10 days to complete a plain pashmina shawl on the handloom, which sell for Rs 12,000-15,000. In comparison, a power loom can make 10 shawls in one day and they sell for Rs 3,000-5,000 each.
Read more: Kashmir: Pashmina weavers' looms come to a grinding halt
3. Patola weaving from Gujarat's Patan is over 900 years old with the Salvi family continuing it since the ancient period. Currently, the 30th generation of the Salvi family is weaving exquisite handloom sarees and other items using the age-old technique without much modification.
Their ancestors sourced raw silk from Chinese traders who used the Silk Route, passing through India. Today, the family sources most of the silk from Mysuru.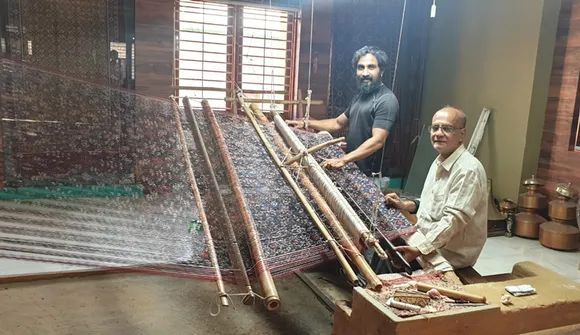 The family buys silk in bulk for use in the next three-four years and is currently sourcing it from Mysuru. "We make 7-8 sarees in a year and about 500 gm of silk is required for one saree. So 4-5 kg silk is adequate for us. We get 15 kg at a time and that lasts us three years," says Rahul Salvi.
Also Read: How COVID-19 and India-China tensions have changed India's 900-year-old Patan Patola weaving
4. Kullu handloom shawls from Himachal Pradesh are known for their trademark geometrical patterns and bright colours. When Devika Rani, the legendary actress and the first lady of Indian cinema, visited Kullu in 1942, she asked a local weaver, Sheru Ram, to weave a shawl on his pit loom.
Up till then, the locals mostly used to weave Pattis, about 18 to 22 inches wide, using sheep wool and these pattis were joined to make coats, caps and pyjamas for men while women wrapped them around the body to keep warm. The suggestion from the iconic Devika Rani gave birth to the first full-length shawl (72" x 36"), setting off the commercial handloom weaving of iconic Kullu shawls.
Also Read: Kullu shawls, once patronised by Devika Rani, losing out to Ludhiana's factory fakes
5. Patteda Anchu weaving of Karnataka goes back to the 10th century when these sarees were woven in and around the villages of Gajendragarh (Gadag district), Belgaum, Raichur, Kodal, Bedar, Bellary, Gulbarga and Dharwad.
Patteda Anchu means 'thick border with checks on the body'. The traditional Patteda Anchu has fine checks and two pallus which can be reversed and worn. The hand-woven sarees were offered to the local deity of Gajendragarh village, Goddess Yellamma Saundatti.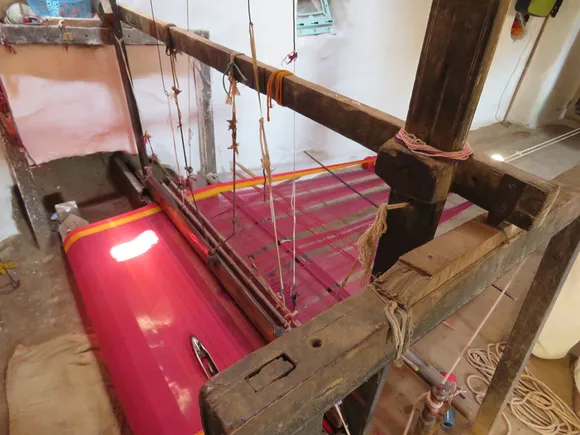 Earlier, the sarees in coarse cotton were woven in mustard, maroon, pink and green colours and measured only 38 inches in width and 6 yards in length. Today, newer colours and patterns are being added by handloom revivalists and Patteda Anchu dupattas, sarees, stoles and fabrics are once again in demand.
Read more here: Dr Hemalatha Jain: The professor reviving age-old handloom weaving of sarees in Karnataka
6. Loin loom weaving in Nagaland varies from tribe to tribe. The state is inhabited by 16 major tribes, which are officially recognised, and 40 other sub-tribes. Each Naga tribe uses different colours and motifs while weaving their cloth, which establishes their distinct identity.
Weaving is done only by women in Nagaland's patriarchal society and every girl needs to learn the craft. A prospective Naga bride has to weave a mekhala (sarong) and shawl for her fiancé's family.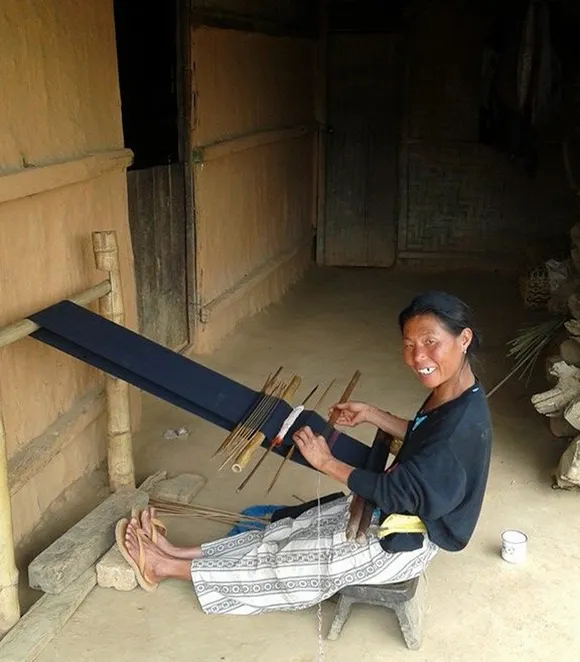 Loin loom weaving is a laborious process where warp yarns are stretched between two parallel bamboo. Most of the loom's parts are made from bamboo and wood. While the bamboo at one end is fixed to a wooden branch fixed into the ground, the other one is held by a strap worn around the lower back of the woman weaver. She regulates the tension by bending forward and backwards. Since loin loom weaving strains the body, they move on to spinning and dyeing with age and younger ones take up weaving.
Also Read: How Exotic Echo is reviving Nagaland's centuries-old loin loom weaving
7. Jamdani weaving from West Bengal has patrons across the world. It is a weaving technique wherein a plain silk cloth or muslin cloth is decorated through a dense pattern against a semi-transparent background. The word Jamdani, which has a Persian origin, is a combination of jam (flower) and dani (container).
The intricate and time-consuming weave requires the use of standard and supplementary weft methods. The weaver uses thick threads in standard weft for making designs on the saree. Each motif is inlaid into the fabric by adding denser threads to the finer warp threads. The supplementary weft motif is added using a bamboo stick.
As a result, Jamdani sarees give an impression of a floating design on a shimmery surface. At times, weavers use gold threads as well. It is this intricate process that led Jamdani to be declared a UNESCO Intangible Cultural Heritage of Humanity in 2013.
Also Read: Biren Basak: The boy from East Pakistan who became India's handcrafted saree tycoon
8. Kani weaving, also from Kashmir, is relatively lesser known than Pashmina but is much loved by art connoisseurs.
Ain-i-Akbari, the 16th-century book on Mughal Emperor Akbar's administration, mentions that he was an avid collector of Kani shawls. 
Kashmir's Kani weavers have ensured the continuity of the craft through the centuries. Made from soft Pashmina yarn, the shawls are woven thread by thread based on the coded pattern called Talim. The weavers have contemporized the ancient craft to stay relevant in the 21st century.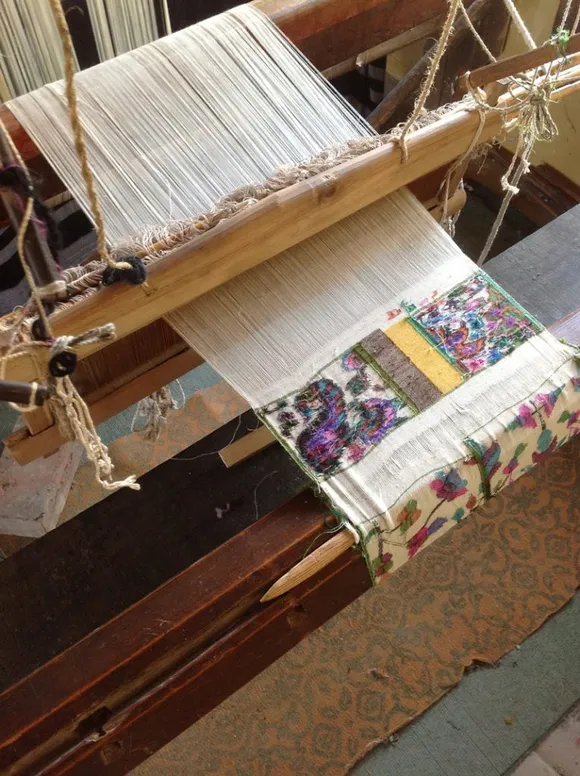 Also Read: Kashmir's Kani shawl weavers develop new products to keep alive the ancient craft
9. Banarasi handloom weaving from Uttar Pradesh is synonymous with Varanasi, the holy town. Banarasi weaving uses golden and silver zari to create floral motifs called Kalga or Bel. It takes anywhere between 15 days to six months to weave a 6-yard Banarasi saree depending on the design or pattern.
Mainly, six styles of weaving are used in Banarasi sarees – Ektara, Kadhiyal, Kadhwa, Tanchoi, Phekwa (cut work) and Meenakari, which is similar to enamelling with multiple colours. Up to 20 colours can be introduced on a handloom in Banarasi weaving and power looms can never replicate this variety.
10. Ikat or Ikkat weaving of Odisha goes back to the 12th century. Some artisans, who migrated from Gujarat, carried the craft to Odisha, where it acquired new dimensions. Odisha Ikat is often called 'poetry on the loom' because of the intricate process and colourful output of this weaving tradition.
Ikat involves resist dyeing, which has been adapted from the craft practised in Indonesia. First, the warp and weft threads undergo a tie-dye process. They are then woven on the loom, resulting in a unique pattern characterized by blurred or feathered edges.
Also known as 'Bandha of Odisha', ikat weaving can be classified into three types – ikat, single ikat and double ikat. Single ikat is where the yarns of either warp or weft are dyed. In just ikat, both the yarns of weft and warp are used together but in different parts of the single fabric.
In double ikat, both the yarns of warp and weft are tied to form a mesh, resulting in a complicated pattern of fabric. Double ikat fabric is also the most expensive among the three varieties. Odisha ikat craft received the geographical indication or GI tag in 2007.
Also Read: How Sarna is showcasing Odisha's best-kept secrets through its artisans & indigenous communities
(Mona Singh is a Rajasthan-based writer and wanderer)