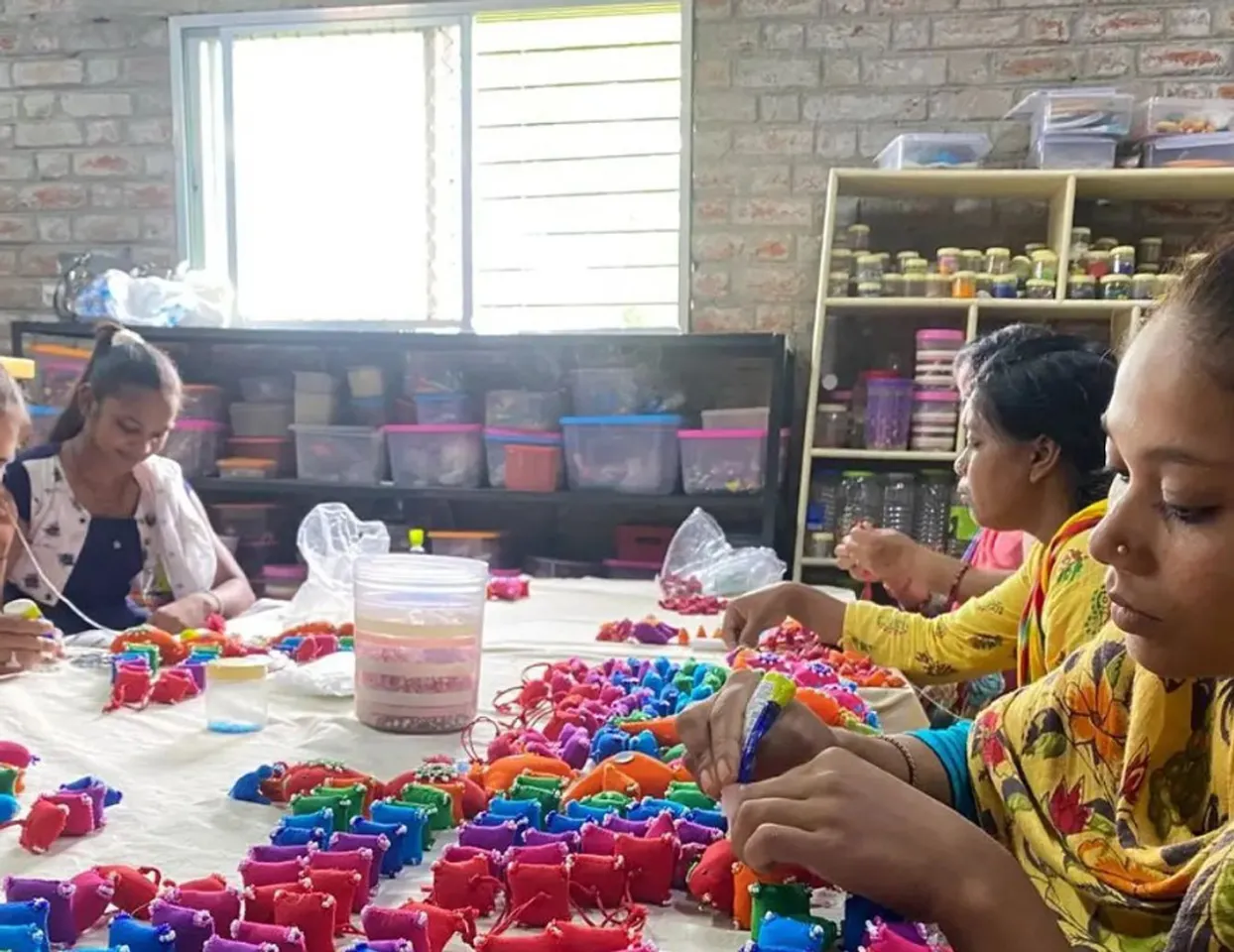 In 1989, a young Jabeen Jambughodawala saw a pregnant woman carrying two pots of water on her head in the small town of Dahod in eastern Gujarat. A surprised Jabeen asked her why she was working at this delicate stage, to which the woman replied: "We are used to this life. Now the summer will be dry here; so we will migrate to other cities to work as construction labour. Many women in my community have delivered babies on the roadside."
This woman belonged to Dahod's Bhil tribal community, whose members worked as agriculture or construction workers during the dry season since rain-fed agriculture permitted cropping only once a year.
Jabeen, who had appeared for her preliminary exams for Indian Civil Services at that time, thought of creating work opportunities for tribal women so that they could stay back instead of migrating with the men. That would also ensure continuity in the education of their children, who otherwise accompanied their parents to cities.
"I did not appear for my Mains examination for Civil Services after that incident. I began spending time with the tribal women to understand their problems. The first intervention I thought was the making of leaf plates since women could collect sal leaves from the nearby forests and knew how to stitch them," recollects Jabeen, now 55.
However, the market rates for leaf plates did not justify the efforts involved in making them manually. "One day, I noticed the beautiful glass beads neckpieces these women wore and knew that these would have a ready market in cities like Baroda, especially during Navratris. I asked them if they could make them for sale. They laughed, saying it was a tedious process and one piece was ready in many days," says Jabeen.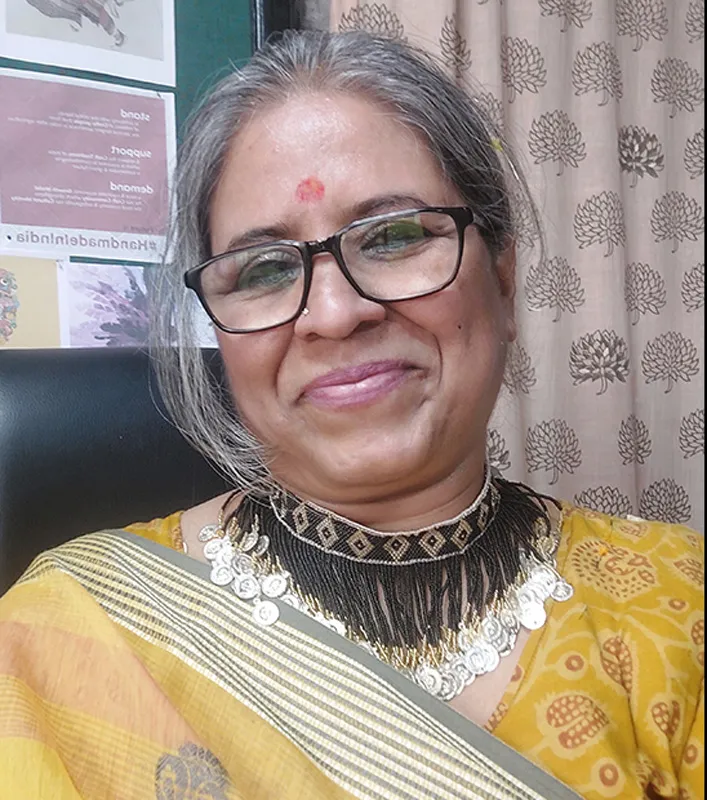 She found that the tribal women did not know about the use of needles for beading. Instead, they hardened the thread  using soap.
"I introduced needles in place of soap and they were surprised at the pace at which necklaces could be made," she adds.
Stringing together an enterprise
Various tribes including Damor, Bhabor, Meena and Bhils have their own symbols and shapes which are used in making jewellery. By the next year, in 1990, Jabeen was ready with some neckpieces as well as dupattas and tops with beadwork. "I showcased the products at an exhibition at the Maharaja Sayajirao University of Baroda," she says.
The work caught the fancy of young students. "The colourful items were attractive, especially to youngsters. I kept a suggestion book for people's comments. Based on their feedback, I decided to introduce new patterns, colour combinations and improve the product quality," Jabeen says.
Also Read: Woman on a mission: Subrata Pandey is supporting tribal women, reviving lost crafts in Odisha
To build the capacity of tribal women, Jabeen helped them to get trained under various Government schemes and Sahaj India was born. "I began with 14 women in two villages in Dahod -- Sahada and Bhamatalai – in 1990. By 1992, the number had increased to 245 women," she says. Sahaj India was formally registered as an NGO under the Bombay Trust Act in 2001.
Today, Sahaj works with 5,000 tribal women in the Dahod, Chhota Udepur and Narmada districts of Gujarat. They handcraft jewellery, accessories, and home décor items besides stationery and utility products sold in India and across the world under the Sahaj brand.
"While 500 women work with us directly, about 4500 women trained by Sahaj are micro-entrepreneurs associated with our various projects. "Since inception, we have trained around 18,000 women," she says.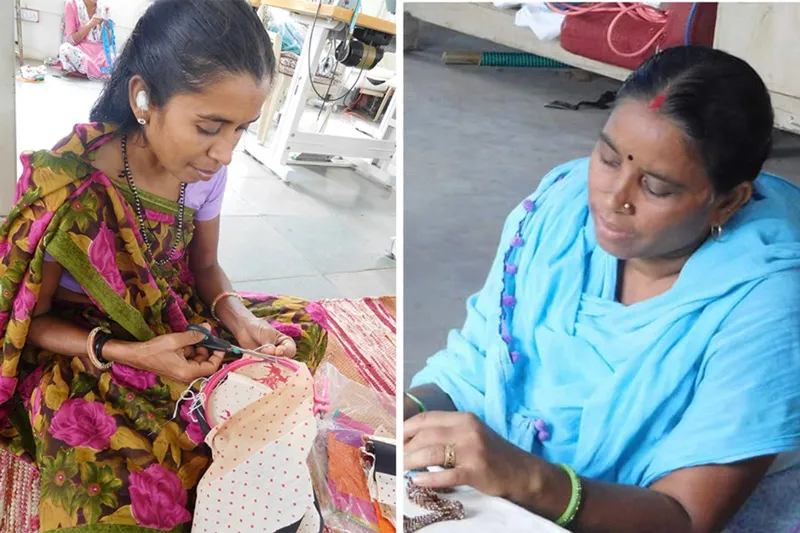 For Jabeen, the biggest achievement of Sahaj has been the empowerment of tribal women and making them believe that they can also be achievers. "The confidence and hope I see in these women gives me immense satisfaction. Alongside, it has greatly reduced migration for work from Dahod and other tribal areas nearby," she says.
Lalita Chauhan is a case in point. Until nine years ago, Lalita and her family were dependent on agriculture for survival. During lean times, they used to migrate to cities for wage work. When she heard about Sahaj through another artisan, Lalita came to the centre. "I started working from home after training and working in the Dadhela centre," she says.
Also Read: Gujarat's Pabiben Rabari: from a daily wager to a millionaire entrepreneur
"This job has given a lot to me and my family. We are eating good and nutritious food now," she says.
"I now wear sarees instead of just a skirt-blouse with a dupatta around my body. The life of my family has changed," Lalita says.
Manjula Bhuriya, now a trainer at Sahaj's Dahod office, stepped out despite her family's opposition. "Sitting at home, no matter how much work we do, nobody cares for our contribution. We are made to believe that this is all we can be. But now I tell everyone that women are also capable of achieving great things," says Manjula, who has travelled to many Delhi, Ahmedabad, Mumbai and other cities for exhibitions with Sahaj.
Sahaj – keeping it simple 
The women artisans take raw material kits, and designs from Sahaj's central office in Dahod where master craftsmen work daily to create designs as per market demand. The women work according to the prototypes at their home and one woman, the local coordinator, takes the work of a group of artisans to the office. "We make the payments monthly into their accounts," Jabeen says.
The payment is done on a per-piece basis at a rate decided by a committee with representatives from women artisans, master craftsmen and others.
The women work for about 3 to 4 hours a day, earning around Rs 5,000 per month. "They work only about 200 days a year when they are not working on the farms. Festivals and wedding seasons are other times when they take a break," Jabeen says.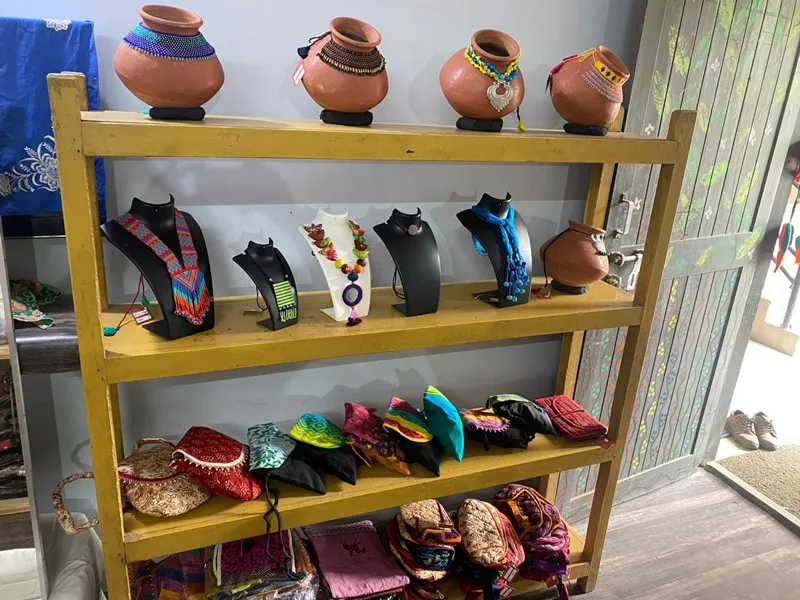 The women are trained by Sahaj at two levels.
"Training on new designs is provided by master craftsmen at our unit. But for new learners, our trainers go to their village with machines and other raw materials and provide training as per the curriculum designed by Sahaj," she says.
The training involves courses on embroidery, sewing, bead jewellery, bamboo furniture making etc. The course modules are fixed to ensure consistency and predictability in outcomes. "I am very focused on quality and dignity. If we cannot earn with dignity, it is not worth it," she says.
Also Read: Niyati Kukadia: The engineer taking tribal beadwork jewellery from the Rann of Kutch to the world
Handcrafting the business
The handcrafted products are sold through through exhibition across India, the Tribal Cooperative Marketing Development Federation Of India Limited (TRIFED), the Bombay Store, and bought in bulk by exporters for sale in the USA, UK, Germany, Australia and other countries. The products are also available at select websites online.
Sahaj India reported revenues of Rs1.8 crore in FY19, which dipped during the pandemic years. "Things are picking up once again. Now, we are also training tribal women living in bigger towns like Godhra and Piplad as they are keen to handcraft their own livelihoods," Jabeen says.
In the journey from 14 women in 1990 to 5,000 women now, Jabeen overcame various challenges, especially around funding. She did not want Sahaj to be dependent on donors or money lenders in the long run. "When we started, we used to procure beads on credit from local vendors and pay them after the sale of products."
But In 1992, Jabeen felt that getting raw material on credit will not work and she needed to raise funds to expand the scale of operations. "I wanted to be self-sufficient. So I approached the Friends of Women's World Banking in Ahmedabad, which provides loans to women in agriculture, entrepreneurship and other areas," she says.
"I managed to get a loan of Rs2 lakh and that gave me new wings as I could buy raw materials and pay wages." 
Gradually, other communities began to approach her with their products like Harijans, who excelled in making bamboo baskets. "Initially, I worked on design development. Soon, interns and others from the National Institute of Design, Gujarat Handloom and Handicrafts and other designers came forward to help us," she says.
A big support to Sahaj's work came from Villoo Mirza, who worked as the Chief Designer and Production Coordinator with Gujarat State Handloom and Handicrafts Development Corporation (Gurjari) for 12 years. Villoo is currently the chairperson of Sahaj and has supported its work through her designs, experience and collaboration with others.
"She presented Sahaj's beadwork jewellery with a designer look that gave a big boost to the brand," says Jabeen.
Over the years, Sahaj has broadened its base beyond handicrafts and livelihood to education of underprivileged children, environmental awareness etc. But at the core, Sahaj's mission remains what it began with – providing dignified livelihoods to tribal people through socio-economic empowerment.
(Rashmi Pratap is a Mumbai-based journalist specialising in business, financial and socio-economic reporting)
Also Read: How Kamli Tribes is empowering Udaipur's tribal women through embroidered handicrafts