Anita Oram, hailing from Oramtola village in Rourkela of Odisha, couldn't complete her basic education. She got married early but her ambition to do something better led her to acquire needlework skills that helped her become a savvy businesswoman and an inspiration for hundreds of tribal women.
Anita today manages the Rourkela office of Punarnawa, the social enterprise which trained and supported her to become self-reliant. Punarnawa was founded in 2011 by Subrata Pandey to empower tribal women by training them to become skilled artisans. 
The enterprise revives and popularizes traditional crafts through new-age designs handmade by tribal artisans.
Subrata, now 33, says she reached Oramtola by chance. Her father was a doctor in the Odisha Health Department. Sukro, a tribal woman from Oramtola visited the clinic for treatment in 2014. When she learnt about Subrata's enterprise, she was adamant to learn creative skills.
Sukro roped in another woman from the village, Kamala Singh and they both started visiting Subrata's office, travelling two hours in buses, autos and on foot to cover the long distance.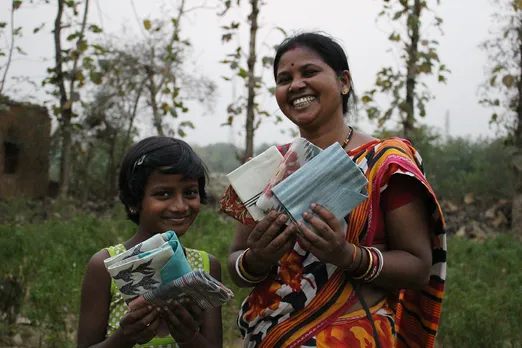 "I was touched by their zeal. I told them that I would travel to the village to teach them if they could organise a group of women. Eventually, a group of 40 women turned up to learn needlework and crochet."
Anita was one of the women in the group. When Subrata took up an office near Rourkela to set up a tailoring unit to make garments, Anita agreed to work there.
Also Read: Tribal youth handcraft livelihood opportunities with bamboo toys in Odisha's Lamtaput
"She was scared and faced stiff opposition and ridicule from villagers for stepping out of the village but she persevered. Today, she and two other women manage the office. Anita oversees the 50-odd women engaged by Punarnawa for embroidering, toy-making and stitching. She even bought a scooty and learnt to drive it," Subrata says.
Anita has become the anchor for Subrata and the women in the villages. "She now trains other women, gives them the embroidery and toy-making kits and raw material on which they work at home. The material is taken to the stitching unit where garments are made. The garments are sold under Punarnawa, Soul Of Artistry brand," says Subrata.
Similarly, Sukro and Kamala are team leaders in Oramtola and oversee the training of women.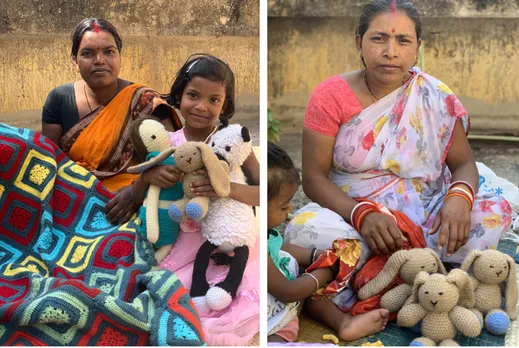 In the last 12 years, over 2,000 women and traditional artisans have been trained by Subrata and her team. 
Armed with skills, many are working independently as micro-entrepreneurs or have got employment in garment-making units across India.
Also Read: How Kamli Tribes is empowering Udaipur's tribal women through embroidered handicrafts
Women on a mission
Subrata who did her graduation in from IICD Jaipur says growing up in Odisha, she saw a lot of poverty and wanted to do something for the people. After her graduation, she returned to Rourkela.
Subrata says women from the rural areas have had their own share of struggles, from domestic abuse, alcohol addiction, and social taboos and restrictions but they gradually overcame all this and have emerged as inspiration for their communities. 
It was a chance visit to Jaba Panposh, a small village in Odisha's Sundergarh district, on January 26, 2011, that changed Subrata's life and that of the women in the village.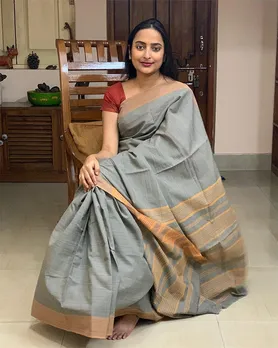 "In the village, I met the women who were very keen to do something. I thought I would teach them embroidery because they were familiar with it and would pick it up easily."
Subrata started training the women in Jaba Panposh in needlework, embroidery, crochet, garment making and toy making. It was all bootstrapped then with an intention to skill these women.
In 2014, the organisation rejuvenated itself as a social enterprise under the brand name Punarnawa, Soul Of Artistry. Subrata is the managing director and chief designer while her mother, Saroj Pandey is the executive director. Subrata also began expanding the organisation's reach beginning in 2014.
Also Read:  Anitha N Reddy: How this art historian is reviving Siddi quilts
The enterprise has a branch in Jorhat, Assam, where Subrata is based after her marriage. 
"Punarnawa has engaged around 35 indigenous women, and the senior embroidery artists from the organisation help train the new women in the villages. The women are provided tools and raw materials to work on the garments. They can work from home and the unstitched goods are picked up by Anita and brought to the head office," says Subrata.
"We give regular work to the women," she says.
They are paid on a per-piece basis and the earning depends on the amount of work, ranging between Rs1,000 and Rs15,000 per month.
Rebooting the business
From 2011 to 2014, Subrata focused on getting the basics right and setting a strong foundation. In 2014, she got the Young India Fellowship and took a year's break.
"The fellowship and the Harvard Business Executive Programme for the effective management of non-profits in India helped me immensely to get rid of a fear of numbers, and thinking big. I revived my operations, turning Punarnawa from a stagnant to a fast-growing organisation," says Subrata.
Also Read: Dr Hemalatha Jain: The professor reviving age-old handloom weaving of sarees in Karnataka
Subrata says currently the new e-commerce website is getting ready and in a couple of months, an extensive range of products will be available online.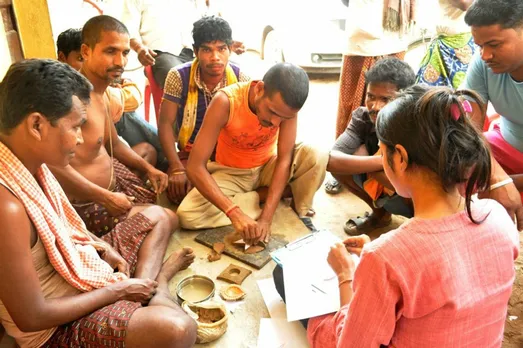 Subrata is empanelled as a designer with the government of Odisha, Design Clinic handicrafts for the North East region, Design Clinic Scheme with the MSME Ministry, National Institute of Design, and with the non-profit Project Northeast.
She has worked on various skill and design development projects with traditional artisans. Subrata is currently working on a project for the Odisha government on brass and bell metal craft, focusing on its revival at the cluster level.
Along with designers, Subrata trained the bell metal artisans in creating new designs, marketing the products and getting them orders. She is also working with weaver families in western Odisha villages to revive the ancient Ikat weaving in its purest form with skillsets dating to its origin. 
"Traditional Ikat weaving is laborious. The weaver does not get the right price for the finished product commensurate with the work he put in. The effort involved pushes up prices. But not many can afford the costly fabric. So, weavers have turned to polyester warp as it is easier to fetch volume-based orders and bring them assured income," she says.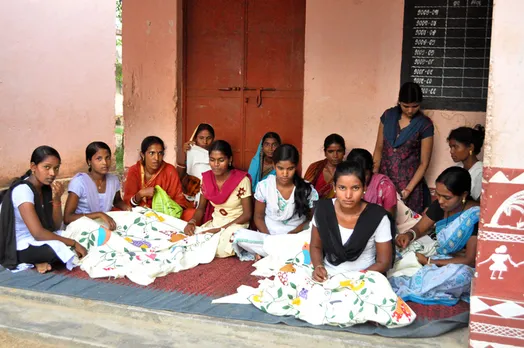 The families who work with Subrata create a few pieces for select clients from India and NRIs from Singapore, Dubai, the US and Britain. "These clients have been with me for the last 12 years and place regular orders," she says.
"There is a constant backlog as we do exclusive heirloom textiles such as pure zari Banarasi sarees, revival museum-based antique textiles, Paithani, Awadh and Dhakia Jamdani, Awadhi Chikankari, the golden muga and indigenous textiles of Assam."
These pieces take 5-24 months to finish and the price starts from Rs 25,000 to several lakhs of rupees, says Subrata.
Also Read: Biren Basak: The boy from East Pakistan who became India's handcrafted saree tycoon
The weavers earn from Rs8,000 up to lakhs per piece for cotton sarees and upwards of Rs15,000 per piece for silk garments.
Powering ahead
Subrata has her finger in many pies but is still looking to grow her business. She has expanded operations across India, with physical offices and hubs at Rourkela, Jorhat, and Lucknow (Uttar Pradesh). The organisation also has operations in Bangladesh.
Subrata has her studio in Jorhat and also opened a store in one of the upscale resorts in Jorhat where she sells souvenirs, artefacts and gift items made by artisans associated with her.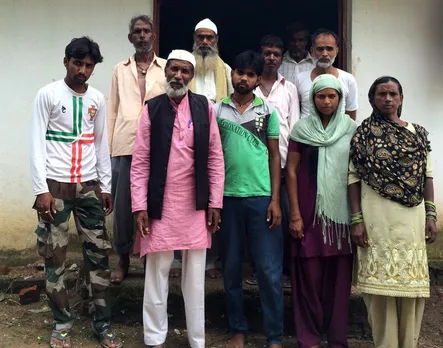 In Assam, Subrata helped a few indigenous women who were working in tea gardens in taxing conditions to take up their traditional weaving under the non-profit Project Northeast.
"In my studio, we have indigenous women who weave beautiful traditional textiles. The women are from Tibeto-Burmese indigenous ethnic groups, aboriginal tribes, tea tribes and minority communities of Assam," she says.
"I am experimenting with the weaves. We are mixing traditional weaves with natural indigenous fibres and weaves of South Asian countries to create masterpieces, and revive museum-based heirloom antique textiles."
She is also working with a few families in Manipur skilled in traditional basketry, stoneware pottery, and hills-based products.
On her journey so far, Subrata says she finds her work engrossing. "I feel I could have done more. But I have taken it slowly and grown organically. I never worked thinking I am helping someone. It came as a responsibility to do better. I get great satisfaction to see the improvement in the lives of the women."
(Urvashi Dev Rawal is a Jaipur-based journalist specialising in development, gender, and political reporting)
Also Read: Siblings take Manipur's Kauna craft to the world, help triple artisans' incomes