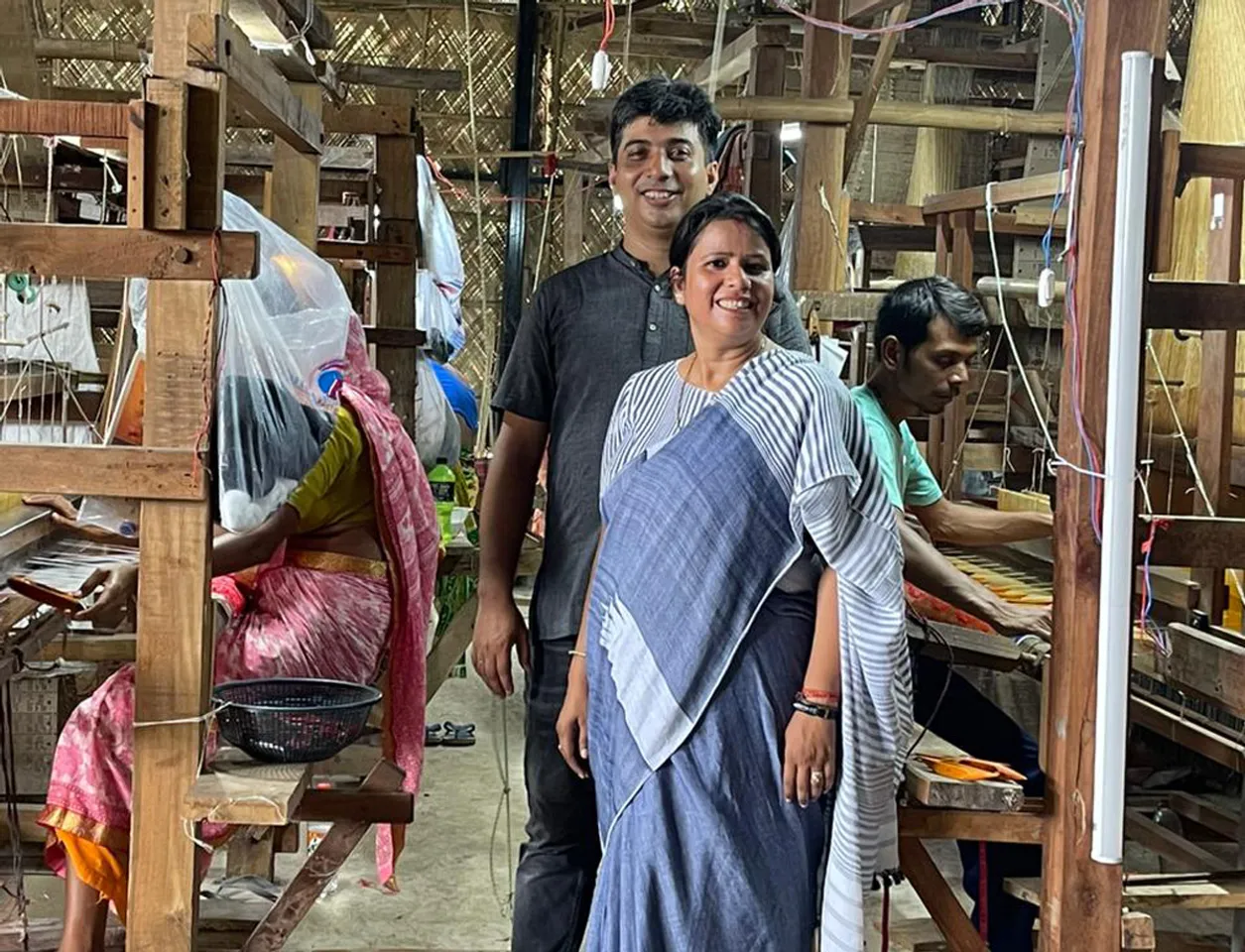 Uttara Rabha, 32, lives in a village 13 km from Guwahati. Her husband works on the farm and she has two school-going sons. For the last three years, she has been working at the Community Weaving Centre not far from her home. She earns around Rs 7,000 a month working for eight hours a day. "My life has taken an upturn since now I get regular income and help support my family. I have observed and learnt weaving as a child. Now, I enjoy working in a group," says Uttara with a smile. 
Rita Kumari, 60, has also been working at the Community Weaving Centre since its inception in 2017. "Earlier, I used to weave at home. My husband was a daily wager but he does not work anymore. My son, who works in a hotel, and I support the family. I enjoy the work very much. I have benefited from the skill development camps and am gaining mastery over the jacquard machine (an attachment to the loom that increases efficiency). As long as I am physically able to, I will come to the centre," says a determined Rita. 
The Community Weaving Centre both Uttara and Rita talk about has been set up by AVACreations Social Impact Foundation, the brainchild of entrepreneurs Anu Mandal and Arup Kumar Baishya. AVA was initially set up as two entities in 2017 – AVA Foundation involved in training, capacity building and welfare activities and M/s AVA involved in raw material sourcing, buyback arrangements, and other business-related activities. The two were merged in 2021 into AVA Creations and Social Impact Foundation.  
The venture is special for its focus on livelihood intervention, capacity building, community development, and women empowerment. AVA also promotes and helps preserve traditional handloom skills. 
Also Read: Ten handloom weaving traditions of India
'Handloom to Hope-loom'  
This is the catchline of AVA as it seeks to balance livelihood promotion and conservation of forests. "Assam, known for its rich biodiversity and vast forest reserves, is home to numerous communities that are solely dependent on forests for their livelihood and daily needs. Not only does this put immense pressure on the environment, but forest-dwellers take to illegal activities like logging and making country liquor to earn a living. I observed this when I was coordinator of a forest project," says Arup. This prompted Arup to quit the job and take up work towards forest conservation while creating livelihood opportunities for forest-dwelling communities. 
The purpose of setting up AVA was to provide an alternate, dignified source of livelihood to the women and generate sustainable income for them. Informatively, spinning and weaving activities have been a part of every Assamese home since the 13th century. 
"We thought of handlooms because weaving is the native skill of Assamese women and practically every house in the state has a loom. Handlooms are a powerful tool for economic and social empowerment," Arup says.
"We also added sericulture practices in our plan," he adds. His wife Anu worked as a fashion designer and event organiser before starting AVA.
The venture has been successful in weaning the communities and making them less dependent on forests.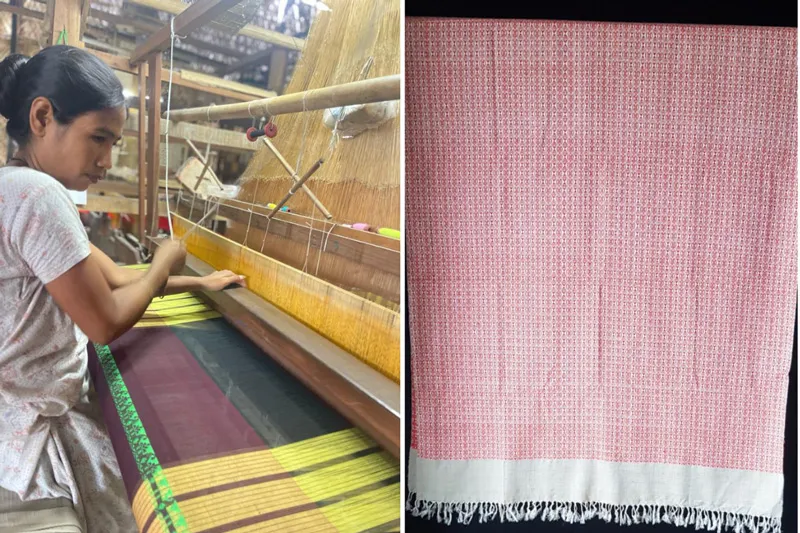 Arup belongs to Sualkuchi, one of the world's largest weaving villages located 35 km north of Guwahati, which produces the state's best silk. After graduation, he did a certificate course in fashion and clothing from the National Institute of Fashion Technology, Kolkata. "I dreamt of becoming an entrepreneur since a young age. I gathered experience and funds by working in the corporate as well as government sector before launching AVA," explains Arup. 
Empowering women
"Today, AVA, which means a ray of hope in Assamese, supports 425 women. The women earn between Rs 5,000 and Rs 8,000 a month while earlier they were barely able to earn Rs 1,000 to Rs 1,500," he says. 
The women belong to the forest-dependent communities in and around the Deepor Beel Wildlife Sanctuary, Rani, Garbhanga and Loharghat forest ranges of Assam.
AVA empowers women economically and socially. Providing them a regular income enables them to support the education of their children, buy assets and take care of medical needs. Incidentally, the school dropout rate has fallen considerably in the areas AVA operates in, making the future of the younger generation brighter. Becoming earning members also increases the confidence of women immensely and gives them a voice in their families and communities. 
Also Read: How Sahaj India has empowered 18,000 tribal women in eastern Gujarat
Apart from skill development programmes, AVA conducts various welfare activities. These include motivational sessions, legal awareness programmes, sessions to address domestic violence and the issue of women's rights, health camps and summer camps for children. 
Major initiatives
Currently, AVA has four initiatives. Maa Xuta Prakalpa which means 'mother yarn project' in Assamese engages weavers, most of whom are mothers. It is an Eri silk (non-violent silk) project involving both silkworm cocoon rearing and spinning. Eri silk is obtained after the silkworm leaves the cocoon, unlike other silk varieties where the moth is boiled with the cocoon. 
Out of 160 women in this project, spread over 18 villages, 140 women are involved in cocoon rearing which provides the raw material for spinning, says Arup. 
"Our second initiative is the Handloom Experience Centre in the Matia Hills near Guwahati where around 50 women are employed. These days youngsters are not drawn to handloom work as it is tedious and time-consuming and they feel there is not much money and no dignity in the work. The centre aims to change this attitude by building awareness about the importance of handlooms and how it is impacting the lives of forest communities," he says. 
Also Read: Woman on a mission: Subrata Pandey is supporting tribal women, reviving lost crafts in Odisha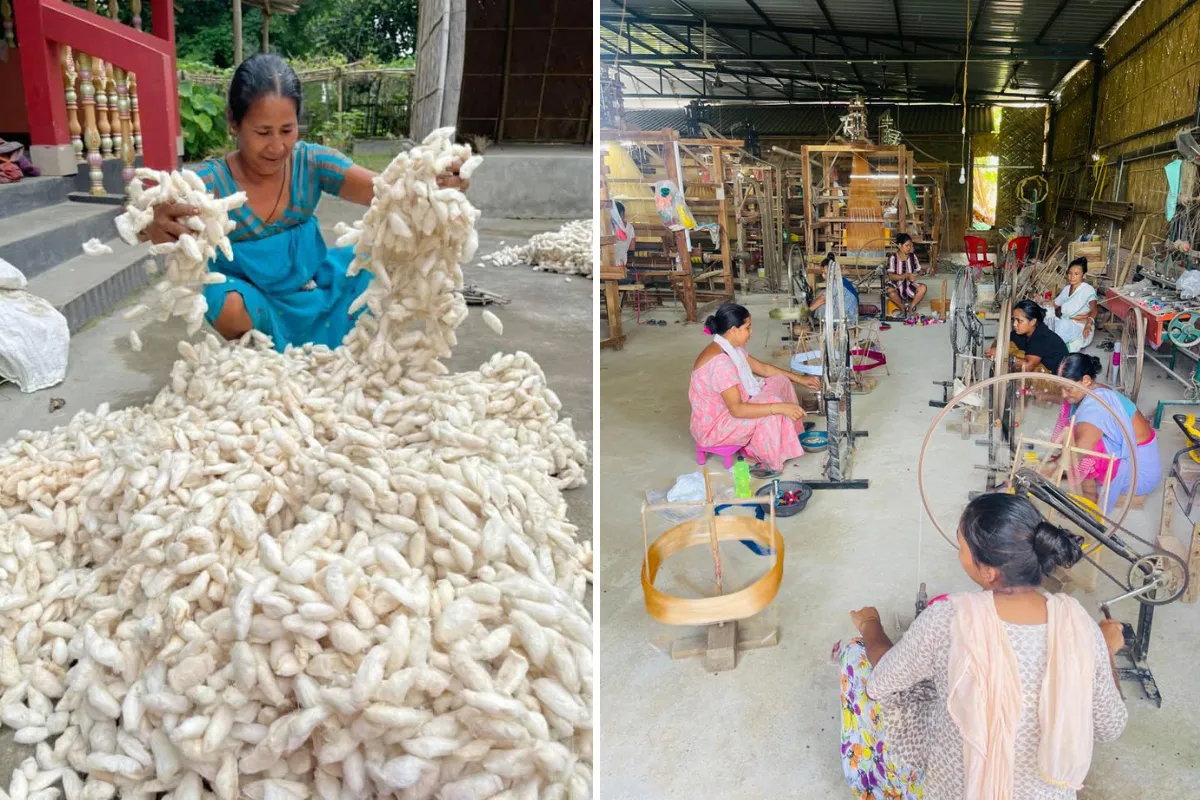 Here, visitors are explained about the various types of weaves of Assam. The process of multi-shaft weaving, which AVA is trying to revive, is also explained. Visitors can understand the pre-loom, on-loom and post-loom process of the handloom value chain. The centre attracts tourists and textile enthusiasts from across the globe, he explains.  
The third initiative of AVA is Samarth Weave which provides employment to 160 women. It involves low-skill work to make gamochas (towels), kitchen napkins and fabric rolls. Trainee-level artisans work on this. The fourth initiative is Forest Weave which engages 55 women. Here primitive methods are used to make artisanal products in a slow and sustainable way.  
Eco-friendly and sustainable
AVA being a handloom-based venture is environment-friendly and the products are handmade. Spinning, weaving and other processes are done by hand and with minimal use of energy. The sector supports sustainable development practices. The looms, which are there in almost every house, are old and made of locally sourced materials like wood and bamboo. Handloom products are durable and passed down in families so that less goes to landfills. 
"Handloom itself has minimal carbon footprint. In addition, we use environment-friendly and natural dyes which are good for the people and the planet. We work with natural fibres," Arup says. 
The waste items are used to create packaging material. Moreover, handloom is a rural activity and weaving is considered a way of increasing family incomes in villages. "So, our venture gives a boost to the rural economy," he adds.   
Also Read: How Chennai's Tüla has made organic farm-to-fashion viable by reviving desi cotton cultivation & weaving
Variety of products 
AVA uses four types of silk – Tussar, Muga, Mulberry and Eri, as well as cotton to make its products. It focuses on wearables (including traditional bridal wear), home furnishings and corporate gifting solutions. Its products include sarees, mekhela chador (a three-piece outfit that is the traditional dress of Assamese women) kurtas, dupattas, stoles Eri silk shawls, gamochas and Eri silk clutch bags. 
The prices range from Rs 299 to Rs 1.2 lakh. An Eri silk saree may range from Rs 10,000-20,000. AVA is the authorised manufacturer of GI products like Muga Silk of Assam and gamocha. All its products are certified by Handloom Mark and Silk Mark.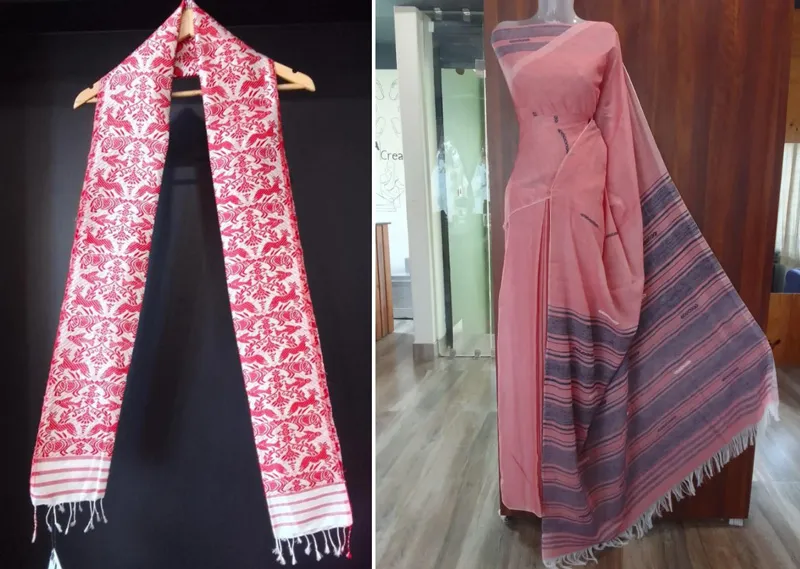 "From September 8, 2021 (when we merged the two ventures) to 31 March 2022, our turnover was Rs 17 lakhs. In 2022-23, it was Rs 72 lakhs. We hope to cross Rs 1.20 crore in the current financial year," says Arup.    
To market their products, AVA participates in exhibitions in major cities of India – Delhi, Mumbai and Bengaluru. It also markets its products through the Handloom Experience Centre and three product experience centres located in Assam. AVA products are also available at various government emporiums. Government and development agencies as well as the corporate sector procure its products directly as gifting options. 
Also Read: Indian Yards: Bengaluru couple quits top MNCs for the love of hinterland; empowers indigenous women of the Nilgiris through Macramé craft
Process innovations
AVA is also focused on process innovations. For instance, it is trying to improve loom efficiency. "We are also working on the ergonomics of looms to reduce the adverse health impact of working long hours. We get expert weavers from different states to train our women to increase their efficiency and income. Also, the team's master weavers constantly upgrade the skills of the women and explain technological innovations to increase productivity," he says. 
Currently, AVA operates in five districts of Assam – Kamrup, Kamrup (metro), Golaghat, Baska and Udalguri. "We do not receive external funds at the moment. Also, the pandemic was a setback. We are working in other states in the North East. We are acting as a technical agency for the Ramakrishna Mission Ashram, Sohra, to promote handloom activity in Meghalaya among the forest-dependent communities. AVA is also working with Central Silk Board in Nagaland for Eri silk product development and is exploring how it can be used for ecotourism."  
"We want to grow slowly and strategically. We want to first consolidate our operations in the North East. We plan to replicate our model and open product experience centres in other parts of the country by 2025," Arup adds. 
 (Aruna Raghuram is a freelance journalist based in Bengaluru/Ahmedabad. She writes on parenting, personalities, women's issues, environment, and other social causes.)
Also Read: How sustainable fashion brand Kiniho is empowering women weavers of Meghalaya