Motherhood can be a life-changing experience. It was no different for Pooja Kanth, an MBA who was working as a human resources professional in a private firm in Delhi. Unable to give enough time to her toddler son, she quit her job in 2012.
But after working for 15 years, it wasn't easy for her to stay at home doing nothing. "I enjoyed being with my three-year-old son and seeing him grow up. However, since I was used to working the whole day, I had an urge to do something while being at home," says Pooja. 
In 2015, her husband gave her a smartphone and asked her to explore home business ideas to avoid boredom. Naturally inclined towards arts, she found handmade decorative products fascinating, especially macramé art products. 
Macramé involves various knotting styles to create decorative items like plant hangers, wall hangers, bed runners, table runners, and more. The knotting is done with cotton twine, linen, jute, yarn, nylon, or hemp.
Homemaker to home business
"I began to watch videos on making decorative products using fabrics, jute, and other household items. Since macramé was still gaining popularity in India in 2015, I found the products priced exorbitantly. I would procure jute from local stores to practice the craft," Pooja says.
Also Read: One knot at a time: Chennai's Vidya Sam sets up successful home business using age-old macramé art in household décor 
As she mastered the craft, she felt she could train underprivileged women living around her area and provide them employment. Pooja lives on the outskirts of Delhi, with villages like Bawana, Kanjhawala and Karala nearby.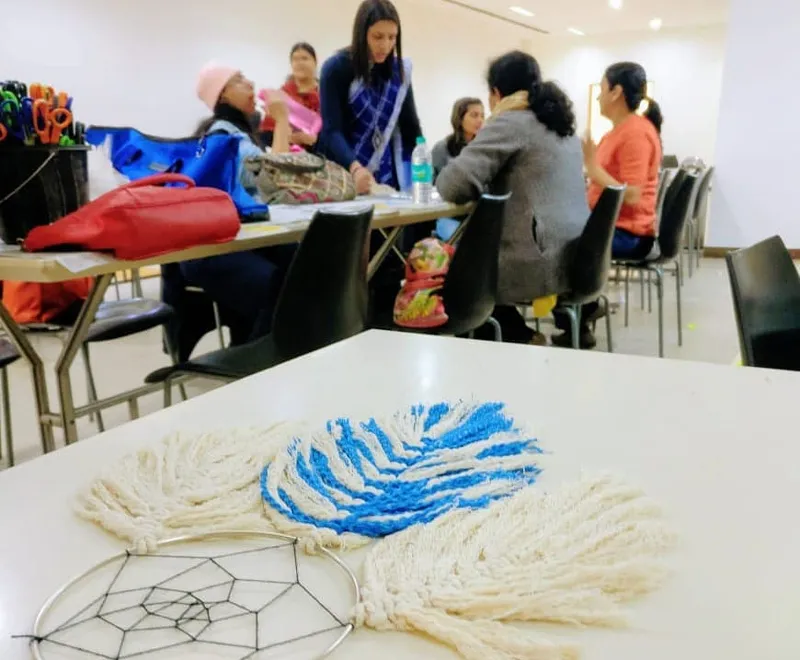 "I have seen dire poverty in childhood. My father, a farmer in Delhi, always struggled to put food on the table. My mother did tailoring to support the household and never prioritized her needs or her food," she says.
Click here to join us on WhatsApp
"That's why I have this urge to help underprivileged women. When you have faced poverty, you understand the pain of poverty," she says.
Pooja knew that families in villages around her house struggled to make ends meet. "I felt that working with rural women could create livelihood opportunities for them. With this thought, I set up Pooja Ki Potli in 2015," she says. 
While training these women, Pooja also started marketing the macramé products on social media and e-commerce platforms. 
"I put my products on Amazon. After three months, I was able to sell one product priced at Rs 150. It was a macramé plant hanger," she recollects. 
Gradually, sales began to increase and boosted her confidence, says Pooja, who invested about Rs 5000 to begin production of macrame products. 
The business of macramé and craft supplies
With time, she has expanded the business to include craft supplies, do-it-yourself kits, drawstring bags, handbags, pouches, wooden baskets and other home décor items.
Also Read: Gujarat's Pabiben Rabari: from a daily wager to a millionaire entrepreneur
In the last eight years, she has trained about 500 women, many of whom started their businesses after learning from her. "It gives me immense joy to see women trained by me starting their enterprises. I help them get started with online sales, fixing the pricing, marketing and other aspects," she says.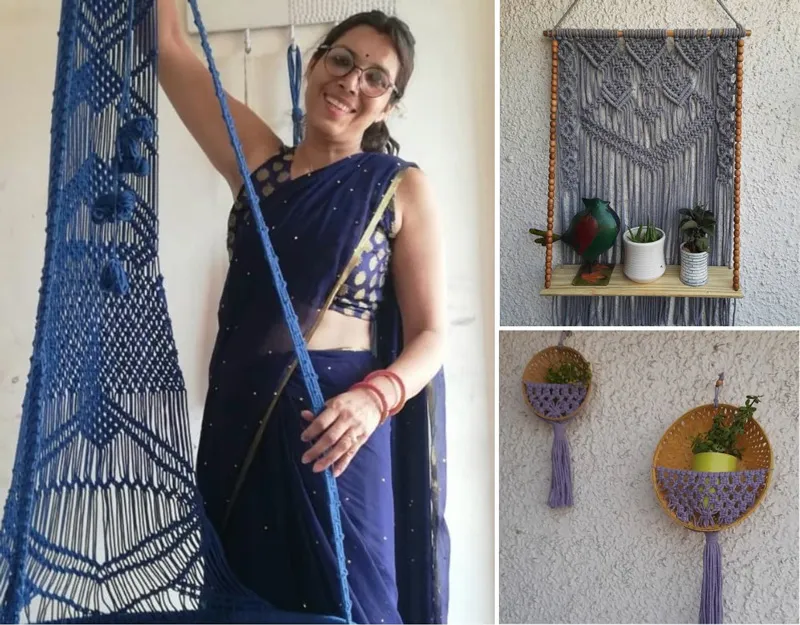 "The idea behind starting Pooja Ki Potli was to help others earn a living. They can work for me, or have their brand," says Pooja, who completed her schooling and graduate studies from government institutes. 
She started her career as a trainee computer operator at a monthly salary of Rs 1800 and completed her MBA through distance education while working in the private sector. 
Her salary in 2012 at the time of quitting her job was Rs 30,000 per month. "When I started Pooja Ki Potil, I used to receive one or two orders a day initially. With time, it increased to about 100 orders a week," says Pooja. Her husband, who runs a travel agency, helps her in business.
"In FY21, our annual revenue was Rs 20 lakh, which increased to Rs 30 lakh in FY 23. We are currently clocking sales of around Rs 2.5 lakh a month," she says. 
The sales are both online and offline. Marketplaces like Amazon, Flipkart, Meesho and Etsy besides the Pooja Ki Potli website sell the products online. The brand also receives corporate orders in bulk. "Majority of the sales are from the online medium followed by corporate orders," says Pooja.  
Also Read: How Bihar's Anita Gupta overcame discrimination & changed the lives of thousands of women through handicrafts
"Earlier, my profit was extremely low but with time, we have improved our margins by making many inputs in-house. I keep the profit margin low to ensure fair wages to the workers," the woman entrepreneur adds.   
Maximising employment
Earlier, Pooja would source wooden materials like hoops and dowels used in macramé products from local shops. But when she realized that the work could generate employment, she hired people to make the wooden raw materials. They are now used in macramé products as well as the DIY craft kits sold by Pooja Ki Potli.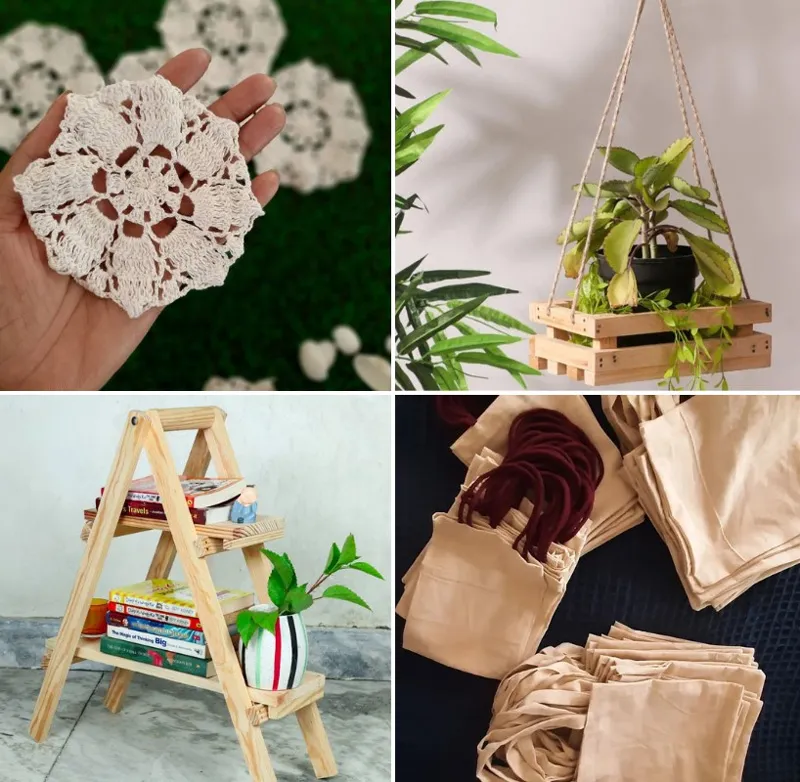 A few months back, Pooja expanded her product range to include bags and drawstring bags as they can be made by women with tailoring skills. She has a unit in Delhi with 15 sewing machines where the bags are tailored. The handcrafted bags are sustainable and made of cotton.
Today, the brand offers about 100 types of products across home decor, garden decor, bags, hanging shelves, plant hangers, table mats, cushions, lighting etc. The prices range from Rs 200 to Rs 3500. 
Ten women work from home to handcraft macrame products while 15 are involved in stitching bags besides men who are involved in cutting fabrics and making wooden inputs for crafts. "They are paid Rs 300 to Rs 500 per day depending upon the time spent at work," Pooja says. 
Also Read: How Sahaj India has empowered 18,000 tribal women in eastern Gujarat
One of the women who has benefitted from working with Pooja Ki Potli is Savita, 40, who lost her husband four years back. She moved to her parent's place to give a better life to her two sons. To support them financially, she began learning macrame art from Pooja. 
"My sister had learnt macrame earlier. She would often suggest that I also learn the art, but I would shrug off seeing how tough it is. However, to meet my financial needs, I learnt the craft and now I enjoy making products," says Savita.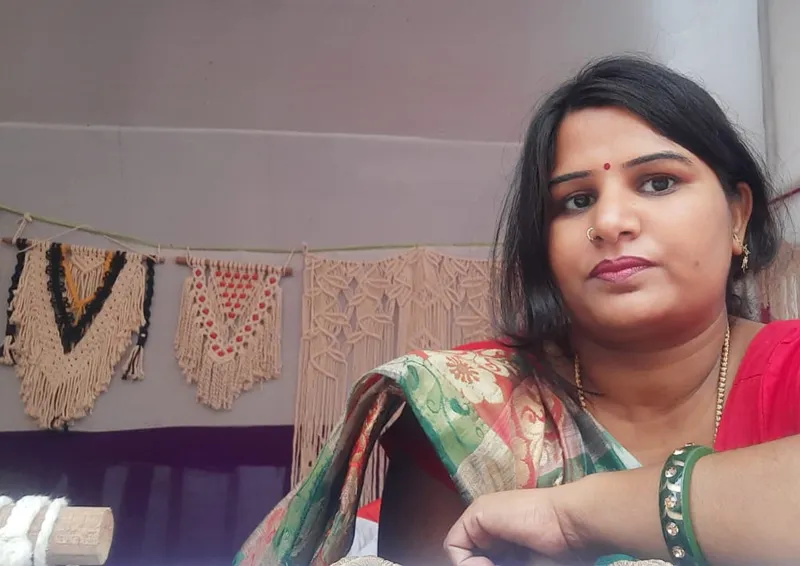 "I earn around Rs 5,000 a month and take up work at my convenience. My elder son is also working now. So our joint income is enough to run the household," she says.
Also Read: How Kamli Tribes is empowering Udaipur's tribal women through embroidered handicrafts
Samita Karan, who found financial independence after learning macrame from Pooja, says things became difficult when her husband lost his marketing job. "Income from work here was a relief amid the financial crisis we were going through at that time," says Samita, who was earning around Rs 12000 per month when she left in 2022.  
Samita moved to her native place, Bihar, where her husband got a better job. Now, she is a trainer under the Development Commissioner for Handicrafts (DCH) in Bihar and earns by training other women.
"Now, I earn over Rs 20,000 apart from reimbursement of travel, food and accommodation expenses for training others. I also sell my macrame products in state government exhibitions across India and earn around Rs 60,000 per exhibition," says Samita. 
Pooja says she never felt bored in her corporate job, but now she has a better work-life balance. "I give enough time to my sons, create livelihoods for underprivileged people and enjoy my weekends. This life gives me satisfaction," says Pooja. 
(Bilal Khan is a Mumbai-based independent journalist. He covers grassroot issues, the LGBTQ community and loves to write positive and inspiring stories.)
Also Read: Indian Yards: Bengaluru couple quits top MNCs for the love of hinterland; empowers indigenous women of the Nilgiris through Macramé craft