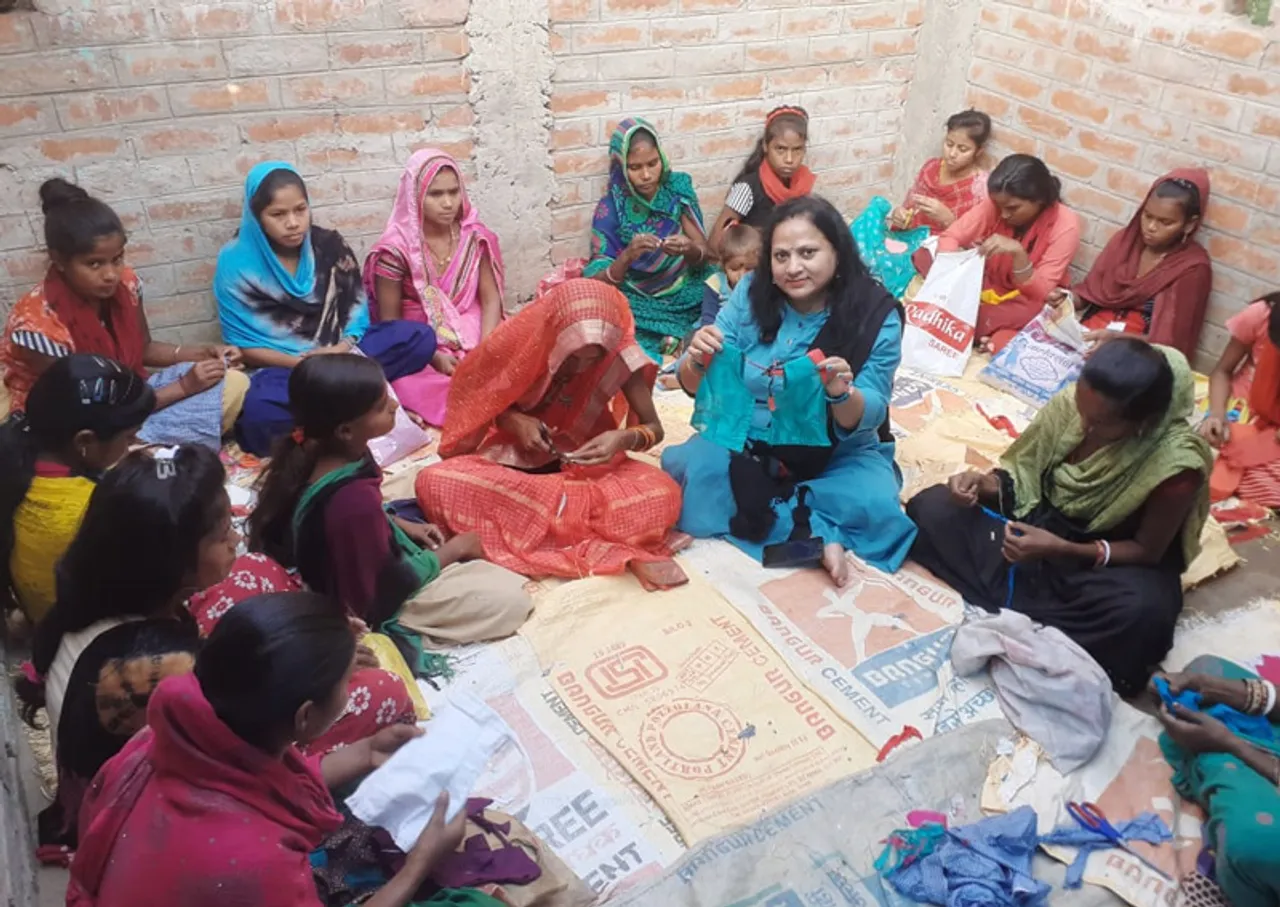 When Anita Gupta was a teenager growing up in Arrah, in the Bhojpur district of Bihar, she witnessed an incident that not only troubled her but also firmed her resolve to be a strong, educated and independent woman.
Anita lost her father at a young age. She and her mother went to live with her maternal grandfather. There she learnt that her grandfather had brought a woman from the village to continue his lineage. Once she bore children, she was kept as a maid and treated badly.
"I felt bad for her. I realized that if that woman was educated and independent, she would not have been sold for money and her life would have been different. I promised myself that I will become financially independent and not let others control my life," says the 46-year-old.
Also Read: ANANDI: Changing the face of rural Gujarat by mentoring women to take up leadership roles
Overcoming opposition with an iron will
Anita had to struggle throughout her childhood. Her uncles did not want her to study. "They would say you won't become a doctor or engineer. Why do you want to study?" she recalls.
When she was just 20, a determined Anita began stitching clothes to earn money for supporting her education.
After a few months, she decided to train other women in stitching so that they could become financially independent as well. She started the Bhojpur Mahila Kala Kendra (BMKK), a training centre, from her house.
Also Read: How tribal women farmers are conserving native seeds & ensuring nutritional security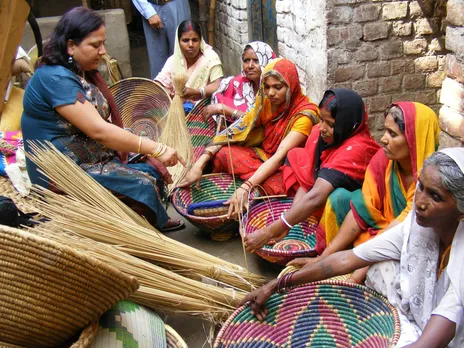 As expected, she faced opposition from her family. Her cousins and other family members were against it.
She convinced a couple of women from her village and began training them in tailoring. "I had only one machine that belonged to my mother. I would use it for stitching and also used it for training others," says Anita.
As the word spread about her work, more and more women came forward. Apart from tailoring, Anita saved up money and learnt skills like making artificial jewellery and other handmade which she also taught to others.
Also Read: How tribal women farmers are conserving native seeds & ensuring nutritional security
"Initially we would sell the products in the local stores and set up stalls in the market," says Anita.
Breaking barriers
Today, things are much better. "For six months in a year, women make the products and the rest of the time, they sell them in exhibitions across India. Besides, they also have their own customer base that ensures sales consistently," says Anita.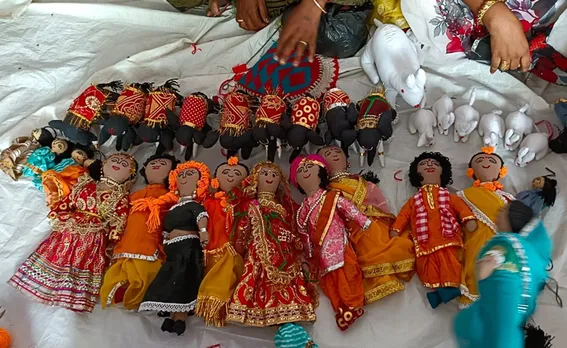 Over the years, Bhojpur Mahila Kala Kendra has trained over one lakh women from Bihar and Jharkhand in tailoring and making handicrafts like stuffed toys, dolls, puppets, sikki grass items etc. Out of these, 10,000 women are now financially independent.
Rita Devi from Arrah has been associated with Anita since 2007 when her alcoholic husband passed away.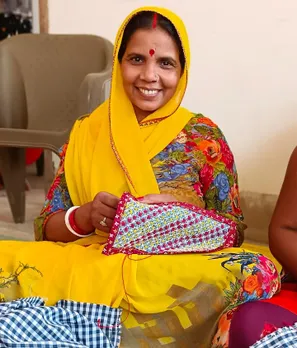 "Even when my husband was alive, he earned little and did not provide for the family. I was struggling to feed myself and my sons thrice a day. After his death I had to do something to look after my two sons," says 32-year-old Rita.
She came to know about Anita through an awareness generation programme and sought training in tailoring, making artificial jewellery and ethnic bed sheets, she says.
Also Read: How Coimbatore's doctor Uma Deavi empowers underprivileged women through Kannamma dolls
But it was not easy for Rita as she faced jibes from her family and society because she was going against the norm -- stepping out of the house, earning money and living life on her own terms.
"My family was against my work. People would talk ill about me behind my back. But eventually, I convinced my parents and they supported me," says Rita. Today, she also works as a trainer to other women from underprivileged backgrounds.
She can now take care of her family and provide a good education to her children. "If it was not for Anita ji, I would be struggling to feed myself and my family. But now my future is secure and both my children are studying," says Rita.
Shehnaz Hussain, 50, also joined hands with Anita in 2009 when her husband passed away and there was no one to support her. She learnt tailoring and artificial jewellery making.
"I earn around Rs5000 a month. I make jewellery items and give them to Anita ji who pays me. She takes care of the marketing of the products," says Shehnaz.
Nari Shakti
Thanks to Anita's work, thousands of women -- unmarried, married and widowed -- can earn a living and live with dignity. "More importantly, they are realising their potential and leading secure and liberated lives," says Anita.
Also Read: Married at 16, how this Arunachal woman fought poverty to become bamboo millionaire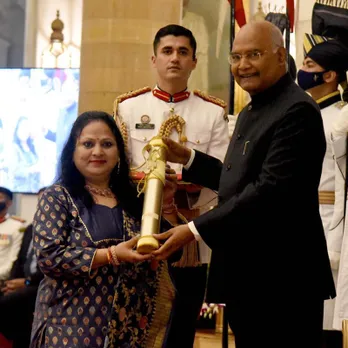 Anita's exemplary work resulted in her being awarded the 'Nari Shakti Puraskar' by President Ram Nath Kovind for the year 2020. She has also won many other awards and recognitions.
"I told my parents that I don't have to go anywhere and work from home only. Initially, there was disappointment at home, but with time the disagreement faded away," says Sonam who earns about Rs12,000 per month from the sale of clothes and linen.
Also Read: Käse Cheese: Chennai's all-women artisan cheese startup empowers people with hearing impairment; expands operations to Gujarat & Rajasthan
Anita says it was a difficult task to convince men to allow women to step out of the house to work. "It was almost impossible. I had to struggle a lot. But eventually, after many attempts, men would agree to let the women learn and earn, especially since it would help them manage the household expenses with ease," says Anita.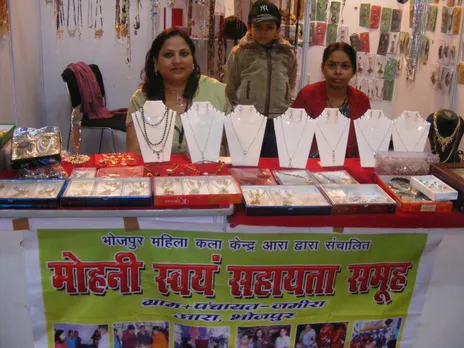 She adds that because of the various government schemes for women and growing awareness about them, it is easier to convince men.
After so many years of hard work and achievements, Anita is still going strong. She works long hours in equipping women with new skills so they can earn and also helping them with the marketing of products. Apart from exhibitions and personal contacts, Anita also uses social media to spread the word about handmade products. 
"I want this project to be replicated across India. I would love to travel to different states and train underprivileged women to become strong and financially independent," says Anita.
(Bilal Khan is a Mumbai-based independent journalist. He covers grassroot issues, LGBTQ community and loves to write positive and inspiring stories.)
Also Read: Pune: Mitti Ke Rang connects rural women entrepreneurs with customers across India; triples their incomes